As an Amazon Influencer, we earn from qualifying purchases you might make if you click any of the links on this page.
Colorado, especially the Colorado Springs area, is a favorite destination for many travelers.  The state is jam packed with activities and adventures. It's easy to get overwhelmed trying to plan your perfect trip to Colorado Springs, so we narrowed it down to the essentials. Here's the top ten places to visit that need to be added to your itinerary to make the most of your visit to Colorado Springs.
The Royal Gorge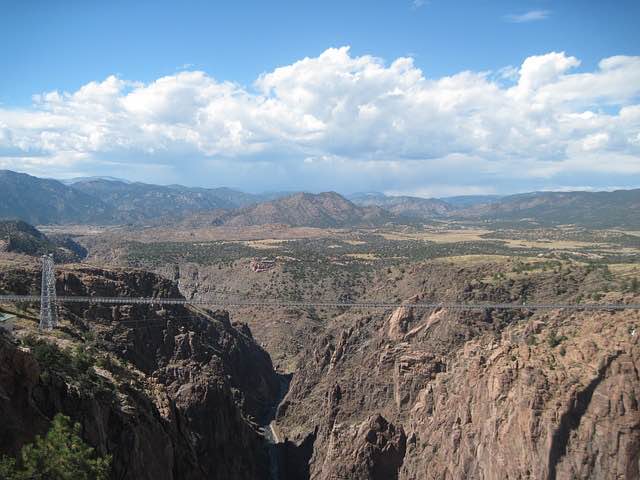 The Royal Gorge ends up on many must see lists, but for good reason. It really is a one of a kind attraction. The Royal Gorge Bridge rises nearly 1,000 feet above the gorge. It's lined with the state flags on either side, and the view makes for stunning photo opportunities. The park features a museum, Plaza Theatre, and aerial gondola for lowkey sightseers, and ziplining and a skycoaster for the more adventurous travellers. 
Manitou Springs
                  Located just outside of Colorado Springs is the small, charming town of Manitou Springs. The quaint hippie town is full of art galleries, boutiques, and cafes for relaxing and buying unique souvenirs on your trip. For your inner hipster, there's even an old fashioned penny arcade if you feel like walking down memory lane. 
Garden of the Gods
Back in 1959, two surveyors stumbled upon this peculiar arrangement of balanced and tilted red rocks and decided it was a place fit for the gods! The name is corny, but it only takes one visit to see why these unusual rock formations deserve such a supernatural name. You'll leave the park wondering how on earth it was all nature-made. 
Cheyenne Mountain Zoo
Feeding giraffes may not have been on your bucket list, but after visiting the Cheyenne Mountain Zoo, you'll be wondering why it wasn't at the top. And why stop at the giraffes? You can also feed the elephants, rhinos, and birds — oh my!
The zoo's animal welfare program is almost as neat as its interactive animal experience. Money from admission and tours support wildlife conservation and endangered species protection. In fact, more than 30 of these endangered species are housed at the zoo to see for yourself. 
Colorado Wolf and Wildlife Center
Colorado Springs is all about protecting wildlife. If the zoo left you wanting more, then definitely check out another tour that supports conservation at the Wolf and Wildlife Center. At this sanctuary, you can see the wolves up close and learn about efforts to preserve the wolve's place in our ecosystem. Bonus points if you attend the monthly Full Moon Tour to hear the wolves howl at the moon.
Whitewater Rafting
                  Now that you've seen the Royal Gorge from up high, let's take a trip down below and raft right in the gorge. Colorado Springs rafting companies offer a variety of tours along the Arkansas River. There are tours for all skill levels, so you adventure safely with family or friends. 
Cave of the Winds
Turns out Colorado Springs has spectacular rock formation below ground as well as above. Get yourself out of the Colorado sun for a bit, and take your sightseeing underground to the Cave of the Winds. You can check out the geological structures in tunnels lit by electricity, or you can explore more secluded areas by lantern tour. 
Pikes Peak
                  We've already given you a packed itinerary, but make sure to leave some room for one of Colorado Springs' main attractions: Pikes Peak. The mountain rises more than 14,000 feet above sea level, which is why you might hear the locals refer to it as a 14er (fourteener). You can try to blend in with the natives and hike to the top, but it's a grueling 13 miles that most natives don't even attempt. Most visitors will just take the Broadmoor's Pikes Peak Cog Railway to the top so they can just relax and enjoy the views, instead. Whichever you choose, you won't be disappointed when you make it to the top.
Air Forces Academy
                  There's a reason why the United States Air Force Academy is one of the most visited attractions in Colorado. It has impressive architectural sights, such as the Cadet Chapel, as well as other spectacles like its Planetarium and STEM Center. You can also tour the base's military installations and get a feel for day to day military life. 
Olympic Training Center
                  Ever heard of Olympians training at high altitude to improve endurance? Well here's where they do it. At over 6,000 feet above sea level, future Olympians train their bodies to produce extra red blood cells by working out at high altitude where there is less oxygen in the air. Swimmers, figure skaters, cyclists, boxers, gymnasts — you name them, they train there. Learn about Olympic history and check out the facilities first hand for a unique behind the scenes look at the Olympics.
So Would You Go To Colorado Springs This Year? 
Colorado Spring is well known for its natural wonders. Whether you head underground to the Cave of the Winds or make your way to the top of 14,000 foot tall Pikes Peak, the sights surely won't disappoint. Along with access to the great outdoors, this destination also has plenty of other unique activities. Add a trip to the wolf sanctuary for an up close encounter with wildlife, or schedule a tour of the Olympic training facilities or the Air Force Academy for a behind the scenes look at top notch training. Or, you can head nearby to Manitou Springs to shop or relax with a cup of coffee. Whether you're seeking sights, adventure, or leisure on your next vacation, Colorado Springs has it all.
Please follow and like us: