Verona is a relatively small town in Italy but if you love Shakespeares Romeo and Juliet love story, then you need to take a stop and explore. Typical Italian atmosphere and hospitality as well as beautiful architecture and monuments. Here is how to spend 24 hours in Verona and tick off the best sights the town has to offer.
Look out from Juliet's Balcony
You just have to do this when you are in Verona, looking down from the balcony that inspired Shakespeare's tale in fair Verona. If you make only one tourist attraction during your 24 hours in Verona then this should be it. Bring a pen along and you can write your own message of love in the room behind the balcony like so many other visitors before you. Just don't try to stick a message there with chewing gum, you can get in trouble for doing this now.
Juliet's' statue is also on display in the courtyard below. Tradition is to rub the breast of the statue for luck in love. You'll notice Juliet has one very shiny breast!
Visit Romeos house
Looking more like a castle than a house, Casa di Romeo is built in a fashion which dates back to an age of feuding families. Building a stronghold to protect the family, the Montagues lived in their fort-like home of internal courtyards and tall walls.
Today the premises is privately own and visitors can only view the property from the outside. However, you can soak up the Romantic atmosphere and imagine beyond the walls deep in the heart of Verona. You'll find it not far from Juliets balcony and it won't take you long to look around before moving on with your day.
Browse the markets of Piazza Delle Erbe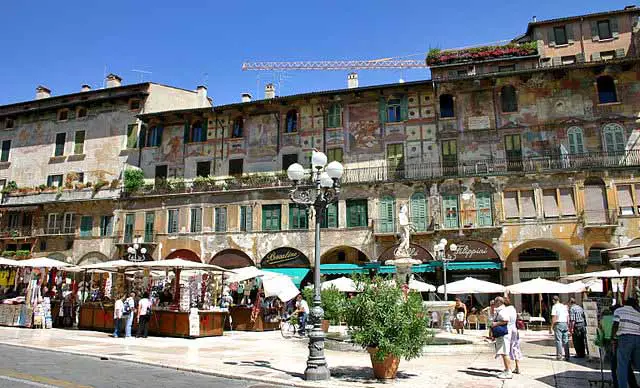 Next, you should grab some lunch and a drink in the Piazza Delle Erbe. You could spend your whole day in this lovely market square. The stunning statues and fountains are surrounded by market stalls, bars and restaurants perfect, atmospheric sit and think territory. Grab a drink, maybe an Aperol spritz then sit, and people watch for a while. Next, take a stroll around the wonderful markets, browsing souvenirs and other trinkets you might want to buy to take home.
Being here, you understand the vibe of the place. Watch day to day business as well as throngs of tourists pass through. You might even catch a bride and groom having photos on their wedding day. Verona is an increasingly popular place to get married.
Climb the Torre Dei Lamberti
Near to the Piazza Delle Erbe, you will find the bell tower of Torre Dei Lamberti. After lunch and shopping take a walk to this impressive building and climb the to the top. Breathtaking views of Verona a wait, especially on a summers day. A lift will take you most of the way if you wish, then walk up some steps to see the panoramic view of the mountainside and town.
A great way to see the whole of the town from above during your 24 hours in Verona. Bring your camera to capture your visit. Entrance costs 8 Euros per person and the tower is open10 am 10am to 6 pm every day.
Tour the Roman amphitheater
See an opera, a ballet or just book a tour of Verona arena which is still a working amphitheater today. A Roman monument dating back to the first century AD which has become the centre of the towns art and music performances. Open all year round, entrance costs 10 Euros, but if you visit on the first Sunday in the month you'll pay just 1 Euro.
What's unique about this arena is that it is built of pinkish marble which just adds to the romance of Verona. You may have to slot this visit in the best time during your stay depending whether you want to see a show or just enter and look around.
Eat Traditional Verona Cuisine
To finish your day in Verona you should definitely try a traditional dish from the area. You will find plenty or tasty Italian dishes in the restaurants dotted around the squares and beyond in Verona. However, there are some local specialties that are unique to this part of the country. Try the risotto al tastasal (with sausages) or if you are very adventurous the traditional horse or donkey meat stew.
Top restaurants include Osteria la Fontanina, Casa Perbellini and Restaurant Il Desco. There are of course many places to try other cuisines, but if you are only spending 24 hours in Verona, you should eat local.
Book a Romantic Room For The Night
Being a city of love there are lots of places you can stay which promise to capture the romance of the town. On the pricier side, you can stay at Il Sogno di Giulietta or Juliet's dream hotel. Most of the luxurious rooms have a balcony that looks out over Juliet's courtyard and have beautiful, great quality decor. It also appears to be the place to stay for couples looking to get engaged during their break. Prices range from 400 to 3200 Euros depending on the room.
For a slightly more budget stay in Verona, check out Corte Delle Pigne Bed and Breakfast, not far from the main square. All of the rooms are filled with romantic details to make your break that little bit special. Want breakfast in bed? Another special touch the owners offer is a choice of where you take your breakfast. Prices start from 90 Euros making it very good value too.
How would you spend 24 hours in Verona?
I think spending 24 hours in Verona is enough time to see and do what you need to get a good flavour of the destination. Spending a night here whilst travelling between other Italian destinations can make a great addition to your trip. What do you think? What would be top of your list when visiting Verona in Italy? You might not need to spend as much time in this city as in Rome or Venice, but these sights will certainly fill your time.
Please follow and like us: