Looking to take a trip to Spain in the future? Here are 8 of the best beaches in Spain that you can visit on your next vacation!
Are you planning a trip to Spain?
From Madrid to Barcelona to Valencia, there's a lot to see and do in Spain. However, no matter what, you need to make sure you carve out some time to visit some of Spain's famous beaches. 
However, considering that Spain has over 3,000 miles of coastline, it can be tough to figure out where exactly you should go. 
Luckily, we've got all of that figured out for you. 
Check out this guide to learn about the best beaches in Spain. 
Playa de Bolonia 
Located in Tarifa, Andalusia, Playa de Bolonia is a true beachy paradise. 
Tarifa is a tiny fishing town, and this beach is very popular amongst locals. However, it's also slowly catching the eye of international travelers. 
The beach is located in Estrecho National Park, which means you'll be surrounded by lush, green scenery instead of gray high rises. 
And, if you choose to venture through the town, you'll be able to see the 2000-year-old ruins of the Roman city Baelo Claudia. 
Not only is Bolonia a great beach to relax on, but it's also a top kitesurfing destination. Luckily, you won't have to share the waves with too many people, as Bolonia has a very chill atmosphere. 
La Concha Beach 
Located in San Sebastian, not only is La Concha one of the best beaches in Spain, it's one of the best beaches in all of Europe. 
San Sebastian is located near the west end of the French border, and it's known to locals as a chic coastal city with excellent tapas and beautiful coastline. 
There's also plenty to do in the city of San Sebastian itself, which makes this a great destination for those who don't want to spend all their time on the beach. 
Maspalomas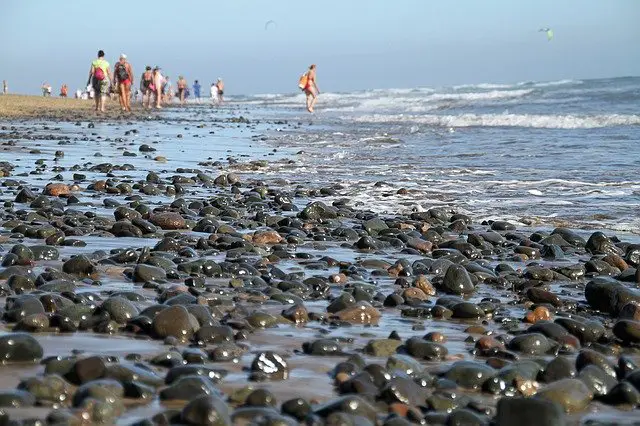 Located just south of Gran Canaria, Maspalomas is home to a whopping 6 kilometers golden coastline. 
And, some parts of the beach are as wide as 100 meters. Along the beach, you'll find beach stands that sell water and snacks, small cafes, and plenty of sunbathers. 
And, if you're looking to have some fun on the water, there are plenty of places along the beach to rent jet skis or stand up paddleboards. 
Playa de Las Catedrales 
While it's a bit more remote, Playa de Las Catedrales is definitely worth the trip. 
Located in the region of Galacia, this beach is known for pristine sand and its unique rock formations (When it's high tide, you can see rocky arches in the water that reach as high as 90 feet!). 
The closest city to the beach is Ribadeo. While the weather can sometimes be unpredictable throughout the year, it's consistently sunny during the summer months. 
And, seeing as this spot isn't quite on tourists' radar yet, you'll likely have this sunny paradise all to yourself. 
Playa Gran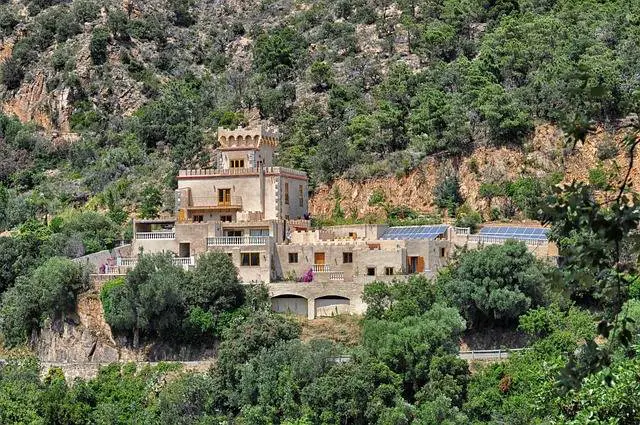 Playa Gran checks all of the major boxes that one would look for in a great beach: bright blue see, clean golden sand, and beautiful weather. 
Located in the small town of Tossa de Mar, this area is also a great place to visit for history buffs. Just above the beach lies defensive walls that date all the way back to the 14th century. 
While the beach is tucked inside a little cove, you can't help but feel like you're in some kind of Medieval movie when you gaze up at the defensive walls. 
Playa del Silencio
The beaches in Asturias are considered to be some of the best in all of Northern Spain. 
Out of all the beaches to check out in Asturias, Playa del Silencio is at the top of the list. 
Just as with Galicia, you won't find sunshine year-round in Asturias. Luckily, the nearby town of Cudillero offers plenty of cultural activities and accommodation options. 
Asturias tends to attract a younger crowd, so if you're looking for a great place to party, this is it. The region is also home to the city of Gijon, which is known for hosting great events and concerts. 
Playa de Rodas 
While it's a bit of a trek to get to the Las Ciels Islands, it's definitely worth it, as this is one of the most stunning destinations in all of Spain. 
It's an amazing tropical paradise, and many people consider it to be the "Seychelles" of the country. 
And, what's even better is that these islands have yet to be discovered by tourists. 
Out of all of the beaches on the island, Rodas is definitely the cream of the crop. The beach is home to a strip of pure white sand, and it actually connects the islands of Faro and Monteagudo. 
So, just think, you can wake up catch some sun on one island, then stroll over to the other island for lunch!
And, as is all of this isn't reason enough to go, the entire area is also a national park. This means that you're relaxing sunbathing and exploring won't be interrupted by any high rises, cars, or trashy resorts. 
Ses Illetes 
If you're looking for great Spain vacation ideas, Ses Illetes is the place to go. 
The beach is located in Formentera, which is known as the "Caribbean of Europe". 
This means that in addition to beautiful beaches, the whole area exudes that relaxed island-feel that's hard to find anywhere else in Europe. 
Along the beach of Ses Illetes, you'll find countless restaurants and bars. The local delicacy here is salted fish, so be prepared to see plenty of topless sunbathers snacking on them all day long. 
Are You Ready to Check Out the Best Beaches in Spain? 
Now that you know about the best beaches in Spain, it's time to start planning your trip. 
Before you know it, you'll be lying in the sand, sipping sangria, and munching on tapas. 
Also, if you liked this article, be sure to check back in with our blog for more travel-related tips and tricks. 
Please follow and like us: