As an Amazon Influencer, we earn from qualifying purchases you might make if you click any of the links on this page.
If you have the chance to visit Anchorage, you will enjoy beautiful scenery, a diverse culture, and a wide array of cuisines featuring local ingredients and Alaskan seafood. Surrounded by snow-covered mountains and embraced by two arms of Cook Inlet, Anchorage is Alaska's largest and most sophisticated city.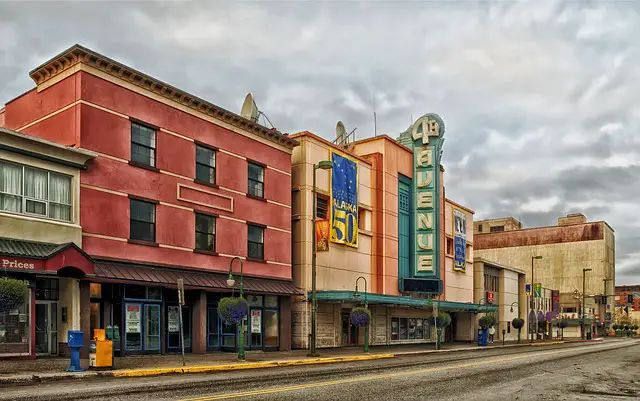 Image Pixabay
With rising tourism, Anchorage has seen an increase in the range and quality of its restaurants. In Anchorage you will find great local beers, farmers markets, food trucks, and fresh seafood, of course. Home to the nation's last great wild salmon run, Anchorage is also known for its Kachemak Bay oysters, Alaska king crab, fresh-caught halibut, snow crab, mussels, and shrimp. Here are some of the best downtown anchorage restaurants you won't want to miss from BestTimeToCruiseAlaska.com:

Image: Pixabay
Bear Tooth Theatre pub & grill
This unique complex offers its own brewery, 67 types of tequila, a casual pizzeria, homemade desserts, and a dinner and movie "theatrepub" where you can eat tacos, pizza, and wraps while watching second-run movies. Working with local Alaskan farmers to source fresh, local caught fish, the menu features delicious seafood dishes including fish tacos, wild-caught cod, and seafood chowder. The menu changes seasonally, but here are some items you might find.
Bear Tooth grilled burger

Image: Pixabay
Orso
Orso, which means bear in Italian, is a farm to table Italian restaurant with Alaskan touches. You will find a great selection of signature craft beers, an extensive wine list, and a warm and inviting atmosphere. Upstairs is a large bar featuring a cozier and quieter atmosphere. Open year round and serving pasta, fresh seafood, mac and cheese, and delicious desserts, this is a restaurant you won't want to miss. Here are a few of the menu's highlights.
Baked seafood mac and cheese
Bering sea scallops with walnut-gorgonzola risotto
Moose's Tooth Pub and Pizzeria
There is always a long line at Moose's Tooth Pub and Pizzeria, but it is worth the wait to experience the specialty pizzas, local beers, and fresh salads. One of the top grossing pizza restaurants in America, this local hot spot features daily pizza specials, a new special beer on the first Thursday of every month, soups, and home-brewed root beer and cream soda. Here are some of the most unusual pizzas you will find on the menu.
Call of the Wild (reindeer sausage, steak, bacon, and veggies)
Image: Pixabay
Humpy's great Alaskan Alehouse
Founded in 1994 by locals, Humpy's features Alaska's largest assortment of beers on tap, with 50 choices including Alaskan brews and craft beers from around the nation. Humpy's has live music performed by local bands, large screen TVs for watching sports, a patio for outdoor dining, and is across from the Alaska Center for the Performing Arts. If you are brave, you can try the Kodiak Arrest Food Challenge, which consists of eating seven king crab nuggets, 16 inches of reindeer sausage, three pounds of King Crab, and wild berry crisp, all in less than 60 minutes. Here are a few other items you will find on the menu at Humpy's.
Reindeer sausage frittata
Simon & Seafort's Saloon & Grill
Be sure to check out this award-winning Anchorage landmark known for its beautiful panoramic views. Opened in 1978, this restaurant serves a traditional menu of steaks, fresh fish, lobster, and oysters. With award-winning dishes, assorted Alaskan beers, martinis, and margaritas, and stunning views of the Cook Inlet vistas, you can't go wrong eating at this elegant restaurant. Here are a few of the highlights from the menu.
Crab-stuffed macademia halibut
Chili-smoked tiger prawns
Crow's Nest
Located on the top floor of the Hotel Captain Cook, this restaurant has the best restaurant views in Anchorage. From here you can see the inlet, the Chugach Mountains, and the Alaska range. You will also be treated to delicious food that is artfully presented. With a 10,000 bottle wine cellar and a 50-page wine list, you are sure to find a wine that you like. Here are some menu items you might want to try.
Tequila 61
This Gastropub serves modern Mexican cuisine, with an Alaskan twist, and craft cocktails. The fusion of Mexican and Alaskan ingredients embraces both worlds. Even the name is indicative of the fusion approach, as the 61 stands for Anchorage's degree of latitude. In addition to inventive cocktails, you will find a selection of tequila/mescal, wine, and Alaskan craft beer. The décor is rustic, with handmade tables made out of wood from the Port of Anchorage, Mexican inspired artwork, and patio seating. The menu features many interesting dishes including these.
filet mignon and tiger prawns served in volcanic stone bowl
Ginger
Opened in 2007, this restaurant in downtown Anchorage specializes in Pacific Rim cuisine and Asian dishes made from handcrafted, fresh ingredients. Local micro-brewed beer, wine, sake, and cocktails are served. Be sure to give the ginger mojito a try. Here are some menu items that you won't want to miss.'
Szechuan coconut-crusted Wagyu beef strips
Grilled tofu over quinoa salad
These are just a few of the many excellent downtown anchorage restaurants you can choose from. Wherever you end up dining, be sure to treat yourself to some of the world's freshest fish and seafood. If you are feeling especially adventurous, perhaps you will even consider giving reindeer sausages a try.
Anchorage Awaits!
Find your way to Alaska to take in some of these amazing restaurants. Whether you're craving fresh fish, or caribou, there is something here fore everyone!
Please follow and like us: