If you are looking for a beach holiday and pick Sardinia, there are a number of considerations. The first is where to stay in Sardinia with the first places you should look at are the coastal locations that have developed for tourism. There are over 1200 miles of coastline to choose from after all.
There is minimal overdevelopment although visitor facilities are usually close by. Here are some ideas of the best beaches where you should start your search. But before the list, if you're looking for best areas to stay in Sardinia for best beaches, this source, where to stay in Sardinia is a great place to look at.
1. Porto Molentis, Villasmius
Porto Molentis in the southeast of Sardinia is due east of the capital, Cagliari, a trip by road of about an hour. The beach is fine white sand that contrasts beautifully with the blue sea that sometimes even looks an attractive emerald green.
It is a sheltered beach surrounded by Mediterranean scrub at the end of a promontory. The closest town, Villasmius is almost 4 miles away. The lagoon is part of a protected marine area where flamingos often gather. Enjoy the sun and beach or go diving to see life under the waves.
2. Cala Goloritze, Orosei
Heading up the east coast past Arbatax, you reach this wonderful beach at the southern end of the Gulf of Orosei. You can reach it by land or sea. The clear blue water is slightly colder than other bays because it is close to the mouth of a river that is fed by cold streams.
There is no development here so take everything you need for your time there. The setting includes a rock pinnacle of over 450 feet, cliffs, pink rocks in a blue sea. It is a paradise and definitely worth the effort to get there.
3. Cala Brandinchi, San Teodoro
Cala Brandinchi is a beautiful beach in Sassari Province on Sardinia's northeast coast facing Italy. The white sand and blue waters paint a beautiful picture with a pine fringe inland. If you did not know it, you could be in the South Pacific.
The setting is at its best in the low season when there are only the locals to enjoy it. Through the height of summer, there are many more visitors. Accommodation is available for every budget and for families, an added attraction is the pink flamingos that inhabit the lagoon
4. Maddalena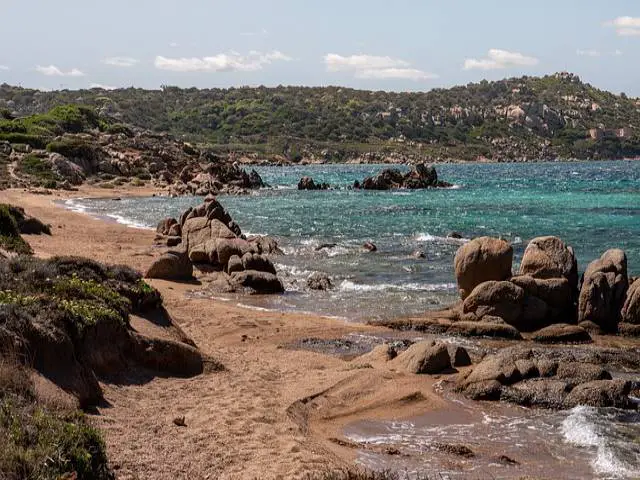 Further up the east coast but still in Sassari are the Maddalena Islands where the beautiful beaches have made this one of Sardinia's top holiday destinations. The whole setting is impressive both in terms of colour and topography.
You must approach the archipelago by boat with locals available to take you to any of the smaller islands from Maddalena Island itself. The latter links to one of them, Caprera, by a causeway. Incidentally, some of the sand you will see is a stunning pink in colour, a result of the coral and shells.
5. Costa Verde
The Green Coast of Sardinia offers visitors the chance to escape the crowds even during the Island's high season. This is the southwest which is welcoming and underdeveloped. Take your own refreshments and then enjoy your day.
You may see the odd vendor but little else, and certainly not rows of umbrellas other than on the 2 mile stretch of Scivu Beach. Here you will see some of the highest sand dunes in Europe, 200 feet high. Equally as impressive is the width of the beach, well over a mile in places.
Enjoy Sardinia
Sardinia is a paradise for anyone who loves a beach holiday. It is rare to find too much development, and just as rare to have to tolerate crowds even in high season. Set out prepared for your day and enjoy!
Please follow and like us: