Per a cheap flight to Belgium, we decided to cross another country off the bucket list. Belgium. So what to do with a Belgian weekend? Just like other travelers have pointed out when traveling in places like Paris, trying to do too much can be a bad idea. Instead of doing just that, we kept our itinerary concise with three important to-dos – visit Brussels, take a day trip to Bruges, and eat all the food.
Image credit: Danielle Tobar
A Belgian Weekend – Brussels
Short trips require a bit of extra planning to make sure you really get the most out of your time. I'd recommend starting in Brussels and doing a day trip to smaller cities like Gent or Bruges like we did. Just as I recommend when visiting Krakow, Poland, I highly recommend doing one in Brussels. This time we had – hands down – THE BEST – tour guide. Our local guide was the funniest, most charismatic, and most entertaining tour guide there may ever be in this world, so if you get a chance to take a Sandeman's New Brussels Tour – do it. Our walking tour took us to some of the most famous landmarks in the city including The Grand Place, Manneken Pis, St. Michael and St. Gudula Cathedral, The Brussels Stock Exchange, and The Royal Palace, among others.
A Belgian Weekend – Bruges
We had heard the hype about canal cities in Belgium including both Ghent and Bruges. We chose Bruges after seeing a few perfect pictures of its famous Flemish architecture and house lined canals. The train to Bruges was only about 45 minutes and walk to the Bruges city center was a piece of cake. I immediately fell in love with Bruges – almost as soon as we stepped off the train and wandered into the picturesque canal city. Bruges was perfect and I will dream about buying a house with a canal view until I am old enough and rich enough to actually do it. Bruges has a few must sees which can all be covered on a free walking tour including The Church of Our Lady, Old St. John's Hospital, St. Salvator's Cathedral, City Hall, and the Province Court. Although I recommend the walking tour, some of the best views of this city are by boat so a can't miss experience when in Bruges is a canal tour. There's no better way to see the city, especially for such a great price.
Image credit: Danielle Tobar
A Belgian Weekend – The Food
But let's talk about the really good stuff- the food. If you're trying to eat clean and get that beach bod leave now because our entire diet for the weekend consisted of fried, salty, or sugary goodness.
Image credit: Danielle Tobar
First, the frites. As soon as we could, we grabbed an order of the famous fries at a shop just inside the city center. One thing I love about these is the sauce options. On my first round, I chose the 'spicy sauce' and it was exceptional. It definitely was spicy and perfect on the crispy frites. I wish I could say I tried something else, but I stuck to the spicy sauce on every subsequent frite order. After so many months in Europe having to pay for tiny sides of sauce, I couldn't help enjoying the Belgian sauce game.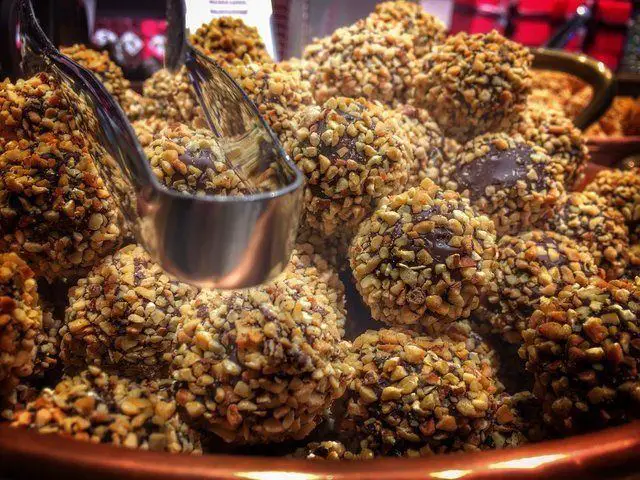 Image credit: Danielle Tobar
Next, chocolate. One famous Belgian chocolate creation is the praline. It's different than other confections by the same name from other countries, but this sweet has a soft filling inside a chocolate outside. Now, although this may be a bit confusing, pralines can have both an actual "praliné" filling or numerous others like marzipan, caramel, or nuts. You really can't go too wrong here. I recommend doing a build your own – all the chocolate shops we visited had bags that you could fill with your choice of treats and pay based on weight. It was a great way to try many kinds and decide what we really liked. A chocolatier we frequented was Bruyerre which is located on a corner of The Grand Place.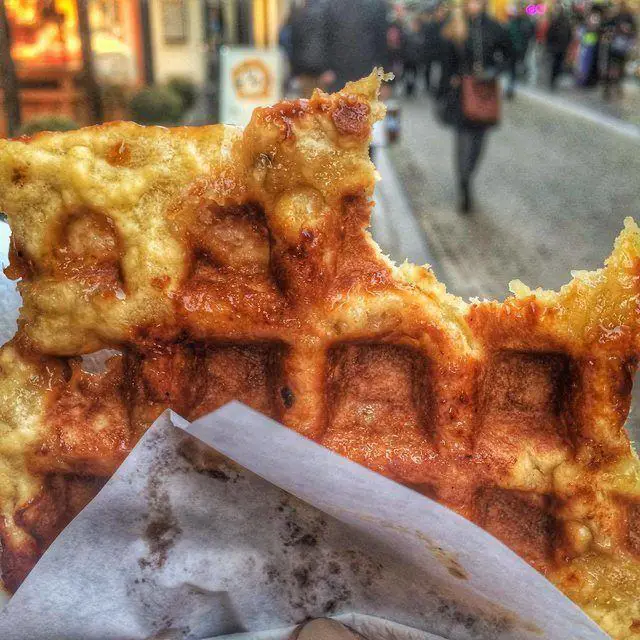 Image credit: Danielle Tobar
And now a lesson in waffle history. There are two types of waffles made in Belgium. The first is called a Brussels waffle. It's basically a 'normal' waffle with a crispy, light texture. It's made in a rectangular waffle iron. The other type is the Liege waffle. This version of the sweet treat is made from dough rather than batter. The waffle is made in a normal iron, but because it is made from dough it is normally an imperfect circular shape when served. It also has these magical things called Belgian Sugar Crystals inside that melt and caramelize into chewy perfect goodness. This type of waffle is a bit denser and chewier.
I haven't been sappy in a post for awhile – so I'm due. My life changed during this trip. "Why?", you ask. LIEGE WAFFLES. I'm not a waffle fan. But these are next level. Some (me) may even say they're life changing. The Liege waffle is the most common type of waffle in Belgium. For locals, its a cheap meal or snack as there are food trucks and vendors everywhere for a quick eat. During your weekend in Belgium you can eat one for every meal under the excuse that you're just trying to be a local. Don't fall for the add-ons. Locals don't add whipped cream, ice cream, chocolate, strawberries, or the like. Take at least you first Liege Waffle plain. Trust me, after making the wrong decision the first time by adding chocolate I can honestly say there is plenty of flavor without all the extras. We ate too many waffles to remember during our Belgian weekend but I can say that the more expensive 3 Euro food truck waffles were just as good as the 1 Euro waffles we found on Rue de l-Etuve. Cheap spots are all around cities like Brussels, so as long as it's warm and fresh you won't be disappointed.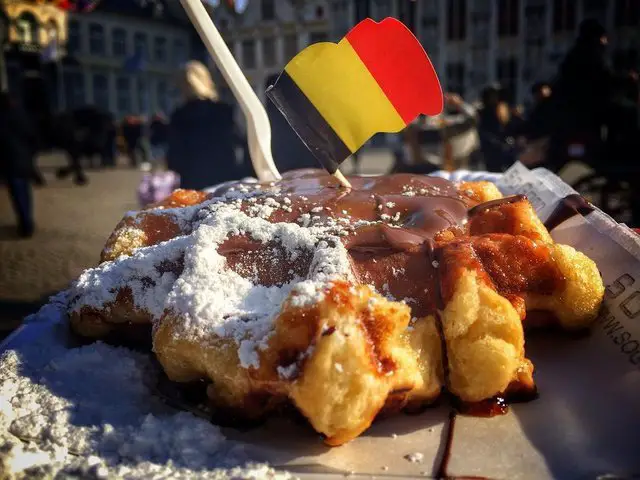 Image credit: Danielle Tobar
The Dream Belgian Weekend!
So, grab your comfy shoes, your stretchy pants, and your biggest appetite for a quick but nonetheless great Belgian weekend.
Please follow and like us: