The Honest Review!
We have researched the very best packing cubes for you and organized them in the table below. The factors we assessed were durability, space, functionality and popularity. We will provide more details of each product in the packing cubes review section.
Welcome to the best travel packing cubes honest review. You will no doubt agree that travelling these days is a lot more complicated than it used to be. There are now a number of restrictions in place when it comes to the amount of luggage that a single traveler can carry on an aircraft. There are strict rules about the weight and size of the luggage that you are permitted to check in.
So the traveler of today has learned to pack simpler and lighter and has to make some painful choices when it comes to what is really essential and what needs to be left behind. Heavy and bulky suitcases really are not the way to go now, and if you turn up at the airport with these then be prepared to pay some excess fees.
We all need help and need to get creative with our packing. Organizing your items well is the key to success here, and the use of packing cubes will help you to do this and will help you to save space at the same time. The end result is that by using travel packing cubes you will be able to pack more stuff which actually takes up less space in your luggage.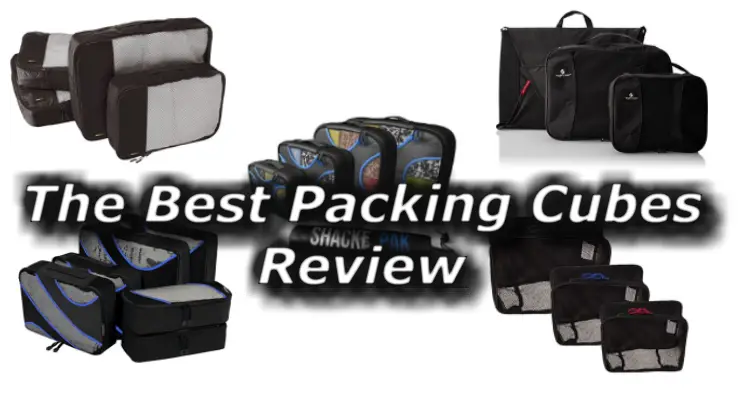 -The Best Packing Cubes Review
The packing cubes that we provided in the table above are now reviewed in full here so that you can make an informed decision. We leave no stones unturned when we review products and are always completely honest. So this packing cubes honest review will tell you all that you need to know to make the right choice.
Ecosusi Travel Packing Folder
The Ecosusi Travel Packing Folder provides very good value for money. It is a packing folder as opposed to a packing cube and you can use it in a backpack, carry-on luggage or suitcase. Ideal for clothing and you will be able to store around 4 to 8 items without difficulty.
With this Ecosusi packing folder, you can store shirts, t shirts, blouses and even dresses and keep the wrinkles to a minimum. There is a shirt folding board included with each Ecosusi Travel Packing Folder and folding tips are provided so that you will minimize wrinkles. There is a guide on the board that will show you how to fold shirts, skirts, and slacks.
The Ecosusi Travel Packing folder  is made from lightweight nylon and it has a mesh fabric envelope as well as a strap at the top. This means that it is easy to carry separately and this adds to the convenience of the product. You can use it on its own to carry around a quick change of clothes if you need them.
It also has a zipper closing mechanism that will keep your clothing tightly packed. There are many applications for the Ecosusi bag which include airline travel, a weekend break, backpacking outdoors or if you have to travel for business then your change of clothes can be stored. This travel packing case is ideal for the business traveler who needs to take shirts and other formal garments on their trips.
Pros
The price
Shirt folding board included
Large selection of colors
Cons
Less space than packing cubes
Some quality issues
Clothes can wrinkle
This is a quarter sized cube from the established brand Eagle Creek. It is ultra lightweight and uses the same translucent fabric that is used for backpacks and lightweight tents. The material is very durable and it is also stain and water resistant. This quarter cube is available in five different colors which are ebony, flame orange, grey, strobe green and white.
This is a small packing cube which is ideal for belts and ties as well as other small items. The cube measures 18 centimeters in height by 9 centimeters in width. You will be able to see what is inside this cube thanks to the ultra lightweight sill nylon ripstop. The Eagle Creek Quarter Cube also has a handle designed for quick grabbing.
You can use this quarter cube with any of your luggage such as a backpack, suitcase or carryon bag. It is designed to organize your small items and it does this well. It only weighs around 5 ounces and packs flat when not in use. The translucent material means that you can see what is inside the cube at any time.
Strength and durability combined with lightness make this a good packing cube. It is very small so you need to think about what you will be able to carry in it. Some underwear or even toiletries would be fine. This small Eagle Creek Quarter Cube can be used by any kind of traveler to organize your smaller items and to easily grab them when you need them.
Pros
Very durable
Very lightweight
Smooth zipper
Cons
Expensive for a small bag
Not waterproof
Material is thin
This tube cube is designed to fill those spaces in your luggage that other cubes can't. An example of this is the spaces in between the handles of wheeled luggage. This is a very lightweight packing cube that you can use to organize your small items such as socks, ties, belts, electrical cords and other flexible items.
The material used for this Eagle Creek Tube Cube is 300D poly micro-weave. This is a good choice of material for durability. This small cube is just 13 inches in width and 4 inches in height. For visibility and breathability, there is a mesh top, and the tube cube also has a quick grab handle included.
Maximum compression is provided by a two-way zipper. Flexibility and structure are offered by the tube cube thanks to its design. The tube will flex a little so that the maximum amount of items can be stored. You will need somewhere to store small items when travelling and this travel cube is ideal for the task.
There are four colors available for the Eagle Creek Tube Cube and these are black, red fire, blue sea and fern green. For some reason, the first two colors are more expensive than the second two colors. The usual lifetime guarantee from Eagle Creek is provided with the tube cube. This is a sensible option for most travelers as it will fit almost anywhere.
Pros
Well made cube which is durable
Very lightweight
Good for narrow spaces where other cubes will not fit
Cons
Expensive for a small cube
Handle is at the top and zipper at the bottom so things can fall out if it is not closed properly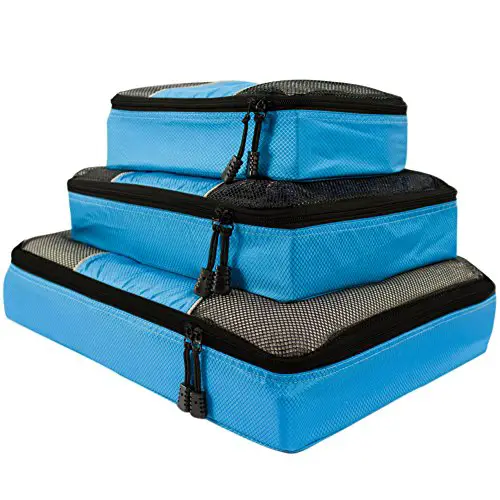 The CoZroom packing cubes are a set of three with different sizes. There is a large cube which is 6.89 inches by 5.02 inches by 1.28 inches (17,50cm X 12,75cm X 3,25cm), a medium cube which measures 5.41 inches by 3.84 inches by 1.18 inches (13,75cm X 9,75cm X 3cm) and lastly a small cube which is 4.33 inches by 2.66 inches by 1.18 inches (11cm X 6,75cm X 3cm).
There is only one color option with the CoZroom Packing Cube set and that is light blue. The cubes are made from breathable nylon and it is claimed that this will prevent the growth of bacteria on your clothes. Being breathable, the cubes will let your clothes moisten. This means that your clothes will be fresher and the soft design of the cubes will prevent crumpling.
The cubes are fitted with premium zippers which should last for a long time. The zippers are two way and are YKK. These cubes are ideal for any kind of travel and they should fit into most luggage carriers without a problem.
Although the CoZroom travel packing cubes are primarily aimed at the travel market you can also use the cubes for home storage. These cubes are recommended for solo or business travelers.
Pros
Clothes are fresh after travel
The quality is good
The cubes are lightweight
Cons
This is a 3 piece packing cube set which comprises of one large cube which measures 14 inches by 11 inches by 5 inches and two smaller travel packing cubes which measure 7 inches by 11 inches by 5 inches. The special 5 inch deep design means that you will be able to pile your clothes high in these cubes.
Made from polyester mesh, the tops are see through which will help you with item identification and make it easier at airports for bag contents checks. There is a 3 side perimeter zipper for secure closing of the Kiva cubes. These travel cubes are very lightweight and when you are not using them they will fold flat for easy storage.
The Kiva cubes have structured edges which will help them to keep their shape. Even with these structured edges the cubes will fold flat so that you can store them easily. They also have bungees which are color coded so that you can find your items faster.
The Kiva 3 piece packing cube set is currently only available in black. The mesh will expand a certain amount so that you can pack more items. The cubes are all hand washable for added convenience. Despite their 5 inch depth these packing cubes will fit well in carryon luggage, backpacks and most suitcases.
If you are looking for a lot of packing space then these are the very best travel packing cubes. These are great for both family travelers and people that just have a lot of stuff to pack.
Pros
Pack more with these 5 inch deep cubes
Cubes are sturdy but still have flexibility
Strong zippers
Cons
Some mesh quality issues
Black color can seep into clothes
The cubes have a peculiar smell
This set of three travel packing cubes from eBags is very popular. They are made from techlite diamond nylon and all three of the cubes are the same size. Each packing cube measures 13.75 inches by 9.75 inches by 3 inches and they can store a number of different items including t-shirts, dress shirts that are folded, jeans and so on.
The zippers all have corded pulls and are made by YKK. The manufacturer eBags claims that the highest construction standards are utilized when making the cubes. The interior seams are fully finished which adds to the durability of the cubes. The tops are soft mesh so there will be no damage to fabrics which are delicate. The mesh helps clothes breathe and provides easy identification of items.
You have a choice of ten colors for the same price. You can choose from aquamarine, black, canary, denim, eggplant, grasshopper, peony, raspberry, tangerine and titanium. All eBags cubes are guaranteed for life. The company has total belief in their build quality to offer this level of guarantee.
This is another durable packing cube set from eBags that has been extensively tested. Family travelers will probably find that there is not enough space for all of their items, but business travelers and solo travelers should have no problem packing everything with these cubes.
Pros
Lifetime guarantee
Material and zipper sturdy
Good compression
Cons
Cubes are too small
Some quality issues reported
Mesh is rougher than with other cubes
The Eagle Creek three piece starter set comprises of a full cube, a half cube and a medium sized packing folder. The full cube measures 14 inches by 10 inches by 3 inches, the half cube is 10 inches by 7 inches by 3 inches and the medium sized folder is 18 inches by 12 inches.
Each item in the Eagle Creek set is constructed from 300D poly mirco-weave and you can purchase the set in a range of different colors. The black and the repeal red set are the same price but you will pay more for the red fire, blue sea, fern green and repeal tan options.
This starter set is lightweight and structured so the cubes and the folder will maintain their shape throughout the travel experience. The manufacturer claims that their cubes are of the highest quality and that every component is carefully selected and then lab tested. To support this claim they provide a lifetime warranty on their products.
These packing cubes have good compression and there is a folding template provided with each set that will guide you to packing more things in the cubes. The size of the cubes means that they will fit well into most carry-on luggage or suitcases.
If you are looking for durability, then these are the best travel packing cubes in our packing cubes review. These Eagle Creek cubes can be used by the business traveler, as the packing folder is useful for formal garments. These are expensive but you certainly get what you pay for.
Pros
High quality cubes
Good size range to fit in most luggage
Lifetime warranty
Cons
The cubes are expensive
They are heavier than other cubes
This is a set of four travel cubes which are very affordable. They are made from diamond nylon and the manufacturer claims that the cubes are very well made and durable. The stitching is toughened to handle the packing pressure.
The diamond nylon mesh has good durability and will withstand the pressure of the initial packing of your items as well as the handling of your luggage while you are travelling. The Evatex cubes have a spill resistant side material which will prevent anything damp making a stain on the inside.
The four cubes included in the set are all different sizes. There are five different colors available which are black, ash, navy, gold and orange. Your choice of color will make a difference to the price as the black, ash and navy options are more expensive than the other colors.
Evatex
offers a 100% money back guarantee if you are not satisfied with their packing cubes. This is a no questions asked guarantee and you can return them for a full refund without providing a reason. This is an entire packing cube set which is great for family travel as you should be able to get all of your clothes into these packing cubes.
Pros
The cubes fit well into most suitcases
Sturdy zippers and two pull tabs for zipper closure
Very good guarantee
Cons
Interior quality issues
Long term quality concerns
You get a set of four travel packing cubes of four different sizes. There is a large cube which measures 17.5 inches by 12.75 inches by 3.25 inches, a medium sized cube which is 13.75 inches by 9.75 inches by 3 inches, a small cube which is 11 inches by 6.75 inches by 3 inches and a smallest sized cube which is 9 inches by 3.75 inches by 3 inches.
In the Pro Packing cube set the largest cube is designed to store your jackets, pants, sweaters and towels. The medium cube will accommodate blouses, shirts and shorts. The small cube is really best for your underwear, socks and other small items of clothing. And finally the smallest packing cube is best for toiletries, cables and adapters.
These cubes are lightweight and made from rip-stop nylon. The zippers used are of the YKK variety and the stitching on the cubes is good. They all have see through mesh so that you can identify what you packed where. The manufacturers claim that 30% compression can be achieved with this cube set. They are provided with a lifetime guarantee.
You have an excellent choice of colors available – 13 in all. These are aqua blue, bubblegum pink, cypress, desert camo, eggplant, graphite, hot pink, marine, mixed colors, red hot, silver grey, sky blue and sunset orange. It is claimed that the Pro Packing cubes will fit well into most luggage. This is one of the best packing cubes sets for family travel, but business travelers can use them effectively too.
Pros
Very lightweight
Lifetime guarantee
Good color options
Cons
Some durability issues
Cubes too small
Material is thin
With this Amazon Basics 4 piece set you will receive 2 large size travel packing cubes which measure 17.5 inches by 12.75 inches by 3.25 inches and two medium sized cubes which are 13.75 inches by 9.75 inches by 3 inches. The cubes are made from 100% polyester and they have finished interior seams for increased durability.
The top panels are a mesh design which aids with the identification of packed items and also provides ventilation. The mesh is soft and will not damage any fabrics. There is a webbing handle on each Amazon Basics cube which means that they can be easily carried separately. A double zipper is included with each cube for fast and simple opening and closing.
You can use the medium sized cubes for packing tops, shirts, t shirts, shorts, button down shirts and even khakis. The larger cubes are ideal for packing your jeans, sweaters, hoodies and jackets. The cubes are machine washable using a gentle cycle and cold water.
They are lightweight and easily fold down when you are not using them. They will fit nicely into most suitcases and of course, you can add them to your backpack or carry on luggage. These Amazon Basics cubes offer quite a lot of packing capacity so are ideal for traveling families or those that need to pack a lot of items. These are some of the best travel packing cubes for such a good price.
Pros
Good quality for the price
Simple and functional cubes that do not wrinkle clothes
Durability is good
Cons
Cubes do not stretch so limited packing capability
Some issues with the stitching
Cubes are flat and lack structure
The GUS set of packing cubes consists of 4 cubes that are of different sizes. They are designed for the smallest items up to the largest. The largest bag is actually for clothes that you have worn so that you can keep these separate from the rest.
With the GUS set there is an underwear and socks bag which is 14 inches by 7 inches by 3 inches, a workout bag which is 14 inches by 7 inches by 3 inches, a shirts bag which is 14 inches by 10 inches by 3 inches and then the "worn" bag which is 14 inches by 12 inches by 3 inches.
The cubes are made from 300 denier polyester, and the manufacturer claims that these are sturdy and durable. There is a rubberized mesh included with each cube. The cubes are light in weight and they can be folded up easily for storage when you are not using them.
One of the unique features of the GUS packing cube set is that they can be hooked and looped together on a single hanger when you arrive. The mesh configuration at the front is see through so you will always know what items you packed in what cube. There are also labels provided so that you can list what is in each cube.
These travel cubes are ideal for family, business or other regular travelers who stay in hotels thanks to the innovative single hanging system. The packing capacity space is good.
Pros
Good value for money
Cubes can hang together on a single hanger
Worn clothes cube is a good idea
Cons
The cubes could be a bit sturdier
This packing cube set is very popular. There are 4 different sized cubes in the Shacke Pak set and these are extra large, large, medium and small. The extra large cube measures 17.5 inches by 12.5 inches by 4 inches, the large cube is 13.75 inches by 12.75 by 4 inches, the medium cube is 13.75 inches by 9.75 inches by 4 inches and the small cube is 11 inches by 6.75 inches by 4 inches.
The Shacke Pak cubes are all constructed from a high quality, water resistant nylon material that the manufacturers claim will withstand the wear and tear of travel. An X design is used and double stitching used and this helps to create a stronger lid which will not only hold clothes in place but prevent the material in the middle from folding upwards.
The zippers used are YKK and they have a smooth and sturdy operation. When you buy this set a separate laundry bag will be provided so that you can place your dirty clothes in this. There are 8 color options and the price is the same for all colors. You can choose from aqua teal, black / blue, gentlemen's blue, green grass, mandarin orange, orchid purple, precious pink and warm red.
This Shacke Pak packing cube set is aimed at family travelers and those that want to pack a lot of items. The laundry bag is a great idea for your worn clothes to keep them separate from clean clothes. The packing space is good with these cubes and this is the best travel packing cubes all-rounder set.
Pros
An affordable set of packing cubes
Can pack a lot of items into the cubes
Cube sizes fit well in most suit cases
Cons
A small number of quality issues
A couple of problems with zippers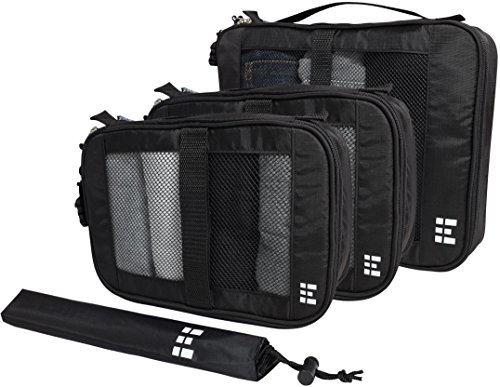 This is actually a 4 piece set as there are 2 small cubes and 1 large cube and a shoe bag which is water resistant where you can keep your shoes or even your dirty clothes. The cubes are a good size and will easily fit into most suitcases, carry on bags and backpacks. The webbed front panels are dual reinforced and there are side handles making the cubes easy to carry.
The Zero Grid cubes are made from rip-stop nylon which is both liquid resistant and tear resistant. The zippers are courtesy of YKK and the cubes are equipped with secure pull tabs and a cobra weaved paracord. These cubes will keep their shape as they have reinforced edges and this provides extra protection for your items.
The large bag dimensions are 13.38 inches by 9.84 inches by 3.14 inches and the smaller bags are 9.84 inches by 6.69 inches by 3.14 inches. The complimentary shoe bag measures 16.53 inches by 12.59 inches. The packing cube set is only available in black at the time of writing.
Each Zero Grid cube has a breathable mesh cover that keep your clothes smelling fresh. There are durable elastic straps which means that carrying the cubes is easy. The zipper tracks are designed for long lasting performance and will ensure that the cubes remain closed when they are full.
These travel packing cubes are some of the most durable on the market. If you are looking for packing cubes that will stand the test of time then this Zero Grid set is a good choice. They are great for frequent travelers.
Pros
Very good quality cubes
Lightweight
Cubes fit well in most suitcases
Cons
There is no compression
The cubes are quite small inside
They take up quite a lot of space
This is a very popular set of travel cubes and comes as a 5 piece set that is available in 5 different colors (each color option is the same price). The colors on offer are black, purple, red, silver and teal. Your set will comprise 2 large cubes, 2 medium cubes and 1 small cube.
Each of the TravelWise cubes in the set is made from a high quality nylon fabric which provides durability and makes the cubes lightweight. The cubes are all equipped with easy pull zippers that are two way in operation. The cubes have an open mesh design which makes it easy for you to locate items that you have packed.
TravelWise offers a 100% satisfaction guarantee with their packing cubes. If you are not satisfied you can ask for a refund or a replacement. Support is available anytime through telephone or email.
The sizes of the cubes are just right to fit into most suitcases or you can use them separately in carryon luggage or backpacks. The different sized cubes means that you can pack your largest items to your smallest and you will be truly organized. This 5 piece TravelWise set is ideal for frequent travelers as these travel cubes should last well if they are not mistreated too much.
Pros
Very good value for money
Different sizes provide versatility with packing
100% Guarantee
Cons
Customers reported a number of quality issues
Cubes are fairly small
Zippers can be a problem
Weweon offer a 6 pieces packing cube set which includes an extra large cube which is 18 inches by 13 inches by 3.5 inches, a large cube which is 14 inches by 10 inches by 3.5 inches, a medium cube which measures 11 inches by 7 inches by 3 inches, a long small cube which is 14 inches by 5.4 inches by 3 inches, a small cosmetic pouch which is 9 inches by 6 inches and a large laundry bag which is 19 inches by 13 inches.
Each of the Weweon cubes has an open mesh design so that you can see the items in the cubes and provides ventilation too. The cubes are made from a lightweight water resistant nylon rip-stop material which is claimed to be high quality by the manufacturers.
The zippers are 2 way and are easy pull. Quality zippers have been used on the cubes and the interior seams are fabric bound. Opening and closing the cubes is easy thanks to the double rubber corded pulls provided.
The Weweon sets are available in three different colors all at different prices (there is no stated reason for this). You can have a new black colored set, a more expensive sky blue set and even more expensive deep black set. The company stands by the quality of the cubes and offers a 100% guarantee and will either exchange for new or refund your money. Good for family travel.
Pros
Very lightweight
An affordable 6 piece set
100% Guarantee
Cons
Quality issues reported
The packing capacity needs to be larger
Durability is questionable
This very popular 6 packing cube set is made from a fabric that is high in quality and the manufacturer has provided finished interior seams for increased durability. The top panel is mesh so you can see what is inside each cube easily. The stitching is heavy duty and so are the zippers.
The 6 pieces of this Bagail set are 2 large with 17.5 inches by 13.7 inches by 4 inches dimensions, 2 medium cubes which are 13.7 inches by 9.8 inches by 4 inches and 2 slim cubes 13.7 inches by 5 inches by 4 inches. You can choose from eight color options for the same price which are black, blue, burgundy, dark blue, fuchsia, grey, pink and purple.
With these 6 packing cubes there is plenty of packing capacity. They will not stain any of your clothes and once your clothes are rolled tight in the cubes they will not move around and remain reasonably crumple free. The cubes are lightweight and will fold up very small for storage when they are not in use.
Because of the number of cubes in the Bagail set these will accommodate the needs of most families. If you can't fit all six cubes into your suitcase then you can take one of the larger ones on board as hand luggage. You will have plenty of space for all of your packing needs. This is the best travel packing cubes solution for family travelers.
Pros
Very affordable for 6 cubes
Plenty of packing capacity
Convenience of different sized cubes
Cons
Some zipper issues
Large cube is too large
No compression
Made from durable fabric, this 6 piece packing cube set from Rusoji has 2 small cubes, 2 medium cubes and 2 large cubes. The large cubes are 17.5 inches by 12 inches by 4 inches, the medium cubes are 13.75 inches by 9.75 inches by 3.75 inches and the small cubes are 11.5 inches by 6.75 inches by 3.75 inches.
There is a choice of 4 colors and you will pay the same price for each color. You can have a purple, blue, grey or black packing cube set. These Rusoji cubes are easy to clean by hand washing them in cold water and then line drying. Each cube has a diamond shaped mesh on top for breathability and viewing what is in the cubes.
These 6 lightweight cubes will fit into a 24 inch suitcase when filled with a little room to spare. The cubes all have a pull around zipper solution with corded pulls. The cubes all have a compression function which will save space.
This Rusoji cube set is all about packing space and is ideal for the family that travels. Durability is good too and you are getting a lot of packing cubes for your money here.
Pros
Competitive price
Very flexible and can be squeezed into place
Cubes will expand to hold more items
Cons
Some zipper issues found
Large cubes can be too big for some luggage
A few quality issues reported
This is a set of 10 compression bags where there are no conventional zippers used for the compression. These bags are aimed at compressing your clothes and they do this by removing all of the air from the bags. Air is removed manually by using a pushing action so there is no need for vacuums or other air removing equipment.
With these Zero Grid bags you will be able to bring larger garments such as coats, jackets and blazers and compress them down. All clothes need to be rolled up before they are placed into the bags. These are a good solution for those people that are frequent flyers and need to store a lot of clothes for each trip.
These compression bags were designed by a team of seasoned travelers and they have produced bags that are of good quality and have reasonable durability. The manufacturers claim that an 80% space saving can be achieved with these compression bags. There is a lifetime guarantee with the bags.
The bags are made from a transparent nylon material which has a thickness of just 80 microns. The zip clip seals are durable and the 10 bag set consists of 2 small bags, 4 medium sized bags and 4 large bags for those bulkier items. The Zero Grid bags are both watertight and airtight once they are sealed. These compression bags can be used for all travel and at home for clothes storage to save space.
Pros
Cheap way of saving space
Can accommodate large clothing items
Can save a lot of space
Cons
Closing zipper awkward to use
Some durability issues
Compression not always easy to achieve
If you want to watch a shorter version of these reviews check the following video:
-Recommended Most Durable Packing Cubes Set
If you are a regular traveler either on business or pleasure then the durability of the travel cubes that you purchase is very important. You want to make sure that your cubes will last you for years and you will not have to replace them after a few short trips.
Our highly recommended winner in this category is the Eagle Creek 3 Piece Starter Set. This set are the best packing cubes for durability, as they have been made from the finest materials and are proven to last.
Eagle Creek state that they have used the highest quality materials in the construction of their travel packing cubes and that the cubes have been fully tested in a laboratory. The customers that have purchased these cubes are very complimentary about them, and there are many references to the durability of the cubes.
If you are looking for durability then you simply cannot go wrong with the Eagle Creek 3 Piece Starter Set.
-Recommended Best Travel Packing Cubes For Space
If you need a lot of packing space in your travel packing cubes then you need look no further than the Kiva RSK-0521 Packing Cube Set. These are the best travel packing cubes for depth, and with 5 inches to play with you can really pack to your heart's content.
The Kiva set are well made too and the three perimeter zips will keep your items safe. The three cubes in the set are of a good size and will meet the requirements of most travelers. When your Kiva cubes are packed they will maintain their shape and offer a degree of protection thanks to their structured edges.
Although the best packing cubes are all about organization rather than space, we understand that you will want the packing capacity that this set offers. So after reviewing the best packing cubes we firmly recommend the Kiva RSK-0521 Packing Cube Set.
-Recommended Best Price Packing Cubes
You are on a budget and you want to purchase the best packing cubes for the money. For this you need look no further than the Amazon Basics 4 Piece Packing Cube Set. These travel packing cubes score well on durability and space and they are available at a price that is just right for you.
The 2 large travel cubes are really large and you will be very surprised at just how much stuff you can pack into them. These 4 cubes are very light and will add hardly any weight to your overall luggage. They are well made and the interior seams have been finished so that they will withstand the pressure of being fully packed.
The Amazon Basic cubes will fit well in most suit cases as well as carryon luggage and backpacks. You can choose to use all of them or just one or two of them for that weekend break. So our best price packing cube winner is the Amazon Basics 4 Piece Packing Cube Set.
-Recommended Best Family Traveler Packing Cubes
You travel a lot with your family and you need more travel packing cubes than a business or solo traveler needs. We totally get this and it is why we strongly recommend the Bagail 6 Set Packing Cubes for all of your family's travel needs. The range of cubes in this set will be able to cope with the packing requirements of a small family.
The Bagail set offers you 6 of the best travel packing cubes around that have been well made and have heavy duty stitching as well as a interior seams that have been finished so that they will last you a long time. The zippers are heavy duty as well and will withstand a reasonable amount of pressure.
You can order this stain resistant packing cube set in eight different colors. The cubes are a good size and you may need a second suit case to fit them all in. Alternatively you can put one of the cubes in your carryon luggage. For family travel packing and organization there is no better travel packing cube set than the Bagail 6 Set Packing Cubes. We can't recommend this set highly enough.
-Recommended Best Value For Money Packing Cubes
If you are undecided about your specific needs for travel cubes and are not swayed by durability, space or price then we want to recommend what we consider to be the best value for money packing cubes. The clear winner here is the Shacke Pak 4 Set Packing Cubes.
With the Shacke Pak you are getting a great combination of durability, packing space and a very reasonable price. These cubes are extremely popular and for very good reason. The size ranges of the four cubes are spot on with four different sizes that will meet all of your packing requirements.
It really does seem like they have thought of everything which makes this the best travel packing cubes set for the money. They even throw in a laundry bag so that you can keep those already worn items separate from your clean clothes. So many satisfied customers cannot be wrong, and you will never go wrong with the Shacke Pak 4 Set Packing Cubes.
Check the following video with the best packing cubes for each type of travellers:

-The Best way to Use Travel Packing Cubes
There is no right or wrong way to use travel cubes when you are travelling but the following tips should help you to organize everything well and make the maximum use of the space that you have available.
Start with a Plan
The first recommended step is to figure out what items you will be placing into what travel packing cubes and how you will store each cube in your suitcase or other luggage holder. You can use the smaller cubes for certain items of clothing for example light clothes.
If your destination is subject to severe weather changes then different cubes can be invaluable here. You can put your warm clothes in one cube and your light clothes in another. You will save space this way and of course you will be easily able to locate specific items.
Don't Fold – Roll
It is better to roll your clothes than to fold them when using packing cubes. If an item of clothing does not require ironing such as T shirts, socks and underwear then get rolling. When you roll these clothes you will save a lot of space.
Zip Shut your Stuff
All travel packing cubes are fitted with zippers that are normally pretty durable. It is not advisable to test these zips to the limit though by trying to pack too much. As you are filling your cubes you will find that there will be some small spaces available where you can add socks, handkerchiefs or other small and soft items. Then just close it all up with the zipper.
-Travel Packing Cube Mistakes you Must Avoid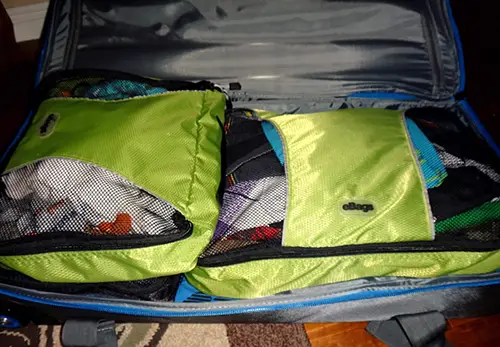 Having too many Packing Cubes
You can just have too many travel cubes. Yes they may all fit into your suitcase but do you really need to take all of that stuff? Remember that there are weight restrictions with suitcases at airports so while cubes will help you compress and organize stuff better it will not make your case lighter. In fact the more cubes you have the heavier your case will be.
It is the same argument as taking a small suitcase or a large one. If you go for the large case then the chances are that you will pack all kinds of unnecessary things just to fill it up. If your case is full to the brim with cubes then try this for a challenge. Remove one of the cubes and then decide that you can only use the cubes that remain to pack everything. You will soon be able to leave behind non essential items that way.
Over Filling or Under Filling
People have a tendency to go over the top when using travel cubes and will try to overfill them which will place an incredible strain on the zips and the cube itself. You can easily bust zips by over filling. Repacking your stuff after over filling can also be a problem.
Under filling is also a bad idea. If you have a lot of space in a cube then this will increase the chances of your clothes getting wrinkled up in transit because there is space for them to move around. Check for any free space and use small items to fill.
Using Packing Cubes for the wrong items
While you can use travel cubes for more than just clothes you may find that there are more preferable alternatives available for electronics and cosmetic items. If you must take a lot of electronic gadgets and accessories then a flatter zipper pouch may be more appropriate. It is important that you provide the best protection for these items. Toiletries and cosmetics are best stored in containers that have leak proof liners. Some cubes are specifically designed for this.
Organization Benefits or an Excuse for more Stuff?
The versatility of travel packing cubes means that you can pack more stuff into a smaller space. But you should be thinking about the organizational benefits of using cubes rather than this. It has been said before – more stuff means more weight. If your luggage is heavier then you can face a lot of unwanted problems at the airport. So think organization!
Choosing Travel Packing Cubes that are too Big
The larger travel cubes may not fit into your suitcase or carryon luggage in the most optimal way. This means that the available space will not be filled perfectly. Be sure to double check the internal dimensions of your luggage to ensure that a large cube will fit properly. Alternatively go for smaller cubes that are easier to manage.
Final Words
It has been a pleasure bringing you this honest packing cubes review. Once you start to use packing cubes for your travel adventures you will not want to go back. The trick with them is not to think of them as magic. Yes they will allow you to compress your clothes and save space but you can over fill them just as you can any kind of case. Use good packing techniques to get the best out of them.
Do you need to use travel cubes for every trip? Not necessarily. If you are going on a weekend away then you may not require them. Tossing an extra suitcase into the car is not going to make a lot of difference. There may be no need for you to segment your items for a short break. But always bear in mind the organizational benefits.
If you are travelling by air then travel packing cubes are very useful. Space saving and organization are the keys here. Remember those weight restrictions as well. If you are travelling as a couple or with children then they really come into their own.
There are so many benefits to using travel packing cubes. One of the most important ones is that you can keep everything organized and not have a total mess on your hands of all of your items being jumbled up together.
If you have limited packing space available then a good set of travel cubes can mean the difference between you packing everything you need and having to leave essentials at home.