The well-traveled individual knows that no matter where you are on the planet you need to be prepared for anything! Whether you pack extra heavy sweaters, sneak in a bathing suit or two, or have a back-up plan for your back-up plan, you know mother nature can throw some curveballs into your plans. That's where the nifty travel umbrella comes into play!
There are tons of travel umbrella brands flooding the market. We're here to save you the time and the effort of sorting through hundreds of reviews and sneaky advertisements. Here's our top three list of the absolute best travel umbrella options!
The Top 3 Best Travel Umbrellas Right Now!
DAVEK MINI COMPACT UMBRELLA (Classic Black) – Quality Windproof Travel Umbrella, Strong & Portable –
Best for Durability!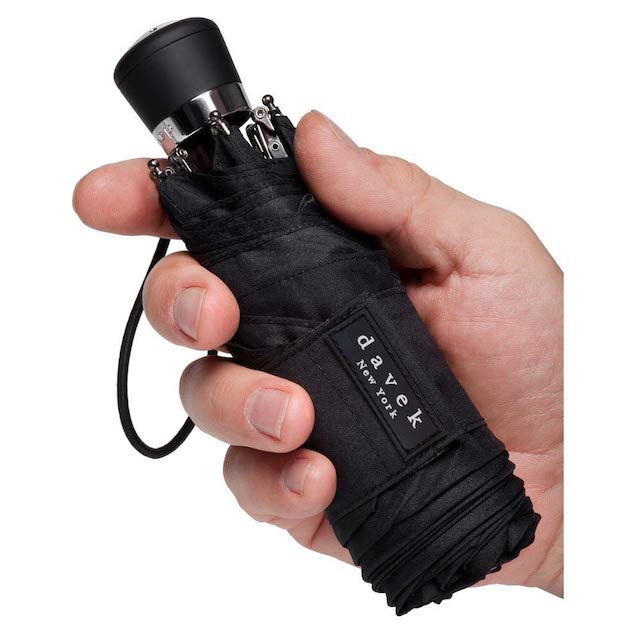 Click here to see reviews and prices for the Davek Mini Compact Umbrella on Amazon
Our number one pick for the best travel umbrella on the market goes to the Davek Mini Compact Umbrella. It comes in a variety of different colors, it is extremely compact, and it is a travel essential! This umbrella boasts that it not only can handle the rain but is built to last longer than some of the regular sized umbrellas on the market.
Built with a strong, wind-resistant frame, the Davek travel umbrella is reinforced with steel, zinc alloy, and high-density fiberglass ligaments. While the umbrella is strong and can hold up to harsh weather, the 100% high-grade solid steel shaft will take the brunt of whatever mother nature is throwing your way! So whether you are camping in Yellowstone, or walking through Istanbul, this umbrella will be there for you!
The manufacturer for this product is so confident, they offer an "unconditional" lifetime guarantee. This means that if your umbrella gets busted in strong winds and rains, it's covered for everything but shipping. This travel umbrella is incredibly small, but boasts some of the most durable materials found in any umbrella! Great for both traveling and everyday use!
Details
DIMENSIONS: Closed length: 7″ (17.78 cm). Arc diameter: 38″ (96.52 cm) Coverage diameter: 34″ (86.36 cm). Weight: Under 1 lb (0.45 kg).
Pros
Very small
Super durable
Great for any bag
Easy open
Cons
A bit pricy
Some say it is too small for an adult when opened
What Buyers Like
The reviews for this travel umbrella are in, and there are a lot of customers who are absolutely in love with this product. Not only do buyers like how durable it is, but they also love that it's such a high-quality umbrella for such a small product! One customer even wrote, "I am so delighted that I am giving them as birthday presents to members of my family."
Lots of buyers not only used this for traveling but for everyday use. There were even a few customers who kept this umbrella in their car, in their purses, and always in their backpacks!
Final Verdict
We like the Davek Mini Compact Umbrella as one of our best travel umbrellas because it is incredibly durable, portable, and has a variety of colors to choose to fit your style! You can travel with it easily on your carry on, or even have it in your satchel or backpack at all times. We don't recommend this product for anyone not looking to spend a pretty penny, as this item is a tad expensive. However, one of the most durable little travel umbrellas on the market!
---
EEZ-Y Compact Travel Umbrella w/ Windproof Double Canopy Construction –
Best for All Weather!
Click here to see reviews and prices for the EEZ-Y Compact Travel Umbrella on Amazon
The EEZ-Y Compact Travel Umbrella makes our list at number two because of its vented double canopy. The design allows for wind to pass through the umbrella so it won't fly away! Not only that, but the frame is made from premium fiberglass in the ribs, as well as black and high-quality stainless steel shaft so that it is extremely sturdy.
The travel umbrella itself is extremely easy to use with the fully automated system. You can use it with one hand and open and close it with one button! Furthermore, the 210T fabric is extremely lightweight and water repellent. Almost as if you're traveling with a quality camping tent in your purse! While the rubberized grip is slip resistant and allows for extra grip in heavy wind and rain!
The EEZ-Y travel umbrella is also available in a cornucopia of colors! You can choose from fifteen different colors to suit your style and your travel gear. All in all, an excellent choice for our number 2 pick of the best travel umbrellas.
Details
9 fiberglass ribs. Folded to 11" (27.94 cm). Open: 42" (107 cm) W x 22" (56 cm) H x 37" (95 cm) bottom canopy. Vented double canopy of 210T fabric.
Pros
Rubberized grip
Lots of color variety
Compact
Double Canopy
Easy one button use
Cons
Doesn't close like a normal umbrella
Some reports of rusted joints in canopy after a period of time
What Buyers Like
There were more than a few customers who loved the easy open, easy close button. A lot of customers liked how portable it was for their daily commutes in big cities, as well as during their travels. The reviewers who spoke about the different patterns and color choices were definitely excited! Overall, customers were extremely happy with their purchase of this product.
Final Verdict
We've put the EEZ-Y Compact Travel Umbrella on our top three list of the best umbrellas on the market because of how well it holds up in all-weather types. From snowy days to wind and rain, and even providing quality shade during the hot summer months, this umbrella outshines the rest when it comes to all-season performance. We don't recommend this umbrella for those individuals looking for something smaller than the folded 11"!
---
Bodyguard Travel Umbrella, 10 Ribs Finest Windproof Umbrella with Teflon Coating, Auto Open Close and Upgraded Comfort Handle – Gift Leather Cover –
Best For Affordability!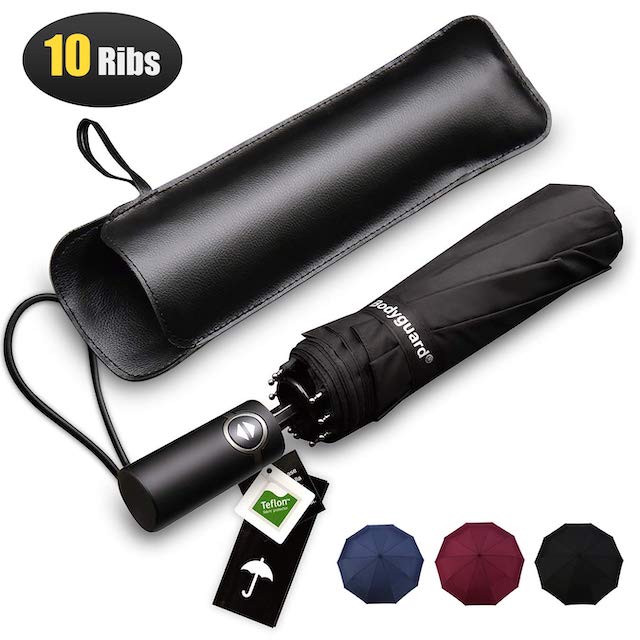 Click here to see reviews and prices for the Bodyguard Travel Umbrella on Amazon
The Bodyguard Travel Umbrella comes in as our number 3 pick for best travel umbrellas because of the overall quality for the low price! Not only does this Teflon umbrella have ten ribs, but it is also super compact! This travel umbrella's ribs are made from fortified fiberglass that are made to flex and bend slightly in order to better handle strong winds like in the Florida Keys!
The Bodyguard also has an auto open and auto close mechanism that is extremely easy to use. Simply find the single button on the ergonomic rubberized grip and you can pop open and collapse the umbrella quickly! Furthermore, the Teflon fabric is said to be waterproof, weatherproof and dry incredibly fast!
This travel umbrella also comes in three different colors, as well as having a large canopy for easy use by adults. Altogether, an excellent travel umbrella, and our number 3 pick for our best travel umbrella choices!
Details
Measures just 11.5″ (29.21 cm) long, as well as it weighs less than 1 pound. Folded: 12.6" (32 cm). Arc of Canopy: 46.5″ (118.11 cm) height 25.2" (64.01 cm) Bottom Canopy: 41.3" (104.9 cm)
Pros
Affordable
Free Leather case
Wide canopy
Sturdy
Cons
Reviews of easily flipping in the wind
Spring auto open is VERY strong and fast
What Buyers Like
There were a TON of reviews that were extremely satisfied with this umbrella because of how much they paid for it versus the quality. There were several who commented that they enjoyed being able to use the one-touch button open. Additionally, there were several reviews that focused on the super cool leather case!
Final Verdict
We've put the Bodyguard Travel Umbrella on our top three list because it is an excellent product, as well as it is super affordable! With the lowest price point on our list, this extremely durable and easy to use travel umbrella is a great buy. You can choose where you travel based on your budget, as well as find great travel umbrellas that won't break the bank!
Not recommended for those who don't like powerful opening umbrellas. All in all, our number three pick is great for your next trip!
The Best Travel Umbrellas on the Market!
Travel umbrellas need to be compact, affordable, as well as work well against the elements! Our top three list of the best travel umbrella products is comprised of products that will suit whatever your travel umbrella needs may be!
Please follow and like us: