As an Amazon Influencer, we earn from qualifying purchases you might make if you click any of the links on this page.
English seaside towns are often imagined as the idyllic Victorian era promenades, candy floss and donkey rides. Whilst some things have changed nowadays you may be able to get close to that dream.
Margate, Kent: The Original of English seaside towns
Margate was one of the original seaside towns from the Victorian era and for good reason. Once abandoned by holiday makers for overseas destinations, Margate is now a buzzing seaside town once more, Vintage is back and there's plenty of trendy and kitsch cafes and shops to enjoy.
Apart from the sandy beach and promenade highlights include the newly re-opened Dreamland and the Internationally recognised Turner Contemporary art gallery. Add fish and chips on the promenade and you have the perfect seaside break.
Brighton, Sussex: London on sea
So close and so popular with Londoners, Brighton has been dubbed London on sea for good reason. But Brighton gets visitors from all over Great Britain too. The beach may not be large but it probably makes up for this in cool. You will find famous shops classic attractions and plenty of things to do day and night.
Brighton is also known for its Gay Pride festival and brilliant year round gay scene. Visit for its accepting nature, green credentials and for your all time fun by the seaside.
Bournemouth, Dorset: For thrill seeking beach goers
If you want to get to the beach in a more exciting way than just taking a stroll then you can do it here in Bournemouth. Because at the end of the pier you will find the start of the pier to shore zip-line. As well as maybe the most adventurous way to get the beach. You will also take in some spectacular views across the Bournemouth coastline.
With seven miles of lifeguard attended sandy beaches, deck chair hire and plenty of sports in the sea to take part in, you can see why Bournemouth is a popular resort.
Whitby, Yorkshire: Bram stokers inspiration
A town steeped in history, Whity has a lot to offer it's visitors. As well as the picture perfect beach houses and pretty coastline there's a darker side to the charming sea port.
The cobbled medieval streets and old abbey, this is where Bram stoker found inspiration and set his famous novel. This fact draws fans of the story and has created a bit of a Gothic scene in this town. Weekend festivals of Goth, and the eerie and unusual are held in the town throughout the year.
Captain James Cook also began his seafaring apprenticeship here and you can find the memorial museum which celebrates his achievements and those of the sailors, artists and scientists who sailed with him.
Woolacombe, Devon: Ticks all the boxes
The beach in Woolacombe is often voted as the best in the UK. Everything you could want from a seaside resort you can find here. If you are looking for sandy beaches, rock pools and towering cliffs, amusements, fish and chips and local pubs, Woolacombe has got it.
With the laid back atmosphere and local feel this resort is favoured by families on their summer holidays. Most of all the nearby holiday parks also cater well for this sort of family break. This also makes it great for travelling with children and babies.
St Ives, Cornwall: Mediterranean in England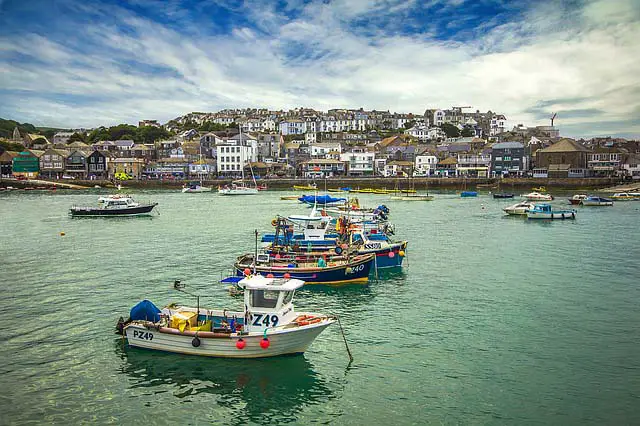 Cornwall is often one of the first places that springs to mind when you think about English seaside towns and St Ives is one of the most popular places here. The blue skies, sandy beaches and turquoise waters could be mistaken for a Mediterranean resort and if you are an artist or not you will love the landscape.
The waters at Porthmeor Beach are great if you want to surf and from the working harbour here you can take a boat trip out to see seal island. Here seals play in the sea and sunbathe on the rocks.
Torquay, Devon: The English Riviera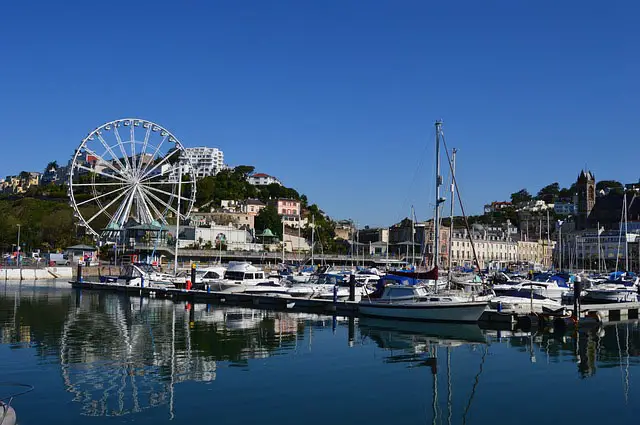 Although made famous by the comedy Faulty Towers, it may surprise you when you see expensive yachts moored in the harbour and many top restaurants with celebrity chefs. With its traditional roots still in tact, Torquay has built upon its classic charm and character to make it the stylish and popular today.
You have the choice of over 20 beaches within easy reach where you can sunbathe and relax, or take part in the many water sports on offer.  You may almost forget you are still in England!
Skegness, Lincolnshire: Or Skeg Vegas
Photo credit Simon Fidler, CC BY-SA 2.0
A popular seaside resort with those from the midlands, Skegness is a once neglected town that has improved in recent years. You will feel well and truly entertained in Skegness. Local artists in the entertainment business will tell you that clubs and theatres here rival that of Las Vegas!
You will probably find yourself in a caravan if you choose to stay in Skegness. Maybe even in the classic Butlins resort, the first of its kind! As English seaside towns go, Skegness is another original. Top attractions include the Embassy Theatre, Tower Cinema and the new Skegness Aquarium.
Weymouth, Dorset: Views and more
Proper bucket and spade territory, Weymouth offers beautiful sandy beaches and safe shallow waters. You will marvel at the sand sculptures and carvings at sand-world. You will enjoy watching the sailing boats and yachts in the waters. But most of all you will love the welcoming atmosphere of the pubs and attractions in Weymouth.
If you also want to witness breathtaking views of the Jurassic Coast take a trip to the Jurassic skyline. With scenes that rival most English seaside towns this is definitely a highlight on your trip to Weymouth.
Nine Perfect English Seaside Towns
There you go, nine perfectly fabulous English seaside towns and lots of reasons to visit them. On a sunny day during the summer maybe you will even forget you are in England whilst relaxing at the beach. Gorgeous scenery and fun things to do, what more could you want? Have I missed your favourite off the list, so let me know what you think?
Please follow and like us: