As an Amazon Influencer, we earn from qualifying purchases you might make if you click any of the links on this page.
No trip to Ireland is complete without a visit to an Irish pub. And once you visit one, you're going to want to visit at least half a dozen more. There are pubs in every major city of the world, but in Ireland it's an institution – much more than a place to drink. This is the center of Irish social scene – whether you're in the country or in the city. You just can't miss out on going to a pub when you're in the Emerald Isle.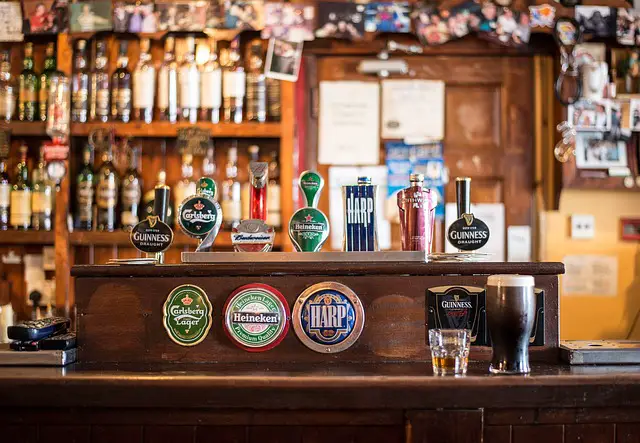 Check More Irish Travel Guides:
Pub Culture
For decades, the pub has been a center for cultural gatherings in Ireland. This is a social hotspot where people from all walks of life come to gather. In some rural areas of Ireland, the pub is really the only place to get together and talk with other people outside of one's own living room. People in Ireland go to the pub after church service, to watch the football game and to trade gossip and opinions on everything from politics to literature to the newest local grocery store.
Pub culture isn't about getting a drink, it's about getting together with others to tell stories, hear jokes and have a good time. When you're in a pub in Ireland, you're surrounded by friends — even if you're a stranger to the country. The friendliness of Irish pubs is legendary, and it's something that Ireland as a whole prides itself on.
What to Drink
Of course, if you're already in the pub you might as well have a drink. Whiskey is a mainstay in Ireland, and you can order a glass in any Irish pub you happen to visit. Chances are, even the smallest pubs will have a great selection available for you. The word whiskey itself comes from Irish Gaelic. Two of the best-known whiskeys made in Ireland are Jameson and Bushmills, so if you want a taste of the country try ordering one of these, or opt for another local brew. After all, these two are so exported you can probably easily find a bottle at your corner store!
Even if you're a visitor to Ireland, you can sound like a pub pro by ordering a "pint." But unless you specify exactly what you want a pint of, you're going to get a brimming pint of Guinness. This is a stout ale and a pride of Ireland, but it's not for the faint-hearted. The strong taste of Guinness isn't appealing to everyone, so you may want to scale back to a half-pint. In Ireland, that's known as a "glass."
If you do order a Guinness, wait about 5 minutes. It takes a good thee minutes just to pour the pint, and local culture dictates that you let the pint settle before you sip. You'll mark yourself as a pub novice immediately if you reach to take a drink as soon as the server sets the Guinness in front of you! Everyone who has been to Ireland can say with a hand on their heart that the absolute best Guiness is here – it just doesn't taste as good anywhere else in the world.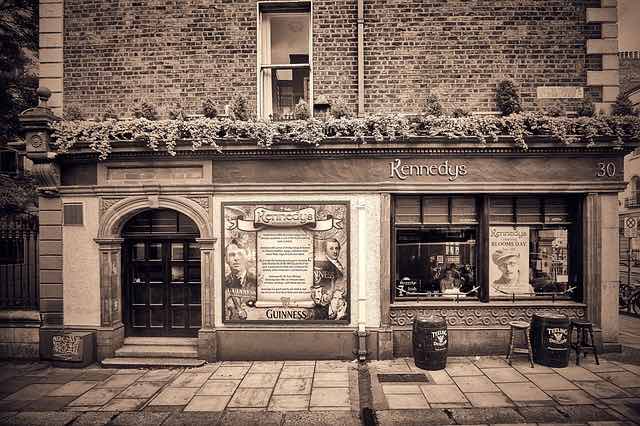 Social Drinking
Because the Irish pub is truly a hive of social activity, buying a round is a very common part of being in the pub. It's common to hear people ordering a round of drinks for their table, so if you really want to be part of the scene then you'll want to buy a round as well. It's considered to be bad manners if you leave the pub before it's your turn to buy a round. And if you've had enough and don't want to drink anymore, sit out during someone else's round and not during your own.
The Social Scene
Because Irish pubs are lively social places, be prepared for some good-natured teasing. It's quite a popular part of Irish pub culture to poke a little fun at other pub patrons. So if you get teased, suffer it with a smile. If you're a newcomer to the Irish pub scene, however, you might want to refrain from teasing others in kind.
Don't be surprised if strangers speak to you while you're at the pub. This is quite common, you should expect it. You also shouldn't be surprised if someone turns down your offer to buy them a drink. In Ireland, it's good manners to refuse the first offer. It's up to you to make the offer a second time, and sometimes even a third. This is simply a particular quirk of Irish culture.
The Music
Ireland has a rich history of music, and there's no better place to hear an impromptu performance than at an Irish pub. It's not at all unusual to see a group of musicians spontaneously begin to perform while sitting in a corner of the pub. You'll hear just about every type of music, from rock n' roll to historic Irish tunes. And if you're a musician yourself, bring your instrument along with you to the pub. It won't take long before some other musician engages you in a casual jam session.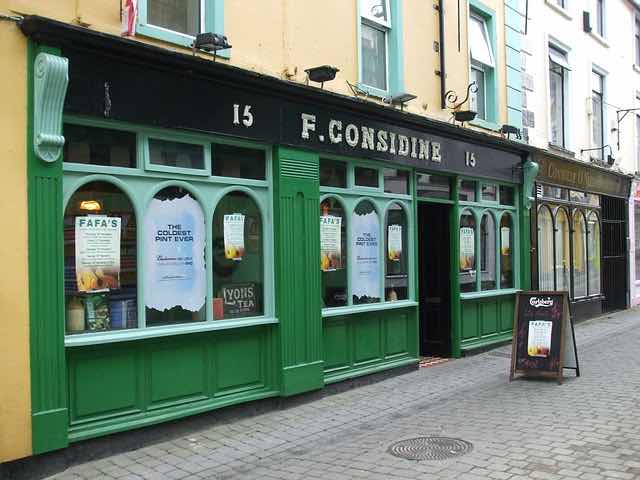 The Barman
Bars and pubs the world over have a reputation for being a place to spill your secrets. The burden is usually on the barman to hear all your woes. But in Ireland, this image actually is true. The Irish barman is as close as you can get to talking to a priest outside the confessional. Barmen in Ireland have a strong reputation for keeping your secrets. It's a well-known part of Irish culture that you can tell the barman anything — anything — and it won't go any farther than that. So if you do feel the need to unburden yourself, and there's no confessional handy, you can always spill your guts to the local barman at the Irish pub.
About Tipping…
Tipping in Ireland isn't the same as in the U.S., so don't start throwing bills on the table unless you know what you're doing. It's actually only necessary to tip if you're receiving table service, which you don't see much at a majority of casual Irish pubs. For the most part you'll be ordering at a bar, and this requires no tip. Your American instinct will tell you to tip, but there's no need. Pub workers in Ireland actually receive much fairer wages than their American counterparts. If you try to tip the bartender at an Irish pub, you'll immediately mark yourself as an unknowing tourist and you're likely to inspire a few snickers.
The Food
Modern Irish pubs are famous for offering some of the best food you can find in all of Ireland. You can eat true gourmet meals in some Irish pubs. You'll also almost always find a menu chock-full of classic Irish dishes. That's if you want to get a true taste of what the food is like here. Irish pub food is comfort food. Classic Irish dishes that you can find being cooked in kitchens all over the country.
Children
It's extremely uncommon in American pubs to find children, as most pub environments are strictly adults-only unless there's a special event going on. This is not the same in Ireland, so try not to stare if you see young kids running around in the pub. The Irish pub is truly a social setting for everyone in the family, and that does mean everyone.
And Other Unusual Sights
Try not to look shocked if you see an entire grocery area at the bar of the Irish pub you visit. Though perhaps not as famous as Prohibition in the United States, there was a temperance movement in Ireland where drinking was dissuaded. Since pubs were a central part of Irish culture even in the early 1800s, when this movement was at its peak, they compensated by offering groceries. Many pubs still devote some bar space to groceries as a result, a particularly unique feature of Irish pubs that you just don't see elsewhere.
Lock-Ins
Sometimes, bar regulars and the pub staff aren't quite ready to leave at closing time. That means they may opt for a lock-in. This is a particular quirk of Irish pub culture that is not very clear outsiders, as usually only pub regulars and workers can stay for these events. However, sometimes a newcomer who makes a good impression may also be invited to stay on during the lock-in. When this happens, the pub owner or barman may lock the door of the pub so no one may enter. Those who remain inside enjoy a few more rounds as the night winds down. You will pay for your drinks in advance, so that no money goes into the till after the official closing time.
Which Pubs to Visit
You'll see lots and lots of pubs everywhere you go in Ireland. In major cities like Dublin you can hardly go a single block without finding at least one pub. But if you're looking to have a true pub experience, go to Athlone. According to the Guinness Book of Records, this is where you can find the oldest pub not just in Ireland but on the entire European continent. It's called Sean's, and it's been right here since the year 900. Seriously, 900. If that's not worth a visit, what is? If you feel like a challenge, there are Irish touring companies that offer special pub tours. These can last for days or weeks, and you can get driven around by bus while seeing amazing Irish sites and stopping off at a different Pub every day.
Pub Life and the Irish Life for You!
The pub is a hub for life in Ireland. It's where you can truly experience local culture, food and music. Now that you know what to expect, you're ready to enjoy this essential part of Irish life.
Please follow and like us: