Wondering how take a camping trip in any weather? Check out this helpful article!
Depending on where and when you're camping, you'll potentially face challenging weather conditions. Especially if you don't have an RV or a great RV camping spot. While it may sound daunting to consider toughing out less than stellar weather, with preparation it's not a major issue. 
If you're concerned about the weather for your next camping trip and don't know where to begin, you're in the right place. Rain, shine, snow, or storm, if you plan ahead you'll be just fine. 
For most weather conditions you prepare for camping similarly to how you face poor weather in other situations. If you know how to plan for hikes or outdoor adventure outings in different weather, then you already have the base of information to work off of.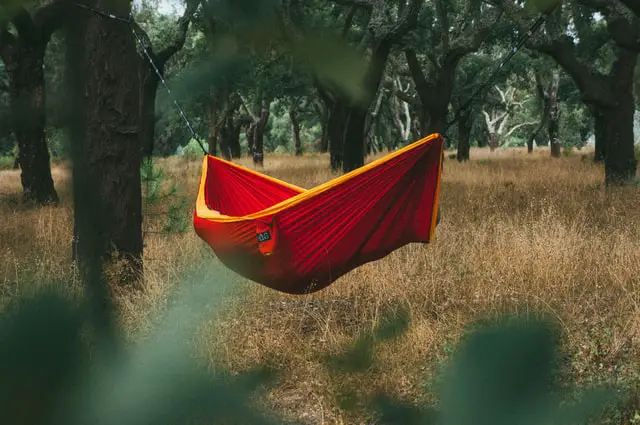 Things like bringing proper clothing (Layering in winter, light layers in summer and spring, etc.), bringing proper equipment, and researching the weather in the area before you go camping are all great examples of methods you use to plan for any trip in nature. I'll primarily be focusing on poor weather, but many of the same rules apply to taking a camping trip in any weather!
Plan for the Worst
This is perhaps the most important piece of information to remember when planning a trip. While the forecast may say the weather will be great, even a slim chance of imperfect weather can ruin your trip if you aren't ready for it. Err on the side of caution when packing for your camping trips.
Bringing emergency supplies is smart in any outdoor pursuit, and camping is no different. Below are a few items to consider bringing, but your list will vary depending on what activities you are doing. Here are some things you need for taking a camping trip in any weather:
First aid supplies and required medication

Extra clothing

Rain gear

Tarp

Flashlights

Extra food/water (Or a life straw or similar product)

Firestarter and/or lighter
One essential recommendation I can give is to waterproof your tent. Many tents are already waterproof, but you should make sure your tent is waterproof if you expect bad weather. Another option is to waterproof your tent on your own, or at least refresh its durable water repellent (DWR) and urethane coating.
Online Info
There are plenty of great resources available online that offer thorough information on this process. I recommend looking into it, especially if you have an older, worn tent.
If you don't know CPR or first aid, it's also a good idea to learn these skills. While it may not be necessary, even basic knowledge can be vital when help is far away. If you're planning a remote trip, you should understand how to take care of basic injuries and perform CPR. At best, you have a new skill that you won't need to use.
Practice
For the experienced and newbie alike, practicing the proper use of your equipment can be a huge time saver in a bad situation. If you've never pitched your tent but you need to in a storm, you're most likely going to make mistakes, and at worst have to redo your setup at a less than opportune time.
Practice using any equipment you're unfamiliar with, because you may not always have the time to learn on the fly. In order to take a camping trip in any weather, you need to know how to use your equipment.
Camping in Cold Weather
When camping in cold weather, it's best to bring clothing to layer with. Ideally, for any outdoor pursuits, synthetic clothes are ideal, especially if you plan to do anything active while taking a camping trip in any weather. Including cold weather!
If it's very cold, I also recommend clothing items like winter leggings, gloves, beanies, and thick socks (Wool options are great). It's also smart to bring blankets and/or a heavier weight sleeping bag.
The necessary equipment is dependent on how cold it will be, and if you are facing snow. In snowy conditions, if you're not hurting in the weight department an Air Mattress may be helpful if you don't have a heavier sleeping bag. 
While you may already have a tarp or ground cover of some sort, if you're seeking relative comfort during your trip your planning and packing should reflect that. Most tents will hold up alright in the cold, just keep in mind that a lot of tents are not constructed to have extra insulation, so your clothing and sleeping gear should reflect dropping temperatures
Camping in Hot Weather
Scorching temperatures can make any camping trip feel miserable, but with a little forethought and consideration, you can avoid the worst of summer heat. Bring light layers of clothing that offer sun protection, and try to avoid dark colors since they trap heat.
I also recommend avoiding cotton if possible, since it will retain sweat and begin to smell bad. Stick to synthetic materials or something like an ultralight merino wool shirt. To take a camping trip in any weather, it means being able to adapt with your clothing!
Shorts are fine to wear, but if you plan to hike or trek an area with brush and thorns, a lightweight pair of outdoor pants from a brand like Prana may be more helpful. Many brands make lighter-weight hiking socks that offer good protection but won't cause your feet to sweat as much as heavier options.
If that's not enough, wearing a hat can give additional sun protection, and I sometimes soak a bandana in water and wrap it around my neck or head to help cool off.
As far as keeping your tent cool, items like coolers, bug spray, lightweight sleeping materials, and foods with electrolytes are lifesavers. I also enjoy bringing a hammock-like an Eno if it's hot. Pair that with a bug net and your nights outside might be a bit more bearable. 
Select a Good Campsite
While this is more general camping advice, picking a good campsite will help prevent a lot of problems for you in your adventure. Ideally, high ground areas that are a safe distance from bodies of water are ideal, and if facing windy conditions, seek a space that offers some form of protection if possible.
The idea is to avoid areas that would be flooded in a storm, avoid the highest ground due to things like lightning strikes and wind, and keep your tent relatively protected from the worst of a storm. It's also good to leave some room for a fire or cooking space. 
What Should I Bring?
While I can't give you a packing list that'll cover every situation, trip, forecast, or need, a general camping packing list can be a useful tool to begin your setup for a trip. The important thing to remember is that you should bring the gear that fits the
scenario. You're going to need a different list of items on a trip that may be snowy versus a trip to the desert. Below is a general camping checklist to base your experience on, but it is not completely comprehensive:
Tent

Mallet (For tent stakes)

Sleeping bag(s)

Headlamps, a lantern, and/or flashlights

Multi-tool or knife

Navigation equipment

Tarp (Not always necessary but can be helpful)

Lighter, matches, or firestarter

Batteries or fuel

Duct tape (Great for emergency repairs)

Paracord

Water bottles

Dry bag

Portable stove, utensils, and something to eat out of or on

Cooler (If you aren't planning a backpacking trip or something similar)

Hatchet (If you need firewood)

Clothing (preferably synthetic or something like merino wool, pick items that suit the environment)

Rain jacket, waterproof clothing, or ponchos

Insect repellent 

First-aid kit

Water purifying tablets or product

Whistle

Hygiene and bathroom supplies (If necessary)
If you want a more comfortable experience camping trip in any weather, you may want to bring items like sleeping pads and pillows, camp stools and tables, and so on. This list is made as a starting point to begin planning, then move on to other items and necessities for your experience. The packing list of a backpacker is much different than that of a family on a casual outing. 
Weather
As always, the most imperative thing is research. If you know the weather where you're headed, you'll be able to easily prepare. Weather can change quickly, so having the proper clothing and equipment in a jam is necessary, especially if you're going on a longer, backcountry camping trip.
What you need will vary based on your trip, how long it is, and so on. No advice fits all situations, but a little effort and preparedness go a long way. It's also smart to see if the Forest or Parks services have posted any warnings or information about the area you are planning to camp in. 
If a storm is rolling in, get away from trees, metals, and objects extending above the surrounding terrain. If caught in the open, look for signs of imminent lightning strikes, and watch out for things like dead trees near your campsite. Don't set up directly underneath a tree in a storm, search for areas that offer some form of natural protection.
Worst case scenario your environment offers no protection, and in that case, you should leave your tent and get into the lightning position. I recommend researching lightning precautions further if you think your trip may expose you to intense storms. Many campers carry NOAA weather radios that can be powered manually so that they will be warned of incoming dangers. 
Know When to Pack Up
If you aren't properly equipped to deal with a situation, it's perfectly alright to pack up and leave. Weather changes rapidly, and you can easily get caught in bad conditions that leave you wet, cold, and unable to get warm. If that's the case, don't feel like you can't end your adventure early.
While you can stick out a hard time outdoors, there's a fine line between that and stupidly ignoring the fact that you are fighting a losing battle. Getting dry and warm is essential in bad weather, especially if it's cold. You aren't immune to hypothermia. Your car offers a good shelter if your trip is going awry. 
Now You Can Take a Camping Trip in Any Weather Like a Pro
Overall, preparing to take a camping trip in any weather condition reflects the preparations you often already take. You most likely have a good understanding of how to dress for rain or snow, and you probably have a decent idea of how to pack for a hiking or camping trip.
With a little planning, an eye on the weather forecast, and a good attitude your trip doesn't need to be ruined by weather that you didn't want or that was unexpected. Getting out into nature will sometimes mean encountering things that may not be ideal. That's part of the appeal. 
Oftentimes the trips you remember most are the ones that went a little wrong or left you feeling a bit miserable on your outing. Type-2 fun is a real thing, but you can normally prevent a suffer-fest from going down if you have the right gear and you're ready for whatever comes at you. You don't need to fear the weather, but you should always respect it. 
About the Author
Hussain from Hiker Needs is a passionate hiker and traveler that loves the outdoors and enjoys what nature has to give, whenever he can he loves to write and give tips & honest reviews to help others get outdoors and just seek more unforgettable experiences. You can find him for more on Pinterest as well.
Please follow and like us: