Ah, Hawaii – a.k.a. total bliss. This isolated US state is an extremely popular vacation destination all year round, thanks to the abundance of luxurious Hawaiian beach resorts. It attracted almost 9 million visitors in 2015. Hawaii is famous for its hula dancing, tropical landscapes, and of course, its mind-blowing beaches.
The Most Luxurious Hawaiian Beach Resorts
So, whether you're currently planning a trip to Hawaii in 2017, or if you're just curious about what this stunning island has to offer, here are the most luxurious Hawaiian beach resorts that you'd be incredibly lucky to stay at. They each offer something different, to cater for every taste and budget. Be prepared for some serious wanderlust.
Check More Beachy Posts 🙂
The all new five-star beach resort in Maui provides everything you could possibly ask for on a vacation to Hawaii. This luxurious hideaway has recently gone through an intense renovation. It is situated perfectly within Maui's varied landscapes. It also overlooks the sun-soaked shoreline of Wailea Beach.
Guests at the Four Seasons can choose from many room types, from the guest rooms overlooking either the beach or the tropical gardens, to the 'Elite' presidential suites. Here, guests are wrapped in luxury from the moment they arrive. Additionally guests can take advantage of private jet charters to Hawaii, which also fly to Maui and Honolulu.
Also, the resort's spa is open daily from 6am until 7pm. It offers traditional Hawaiian treatments and massages, as well as acupuncture, nutrition services and yoga.
Finally, there are three on-site restaurants to choose from – Spago, renowned for its local dishes, Ferraro's Bar e Ristorante, offering the very best of Italian cuisine, and DUO Steak and Seafood. The clue is in the name with this one! There are tons of packages to choose from at this resort. The Four Seasons really does cater for every type of guest, even those with the pickiest of preferences.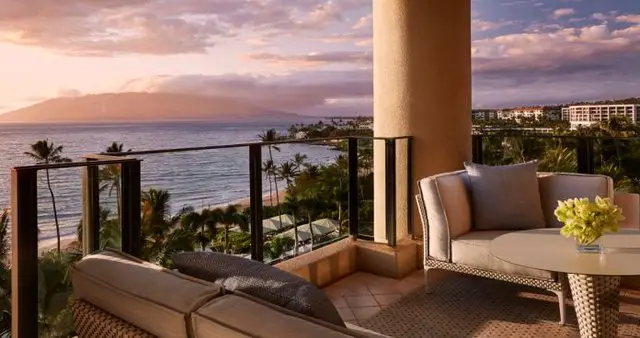 Since 1964, the Kahala Hotel & Resort has been a favorite retreat for celebrities vacationing in Hawaii. It has just been newly renovated and is now well known as a family-friendly hotel. In fact, it offers the only 'Swimming with Dolphins' experience in Oahu. And speaking of Oahu, this Hawaiian island has it all. This includes stunning tropical beaches, a rich history, and also a fantastic dining and nightlife area.
Rooms at the Kahala Resort are decorated in a classic Hawaiian style. Guests can choose from many room types. They can also experience the award-winning cuisine in one of the on-site restaurants. Dine by the beach at the Seaside Grill or taste the Hawaiian/Asian fusion food at Hoku's. Additionally guests can enjoy afternoon tea at The Veranda.
Those who wish to relax can head to the Kahala Spa, open daily from 8am to 9pm. There are a range of treatments on offer, from the Warm Pohaku Stone Massage to the Kahala Signature Facial. This combines traditional Hawaiian skincare techniques with optional plumping treatments. So, if you're travelling with your family and want the very best that Hawaii has to offer, the Kahala Hotel & Resort is probably your best bet. It has everything luxurious Hawaiian beach resorts should offer.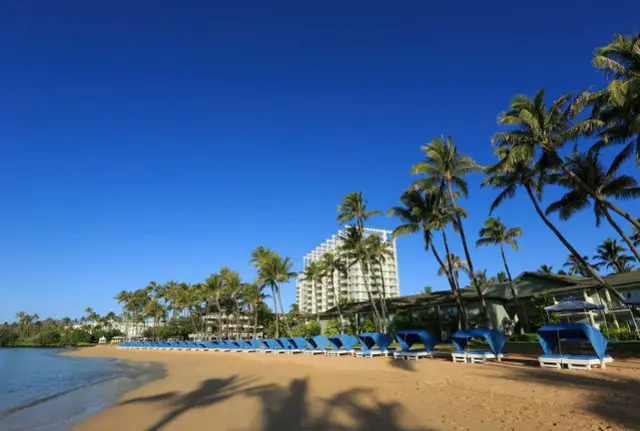 Surrounded by tropical gardens, this jam-packed resort looks out onto one of Waikiki's best beaches. With almost 3,000 guest rooms in 5 iconic towers, this giant hotel complex attracts a steady amount of tourists through the year. And for good reason, too!
It's one of the island's most famous luxurious Hawaiian beach resorts. This family friendly hotel is famous for its 5 pools – the 5,000 square foot Paradise Pool with the longest slide in Waikiki and the Super Pool, a 10,000 square foot beachfront pool. Not forgetting the Keiki Pool, Tapa Pool, Kalia Tower Pool and the Ali'i Tower Pool. This one features a whirlpool and sundeck.
There are also a range of luxurious rooms to choose from. Thanks to the hotel's tower layout, most provide fantastic views across the island. Guests can indulge themselves at the on-site Mandara Spa & Fitness Center, which has 25 wet and dry spa treatment rooms, a full-service salon, and a fully-equipped fitness center.
Finally, there are 20 on-site bars and restaurants at the Hilton Hawaiian Village. Each of them provide something exclusive, whether it's American diner food, Asian fusion food or local Hawaiian cuisine. There really is something to suit every taste and preference.
If you're looking for the full package and love constantly having things to do when you're away on vacation, then this resort would be the absolute perfect choice.
Situated on Kauai's southern shore, the Grand Hyatt Resort & Spa is ideal for those who want to have as much fun as possible during their vacation. There are endless activities and things to do at this resort. These include mountain biking, horseback riding, hunting, golfing, scuba diving and boating to name just a few.
On the other hand, it is also possible to relax and unwind at the Grand Hyatt Resort. The on-site Anara Spa features thatched-roof bungalows opening onto tropical gardens. Here, guests can enjoy traditional Hawaiian massages and treatments based on natural healing.
Fitness facilities are open 24 hours a day, and daily fitness classes rotate between yoga, Pilates, Zumba. There's even regular walks around the surrounding area.
Guests can choose from garden, ocean and deluxe suites, as well as the lavish Presidential Suite. This provides stunning top-floor views of the Pacific Ocean.
There are various restaurants on-site to suit all sorts of preferences. Guests can dine at an open-air restaurant with beautiful views, the Ilmia Terrace. Dondero's, on the other hand, is situated in a vintage styled villa. It serves Old World dishes made with only the freshest of ingredients. The Grand Hyatt Resort is one of the most luxurious Hawaiian beach resorts on the island.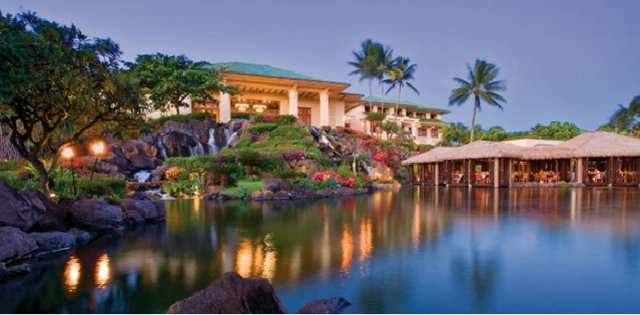 The Luxurious Hawaiian Beach Resorts for Your Island Getaway!
With a bit of luck, you'll now be feeling like staying at one of these luxurious Hawaiian beach resorts is exactly what you need in 2017. There are thousands more hotels on the island catering for a range of tastes and budgets. The aspect of Hawaiian resorts that set them apart from the rest is that they each provide a unique touch of exotic luxury. Also, Hawaii is a destination that can be visited all year round. The climate stays warm from month to month. The hottest are August and September.
Please follow and like us: