The Moroccan City Fez is one of those cities that etches itself into your brain through all your senses. It fills you up with what you see, hear, smell, taste and touch. It is like Aladdin's cave of treasures so explore many alleys to see what you can find.
Imperial Fez, with its Royal Palace, is one of oldest cities in Morocco. It manages to retain glory from olden days yet move with modern life. It is easy to image Sherezade's A thousand and One Nights in Fez, especially when you enter the World Heritage souq of Fez El Bali. This is an ancient walled souq where motorized vehicles are banned, consequently, the only means of transport are ever patient donkeys and mules plodding the narrow lanes and alleys with massive loads on their backs, or people.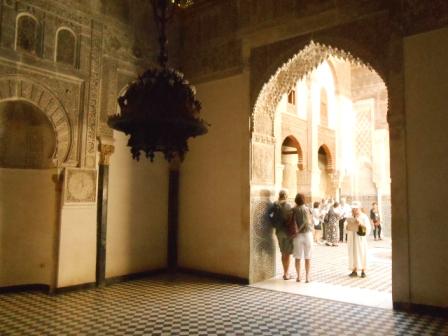 The Moroccan City Fez has been a centre for learning for centuries with Al Quaraouiyine, the longest continually operating university in the world. The university was founded by a woman, Fatima al-Fihri more than a thousand years ago. Visitors can enter some of the older madrassas, Islamic schools. The ornate cedar wood frames and carved plaster are so intricate and worth studying in detail.
Arches and doorways often have intriguing features. Why are there often two handles on each wide door? Turns out, the lower one is for pedestrians while the higher one was for horse riders so they didn't have to dismount before entering the safety of their home. 
Fez Locals Know Best
You should consider hiring a local guide if you only plan to stay a few nights. They know all the best places and will ensure your day is full of interesting places and knowledgeable facts. The staff at your accommodation will find you one. Pay a decent day's wage at the end as Moroccans appreciate your direct support.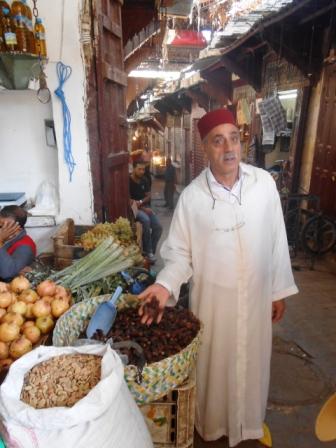 Brush up on your bargaining skills and remember to start low and have a maximum price in your mind. Moroccans will usually offer you a mint tea as you discuss your purchase as well as opinions on world and current events, so relax and enjoy the total Moroccan shopping experience. It is easy to shop 'til you drop in Fez.
Artisans show Pride in the Moroccan City Fez
Artisans abound in the Moroccan City Fez and their work infuses into architecture throughout the city. Mosaics, delicate tesserae, and carved plaster surfaces cover many walls, Arabic style windows and arches. The level of workmanship is exquisite, obviously undertaken with pride and consummate competence.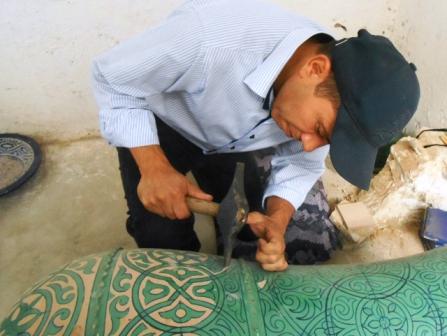 Your guided tour may visit some of the factories to see how the locals work. The leather tanneries are famous with their traditional dying pots with of a myriad of colours. They used to stink to high heaven but current renovations have reduced the assault on your nose. The resulting leather goods are, however, of great value and quality. They can produce a personally tailored leather jacket for you overnight.
Fez ceramics are famous. You can watch artisans throw pieces by hand then see others painstakingly hand paint each piece. Firing reveals their beauty and respect grows when you understand how much work is behind each handcrafted piece.
Tessarae or zellige work is another type of ceramic work. Coloured tiles are carefully broken and chipped into tiny shapes like squares or stars. Craftsmen then reassemble the pieces upside down in complicated patterns to form a table top or fountain backdrop. The men have to remember exactly what the pattern is without seeing the colours.
You will still find hand looms set up in some shops but the craft is not so common now. Cactus "silk" thread is one of the most popular to use for weaving as well as wool. The resulting striped fabrics lining the rooms are in bright, inspiring bold interiors. They make great bed covers or distinctive drapes, especially when finished with matching handmade tassels.
New set of False Teeth, Anyone?
Look out for some of the strangest things on offer like pearly white false teeth in dusty glass display cabinets. The butchers hide nothing so don't be alarmed when they set camel head or two on a counter. On a less alarming scale there will be colourful peaks of ground spices beside row upon row of handmade babouche slippers.
You can very easily lose your way in the souq (marketplace) but friendly locals will always be on hand to help out so just ensure you have an address card on hand. They may even escort you back to your room so be kind and offer a tip for their time.
Feel Right at Home in Moroccan City Fez
The best places to stay in Fez are beautifully restored riyads or dars. They are three or four storied homes with balconied rooms traditionally built around a central courtyard in the case of dars, or a garden in the case of riyads. The distinction of a garden has disappeared somewhat now, as most are fully tiled, with the roof even closed over. Whole families used to live in these buildings but many have been converted for visitor accommodation.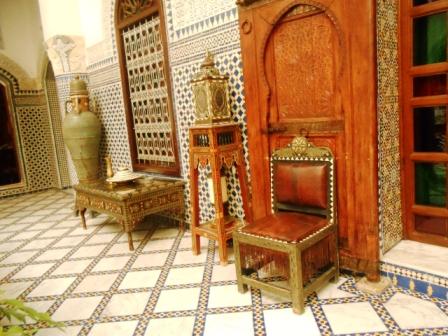 The food in Morocco is mostly delicious and Fez is a city to savour. You can buy sweet treats in the market often made with honey, nuts and pastry. When the prickly pears are in season try one for yourself. The market seller will deftly peel the skin and offer the inside to you without even touching it. It has a sweet slightly astringent flavour which tastes pleasant.
Since cous cous is part of the staple diet it is traditional for the whole family to share a huge tagine in the centre of the table each Friday. Because they eat only with their right hands they deftly roll the cous cous into bite size balls with their fingers before popping them expertly into their mouths. If you are a guest, don't worry – your host will most likely offer you a spoon since eating delicately with one's fingers is not easy.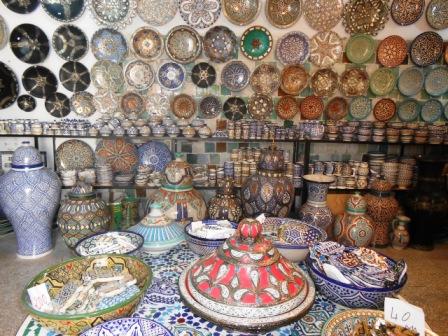 Take One Last Look at the Moroccan City Fez
For a final and lasting view of the old city, take a drive up to the old fort through the gnarled olive trees. Watch the lights come on as the sun goes down for a bewitching view of the Fez.
If you are travelling south from Fez and plan on visiting Marrakech, be sure to visit Le Jardin Marjorelle. Enjoy your journey to this enchanting city!
Please follow and like us: