Few landscapes on earth are as surreal as those found in Namibia. From the vast stretches of barren land, to other-worldly dunes, to breathtaking flora and fauna, a trip through this incredible country is an experience like no other. Here is all you need to know to plan your ultimate Namibia road trip.
Check More Posts About Road Trips:
Getting Around:
Though public transport does exist in Namibia, if you really want to explore the country, the best way to do so is to rent a car. A 2-wheel drive should suit fine for a Namibia road trip, though some parts are only accessible by 4×4, for example, Sossusvlei and some parts of Fish River Canyon (see Top Sights below).
The costs are pretty reasonable, at roughly $13 a day. Adding an extra driver, or including a one-way fee, bumps up costs. Most companies waive the limit on distance traveled if you're renting for more than a few days.
Namibia has left-hand traffic, and many of the roads are unpaved. Take it slow when driving on sand roads (the speed limit is 80km per hour), and lower your tyre pressure to 1.8 bar. Fill up on petrol whenever you can, as there are long stretches of deserted roads. And it's a good idea to brush up on basic car maintenance, such as how to change a tyre (though hopefully you won't need it!).
There are plenty of accommodation options throughout Namibia. Many road trippers opt for campsites, as these are cheap and abundant. Many are attached to hostels where you can cook meals, use the amenities, and hang out at the bar.
Itineraries For a Namibia Road Trip:
In just a week from Windhoek, you can drive through Etosha National Park, then head to the coast to visit Swakopmund, and take in a day or two of Namib- Naukluft National Park.
If you have another week to spare, drive North from Swakopmund along the Skeleton coast, or head South to Sossusvlei. Continue south to reach the remote Fish River Canyon, stopping overnight at Mariental (it's a long drive from Sossusvlei to the canyon, but it's worth it!).
For a really epic off the beaten track adventure, explore the landscapes of the remote Southeast, where few tourists venture.
You can finish your Namibia road trip in the South by crossing into South Africa, or in the North by crossing into Botswana or Zambia. Though don't forget about the hefty one way fee charged by car rental companies, particularly when crossing country borders. The best option may be to loop back around to Windhoek.
Top Sights:
Etosha National Park
Etosha is easily one of the top safari parks in southern Africa, and a must see on any Namibia road trip. The park is dominated by a giant salt pan, surrounded by scenic desert landscapes. It is home to four of the Big Five (rhino, leopard, elephant, and lion), as well as countless others. Animals can easily be spotted from the roadsides, or gathered around one of many waterholes.
The park is surprisingly accessible. Simply drive to the gates, pay your entrance fee, and explore at your leisure. Etosha has a handful of camps that offer accommodation ranging from luxury lodges to basic campsites (booking ahead is advised in the busy season of May to October). Etosha takes a few days to explore. You can base yourself in one camp, or hop around during your stay. Just be sure to reach your camp by nightfall, after which no driving is allowed in the park (though guided night tours are available).
Namib-Naukluft National Park
Although this park is scarce on animals (you may spot an oryx or two), the appeal lies in the spectacular landscape. Just a short distance from the town of Swakopmund lies Welwitschia Drive, a desert area filled with bizarre looking Welwitschia plants, which can survive in the most arid of conditions, and can live to be over 1,000 years old.
Although many of Namibia's landscapes seem out of this world, Namib-Naukluft's aptly named Moon Landscape is particularly surreal. The endless craters and barren land truly seem like a lunar view on earth.
Both the Moon Landscape and Welwitschia drive can be visited in a day from Swakopmund. Be sure to buy your permit in the Ministry of Environment and Tourism Offices before you go.
Sossusvlei
Perhaps one of the most spectacular sights in all of Namibia, Sossusvlei is an pale salt pan surrounded by vivid sand dunes and littered with bare trees. The pan and surrounding area makes for a stunning sight, particularly during the day's "golden hours".
Visitors can stay in the town of Sesriem, or can camp near the entrance to the dunes. A short drive takes you to Dune 45, a popular spot to watch the sunrise. From here, if you don't have a 4-wheel drive, you'll have to walk or take a shuttle to Sossusvlei.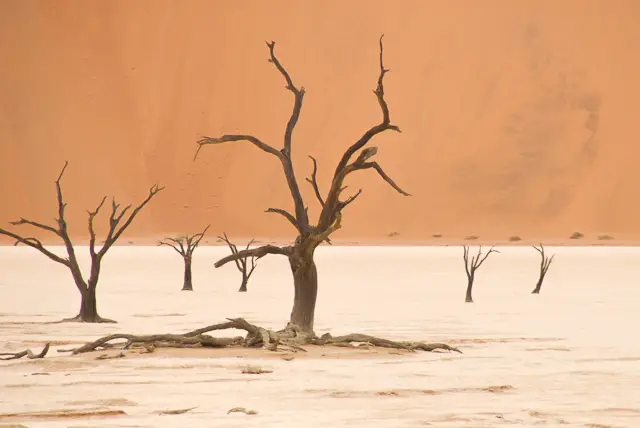 The Skeleton Coast
North of Swakopmund lies the rugged Skeleton Coast, a sharp contrast to the dry desert of Namibia's inland. A trip along the coastline takes in wild sea views, rolling sand dunes, and an abundance of shipwrecks.
An array of wildlife can be found along the coast, though you'll need to be very lucky to spot animals. Those that call the area home include elephants, turtles, antelope, and some big cats.
Fish River Canyon
The second largest canyon on earth, Fish River Canyon, in the south of Namibia, is far from any other sights. But the trip is worth it. The canyon winding through the desert landscape makes for a beautiful and ethereal sight.
Fish River Canyon is an incredible 160 km long, 27 km wide and up to 550 metres deep. Intrepid visitors can hike 85 km through the canyon between May and September.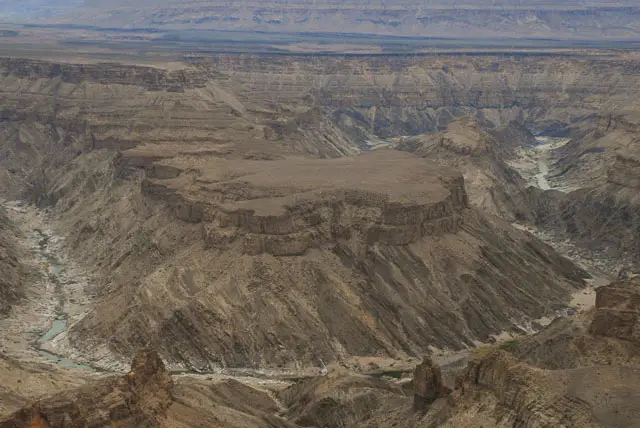 Exciting Namibia Road Trip Holidays!
No matter what time of year you're traveling, a road trip through Namibia will not only be a fun and exciting journey, but will also allow you to take in all the sights and sounds of this amazing country! From Etosha National Park, to the Skeleton Coast, your drive will be filled with amazing landscapes. Hit the road in Namibia for a drive you won't soon forget!
For more exciting road trips around the world, check out our guide to South Africa's Garden Route or Independent Travel in China.
Please follow and like us: