As an Amazon Influencer, we earn from qualifying purchases you might make if you click any of the links on this page.
Considering where to go on your next family holiday? Why not try Wales? The magnificent varying landscapes make it the perfect place to enjoy the great outdoors.  Like other UK destinations such as Scotland and Ireland, there are varied coastal and inland landscapes.  You'll find rugged mountains, fast flowing rivers, wide open beaches and rolling meadows.  Sometimes you will see the natural beauty which looks like it is straight out of Game of Thrones. With all this on offer, you can see why there are plenty of outdoor activities to try in Wales.
1) Whitewater rafting the Tryweryn river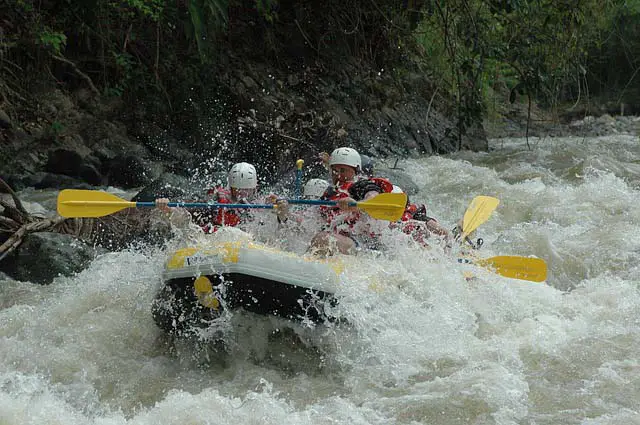 The National White Water Rafting Centre in Afon Tryweryn, Snowdonia offers its guests the only official Olympic-grade whitewater course in the UK. The area is beautiful and a much better option compared to rafting indoors or in an unnatural environment. An exciting activity to try, combining an exhilarating ride whilst exploring Snowdonia National Park. You'll be taken out by an experienced guide if you are beginners, given a full safety briefing and provided with all the equipment you need for your trip. Spend as little or much time on the water as you like, it can be quite strenuous work but worth it!
2) Horse Riding on Newgate beach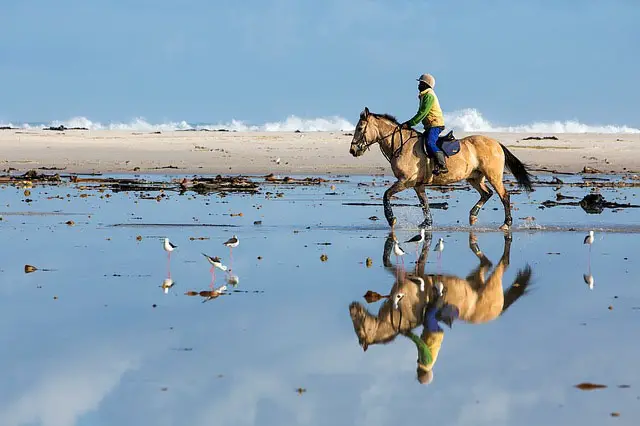 What could be more romantic than riding a horse on the beach? But it can also be a fun activity for the whole family and perhaps a tick off the bucket list. Start with a hack from the nearby centre then make your way through to the beach on a horse suited to your size and ability.  Enjoy a long ride splashing through the waves along the sand. You might even want to combine a beach ride with a countryside or coastal path hack. Whichever you choose the experience is magical.
3) Caving in the Brecon Beacons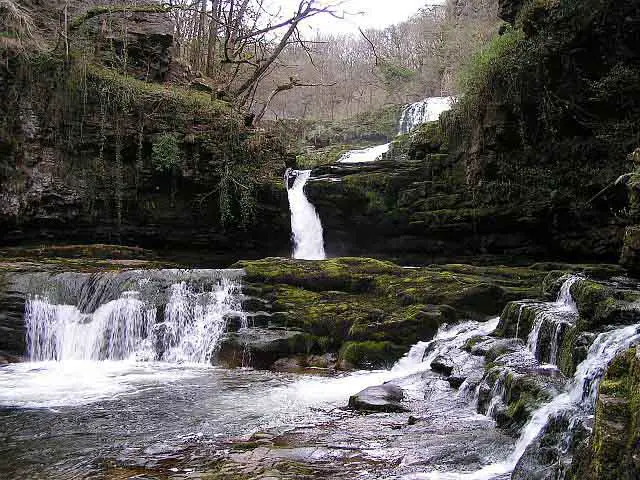 The Brecon Beacons Geopark has four of the five longest limestone cave systems in the UK and you can spend just a few hours to a couple of days exploring. If you are inexperienced then you must enter with an experienced guide who will show you the ropes and take you through this wondrous underground world. You'll see stalactites and stalagmites and learn the difference, plus underground lakes, cliffs and drops. Have fun navigating below the ground. This activity is not for the faint-hearted and there can be some very tight squeezes depending on the routes that are taken. But as long as you know what you are getting yourself in for you'll have a great time exploring this hidden universe.
4) Coasteering in Pembrokeshire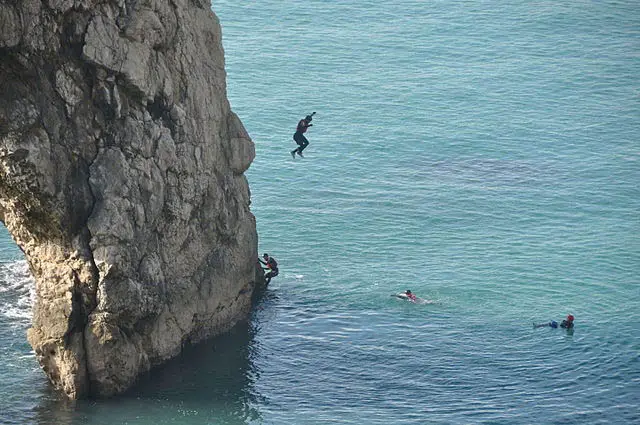 Experience the Pembrokeshire Coast National Park whilst enjoying some adrenalin-fuelled fun. Coasteering can be described as many different things. From extreme rock pooling to surfing without a board or bungee without a bungee cord. It entails all sorts of cliff or rock jumps, exploring coastal caves and waters surrounding the coast. The variety means anyone can take part. Families with kids can splash about in rock pools and caves, yet the more adventurous can try some big jumps. This is one of the up and coming outdoor activities to try in Wales.
5) Walking the Anglesey Coast Path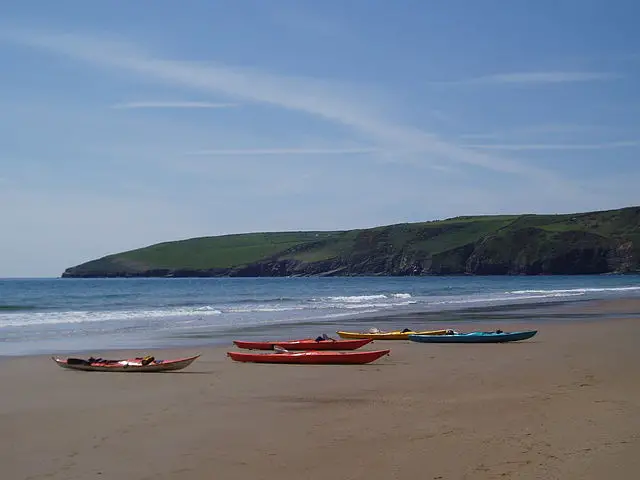 With almost 125 miles of coastal pathways around this island found at the northern tip of Wales, it can be called a walkers paradise. Along the path, you'll find Celtic ruins to explore, spectacular views to admire and plenty of natural wildlife to see. Notable points to look out for are the famous Beaumaris castle, the lighthouse at South Stack and the Menai Strait. Take a day trip to the island by ferry or stay and explore more of the destination. The choice is yours, there are lots of walks and paths to explore as well as other activities to try here.
6) Hiking the mountain Snowdon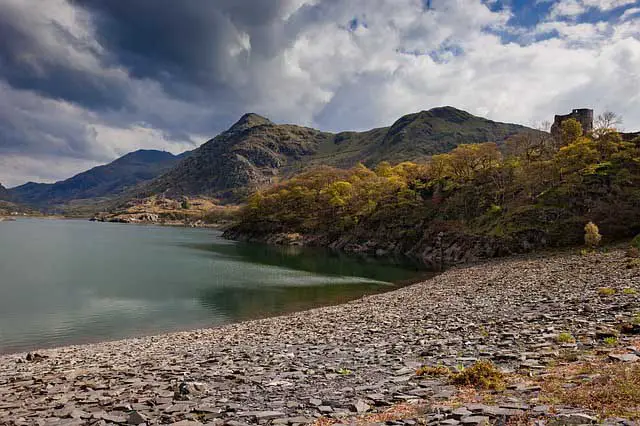 Probably one of the best known outdoor activities to try in Wales is climbing Snowdon. Based in the magnificent Snowdonia National Park, this is one of the highest mountains in the UK and the tallest in Wales. There are many different paths you can take of varying difficulty and you can even climb up one path and down another. The total distance is between seven and nine miles there and back. Sothe route can be easily completed in a day with breaks if you are relatively fit.  There is also a train service that will take you to the top or back down again if you don't want to walk the whole way. The Snowdon railway offers some lovely views of the surrounding mountains and valleys. Meaning you will enjoy the scenery even if you're not climbing.
7) Mountain Biking in Afan Forest Park
As you can already see, Wales has an amazing array of terrain which makes the potential for outdoor activities in this part of the world seemingly endless. Mountain biking is no exception and as a cheap and easy activity to try it's a popular one too. Although it's not the most unique of outdoor activities to try in Wales, it is still an excellent one. Afan Forest Park offers the perfect setting for visitors with around 60 miles of bike tracks and trails. There are child-friendly tracks to follow and also some exceptionally difficult ones for the brave. You can bring along your own bikes but there is also bike hire available as well. So if you are trying mountain biking for the first time you can give it a go without buying all the gear.
With these outdoor activities to try in Wales, what are you waiting for?
If you hadn't considered an adventure holiday in Wales, I hope after reading this you will be now. Since there's so much to see and do in this beautiful, often overlooked country you must consider visiting. Even when the sun isn't shining and the weather is at its changeable best, you can still have a great time outdoors in the UK. So make your next outdoor adventure a Welsh one and experience the rather spectacular National Parks, coastline and mountains Wales has to offer.
Please follow and like us: