The following ideal Palma de Mallorca hotels give you a tremendous base from which to explore this captivating island while staying in a comfortable and modern room. So what do you need to know to enjoy a glorious stay here?
The gloriously sunny and welcoming island of Mallorca (also known as Majorca in English) sits in the Mediterranean to the south of the Spanish mainland. It is part of the Balearics Island group which also includes the islands of Menorca, Ibiza and Formentera
The capital city is called Palma de Mallorca and it is a classy, friendly place. Giant cruise ships come to visit here, the Spanish royal family have a summer residence and you can hear both the Spanish and Mallorquin languages being spoken on the street.
Check More Posts About Mallorca:
The Top Reasons for Staying in Palma de Mallorca Hotels
Mallorca has been a massively popular tourist destination for centuries and its appeal shows no sign of slowing down. From the iconic La Seu cathedral to the waterfront walkway and the many local restaurants and bars, Palma is a city that urges you to get out an explore it.
It is also worth getting around this scenic island to visit places such as Palma Nova, S'Arenal and Alcudia. In the case of Alcudia, this is actually the name given to both a beautiful Old Town with Roman walls in the North of the island and a modern, bustling resort nearby.
There are many wonderful Palma de Mallorca hotels to choose from as your base, with something to suit just about every budget and taste.
This big, quality hotel has a wonderful location and outstanding sea and city views. One of the main advantages of staying here is that it is close to both the port area and also to the interesting Bellver Castle.
This is an ideal location if you want to explore this fantastic city and stay close to plenty of food and nightlife options. As this is one of the very best Palma de Mallorca hotels you can expect a comfortable, modern room and top class service.
Expect to pay close to $200 per night at this hotel. If you can afford to pay a bit extra for a Red Level premium room on the 6th floor then you will enjoy the even more impressive view and comfort that these offer.
Current online reviews suggest that most previous guests loved their time in this hotel. It isn't the cheapest place to stay on the island but those who have splashed out on a few nights here in the Grand Melia Victorica see it as money well spent.
This cool hotel has an enviable location in the city's quaint and atmospheric Old Town district. This means that it is only a short walking distance from this Palma hotel to the La Seu cathedral and other central attractions.
$400 is the standard room rate, although you might be lucky and get a good deal off-season. For example, at the time of writing a room can be snapped up for $250 per night.
The 16 rooms in this small hotel include suites, junior suites and deluxe rooms. All of them are very pretty and spacious, with access to the hotel's health club, restaurant, spa and outdoor pool all included in the price.
The size of the rooms is one of the main features that guests have praised in their reviews. A few have pointed out that it can get noisy here at night, although this doesn't seem to be a problem most of the time.
Hotel Java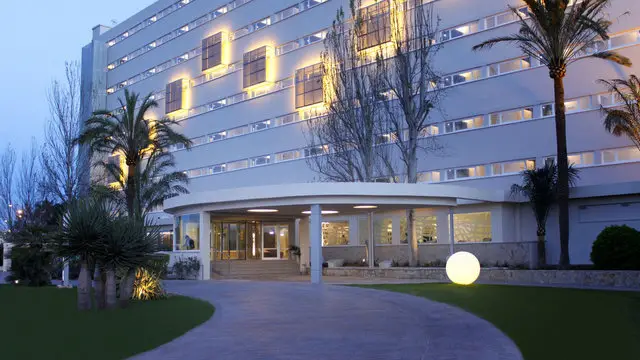 This option leaves the visitor a bit further away from the city centre but closer to the lovely Palma city beach and the aquarium too. Additionally, it is on the route out to the popular S'Arenal resort and has a good number of eating and drinking options close by.
This is one of several Palma de Mallorca hotels that sit fairly close to the city's airport so it is easy to get a flight that suits you. The location probably makes it ideal for a family that wants an action-packed trip to a beach resort and don't mind making reasonably long trips to the centre when necessary.
Prices start at around $70 per night for a standard double or twin room. This part of Palma gets very busy in the summer so booking in advance makes sense if you are planning a summer trip to the beach.
The fantastic location is the most frequently praised issue at this hotel. Among the few complaints to be made online, more than one previous guest has pointed out that the food can get repetitive on a long stay.
Nixe Palace Hotel
In this case, the Palma accommodation sees you head out to the Cala Mayor district of the city. This is where the Spanish Royal family has a residence and it is an area with a mixture of residential accommodation and good hotels.
The area has its own little beach and a decent selection of places to eat and drink. However, you will probably be tempted to make the bus trip or walk into central Palma most days.
It is also possible to check out some of the resorts to the West of the island from here, as the buses stop right outside this hotel.
Palma Nova and Magalluf to the West of the island are lively summer resorts filled with mainly low cost hotels, restaurants and bars that you might want to check out. Magalluf, in particular, has a lively nightlife that has seen it caught up in some controversial news stories in recent years
The big Porto Pi shopping centre is another local attraction, with a supermarket, fast food restaurants and fashion stores all here within walking distance. Pricewise, the 5 star Nixe Palace hotel starts at around $200 per night and the premium rooms with sea view are well worth asking for.
Existing internet reviews for this hotel paint the picture of a place where you can enjoy a peaceful and very comfortable stay with absolutely no hassles at all. The seaview and the lack of traffic noises are among the big benefits that make this so highly rated among the Palma de Mallorca hotels.
With many of the best Palma de Mallorca hotels sitting near the water this is the perfect place to enjoy a seaside trip. The Hotel Costa Azul is conveniently located on the main waterfront avenue (Gabriel Roca), meaning that it is easy to enjoy the views and use it as a comfortable base.
Prices for a family here start at about $150 for a night in a triple room. Like many hotels in Mallorca there is the choice of paying a little bit more and upgrading to a premium room with a sea view.
The hotel has 126 rooms in total and has a restaurant, an outdoor pool, a fitness centre and a bar among its facilities. The nearby paseo marítimo (boardwalk) is ideal for an early-morning or evening stroll.
The current online review speak to us of a nice place to stay that is welcoming without being spectacular. The views are particularly inviting, though.
For a nice hotel close to Palma city beach this is a good option at a reasonable price. JS Palma Stay is in Can Pastilla and offers decent access to both the airport and central Palma.
There are 242 rooms in this Mallorca hotel. It also has a fitness bar, bar, indoor poor and a full spa. All of the rooms are well-equipped and have balconies together with satellite TV and free Wi-Fi.
Prices start at $100 for a standard double or twin room, which represents good value for money on this island. Single rooms are also available on a bed and breakfast or half board basis as well.
Those people who have left a review about this Palma de Mallorca hotel were certainly impressed by the quality on offer at a decent price. The peaceful yet convenient location is a big selling point that seems to have been a pleasant surprise for many guests.
In the case of this Palma hotel, it is set further back from the water than many of the other central options. It is a short distance from the main attractions such as La Seu, Santa Catalina Market and Bellver Castle.
As with many of the top Palma de Mallorca hotels, there is a restaurant and bar here. You will also find an attractive rooftop terrace and an outdoor pool.
The rooms have free Wi-Fi and minibars as well as the usual comfort and facilities you would expect to find. The cost for a night in a standard double hovers around the $140 mark, which represents very decent value for money.
The pretty looks of the hotel have made a big impression on many of the guests who have left online reviews about it. However, not all of them liked the fact that it is somewhat out of the centre of the town.
Reviews are, overall, fairly mixed for the HM Balanguera. Having said that, it certainly isn't going to be anywhere near the worst hotel you ever stay in.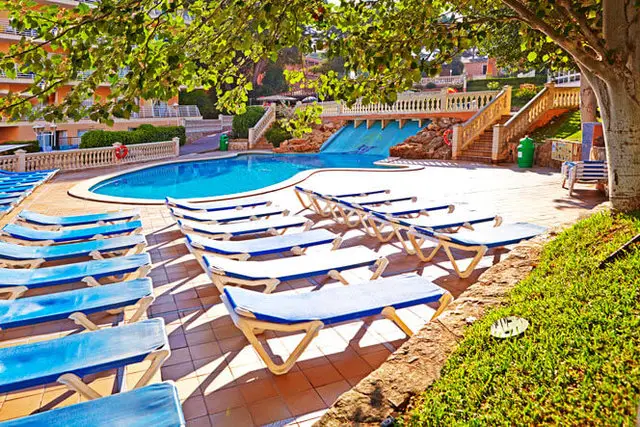 This is a rather more basic hotel than some of the others options looked at here. It is popular with all-inclusive holidaymakers and is a great value base for families looking to stay in the Old Town of Palma.
Expect to pay around $50 for a night in a double or twin room. This is a great price for a very reasonable hotel with clean rooms and a nice pool.
However, it is the location that makes this well worth considering when you are looking at budget priced Palma de Mallorca hotels. The Arab-influenced Old Town is a terrific base from which to explore this wonderful city by foot.
Not every guest who has left an online reviews is equally impressed by this hotel. This is perhaps to be expected with a low priced accommodation like this one.
Those guests who have left positive feedback tend to speak most highly of the wonderful location and the high quality service offered by the staff.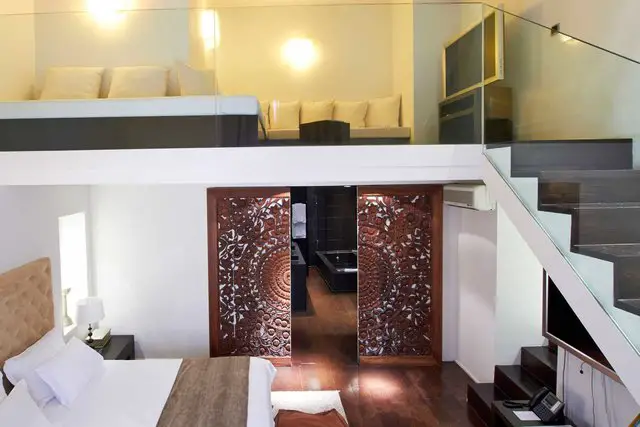 This VIP level hotel is an excellent Palma hotel option for a luxury stay in the heart of the city. It is a spa hotel with a range of quality services available to guests.
The 51 rooms in Puro Hotel are all individually decorated and offer a high level of comfort. There are a number of different unique rooms and suites to choose from, with interesting features such as mezzanine levels and stylish designs.
There is a highly popular train ride out to Soller from the station in central Palma that is a must for tourists. This hotel is well located for taking a stroll up to the station and heading out on this adventure through orange groves and lovely scenery.
Prices for this hotel start at around $300, with the more impressive rooms costing a bit more. For a 4 star hotel in such a wonderful location it is hard to argue with this price.
Boutique Hotel Posada Terra Santa
Fantastically located near to the La Seu cathedral, this is another classy option with a lot to recommend it. This is a small boutique hotel with just 26 rooms and a strongly personalised service.
As well as the typical services and facilities you would expect from a good hotel this one has the likes of a pillow menu, spa tub and fully soundproofed rooms.
There is a highly popular train ride out to Soller from the station in central Palma that is a must for tourists. The train station for making this trip isn't too far from this hotel.
The price for a night here comes in at just over $300 for an executive room. Other options that cost a bit more include a deluxe room, a suite and a superior room.
Online reviews speak highly of the peaceful atmosphere and of how easy it is to relax in this hotel.
Palma de Mallorca Hotels are Meant for Dreaming!
For an action-packed and varied time in a fantastic spot there are few places to beat Mallorca. By picking one of the great Palma de Mallorca hotels and taking away some useful travel acessories it will be an even more enjoyable break in this Mediterranean paradise.
Please follow and like us: