Playa del Carmen and Tulum are probably the most famous destinations in the Riviera Maya, with a thousand visitors each year and different activities and attractions to have a good time. 
You can easily get to them from Cancun, where you probably will be arriving, you only need an efficient Cancun transportation. Find out all the activities you can do and places to visit in these two amazing places.  
Playa Del Carmen
Located just 68 kilometers from Cancun, Playa del Carmen is perfect for a day trip, but it is highly recommended spending more days if you can because this destination is totally worth it. 
With an energetic night-life, delicious restaurants, coffeehouses and white sand beaches, Playa del Carmen is one of the main destinations in the Riviera Maya. You can easily reach the city from Cancun downtown or Cancun international airport, there are plenty of options of transportation from Cancun airport to Playa del Carmen in a very enjoyable 1-hour ride. 
On your visit, do not miss Fifth Avenue, the most famous street in Playa del Carmen, with 5 kilometers full of exclusive brand stores, gourmet restaurants, bars and more. If you are planning to get some souvenirs for your loved ones, this might be the right place.
The Fifth Avenue is also famous for its extensive range of gastronomy, from Mexican food, international dishes, seafood, snacks or even ice cream shops, so you can choose among the different restaurants to have a great time. 
At the end of Fifth Avenue, you will find Parque de los Fundadores, which is another great spot you cannot miss. This little square hosts different events during the day and many other attractions. 
One of the most famous are the Papantla flyers, an ancestral tradition that symbolizes the rain falling, the imposing Mayan portal sculpture and the colorful, giant Playa del Carmen letters to take you a great photo. 
Yucatan Peninsula is well-known for the cenotes, which are deep caves flooded by rainwater and subway rivers, many of them interconnected with each other. 
Near Playa del Carmen you can find a bunch of them like Jardin del Eden or Ik kil and get a complete new experience, there are many tours and excursions to visit them or you can drive yourself. Due to the location, taking a Ferry and making an excursion to Cozumel from Playa del Carmen is also very easy. 
Tulum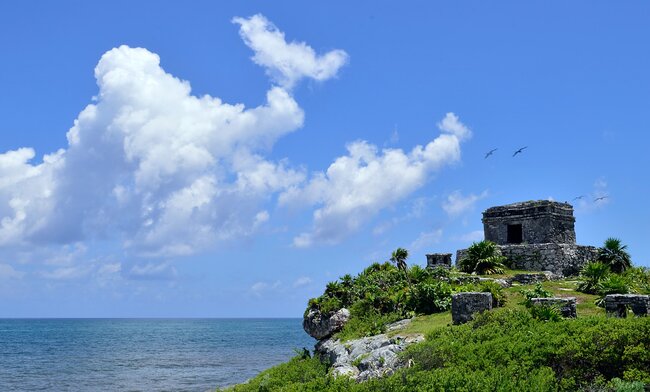 Tulum is a great option to escape from the crowded cities and get a more relaxed time. This little town is 131 kilometers from Cancun and just like Playa del Carmen and most destinations in Quintana Roo you can find different options to get there. Either ADO buses, taxi service or private shuttle from Cancun to Tulum. 
This eco-friendly destination is home to one of the most popular archeological zones in the south of Mexico and the postal card of Tulum.  The ruins at the seashore are a great scene, whether you take a tour or go by yourself, just remember to arrive early to avoid the tourists.
Tulum has different activities and attractions to get in contact with nature, one of the most popular is Sian Ka'an biosphere reserve, a protected area where you can find cenotes, coral reefs and is home of different marine species. 
Do not worry, Tulum also has a route of cenotes, so you don't miss the experience of swimming in at least one of them. 
The party in Tulum is one of a kind, with different religious celebrations, carnivals and festivals throughout the year. The town is getting one of the major references of electronic music festivals in Mexico, so check out if you can assist one of them during your visit. 
Please follow and like us: