As you plan your first hiking trip, you must surely be enthused. The adventure that it involves. A beautiful walk to the hill-top. The serene views. And all the beauty that there is. The idea can entice almost any human for that matter.
But is it all about those 'peanut butter vibes'?
As hiking is a wild adventure, it may require you to carry a bunch of utilities, so you don't have to face any sorts of unnecessary inconvenience.
In this post, you'll read about eight such things.
So, buckle up. Here's a quick hiking checklist mentioning eight of the most important things that you must carry on a hiking trip.
1. Hiking Backpack
The most important thing that you can carry to a hiking adventure is a hiking backpack.
Something with enough room for everything else that you may need to carry with yourself, a backpack will help you keep it all in reach.
So, whether you need to take out a portable charger for your smartphone or a different lens for your camera, you can keep it all safely inside your backpack. Problem solver, right?
2. The Right Pair Of Shoes
Hiking is an adventurous affair and will require you to walk on uneven surfaces. Your regular pair of footwear may not help you best in such conditions.
So, what to do?
Well, get a pair of heavy-duty shoes like 5.11 side zip boots. Such shoes will provide you with immense comfort even on the edgiest of the surfaces.
And the best thing about zip boots — you don't have to keep lacing and unlacing them. Just pull the zip up or down and you'll be good to go — a straightforward way to avoid the unnecessary effort and time that goes into lacing boots.
3. Food Backup
While some hiking locations may have a bunch of (overly expensive) food joints, you may not always get such privileges. So, what are you gonna do when hunger strikes?
Protein bars could be an option. However, it'll be better to carry by yourself enough food to feed yourself whenever you feel drained or hungry.
Hiking is a sport that's going to consume your energy. If you don't keep building that on the side, you may just drain out. So, make sure that doesn't happen.
Also, it's recommendable to go through fellow travel blogger's websites who've spent over two weeks in the jungle and survived the hunger perfectly.
4. Plenty Of Water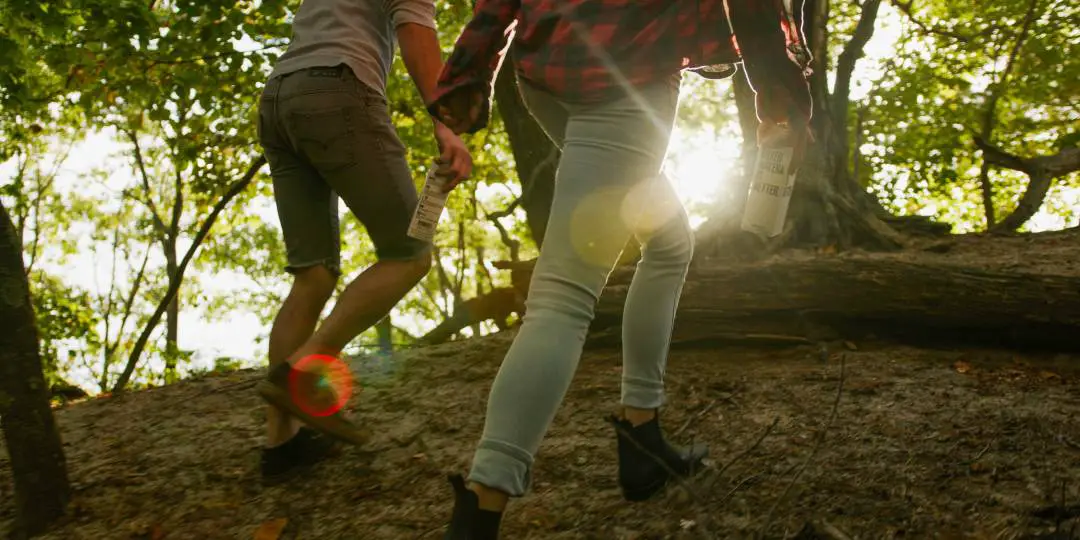 Go hydrated or go home and come back when you have enough water.
No. That's not a famous quote. But it holds true for all of us.
Clearly, if you are going hiking, you are going to get tired and may have to rehydrate yourself (which you must do even when not hiking).
That's when you will feel the need for having more water.
And even though some hiking areas like Sumaco have plenty of drinkable water, that may not be the case with all other destinations. So, make sure you have enough with yourself before leaving the house.
5. Carry A First Aid Kit
Before you leave your house for your hiking escapades, ask yourself these questions.
"Am I prepared for an injury?"
"What if a cough, cold or a headache crops up?"
"Do I have a first-aid kit for such conditions?"
Well, if your answer is a "NO", this may be time for you to hold up and get a first aid kit. Going for an adventure without proper first aid assistance is like fighting a war without a medic. Risky. So, don't do it.
And don't panic if you don't know how to pack a first aid kit. It's easy when you follow the right steps.
6. Don't Forget A Magnetic Compass
Finding directions in the wild areas can be a tough bet. And honestly, you may not always find half cut trees to guide you towards 'north' or 'south'.
So, drop the idea of relying on them. Instead, give yourself a comfortable hiking experience by carrying a magnetic compass that can guide you through and out of the jungle, if in case you ever get lost.
7. Raincoat For When The Levee Breaks
As you are planning a hiking adventure, you would know how rain can get a hold of you, especially during the season.
So, are you prepared to deal with that?
Well, not without a raincoat. Even though using a portable tent (learn how to do that with this complete tent camping guide) can help you in some cases, chances of you getting wet will still persist.
Plus, you can't keep walking with a tent on your head, right? However, a raincoat is built to allow you the same. So, carry it for backup.
Also, make sure you have waterproof pouches/bags to keep your electronics and currency notes from getting wet.
8. Health And Hygiene Products
You can't always find food and water in the jungle, true. But can you find general health and hygiene products there?
You know the answer. And you know what to do.
To keep yourself safe from unwanted bacteria and ailments that they bring, it'd be best if you carry with yourself a hand sanitizer.
And then as protection against the sun is also important, don't forget your sunscreen and sunglasses either.
Also, if you are a female traveller, carrying suitable menstrual products will be a good idea.
Other health and hygiene care essentials that you can carry:
Insect repellent
Toilet paper
Urinary products
Sanitation trowel
Blister treatment
Jungle Trips Are Fun
Hiking adventures are all fun and games until you fall prey to a jungle fiasco. That's when you feel the need for carrying along the essentials with you.
In this post, you found out about the same – eight things that you must carry to a jungle trip.
Also, if you are looking forward to saving big on your travel escapades, make sure you follow these 6 budget travel hacks. Surely, that'll help.
Please follow and like us: