When it comes to planning a destination wedding, it's crucial to always prioritize the most romantic places on earth. Not every place will suit you — which means you must decide wisely. As lasting memories are what we most look for, it's important to spend time picking the perfect scene for your version of Romeo and Juliet (minus the tragic ending!)
The goal is to find a breathtaking landscape that will leave you speechless. The list of places that make your perfect wedding venue is endless, however, it does help to factor in that picking to host the ceremony in an elegant castle and traditional villas, could take your wedding to the next level.
Lasting memories are what we want: both for your partner and guests. It's your special day, you're up to ears in romance; you've found your soulmate, so it's crucial you pick your wedding venue wisely. If Italy's not already your wedding destination, here are 7 reasons as to why you should get married in this romantic country.
Romantic History
It's important we outline that Italy has always held the title as the most romantic country of them all. Many love stories are set and take place in Italy, for example, the famous Romeo and Juliet which was set in Verona, Italy.
The Italian language is also full of romantic spells. When an Italian speaks fluently, you'd think they're trying to smother you with love. As a country, Italy has embraced the importance of love and family. It's a region that offers romantic and charming scenery — the perfect backdrop for your Italian wedding.
Locations That Suit Your Preference
When you arrive in Italy, you will find one of the world's most charming landscapes. It goes without saying that the rolling hills and vineyards of Chianti make a great background for any wedding. Choose between the quiet and romantic venues of Tuscany, or if you want an iconic Italian island feeling, head to Capri and the Amalfi coast. The good thing is that whatever destination you choose as the backdrop for your ceremony, you are guaranteed ultimate romance.
Italian Weather
If you come from Northern and Western Europe, you are already used to the unpredictable weather. Summer in Italy is characterized by hot and dry temperatures. Spring and Autumn offer mild temperatures, but blue skies. But for all we know, you might even want to have an exclusive winter wedding in a cozy venue in Italy.
Cuisine
Is there anything more delicious than Italian cuisine? It goes without saying that you and the guests will fall in love with the food and wine of Italy during your wedding destination. Who are we kidding, everyone will want to indulge in the beauty of Italy, enjoying the great culinary treasures.
It's crucial for you to plan your trip so that everything goes well. Specifically when it comes to Italian food and wine: you cannot miss out! If you are thinking about the meats, fresh vegetables and fruit, cheese and (of course!) pizza, then this is the place to be. Cakes are handcrafted, and every glass of wine goes down as smoothly as ever.
Your Honeymoon!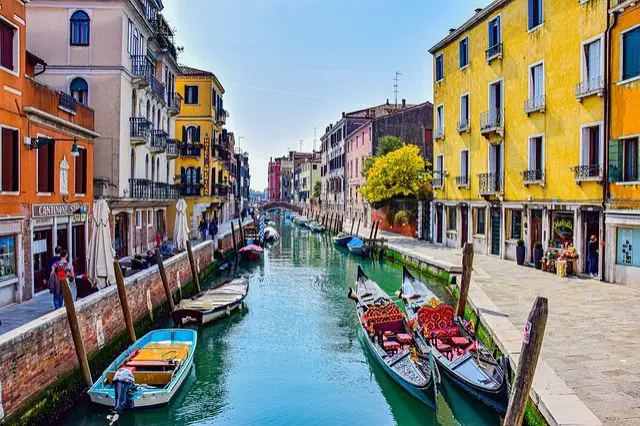 The very climax of your wedding is your honeymoon: you want it to count for both your partner and yourself. When you're done taking the wine and food, it's time for you to crown-up your wedding.
The good thing is that you can easily ask a planner to set everything for you. No need to worry about the details: the Italians are the best when it comes to planning, cooking, drinking, singing and partying! They will make your special day perfect.
And when the ceremony and festivities conclude, you will enjoy a beautiful honeymoon destination, and yes the guests will go home. Whatever you choose to do, make sure to enjoy the best cultural beauty and food of Italy.
Italian Style Villas
You might want to spend a bit more time enjoying your Italian tour during your wedding. This is when you might consider renting wedding villas in Italy: a luxury estate, or a 16th-century villa to host your wedding. Each unique location is guaranteed to make your special day even more unforgettable.
Please follow and like us: