As an Amazon Influencer, we earn from qualifying purchases you might make if you click any of the links on this page.
National Parks can be found all over the world. They not only attract millions of visitors each year but also play an important role in protecting some of the most endangered animal species on the planet. Home to breath-taking landscapes, they strive to preserve the natural resources of a country for inspiration and enjoyment of future generations.
A prime example is Sri Lanka, an island proud of its natural bounty, meticulously safeguarded in various sanctuaries by zealous conservationists for hundreds of years. With over 100 preserves, Sri Lanka is recognised as one of the leading wildlife destinations in the world.
To make matters simple, we have perfected a guide of some of the best zones of natural interest, which is sure to come in handy, should you decide to pay a visit to this pearl of the Indian Ocean.
Wilpattu National Park
Drive time from Colombo: Four hours-188km
Open: Throughout the year with February to October the prime season.
Best for: Sloth bear
How to Go: Book an all inclusive guided tour with Far and Wild Travel for an authentic safari experience.
Home to over sixty lakes, many of which are life-giving sources of water, the name Wilpattu literally translates to 'land of lakes'. The wet environment has resulted in a prolific rise in the population of the flora and fauna which have made this area their home.
The largely untouched forests harbour elephants, water buffalos, leopards and above all the highly elusive sloth bear which is often seen winding its way in the scrubland.  Wetland bird species found in the park are the Garganey, Whistling Teal, Spoonbill, White ibis, painted stork and the endemic Sri Lanka jungle fowl. A famous attraction nearby is the 2000 year old bodhi tree growing amidst the ruins of the ancient town of Anuradhapura.
Hortons Plains National Park
Drive time from Colombo: Five hours-228km
Open: Throughout the year with January to March being the best.
Best for: Birdwatching
At 7,200 feet the Horton's Plains National Park, named after a former British Governor Sir Robert Wilmot Horton, is the highest and most remote park in Sri Lanka. The area serves as a headwater source to three rivers, as a result of which the area is rich in biodiversity, particularly for some rare birds.
The park is best explored by walking and there is a well marked trail which leads to a long steep plunge precipice at a spot aptly known as 'World's End'. The area was declared a UNESCO World Heritage site in 2006.
The most sought after mammal here is the critically endangered Red Slender Loris, while for birders there are as many as 21 endemic species to be found here such as Yellow fronted barbet, Sri Lanka jungle fowl, Sri Lanka whistling thrush and the Sri Lanka wood pigeon to name a few. It is imperative to carry a good set of binoculars or a telescope for prime birding opportunities.
Gal Oya National Park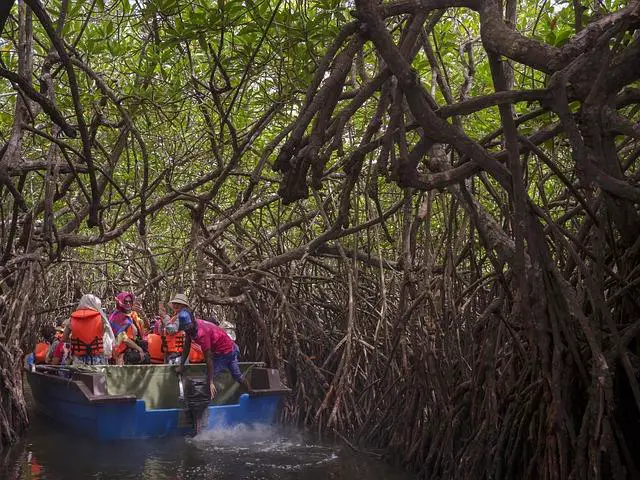 Drive time from Colombo: Five and half hours-181km
Open: Throughout the year. Best months March to July
Best for: Boat safaris
A familiar scene seen in most of the National Parks of Sri Lanka are lines of vehicles and noisy crowds. So where does one go for some quiet and peace? The answer is this 308 square kilometres Gal Oya park situated in the eastern part of the country. Established in 1954, the park serves as the main catchment area of a huge reservoir.
Take a boat on the biggest artificial lake, Senanayake Samudraya and just savour the silence on any of the little islands dotting the water. Forests and savannahs cover almost 80% of the parking area, housing nearly 32 mammals and 150 different types of birds.
Incidentally, this is the only park in Sri Lanka which permits boat safaris. If you are lucky, you can see elephants swimming from one island to another in their quest for food. The indigenous Veddha clan of Sri Lanka still lives inside the park and coming across them offers a rare chance of tribal interaction.
Sinharaja Rainforest Reserve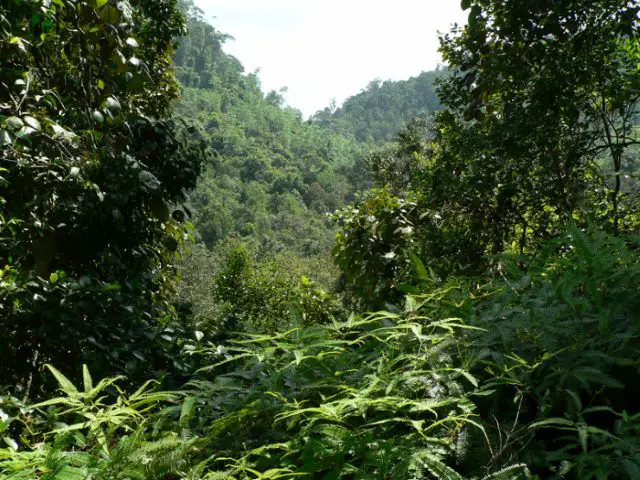 Drive time from Colombo: Four hours-160km
Open: Throughout the year. Best months January to May and August to December.
Best for: Rare and endemic birds
This designated Biosphere reserve and UNESCO World Heritage site enjoys special protection under the stringent wildlife laws of Sri Lanka. This is primarily because the tropical rainforest here is the last remaining extensive tract of pristine wilderness on the island.
Home to more than 50% of all the endemic bird species, out of which 16 are extremely rare, Sinharaja is a mecca for avian lovers. The white eyed starling and the Sri Lanka wood pigeon are the most sought after bird species here. Declared a forest reserve way back in 1875, the park has been provided with a long history of protection.
Yala National Park
Drive time from Colombo: Six hours-298km
Open: Throughout the year except September. Best months February to June
Best for: High density of leopards.
Yala is one of the largest parks in Sri Lanka and is renowned for its high leopard density. Home to 44 species of mammals and several rare bird varieties as well, the diverse ecosystem consists of grasslands, marshes and sandy beaches. The drier months are excellent for leopard sightings as the water levels are at their lowest.
Safaris here are different than those from Africa, but are soon catching up with their foreign counterparts. The 144 square kilometres zone 1 has a population of about 75 leopards and is considered to be the best part of the park to spot this elusive cat.
Udawalawe National Park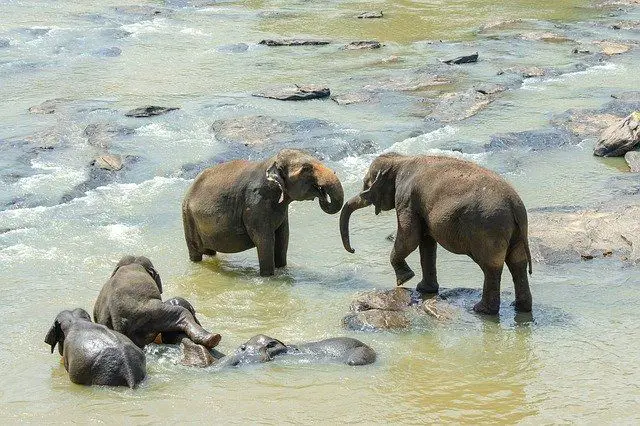 Drive time from Colombo: Four hours-200km
Open: throughout the year. October to January best months.
Best for: Sri Lankan wild elephant
Udawalawe came into creation solely for the large number of animals which got displaced due to the construction of the Udawalawe Reservoir on the Walawe River. This is said to be the best place in the world to see the Sri Lankan wild elephant.
Stretching over an area of over 30,000 hectares, the man made reservoir has become a favourite visiting point for the 500 odd elephants who reside here. On any given day herds of over 300 have been counted in the reserve. Other mammals living here are the rusty spotted cat, Sri Lankan spotted chevrotain and the endemic Ceylon spiny mouse. Udawalawe is also special for birds like the endemic Sri Lanka spurfowl and red faced Malkoha.
Parks Connect You To Nature
A National Park is an important iconic symbol of any country. Apart from the rich history and beauty of nature, they exhibit a sense of freedom as well. If you haven't been to any National Park before, especially in Sri Lanka, now is the time to jump start on planning your dream wildlife vacation to this magical country today.
Please follow and like us: