Riga might not be on your radar when you think about going on a city break but it should be! It's surprising just how much there is to do and see here. Much like the other ex- Soviet states like Lithuania or Estonia, Latvia is an up and coming tourist destination. So to give you an idea of what this city has to offer here are some of the top things to do in Riga.
Visit the Nativity of the Christ Cathedral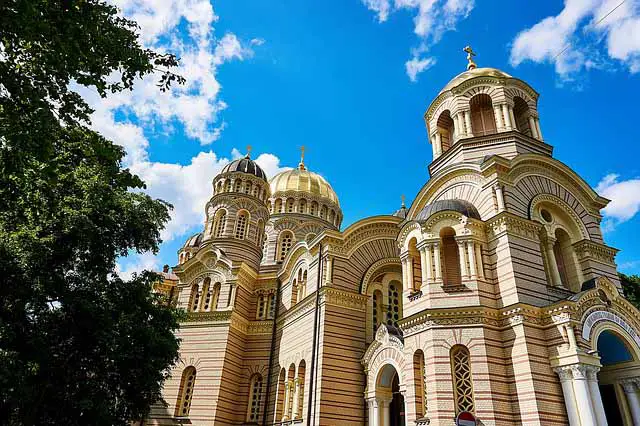 A beautiful golden-domed Cathedral that shines brightly as the sunlight hits the roof. This Cathedral is a looming structure in the centre of Riga and a dazzling example of the Russian Orthodox religion. The outside is pretty but you will be stunned when you walk inside and see the exquisite decor and detailed paintings. It is free to enter but you can leave a donation if you wish. Women are required to cover their hair before entering, so make sure you bring a scarf with you when visiting.
Find The Cat House
A bright yellow building with two black feline figures donning the tower rooves. A strange thing to see as you look towards the rooftops of an old town, don't you think? Most locals will tell the legend of the wealthy tradesman who placed the two statues of angry-looking cats on the turret rooftops with their tails towards the Riga Town Hall, after having a dispute with Riga City Council. Whatever the reason, however, it makes for a great photo opportunity for visitors to the city.
Shop in the Riga central markets
A fantastic sight in Riga. See the art deco structures of the market, five pavilions made by reusing old German Zeppelin hangars. Did you know it is the largest market in Europe and local people do their everyday shopping here? A unique market to visit and designated a UNESCO world heritage site as part of the Historic Centre of Riga. Whether you want to pick up souvenirs, grab some fresh food or just take in the distinctive setting.
Visit the House of the Blackheads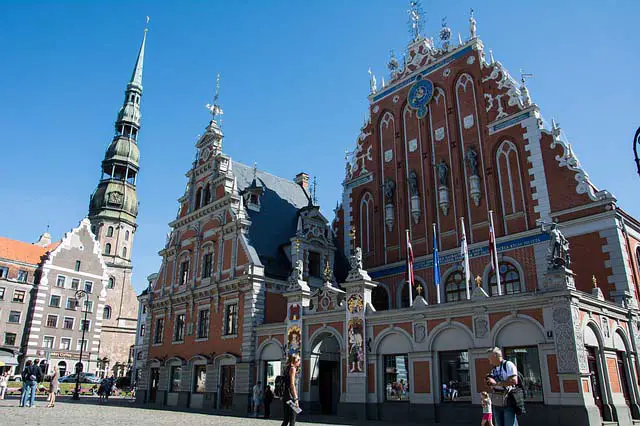 You may have seen these houses pictured on brochures or books featuring the top things to do in Riga. An iconic site in the centre of Riga old town. The house of the blackheads is a historic building dating back to the fourteenth century. However, after being bombed by the Germans in 1941 and completely demolished in 1948, today's building was reconstructed between 1995 and 1997.
Drink Black Balsam
A traditional drink from Riga, Black Balsam is a liqueur made with various different plants which are mixed with vodka. You might find it has a medicinal taste and it is very strong. Rigans tell of the legend of Russian Empress Catherine II who became ill while visiting Latvia and could only be cured by drinking Riga Black Balsam. Of course, you must try this drink for yourself during your trip. You'll easily find Riga Black Balsam in restaurants, bars, and shops all over Latvia. Try one as an aperitif or as part of a cocktail, just keep it to one as it is pretty strong!
See a Show at the Riga Opera House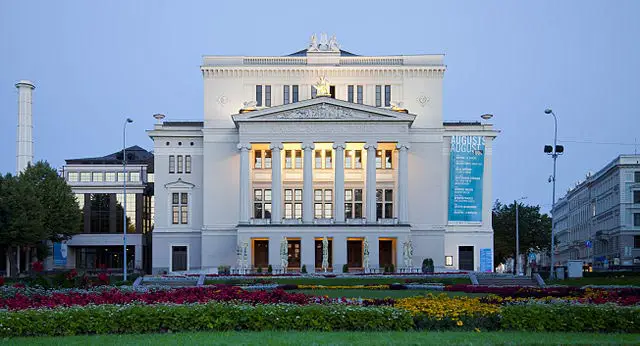 If you like beautiful buildings then you should see the National Opera House of Latvia. Whether you are looking to watch a performance or just want to view the building both experiences are worth it in Riga. There's a summer opera festival where you can catch different performances and it is best to book up before you travel. If you don't want to attend a performance then the opera house area is a lovely place to explore. The gardens, river and pretty statues will keep you busy as you wander around the park.
See the Views from St Peter's Church
For the best view in the whole of Riga climb to the top of St Peter's church. There's a 360 view of the whole city, from the central markets to the orange roofs and cobbled streets of the old town. To get to the top there's a flight of stairs and a small lift so it's not difficult to reach. Why not explore one of the many temporary exhibitions held inside the church while you're here?  You will see art and history celebrated as well as the religious aspect in the church.
Discover Art Nouveau
Wandering around Riga you'll spot many different types of architecture across the city. In contrast to the grey brick walls and orange tiles of the old town lies the Art Nouveau district. Notice the classical element to the building styles and colourful late 19th-century buildings. There are lots of sculptures and details to marvel at, so if you are into architecture, you should take a stroll in this district. There is also the Art Nouveau museum which boasts amongst other things an impressive Art Nouveau staircase.
Learn About History at the KGB Museum
Do you want to know more about the history of Riga? Oe of the more unusual top things to do in Riga is to visit the KGB museum. Giving it's visitors a tour of this ex-KGB building and explaining the harrowing history of what took place here. You'll be surprised just how recently this city was under Soviet control and to hear of the struggle for independence There are many people in the city today who still remember what happened here and this tour will give you an insight into their lives and stories.  A worthwhile visit to learn about the Countries past and appreciate the place you are in.
Top Things To Do in Riga for You!
When you look at this list you can see for yourself that Riga rivals any other city destination for sites to see and things to do. Latvia is a country that has been through a lot in the past as a country and locals want to celebrate their now independent Country. What do you think? Have these top things to do in Riga put the city on top of your city break list?
Please follow and like us: