The northernmost prefecture of Hokkaido is considered the largest in Japan, as well as the second largest island in the country. The climate here is usually on the cold side: winters are harsh with plenty of snowfall, below zero temperatures, and frozen seas. Hokkaido summers remain relatively cool while the rest of the country suffers sweltering heat, making it a perfect retreat for some.
Those who love nature and the outdoors flock to Hokkaido for unspoiled nature views in the summer months and excellent powder snow, perfect for winter sports such as skiing and snowboarding, when the weather turns. It's a prefecture that has plenty to offer regardless of the season.
Below we list which places you shouldn't miss and when to best see them.
Summer in Hokkaido
Image credit: Pixabay
Summer is the best time for flower and horticulture enthusiasts to visit Hokkaido – mid-July being the peak for lavender season. Head down to Furano and Biei, located in the center of Hokkaido, for a day at the Furano Flower Fields. The lavender is best viewed at Farm Tomita, where the plants are set against the stunning backdrop of the Tokachi mountain range. Entrance is free, and you'll find cafes and shops in the area that make and sell a wide variety of lavender-related products and souvenirs.
If you can't get enough purple, head down to Lavender East, located about four kilometers east of Farm Tomita. The lavender fields here cover a grand total of a whopping 14 hectares, meaning blooms as far as the eye can see. There is an observation deck, a café, and a shop, as well as 15-minute rides on a "Lavender Bus" that takes you through the fields for an up close and personal look.
If Farm Tomita and Lavender East gets too crowded for you, and you still want to get your floral fix, visit Flower Land Kamifurano. Here you'll be able to indulge in activities such as lavender picking and flower pressing. It's also possible to go on tractor rides through the flower fields. The farm is located on a picturesque hillside that also offers magnificent views of the Tokachi mountain range, guaranteeing plenty of beautiful pictures for shutterbugs.
For a cheerful backdrop, consider going to Hokuryu's Sunflower Field. Himawari no Sato is the biggest sunflower garden in Japan – 23.1 hectares of nothing but sunflowers. Aside from the usual dining and shopping for sunflower-related goods. You can sightsee on a tractor that will take you through the fields, or you can also opt to rent a bike and do the exploring yourself.
There are also several observation platforms and a duck ranch, perfect for fluffy-animal loving children. Admission is free of charge, but donations to maintain the area are encouraged. Don't leave without experiencing the sunflower maze at least once.
Autumn in Hokkaido
Autumn in Hokkaido is no less vibrant and colorful than it is in the spring. The weather takes a turn for the cooler, and the leaves change from green to shades of red, orange, and yellow. Start your exploration in the capital, Sapporo, by visiting scenic Gingko Avenue in Hokkaido University. It is a mere ten minute walk from the JR Sapporo station.  The gorgeous fall foliage provides a dazzling backdrop for photographs. From here, you can also take the time to visit the Hokkaido University Museum, Botanical Garden, and Elm Forest located conveniently right on campus.
An hour out from the capital is Jozankei Onsen, named the best hot spring resort town in Sapporo. For the complete fall experience, book the exclusive scenic bus ride called the Kappa Liner. This trip will take you around the best spots to view the best autumn leaves and foliage before checking into the ryokan of your choice, of which there are plenty. Many ryokan also offer day visitors entrance to their bathing facilities for a fee. For those on a tight budget, but still keen to see what the fuss is all about, there are free foot baths that can be found all around town – don't be afraid to let your toes take a dip!
Noboribetsu is also a great hot spring resort town that's best visited in the autumn months. Home to eleven different kinds of healing thermal waters, here you can find a public bath house and more conventional hot spring hotels and ryokan. The surrounding area is a delight to see in the fall months, while taking a leisurely walk on one of the many trails available.
Don't miss the Oyunuma River Natural Footbath: a free natural footbath located in a small depression in the river. The hot spring water is the perfect relaxing temperature to soothe your tired soles. The river bottom is also rich with healthy minerals that are said to contain healing properties.
Winter in Hokkaido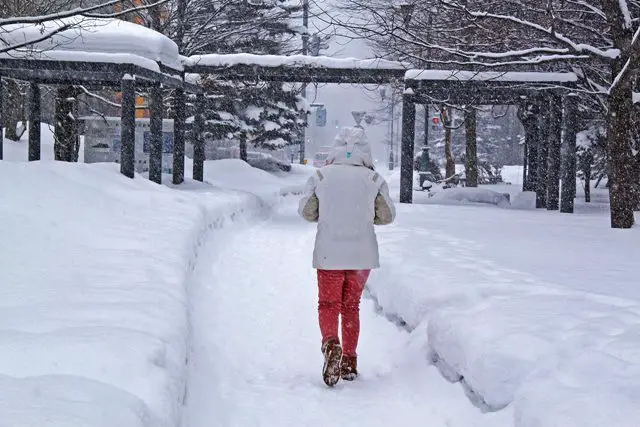 Image credit: Pixabay
For those aiming for the annual Sapporo Snow Festival, the revelries will be held from February 6 to the 12th in 2018, and it's always best to book early. Thousands of visitors descend upon Hokkaido during the winter months to attend this festival. Many attend the festival to take advantage of the powder snow that falls aplenty in the area for various winter activities.
Odori Park is the central hub for most of the action. Here you'll find intricate snow and ice sculptures that are elaborately lit for best effect during the evenings. Other fun winter activities include sledding, skating, and other snow-related pursuits. For those who want a proper skiing and/or snowboarding experience, head out to Kiroro Ski Resort, a great place for beginners, intermediates, and experts alike.
Once you've had enough Sapporo Snow Festival fun, head on down to Asahikawa via train. The Asahikawa Winter Festival will be held from February 7 to 12 in 2018. Get there on the first night for a lively fireworks display and stay for such attractions as the Asahiyama Zoo. The zoo is home to a beautiful glass tunnel. It cuts across the penguin pool and allows visitors to see the mammals up close, as well as polar bear and wolf enclosures unique to the zoo.
Also of interest is the Asahikawa Ramen Village: a noodle-lover's paradise. Here, the eight best and most popular ramen-ya in Hokkaido have gathered and opened branches side-by-side. The ramen here is typically in a shoyu or soy sauce based broth. It is served topped with green onion, pork, menma or bamboo shoots and hot spring egg. Make sure to have some of the famous Sapporo beer with your meal.
Visiting Hokkaido on Your Next Holiday!
Hokkaido is definitely a prime traveler's destination regardless of the season. If you're looking for great sights, delicious cuisine, and fun activities all year round, then you definitely can't go wrong with a trip to Hokkaido.
Please follow and like us: