If you visit Iona then it might not change your life. However, I do feel that there are some places in the world that leave an indelible mark on your soul.
In my case, visiting the magical, spiritual Scottish island of Iona was something that changed my outlook on life. I have only visited here once in my life but I feel as though it is a unique and very special place.
What are the biggest reasons for making a trip to Iona and seeing what it is all about?
Visit Iona for the Spiritual Feel
There are some places in the world that have a strong spiritual feel that is hard to define, aren't there? I would class my Iona trip right up there with Lake Titicaca, Machu Picchu and Rome.
These are the list of places where I have felt this weird and strangely uplifting sensation.
Of course, putting this into words is almost impossible. We each feel this in different ways when we visit Iona or somewhere similar.
Maybe you would find that Iona doesn't give you this kind of feeling. However, most people I have spoken to felt some kind of magic here.
Perhaps it is due to the incredible weight of history that hangs in the air here. This is where St Columba started the spread of the Christian religion in Western Europe.
Many pilgrims come here each year to worship in the famous Abbey.
The Graveyard of Kings
There is also a famous graveyard where ancient Scottish kings including MacBeth are said to rest. Top be fair, some people do dispute this fact.
Either way, it is thrilling to see the old Celtic crosses in the graveyard. It is amazing to think that so much history has passed through this tiny island.
Personally, I just wandered around the place trying to soak up the atmosphere and discover what made it so special to me right away.  I never could work out why it had such a profound impact on me.
In the end I guessed that maybe I had just come to visit Iona at the perfect time in my life to open up to new experiences.
However, after this whenever I mentioned my Iona trip to anyone who had been here I could see their light up. There is something special about this place and perhaps it simply means different things to different people who spend time here.
If you have something weighing on your mid then this is the ideal place to gaze out to see and contemplate the world. Even if there is nothing you are currently worried about, you may just discover that the spiritual side to Iona opens your mind in new and unexpected ways.
The Peace
In the past I had always looked for all-action travel destinations. I would rush around trying to tick famous attractions off my list of things to do and see.
Iona was the first place where I felt comfortable lowering the pace and finding joy in the peace all around me.
As I mentioned earlier, this is popular pilgrimage destination but when I arrived it felt almost deserted. I hooked up with a couple of Australian backpackers and a couple of Irish girls.
We explored this peaceful island together.This island has only permanent settlements and a year-round population of fewer than 200.
It is said that half a million people visit Iona each year but everyone I know who has been there found it to be as quiet and delightful as I did.
I guess that is gets busier in the summer months of June, July and August (I went in March). Other people who have visited at this time of year still spoke to me of the peace and calmness on the island, though.
Certainly, I can thoroughly recommend going in March if you want to find a sparsely populated island and a lot of freedom.
Everywhere we went I just felt such a calm feel to the island. The others in the group said exactly the same thing.
It is no wonder that people come here for relaxed Iona tourism, spiritual retreats and to look for some meaning in their lives.
No Stress on Iona
If you want to find a new way of living without stress and running around then a visit to Iona could certainly help in this respect. Otherwise, it is a place where you could simply discover the genuine and heart-warming pleasure of true peace for a few days.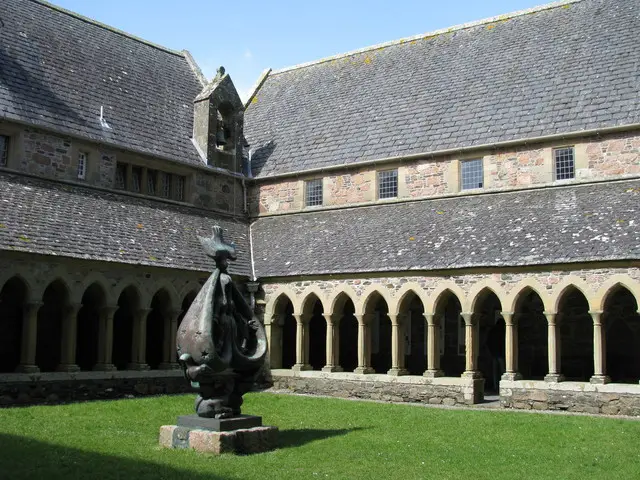 There appears to be no dangers, no crime and no rush to get things done here.  In fact, I just had a look and even on the bigger neighbouring island of Mull the locals are proud to say that there is no crime at all to worry about.
It really is the kind of destination where you find peace all around you without even looking for it. By the time I left here after a few days I felt so much more relaxed and stress-free.
The (Lack of) Things to Do
I tend to get stressed out when I try to cram a lot of activities into a short trip. For instance, in some ways my trips to Paris and Rome were blurs of non-stop hopping on buses, trains and taxis while trying to tick places off my list of things to do and see.
My Iona visit was completely different in that respect, as it has a refreshing lack of things to do once you check out the Cathedral and the graveyard next to it. This isn't all there is to the island but I felt that everywhere else I just discovered naturally by going for walks with no set route.
It is a small island so if you try and see it all in a day you probably can. Having said that, it is a much more enjoyable idea to take it easy and spread it out over a few leisurely days.
For instance, one day we stumbled across a lovely beach. It was completely empty except from some friendly sheep.
They seemed to be getting ready to take a dip in the water when we interrupted them.
We then spent the best part of the morning on this beach just taking pictures and enjoying the view while the sheep eyed us suspiciously.
A Modest Climb
The highest point in the island is called Dùn Ì, it sits proudly at a mere 101 metres (331 feet) above sea level. Climbing this small hill gave us another absurdly exciting day for some reason.
It also offers a far better and more open view of the surrounding sea and islands than I had expected from such a small hill.
There is apparently a Well of Eternal Youth at the top of this hill but I will need to wait a few years before seeing if it has the desired effect on me.
I should point out that when you visit Iona it is in no way boring, despite this lack of big tourist attractions. It has a magical light in the air, shimmering water and a magical atmosphere.
This all adds up to ensure that it is an exciting place to stay.
I saw that there are a couple of nice restaurants and a shop or two down where the ferry arrives. Because it is a relatively remote island things tend to be quite expensive here.
You won't spend money on much more than your hotel and your food once you arrive. Indeed, you will soon see that there isn't really much else to buy anyway.
The Beautiful Beaches
I mentioned the beach earlier. It is no surprise that the beaches are such a big attraction on a small island like this.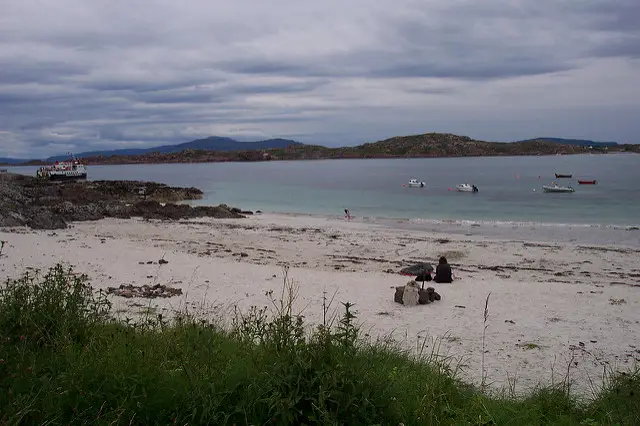 Don't expect to go swimming or sunbathing, though. The weather here is often on the cold side.
Instead, you will love exploring the wonderful places such as Columba's Bay. This is where the saint is said to have landed when he first came here in the year 563 to spread his religion.
There is also the fabulous Bay at the Back of the Ocean, the White Strand of the Monks and the Martyr's Bay.
Each of these lovely beaches offers a different sensation when you visit Iona.They each have different views and something unique.
For instance, the Bay at the Back of the Ocean is the last point in the sea before you reach North America.
I felt a wide open feel of limitless possibilities here. To be honest, I also saw that the world was a big and mysterious place here.
I think that the White Strand of the Monks is arguably the prettiest of the beaches. It is difficult to explain how good it feels to here to be here just using words and pictures.
You may just have to trust me on this one until you go there yourself. I definitely recommend that you do this.
The Spouting Cave
There is also a magnificent spouting cave in the South of the Island that is well worth a visit too. There may very well be more places to discover but I did my exploring without a map.
I had very little idea what to look for. It didn't seem to matter in the slightest, though.
The few locals I spoke to were keen to show me and the rest of the group where to go to. This is how we found those places mentioned earlier.
Even the Journey There Is Something Special
Do you often find that the journey to get somewhere new is one of the best parts of the whole trip? In that case, you will love the journey across to beautiful Iona.
This island is in the Inner Hebrides chain of islands. You need to get a couple of ferries across here from the mainland.
My adventure started in the cool seaside town of Oban. It has an interesting Roman folly and quaint seafront shops to look out for.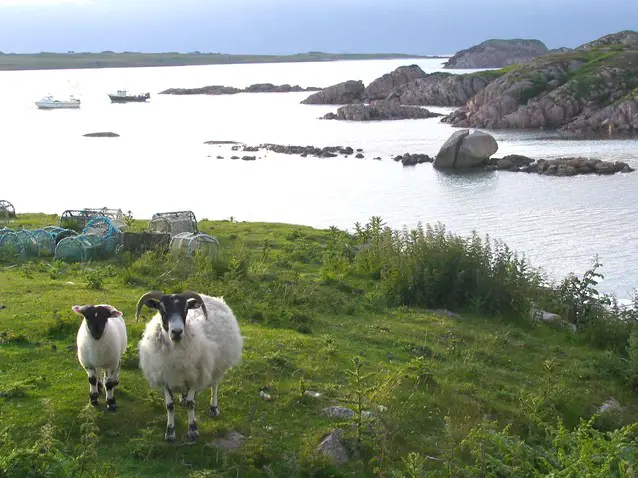 From here you need to get a ferry across to Craignure on Mull, which takes a little under an hour and is a lovely trip.
After this, you get a bus or hire a car to get across to the tiny village of Fionnphort on the opposite side of Mull. There is nothing much to see here other than the ferry departure point for your Iona trip.
I was delighted to find someone selling old books from their garage here. This unexpected find helped me to pass the time until the ferry departure time.
I walked onto the ferry with a pristine copy of The Thirty Nine Steps by John Buchan tucked under my arm. By now I was already starting to feel that this was kind of a magical journey.
It was clear I was going somewhere special that not everyone has the pleasure of visiting.
I made the ferry trip across to visit Iona from here is just 10 minutes but it is rather thrilling. I finally got to see the pretty island of Iona getting closer with every passing second.
Only foot passengers will typically make this ferry trip, as the use of cars on Iona is heavily restricted.
Island Hopping Around Iona
There are quite a few other interesting islands around Iona that you might want to visit. You might never come back here again so you should take advantage of being in this remote region of Scotland.
As I mentioned earlier, you need to pass through Mull in order to visit Iona by ferry. This is one of the biggest and most interesting islands off the West of Scotland.
You will find that is well worth spending some time in if you have the luxury of doing so.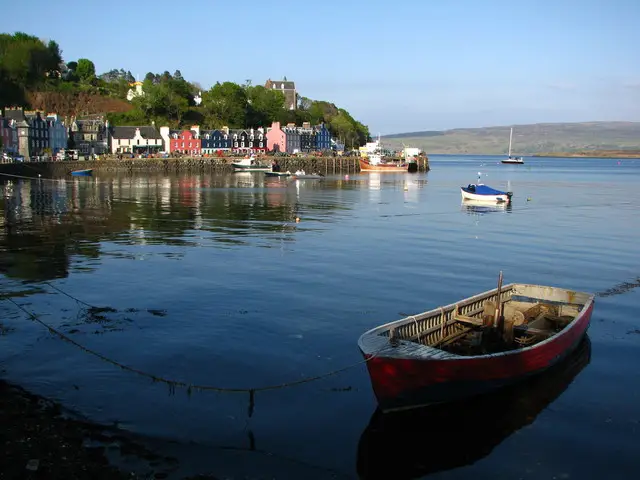 I liked most of all the colourful town of Tobermory. You might very well have seen in a TV Show of film at some point.
Mull can also lay claim to having the country's only single malt whisky distillery. You can visit Tobermory Distillery, which offers tours and a small shop.
The Natural Beauty of Staffa
I saw that the island of Staffa is another tempting destination around these parts. This is an uninhabited island that is famous for the glorious Fingal's Cave.
You can see stunning natural basalt columns that make it very similar to the Giant's Causeway in Northern Ireland.
Tours to Staffa can be arranged to take you there directly from Iona, Fionnphort or Tobermory. You can see nesting puffins on Staffa if you arrange your trip between May and September.
It's Time to Visit Iona!
A trip to visit Iona might not be everyone's idea of the perfect travel destination but I recommend it to everyone who might listen to me, though. Check here some accomodation tips…
Honestly, you won't regret going here and feeling its magic once in your life.
Please follow and like us: