As an Amazon Influencer, we earn from qualifying purchases you might make if you click any of the links on this page.
There are few places in the world that have caused such a big impression on me as visiting Potosi in Bolivia did. This remote, desolate city in the Bolivian highlands should be an obligatory destination for anyone who wants to find out more about the world they live in.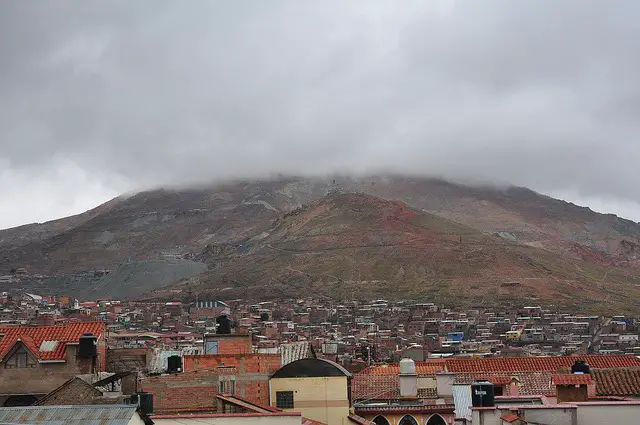 As you might have guessed by my use of the word "desolate", this isn't your typical tourist destination with gleaming 5 star hotels and luxury restaurants with gorgeous sea views. So why did this dusty, impoverished South American city leave such a deep impression on me?
The History
It is hard to believe now but this city was once one of the biggest and most prosperous places on Earth. At the height of its powers Potosi was the second biggest and arguably most important city in the Americas, as well as being bigger than most cities in Europe.
So how does somewhere sitting at 4,090 metres (13,420 feet) above sea level and a huge distance from the coast get to be so important that it is now a UNESCO World Heritage site? The simple answer is silver; lots and lots of it.
During colonial times, the Spanish discovered one of the richest sources of precious metals in the world right here. During the next few centuries millions of slaves died digging out staggeringly obscene amounts of silver and then tin from the famous Cerro Rico hill that overlooks Potosi in Bolivia.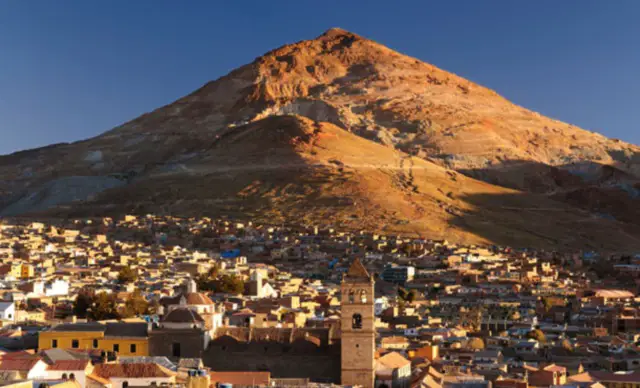 So much mining was done here that scientists have discovered traces of pollution under the Peruvian ice caps that was probably caused by the intense activity in Potosi in Bolivia during the colonial era.
The stories of fabulous wealth and terrible waste are legendary in this high altitude city. For religious events the streets leading to the churches were paved with silver and rich householders would apparently throw out their silver cutlery after using it instead of having it washed.
The unbelievable amounts of silver and then tin flowing out of Potosi has been given as one of the reasons as to why Europe progressed during colonial times and has even been suggested as a factor in the blossoming of the Industrial Revolution. Potosi was also the site of the first mint in the Americas and for centuries Spanish colonial coins were printed here.
First Impressions
You first impressions when visiting Potosi are unlikely to be particularly favourable, as I know mine weren't. A long bus journey from La Paz ended with me being dumped unceremoniously on the street a long way from the bus station.
This city is famous for its strikes and road blockages, as the militant miners who scratch out a living from the exhausted Cerro Rico attempt to stand up for their rights. In my case, I was unlucky enough to be visiting Potosi during a road blockage and the long walk uphill to the centre at 4,000 metres under a strong sun left me utterly wrecked.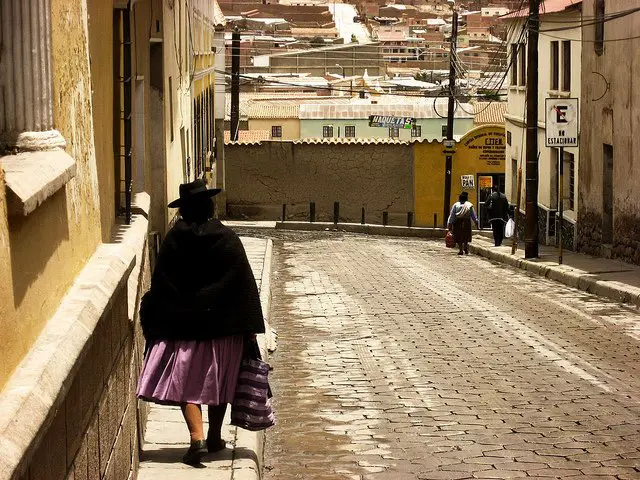 Possibly the most notable thing about Potosi is how little of the colonial splendour and glamour are now left. Sure, there are some nice churches but the people who live here appear to have gained little or nothing from living in one of the world's most historically important cities.
It is a poor and rag-taggle type of place, to be honest. Half-finished buildings, crumbling hotels and a general feeling of faded glories hang around here.
This sure ain't San Diego but wouldn't the planet be boring if everywhere was the same?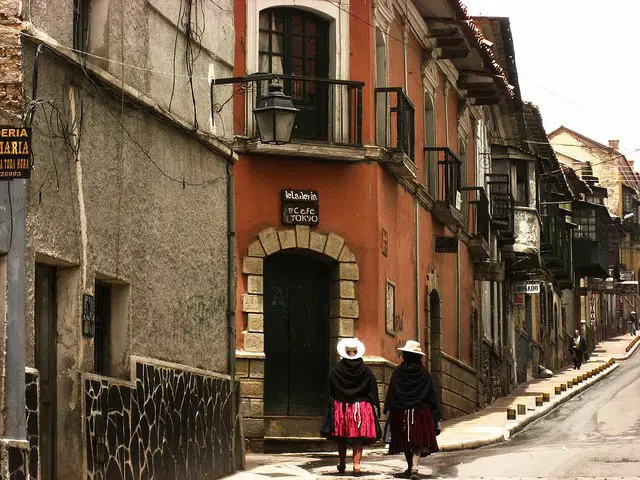 Maybe I have been too harsh in the description I have given of Potosi so far. I would certainly hate to think that anyone avoided going here and living a new kind of travel experience just because it isn't the typical type of tourist destination.
There is a lot to enjoy about visiting Potosi but it is possible that you, like me, will be wondering how quickly you can get out before you even unpack your backpack. Don't worry, better times will arrive once you get a good rest and look at the city through fresh eyes.
Choice of Hotels While Visiting Potosi
There are actually a few nice hotels here, although I found them to be hideously expensive compared to in other parts of Bolivia. This is a popular spot with adventurous backpackers, so there are enough cheap hotels and hostels to make finding somewhere to stay at a low cost easy enough.
Near the old bus station (there seem to be two bus stations in this small city, for some reason) is where I found a few dirt-cheap hotels. There certainly weren't of a very high standard but for just a few dollars I got somewhere to rest my head and have a cold shower, since I didn't trust the water heater that seemed to electrify the whole wall.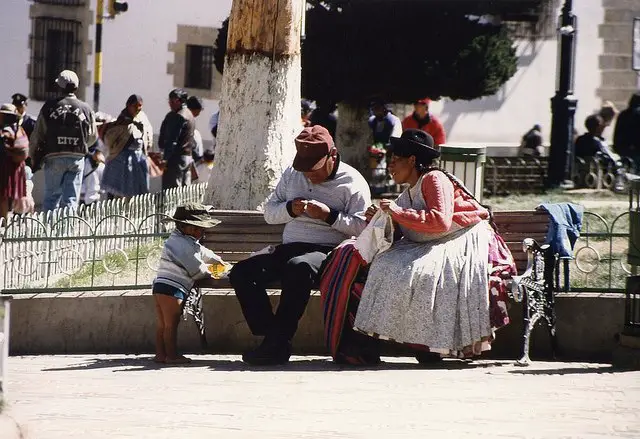 This is a good point to mention that the high altitude setting makes it bitterly cold here at night. You will definitely want to choose a hotel that has a big pile of blankets on the bed and an indoor bathroom for you to use.
If your budget stretches a bit further than mine then the better hotels are up the hill around the main plaza. This is a much better location than near the bus station and appeared a nicer place to stroll around at night time for those visiting Potosi.
I should probably also mention now that I felt completely safe here. I can understand that anyone reading this probably imagines Potosi as a depressing place with loads of criminals, drunks and drug addicts but I never got that impression at all.
I simply saw a place that has seen better times but that is filled with hard-working and (to me eyes) honest people who are trying to get by as best they can. As with everywhere else in Bolivia, the friendliness and smiles of the locals is a big part of the joy of travelling here.
Visiting the Mines
To be honest, there is one big reason why so many people come to Potosi in Bolivia for a visit; the mines. Incredible as it may seem, the hill that the Spanish starting exploiting in the 16th century is still being mined.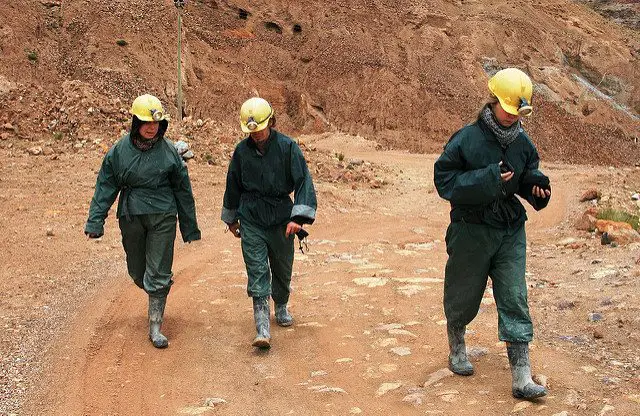 The silver is long gone but they now dig out tin and other mineral. The workers operate on a co-operative basis these days and mining still seems to be a major part of the economy.
I was a bit apprehensive about going here when I read that centuries of virtually un-controlled exploitation has left the inside of Cerro Rico a bit like a, gulp, "Swiss cheese". I was also a trifle concerned that many of the millions of workers who had died here over those centuries and who still die here had perished due to "dangerous conditions".
Still, this is the 21st century. They probably have all sorts of modern safety features now, right?
The first thing you need to do is organise your trip to the mines. This is easily done, as most of the city's travel agents offer this as their main service to backpackers visiting Potosi for a few days.
In this way, I headed out to Cerro Rico early on a bitterly cold morning, with an old miner's outfit on and feeling further out of my comfort zone than ever before.
The bus made a stop next to a group of humble shops on the way up to the mine. The guide suggested that if we wanted to buy a gift for the miners we could choose from cheap unfiltered cigarettes, coca leaves, throat-burning pure alcohol or, err, dynamite.
Most of the shops seemed to stock little else other than these things, to be fair. After toying with the idea of offering the miners a few packets of chewing gum I finally plumped on the dynamite, which to this day remains the strangest gift I have ever given anyone.
Any illusions I had about finding a modern mine with cutting edge technology and swish tourist facilities were soon blown away. The guide said that conditions here have changed very little since the Spanish colonial times, and it is easy to see what he means.
Inside the Mines
Access to the mines is made through narrow, precarious tunnels, which lead into even narrower spaces with very little air in them. The cold air soon gives way to stifling heat and, oh my God get me out of this infernal place!
It is worth remembering that the people born at this altitude are pretty small in general. This means that the tunnels aren't built with tall gringos visiting Potosi as tourists in mind.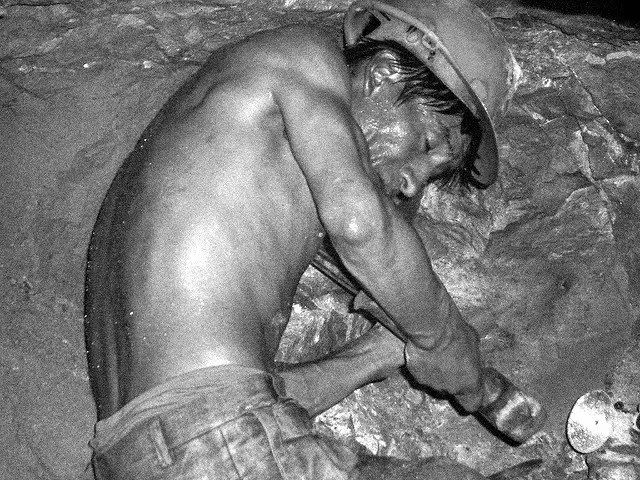 A few people in my group, including me, suffered from slight panic attacks and claustrophobia in here. The guide said at the start that we would head straight out if anyone asked to leave but when an older lady asked to leave he just kept on going further inside this infamous, horrendous yet intriguing hill.
Another shock comes when you stumble across a group of workers trying to scratch out something worthwhile from Cerro Rico. They typically have their mouths stuffed full of coca leaves and many of them are just young kids.
The mortality rate in Potosi in Bolivia remains pretty horrific. I apologise for not having exact figures but I was just so shocked by the whole experience that I couldn't take it all in.
The fact that people still work in such terrible conditions in the modern world is just unbelievable and very humbling at the same time. I felt ashamed of my lifestyle, of my comfortable job and of visiting these poor people as a tourist to watch them struggle to make an honest living.
The shocks and the mystery continue when you bump into El Tío. This translates to "the uncle" in English but I sincerely hope that none of you has an uncle like this dude.
El Tío is a sort of hideous deity that is partially worshipped and partially feared here. The miners put up little statues of this fearsome uncle and gift him things like – uh huh, you know what is coming – cigarettes, coca leaves and alcohol.
By the end of this strangely unsettling tour you will be glad to get back out into the fresh air and leave behind a world of old-fashioned mining that seems to belong firmly in the 16th or 17th century. Our guide then blew up a stick of dynamite to entertain us and we headed back to our bus all feeling a bit shell-shocked.
Eating in Potosi
Maybe I was just unlucky, but I didn't eat very well the first day visiting Potosi in Bolivia. I started off looking for an empanada, which is the most reliable snack in pretty much all of Latin America.
However, the ones they make here are a lot spicier than in other parts of Bolivia. Combined with a sweet, crumbly pastry covering it just wasn't my thing, although if you like sweet and spicy you should try it.
Like most parts of Bolivia, fried chicken is the most popular snack in the evenings, but I was tired of chicken by then and settled for a burger. One of the guys I was travelling with was more adventurous and bought a small bag of dried whole fish.
The next day we got a bit luckier and found a nice restaurant in the plaza, next to the imposing cathedral. We had a nice fixed menu almuerzo here and also later discovered a couple of other eateries with a few gringos in them.
Wander too far from the plaza and you won't find many restaurants worth trying but stick to the plaza and the cathedral area for some decent choices and a lively atmosphere.
A nice tip here if you are suffering from altitude sickness is to order a coca tea. This is an infusion made with coca leaves and it can really help you to feel better again.
Other Sights
Luckily, another tourist told me about the chance to get up on the roof of the San Francisco Convent while visiting Potosi. This is a sort of museum that you can get a guided tour of but the truth is that the roof is the highlight.
From up here I could see Cerro Rico and some of the city's best churches and buildings. I really did feel on top of the world and I felt that Potosi looked a lot better from up here than down at street level.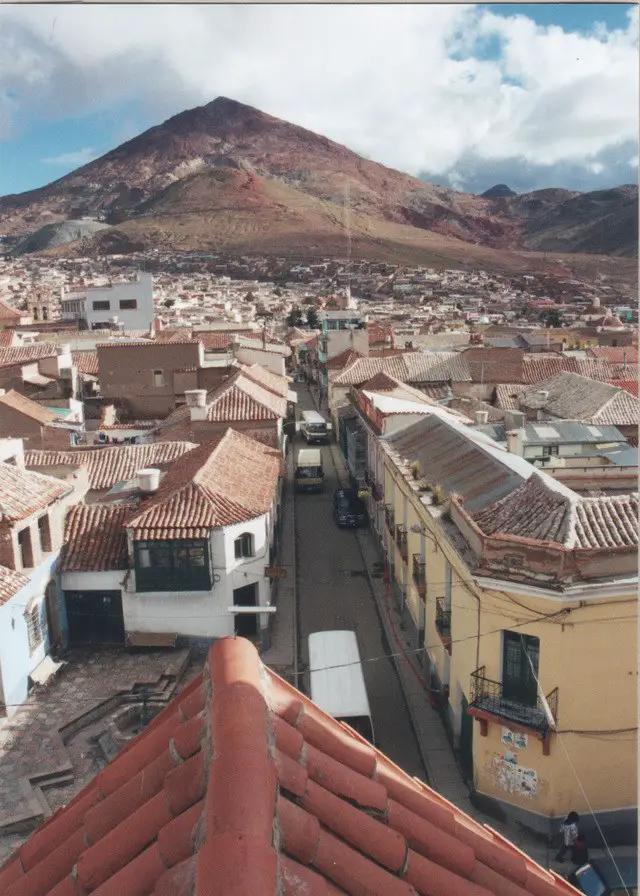 I would recommend climbing up here on your first day if you can, as you can easily get your bearings up on the roof and see the most interesting parts of the city. You will also take some incredible photos up here.
The Casa de la Moneda is also worth a visit, as this is the former Royal Mint which is now a museum. It is unlikely to be the biggest museum you ever visit but so make sure that you get a guide you can understand, as some of the stories are utterly fascinating.
A wander round the markets to pick up some trinkets and new clothes is also worth doing while visiting Potosi. By the time I was due to leave Potosi I was starting to really like it and had gotten used to its slightly downtrodden appearance so much that I barely noticed it anymore.
It is a far cry from shopping in more developed places like Las Vegas, Rome or London but the markets in Potosi in Bolivia have a sort of rundown charm that I loved. I even bought a big sweater and a typical chulo hat to keep me warm and got a nice smile from the old lady who sold them to me.
Moving On to Elsewhere after Visiting Potosi
Most travellers only spend a day or two visiting Potosi before heading off elsewhere to carry on with their Bolivian adventure. This is probably enough time to visit the mines and then to see the churches and museums around the plaza area.
After that, the closest city is the lovely Sucre. This is set at a much lower altitude and feels a lot warmer and more welcoming than Potosi, despite them only being a few hours apart.
If you are planning to visit the spectacular Uyuni Salt Falts (and you should be) then a bus trip will take about 6 hours over a road that gets bumpy at time. La Paz is a bit further away.
Personally, I did the loop covering La Paz to Potosi and then onto Sucre and Uyuni before going back to La Paz. This is a nice circuit covering all of the main attractions in the country, with only the Uyuni – La Paz section having a really bad road.
If you can afford a plane ticket then you will miss out on some of the adventure but will be a lot more comfortable. The buses are dirt-cheap but really uncomfortable, while the planes are affordable and generally very good, although you need to fly from Sucre rather than Potosi in Bolivia.
Visiting Potosi on Your Next Holiday!
All in all, visiting Potosi in Bolivia lets you see a tourist attraction like nowhere else I have ever been to. It is awkward, frustrating and uncomfortable at times but it will leave you with a lot to think about afterwards.
Please follow and like us: