"Malawi – where is that?"
Malawi is a landlocked country in south-eastern Africa, bordered by Tanzania, Zambia and Mozambique. As a tourist destination, it isn't high on most people's lists of countries to visit or even recall for that matter. But it should be!
When most people think of Africa they think of the Serengeti (Tanzania), Maasai Mara (Kenya), Victoria Falls (Zimbabwe & Zambia) and Cape Town (South Africa). Or countries which have received negative publicity because of war, corruption and poverty such as Somalia, South Sudan and Libya.
Malawi is a poverty-stricken country – recognised as one of the top 10 poorest countries in Africa. Sadly, like other African countries, there is corruption in Malawi. However, there has never been a civil war in Malawi nor has the country gone to war with its neighbours. This is extremely rare in Africa and across the world. Perhaps, this provides insight into the nature of the Malawian people…
First-hand Experience
I worked in Malawi for 18 months, I got to travel the length and breadth of the country. I also got to interact with Malawians daily. Never have I been made to feel so welcome and safe.
During my first 6 months, I stayed at the company's lakeshore lodge in Cape Maclear. Cape Maclear is on the southern shore of Lake Malawi and is the most popular resort for tourists. Cape Maclear attracts expats working in Lilongwe and Blantyre, backpackers, families and volunteers. Aside from the natural beauty of Cape Maclear its appeal lies in the laid-back nature of the local residents.
It's Not What It Seems
Malawi is a poor country, yet, there isn't an expectation from the Malawian people for foreigners to give a handout. For example, the "beach boys" who work along the beach selling "happy pants" (shorts made from chitenge), woodcrafts and other curios do not persistently hassle beach-goers. They will approach people lying on the beach, create a conversation ask if you want to buy anything – you respectfully decline (if you wish) and they politely leave you alone or continue chatting with you if the chemistry is there. For many visitors, it provides a great opportunity to meet a local and learn more about the culture.
My best times at the lake were spent with locals. Be it playing football, diving off the pontoon with the younger kids (who are incredible swimmers – 100 times better than me). Or a trip to the local bar with the friends I'd made at the lodge – where I was never made to feel uncomfortable for being the only white guy around. I built incredible friendships at the lake and receive Facebook messages weekly from the people I met in Cape Maclear.
Breaking down
There are many instances which demonstrate to why Malawi is the Warm Heart of Africa. One I will share with you (which some of you may be able to relate to) is when I was driving back from northern Malawi to Lilongwe, after a 10-day tour of the northern region with my girlfriend, when the car suddenly lost power; steam was coming from the engine and we instantly knew what the issue was – it wasn't the first time this had happened – the engine had overheated due to a lack of water in the engine/radiator (to my defence the gauge was telling me the temperature was fine).
There is Always Someone To Help
We were in the middle of nowhere and for once there was nobody walking by, we had no phone signal, no water (for the car), I noticed the hose had disconnected – we were stuck but never panicked – for we knew this is Malawi and there is always someone to help.
After waiting 20 minutes, we attempted to start the car, fortunately, it started and we were on our way. The car was moving incredibly slowly and I soon felt the power decreasing. We came to a halt about 1 km from where we originally broke down. Fortuitously, we stopped by a layby that had a couple of shops. I got out of the car and two men came over, chatted with us and asked us what the problem was. They opened the bonnet and instantly saw the issue. One man tried to connect the pipe but it was to no avail so he sent someone to go to the local mechanic and get a wrench, or pliers, to connect the pipe and told someone else to get water. After 30 minutes, they had returned re-connected the pipe, topped up the water and we were good to go.
While waiting, we had a good chat and it turned out both men were in the military. I offered them a few thousand Kwacha (approx: $5) which they refused, they weren't interested in our money. I insisted and eventually they let me buy them a coke each to say thank you!
Take Your Heart to Malawi Too!
How many places could you break down in the middle of nowhere and everyone wants to help? That and several other similar experiences I have had in Malawi is why Malawi is the Warm Heart of Africa.
Global statistics show that Malawi is safer than most European countries. But it is personal accounts that showcase the helpful, caring and genuine warmth of the Malawian people. If you visit Malawi, you will experience this first hand. I met a lot of travellers in Malawi who were pleasantly surprised by the hospitality of this beautiful country.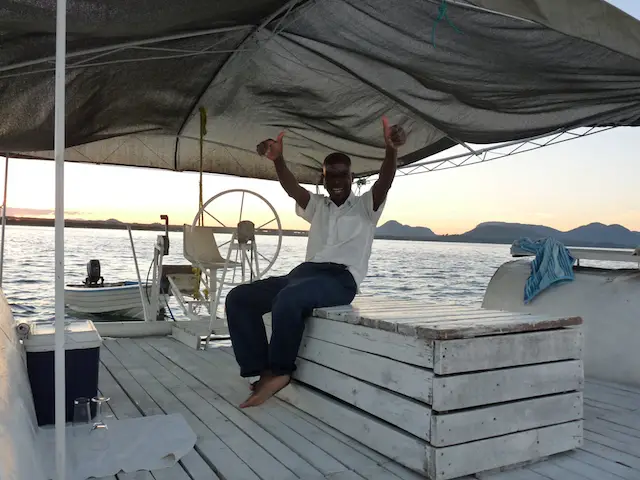 Read more about my travel experiences and those of others on my blog Turn It To Trvl.
Please follow and like us: