If you'd rather have a trip through the water that's as efficient as possible, then an engine-powered boat will get you to your destination quickly, without being so dependent on wind direction and other weather influences.
Two popular choices are gulets and motorboats. Both of these run on an engine, but based on your needs, one will be a better fit for your trip than the other. Let's delve into what makes a gulet and a motorboat different from each other:
All You Need to Know About Gulets
Gulets are traditional wooden vessels from Turkey that have been around since the 1970s, although their design has evolved a lot since then. Built with two or three masts, they're mainly for comfortable cruising.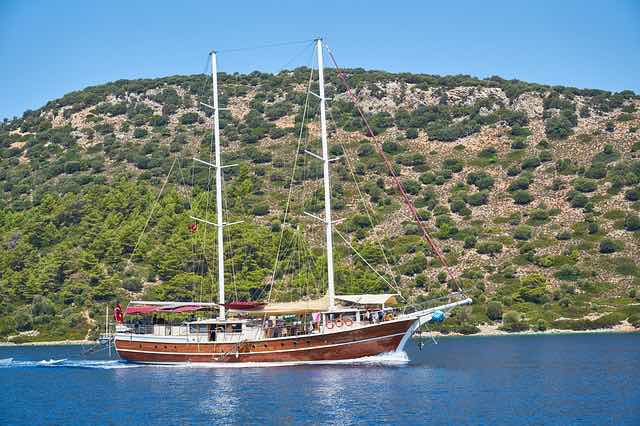 What's unique about gulets is that they resemble hotels inside. The average gulet is 20-30 m long, and it houses 3-12 cabins. Regardless of the distance that you're traveling, time might pass quickly because gulets are so pleasant to stay in! The broad beam results in plenty of deck space as well as larger cabins. Common areas such as lounge and dining areas, sunbathing decks, and salons are available for guests, while cabin rooms are well-furnished with at least their own toilet and shower. All of these make it a great family vehicle too.
On top of that, the gulet is maintained by a crew, which includes a captain, chef, and waiters. The crew is in charge of navigating, cooking, and cleaning, so you can focus completely on enjoying your vacation.
So What Is A Motorboat?
Motorboats are also called powerboats. They're propelled forward by an engine or motor, unlike sailing boats that rely on the wind. Motorboats come in all shapes and sizes, and there's an amazing diversity of models out there, from luxurious mega yachts to small dinghies.
Aside from being made from different materials, motorboats can also vary in terms of their type of engine—diesel, petrol, or electric. Motorboats today are increasingly built with electric engines because these are much more sustainable and no exhaust gases are produced. Another benefit is that they're quieter, since only the rotating mechanism makes the noise.
Because it's powered by an engine, driving a motorboat is easier to learn and more intuitive. You can drive it on your own, but you can also opt for a skipper if you're not as experienced. After all, motorboats can move forward just as fast without wind. 
What are the Main Differences : Gulet vs. Motorboat
What's the Difference on Speed?
One of the main advantages of a motorboat is its speed. Out of all the vessels available, motorboats are your best bet for covering long distances in as short a time as possible. They can get as far as 17 to 23 miles during pleasant weather. 
A gulet will still be fast because it's engine-powered, but because of its size, amenities, and emphasis on relaxation, the pace is more leisurely than with a motorboat. 
Do Size and Amenities Differ on Gulets vs. Motorboats?
Although large motorboats do exist, gulets will always win in terms of size. Gulets are designed to have several cabins and common areas without skimping on space. Although there are elegant motorboats that have a stand-up galley, a water slide, and other special amenities, gulets still remain the best at providing luxury and crew service. 
Does A Gulet or A Motorboat Vary A Lot on Price?
With all of their amenities and services, gulets are significantly pricier than motorboats. You can adjust the cost, though, based on factors such as the gulet's size and the number of crew members. A private gulet that's devoted to you and your party alone will be on the more expensive side, but you can also bring down the bill with a cabin gulet, where you share the ride with a group of strangers.
Essentially, you're paying for comfort when you rent a gulet. This may not seem like a big deal for short trips, but you'll feel the difference strongly if you'll be at sea several times. 
How To Decide If the Gulet or the Motorboat is Right for You?
Gulets and motorboats are a great choice for water travel because they lead to smooth, hassle-free trips. Still, each has its own pros and cons.
If you like the idea of feeling like you're in a hotel when at sea and you don't mind spending more, a gulet would be perfect. Staying in a gulet means that all of the work is automatically done for you, so all you have to do is relax. Kids and seniors will also be happier with a gulet.
Alternatively, motorboats are hands-down faster and cheaper. If your focus is more on your destination and you want to get there right away, then a motorboat will suit you better. In terms of comfort, a motorboat may not be as hotel-like as a gulet, but you'll still be able to sit fine for hours. You don't need to know how to steer it, either, because you can always get a skipper.
Whether you go for a gulet or motorboat depends on your unique situation, and after reading this, you're closer to making a decision. In any case, make sure to plan carefully so you can enjoy to the fullest once you're on board. 
Please follow and like us: