Thailand and the Thai Islands are well known for their picturesque scenery and beautiful sandy shores and coves. But where can you find these best Thailand beaches? Here are a few of the top Thai beaches you must explore including some lesser known hidden gems.
The Best Thailand Beaches
Ok, so people will have different opinions when it comes to what makes a beach special. Do you want secluded jungle fringed sandy shores, or is it a bustling sun trap surrounded by bars and cafes? Whether you want to relax, or party here, Thailand has both of these options and all of the in between. Whatever you are looking for in the perfect beach, you'll find it here.
Check More Beachy Posts 🙂
The Prettiest Beach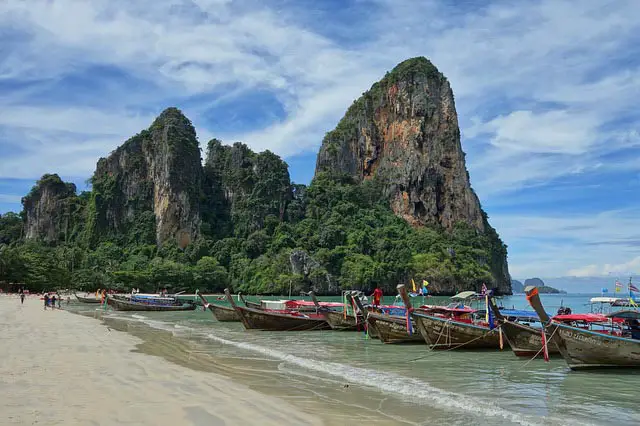 Railay Beach in Krabi is an amazing beach that is only accessible by boat due to the surrounding limestone cliffs. It is a really secluded place and far away from the bustle of Ao Nang. Railay is divided between East and West. In East Railay, find Mangroves, a promenade with many restaurants and bars and a walkway to the beach. The West is connected to the east side by paths through resorts or by trails through some light jungle. Here you'll find Phra Nang Beach, the main beautiful beach you will never want to leave.
The Party Beach
Haad Rin is the go-to beach if you want to enjoy a full moon party on Koh Pagnan. The resort town full of twenty somethings who want to drink dance and party the night away. The whole place lights up at night, and music is booming everywhere you go. You'll also find nightly fire shows too. Watch unbelievable stunts and tricks performed by local artists and also some brave or stupid tourists giving it a go. It's not the place to visit if you are looking for the 'real' Thailand however if you want to have fun with your friends on the beach then this might be for you.
The Most Famous Beach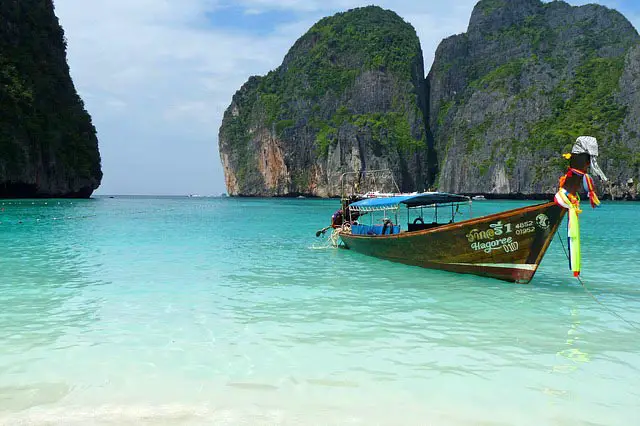 The beach from 'The Beach'. If you have seen the film then you'll understand why people flock to this beautiful beach. Koh Phi Phi Leh, famously known as home to one of the best Thailand beaches and it's a popular destination for tourists. It is that partially hidden paradise beach you have seen on the TV, but it is very very busy! The turquoise sea and white blond sands are perfect for those holiday snaps, but as it's so popular you'll probably snap a lot of people too. Numerous tour companies offer trips to Koh Phi Phi, sometimes combining other islands and activities such as snorkelling and swimming.
The Secluded Beach
Kluai beach on Ko Kood is a small tranquil beach which has not yet been overrun with tourists or party seekers. You'll find fine sand, sprawling seaweed and bowing palm trees. You feel like you are in the middle of nowhere, a real get away from it all beach. There isn't much else around so don't expect any bars or restaurants nearby. But for some peace and tranquillity its the perfect place. But don't tell too many people as it won't stay secluded for very long!
The National Park Beach
Koh Kradan is an island mostly under the jurisdiction of the Hat Chao Mai National Park. The main beach, surrounded by coral reef and lined with coconut palms might be the beach of your dreams. There is little else on this island with no roads, ATMs or other facilities this island is an ultimate slice of paradise. You might find a couple of small resorts to enable you to enjoy a relaxing stay here. However, most visitors tend to visit just for the day by taking a tour or making their own way by boat.
The Best Sunset Beach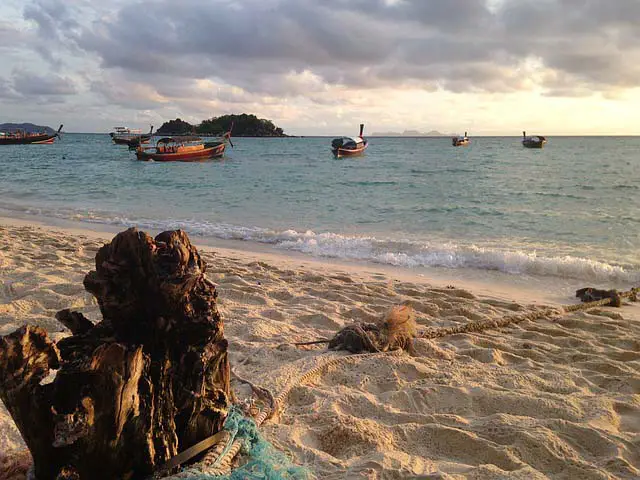 For one of the best sunset views in Thailand, head to Koh Lipe and the Western facing beach of Hat Pramong.  A more secluded beach than the popular Pattaya Beach in the south but no less beautiful. Stroll along the pristine white sands and soak in the atmosphere as you watch the sunset over the ocean. A spot where you will get that instagram worthy sunset shot. Once you have experienced one of the best sunsets in your life, head over to Walking street for some dinner and drinks which is just a ten-minute walk away.   
The Best Swimming Beach
A unique location with a curved bay, perfect for swimming and snorkelling. This is what you will find at Koh Phra Thong. When it comes to deciding the best Thailand beaches if you love swimming then this is the one. Beaches cover a vast 15 km, of sandy coastline and surrounded by grass and dunes as opposed to the jungle of most islands. Whilst swimming in the sea surrounding the beaches watch out for darting colourful fish and meandering sea turtles within and around the coral. If you are a good swimmer there are even two islands Koh Pling, within swimming distance.
The Best Beach for Sea Turtles
Son Bay on Koh Tarutao is a popular spot for nesting sea turtles. Although not frequented quite so much as other islands, a visit here is great if you love wildlife and rugged landscapes. Beyond the beach lies jungle and mountains, wild and untamed, the world away from the growing tourist industry. Arrive by speedboat or take a tour, most of which include crocodile cave and snorkelling. Or you may just want to collect shells and look out for turtles and other wildlife during your short visit. 
The Best Thailand Beaches for You!
Where do you think the best Thailand beaches are? Do you fancy yourself a party animal or are you more desert island dreamer than disco dancer? Maybe its nature and landscapes you are looking for and a place to take that perfect photo? As you can see, Thailand has it all and you will absolutely find the perfect Thailand beach for you.
Leave a comment below if you have any tips on finding the best beach.
Please follow and like us: