Thai Islands have long been known as a place to have fun and Phuket is no exception. Although it is an island, its a pretty big place and families, as well as party goers, flock to Phuket for its beautiful sandy beaches and turquoise waters. You might know you can have a great night here, but it's hard to know where to party in Phuket and which location has the best vibe to suit you. Here are some tips to finding the best places to let your hair down on the island.
Best place to find a full moon party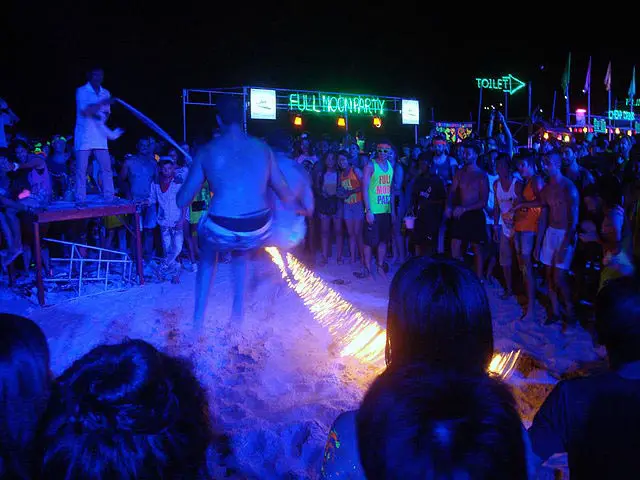 The most popular full moon party is the epic festival that takes part every month on Koh Phangan. However, Phuket holds its very own party on Paradise beach.  The twice monthly, (full moon and half moon) parties are scheduled with great DJs playing throughout the night and cocktails by the bucketload. This party is really close to Patong, and there's a free shuttle that runs throughout the night. So you don't have to worry about getting back to your hotel, whatever time you want.
Get your fluorescent paint ready and join in the festivities. Celebrate with like-minded party people, making new friends and dancing through the night. Couple the festival with a stay in Patong for a party holiday or one of the quieter resorts to relax after the festivities.
Best Gay Phuket
Thailand is such a welcoming place for everyone. Visit the Paradise complex in Patong to find Cabaret, hostess bars, and ZAG Club which has nightly happy hours and special events including 'Topless Tuesdays', where you can get 50 percent off your drinks if you keep your shirt off! At Yes! bar you'll see flamboyant shows and go-go boys to entertain you all night. For a more relaxed vibe head to Connect Bar and restaurant or Sundowners bar for a chilled out drink. Whenever you choose where to party in Phuket, you'll find everyone accepting you for who you are.
You'll also find hotels who market especially towards gay travellers, and beaches where gay tourists frequent. Whenever you choose where to party in Phuket, you'll find everyone accepting you for who you are.
Best for a crazy night
Patong is the place to be if you want an epic and memorable (or forgettable) night out. You might also know this place as Thailands Sin City. So many places offer a good time for tourists looking to unwind.  Just remember you might get more than you bargained for. It's a good idea to check out the bars before heading inside.
An ice bar offers you a chance to shake off that jet lag whilst drinking a vodka in a room at -30 degrees Celsius. Or maybe you prefer to see some Go-go dancers whilst you enjoy your favourite drink?  Beach bars transition from day to night with ease, so you can enjoy relaxing on the beach by day and party on throughout the night. If you are having trouble finding where to party in Phuket then Patong is a top choice. Party all night and nurse your hangover on the beach during the day.
Best place to stay with friends
Karon beach is favoured for friends who want to party together and is a good place to book villas in Phuket to spend your time as a group. Karon is the place that is not as crazy as Patong but you can still enjoy your fair share of nightlife. Head to Patak Road and Bangla Plaza for the top places away from family orientated areas. Try Anybody's bar, where you actually could be anywhere!
Here you can go out or stay in as a group of friends and still have a great night. Cheap beer from the local supermarkets means you can enjoy a wallet friendly night in your own villa. But if you want to have a great night out then Karon has a range of fun bars and clubs to check out. This place is a good choice if you want the best of both worlds. A relaxing beach holiday as well as a place to enjoy the nightlife.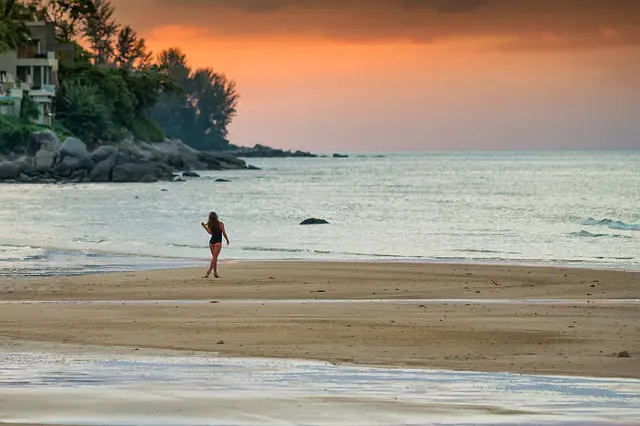 Best for a genuine Thai night out
Whilst Patong is very tourist driven, Phuket town has something to offer both locals and tourists. With huge entertainment complexes as well as tiny bars, you have a lot of choices. For great live music Rockin Angels Blues Cafe, found in Phuket Old Town will hit the spot for Blues. If Jazz is more your thing then Music Matter is a venue entirely dedicated to Jazz music. On the other end of the scale, Cabaret shows can be found everywhere. The best places to catch them are at Simon Star Cabaret Show and Siam Niramit.
Local bars such as Quip Sky Bar and Kor Tor Mor will offer you a more relaxed environment to rub shoulders with the natives. Phuket town is also a central hub for boat tours and day trips. If you want to go to Koh Phangan for the full moon party  As you can see the city is where to party in Phuket as a local.
So, How do you choose Where to Party in Phuket?
Located within easy reach from Bangkok due to regular flights, Phuket is a Thai island that is accessible for most international travellers. It is where to stay once you get here that can be hard to choose.
First, you need to decide what kind of fun you are looking for and whether you want your whole break to be about the party. Then you can choose your destination that's right for you and suits your needs. So whether it's a one nighter at a full moon party or a week of partying each and every night. With the range of options, this large island in Thailand has to offer you are sure to find the right party for you.
Have you partied in Phuket? Where was your favourite place to have fun here?
Please follow and like us: