Updated Oct 15, 2021
Looking to travel in China Independently? You definitely need to read this guide about China!
Many people believe it's impossible, or at least incredibly difficult, to travel in China independently. However, while there are certainly some challenges for independent travellers, these can be overcome.
It just takes a bit of planning, flexibility, and patience. And despite its difficulties, China has loads to offer travellers, from its beautiful landscapes to its fascinating culture.
Here's everything you need to know to plan your independent trip to China.
Check More Asian Destinations 🙂
How To Plan Your China Trip
China is huge. You probably know that already. But only when you begin to plan a trip you do appreciate just how much there is to do. Not to mention how far apart the attractions are.
Unless you have an entire year to spend here, you're going to have to narrow down the options to form a realistic itinerary.
First Figure out what exactly you Want To Do In China
Thinking about where your interests lie is a good start. Do you want to spend more time in the cities, or are you more interested in nature? Do you want to relax, or are you looking for something more active?
In a country this size, you can't squeeze it all into one trip. So it's best to ensure your time here is spent in the best way for you.
What Season Should You Travel In China?
Also consider the time of year you wish to travel. Spring (March to May) and early Autumn (September to mid-October) are popular times to visit, as the weather is warm and dry.
In the summer months of June, July and August, temperatures can be scorching. Summer is also the rainy season throughout China. Winter can be unbearably cold, especially in the north.
China Hotel Prices Through Out The Year
However, prices can plummet during the low seasons. So it's worth considering travelling during off-peak times if you want to stretch your budget.
For example, in November, temperatures can still be quite pleasant in the Sichuan province, though hotel prices and entrances fees are slashed significantly.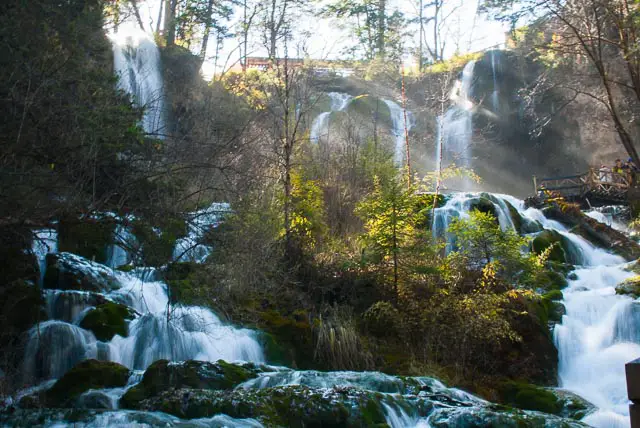 Is China Cheap To Travel?
Travelling to China independently can be very cheap. Hostels cost as little as US$5, and are usually spotless and well-maintained. A basic hotel will only set you back around $40 per night, and you can splurge on more high-end accommodation for under $100.
Other daily expenses, such as food and local transport, are surprisingly cheap. You can eat your fill in a local diner for just $2, and a local bus or metro journey costs just 50c.
The costs start to rise the further you travel around the country. Overnight trains can cost upwards of $70, and internal flights cost even more (see "Getting There & Around" for more information).
The Cost Of Visiting The Sights In China
Visiting the sights and parks in China can also drive up costs. For example, to see the terracotta warriors at Xi'an, you'll have to shell out $22, and visiting Jiuzhaigou costs a hefty $45. 
Though of course, as an independent traveller, you are saving money compared to travelling on a tour!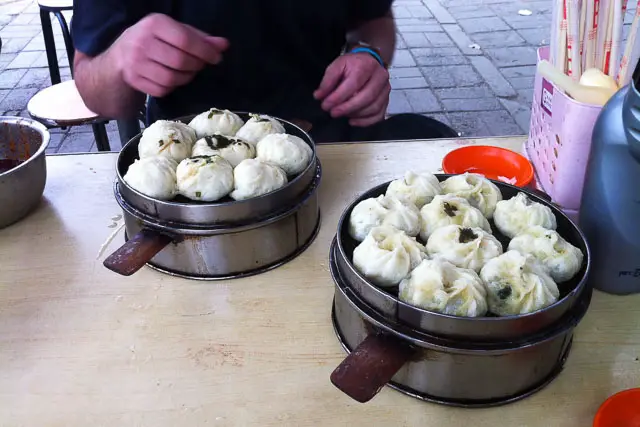 Do You Need A Visa For China?
If you're visiting China independently, you'll have to arrange a visa yourself. This can be a massive headache, as the requirements seem to be constantly changing. And there can be frustratingly little information available online.
However, if you arrange your visit to the embassy well in advance, and come prepared with all the paperwork you need, you should have no problem getting a visa.
What Do You Need To Get A Visa For China
In general, you will need to provide:
Proof of entry and exit (plane or train tickets)
Passport
Passport sized photos (some embassies insist these must be sized 48mm x 33mm)
Proof of funds, e.g. a printed bank statement (this isn't usually required, but best to bring it in case!)
Hotel booking for your first three nights only.
An itinerary for your time in China, which you outline on the visa form. This must include hotel names and addresses (though you don't have to stick to this itinerary!)
Applicants used to be required to provide an invitation from someone in China. This was usually arranged by booking a hotel and asking them to send you an invitation.
Thankfully, this is no longer needed. Though check the most up-to-date requirements before you go, as the rules often change!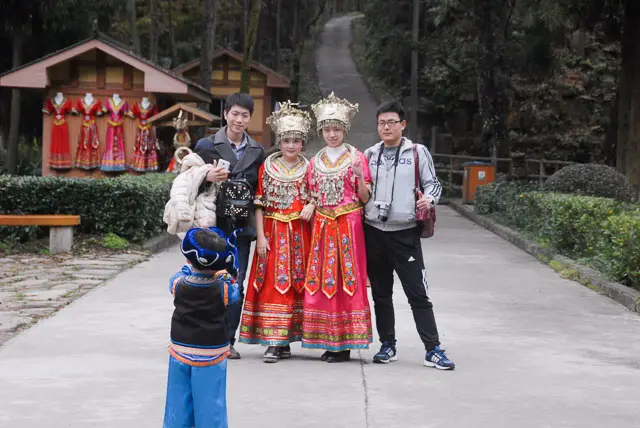 How To Get In China
Provided you have your visa sorted in advance, you should have no problems taking a flight into China. There are also several overland entry points from the surrounding countries.
However, keep in mind that in order to obtain your visa you must show proof of entry and exit, which may prove difficult if you are planning to enter and/or leave overland.
One way around this is to reserve a flight through an agency, use the confirmation to apply for your visa, then cancel your reservation. Of course, be careful to check that you can get a full refund!
How To Get Around Around China Independently
When travelling around China independently, it is possible to rent a car. Though this is a difficult process. There are a lot of hoops to jump through, and some high fees to pay. Read more about renting a car in China here.
Transportation Options In China
You can cover the massive distances between destinations in a short time by taking an internal flight. These can be booked just a few days before you fly, leaving your itinerary flexible.
In fact, it's best not to book more than two weeks in advance, as flights are often subject to change or cancellation.
Trains and long distance buses are another option for getting from A to B. These are relatively comfortable and clean. Journeys can be booked at the train or bus station, though have your destination written down in Chinese if possible. Many hotels and hostels offer to book your tickets for you, for a fee.
How To Communicate With Locals In China
The biggest challenge to those travelling throughout China independently is communication. Unless you speak Mandarin, it can be quite difficult to book a ticket, or even to check the destination on the front of a bus.
Some tickets may also be printed solely in Chinese characters. See the "Tips for Travelling in China Independently" section for advice on overcoming this difficulty.
How To Order Food In China
Most restaurants provide photos of meals on the wall or on a menu, so you can order food without speaking a word of Mandarin. Better yet, eat at a street stall or open-air restaurant, where you can just point directly at the food!
However, without a guide or translator, it can be very difficult to convey dietary needs. The best way around this is to get a member of staff at your hotel or hostel to write down the phrase you need and show this to your server.
However, the term "vegetarian" doesn't mean the same here as it does elsewhere- a meal that substitutes meat for tofu may still use meat in the sauce.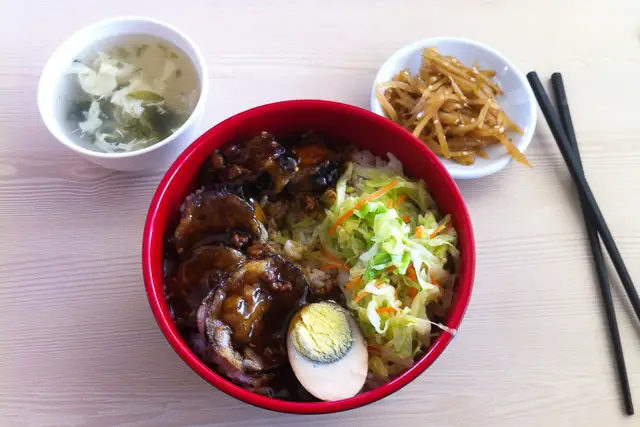 Independent Travel Tips For China by Destination
Some places in China are easier to visit as an independent traveller than others. When planning your itinerary, make sure you consider whether you can easily reach each destination without a tour, and that you can explore each place without a guide.
Here are just a few locations that are perfect for those travelling in China independently (though, of course, there are plenty of others!).
Travelling To Beijing Independently
Chaotic, crowded Beijing can be a little jarring, particularly for independent travellers. It can be hard to navigate here without speaking the language, and jostling through crowds can get stressful.
But give it a bit of time, and you're sure to find something appealing about this behemoth of a city. Whether it's marvelling at the Forbidden City, taking in the Beijing skyline from the peaceful Pavilion of Eternal Spring, or exploring the winding hutongs.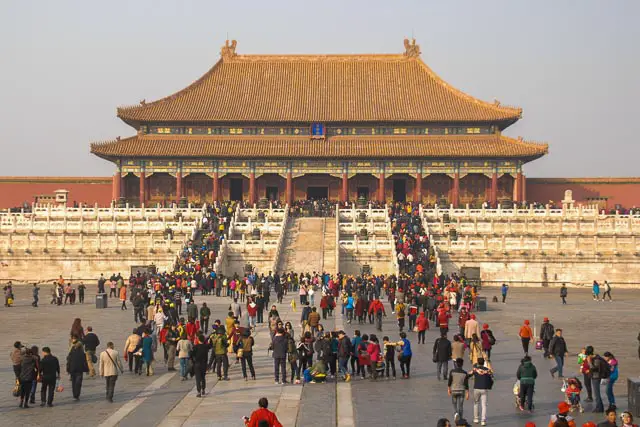 Reaching The Great Wall Independently
There are many different sections of the Great Wall to choose from. Mutianyu is well-restored and offers great views. Jinshangling is popular for those who wish to hike along a section of the wall. And crumbling Jiankou offers a glimpse of the wall in its original form.
The Great Wall can be frustratingly difficult to reach independently from Beijing. Although many sections only take an hour or two to reach by bus, bus schedules are constantly changing, and there are often no direct routes to the wall.
Many buses also terminate quite far from the wall, requiring visitors to take a taxi the remainder of the way. Even those travelling in China independently may want to book a day tour to the wall to take the stress out of their visit.
If you are adamant to visit independently, plan your journey with the help of your hostel staff, or seek out a help point at the bus station in Beijing.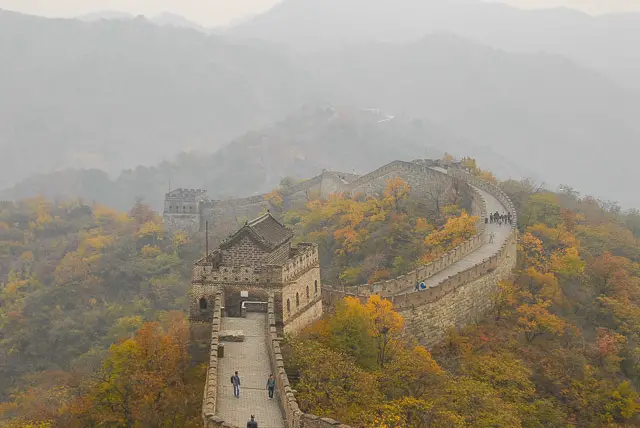 Travelling To Shanghai Independently
Shanghai is one of the world's largest cities, with a population of over 24 million. Independent travellers usually find the city fairly easy to navigate compared to other parts of China. However, English is not widely spoken here, and you will find the same translation difficulties as elsewhere in the country.
What To See In Shanghai
What you will also find, however, is a fascinating city with a fun nightlife and lots to see and do. Historical European influences can be seen throughout the city, alongside traditional Chinese architecture.
Lively markets, beautiful temples, and endless restaurants make Shanghai a popular choice for both independent travellers and those on a tour.
Travelling To Xi'An Independently
Many travellers headed from Beijing to Chengdu stop in Xi'An to break up the massive distance. Though this city is also a popular destination as it the home of the Terracotta Army. This is a massive collection of over 2,000 statues of soldiers and horses. 
The site is a significant tourist attraction in China, though it often leaves visitors divided. Though the sheer number of statues is impressive, these statues have been heavily restored, and many are replicas, leaving some travellers feeling they are unauthentic.
The Terracotta Army is easy to visit independently from Xi'An. The site is located 20km from the city, and direct buses with English signs run frequently throughout the day.
Travelling To Chengdu Independently
After the giants of Shanghai and Beijing, the calmer pace of Chengdu can be a welcome change. Chengdu is also the gateway to several easy trips that are perfect for those travelling in China independently.
The most popular day trip is to see the pandas at the Panda Research Base. Local buses take visitors to the entrance of the base from central Chengdu in under an hour. Try to get there by 9am to see the animals getting fed.
The base is an excellent wildlife facility. The animals are well cared for, and a wealth of information is provided. There's no need to take a tour, you can simply follow the map and explore the base at your leisure.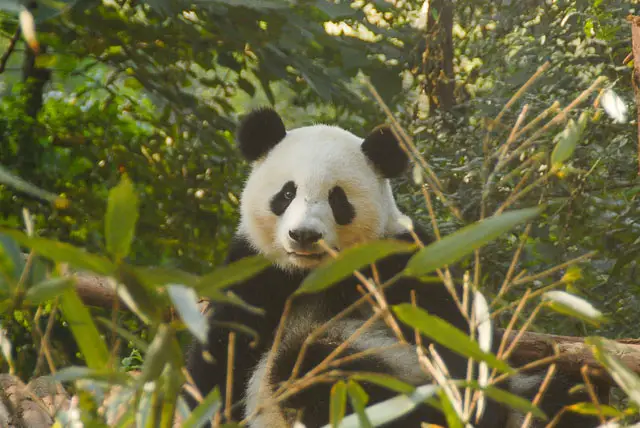 Travelling To Jiuzhaigou Independently
The blue lakes of Jiuzhaigou are unlike anywhere on earth. The spectacular colours and crystal clear reflections must simply be seen to be believed. The surrounding vistas are none too shabby either- mountains rising from forests, amid cascading waters.
A hop-on, hop-off bus runs along the two main roads through the park. Or you can stroll from one viewpoint to another along a wooden walkway. It's possible to see the entire park in a day, though if you wish to spend longer here you can buy a half-price ticket for the following day.
How To Get To Jiuzhaigou
It is easy, though time-consuming, to visit Jiuzhaigou independently. A bus here from Chengdu takes 9 hours. The village of Pengfeng, the gateway to Jiuzhaigou, offers accommodation and places to eat, though little else.
It's also difficult to travel onwards from Jiuzhaigou to other destinations, leaving most travellers with no choice other than to spend another day returning to Chengdu. But without a doubt, it's worth it.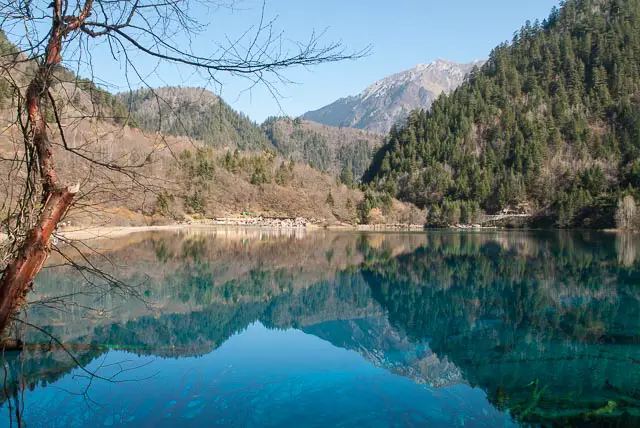 Travelling To Zhangjiejia Independently
The pillars of Zhangjiejia floating among the clouds look more at home in the fantasy world of Avatar than in southern China. But you can view this otherworldly sight with your own eyes. And you can do so independently.
How To Get Around Zhangjiejia
Most travellers base themselves in Zhangjiejia city. From here, you can take local buses to each of the three park entrances. Zhangjiejia National Park entrance, in the south, is 35 minutes away.
This is the most commonly used entry point. Wulingyuan entrance, in the northeast, can be reached in  45 minutes. Tianzi entrance, in the northwest, isn't commonly used, and is 90 minutes from the city.
If you have three days or more, explore the different entrances, but if you only have a day or two, it's better to fully explore one or two sections of the park than to try to squeeze it all in. The entrance ticket is valid for four days from date of purchase. A bus runs throughout the park, and is included in the price of the ticket.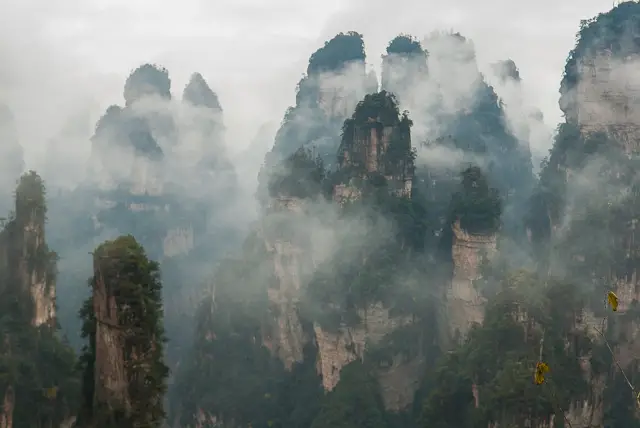 Tips for Travelling in China Independently
Many translation apps are available that not only contain useful phrases, but can even identify printed Chinese characters and translate them into English. So shop around the app store before you travel.
Is WiFi Available In China?
Wifi is available in most hotels and hostels, though the internet is restricted throughout China. Many sites, such as Facebook and Google, can't be accessed here. If you need full access to the internet during your trip, consider downloading a VPN.
How To Stay Safe In China
Be wary of scams, particularly in popular tourist spots. Don't believe everything you're told, especially when the person telling you has something to gain (such as a taxi driver who tells you the bus is cancelled).
Can I Use Credit Cards In China?
You need to keep quite a bit of cash to hand, as cards are often not accepted. However, this may make you more susceptible to pickpockets. Especially if you are travelling in China independently, without the security of a tour group. Be sure to always keep an eye on your belongings, and to keep cash in internal, zipped pockets.
Above all, be patient! Travelling in China independently can be difficult. Between the long journeys, the culture shock, and the language barrier, travellers can end up frustrated. But if you stick with it, you'll find that all the challenges will have been worth it!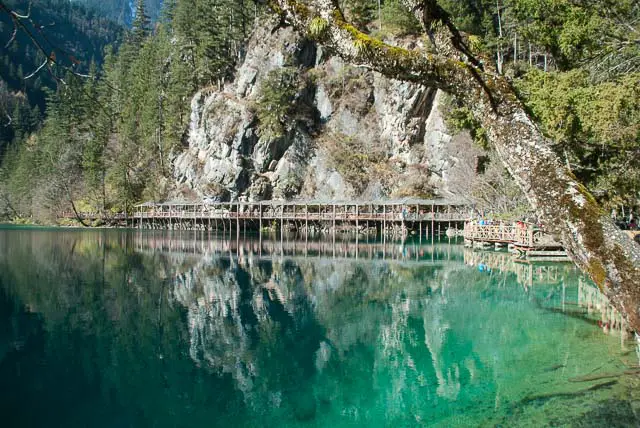 For more advice on independent travel, try pretravel guides to the Galapagos and South Africa's garden route.
Images credit: Ailish Casey
General FAQs
Is it Cheaper to Visit China Solo?
Traveling through China alone can be incredibly affordable. Plan to visit some of the less costly areas and check for costs BEFORE you set out for the day.
Is the Visa Process Long for Visiting China Independently?
If you come prepared with all of the proper travel documentation, as well as know how to access your embassy, then getting a travel Visa shouldn't be hard. Know all you need to have with you before you leave your home!
Is it Easy to Get Around Independently?
Traveling alone in China isn't difficult. You can go by train, plane, local buses, as well as rent a car while you're in country!
Can I Go If I Don't Speak the Language?
Traveling alone without a translator can be difficult. With modern technology however, it is becoming easier and easier! Make sure you have a way to translate phrases!
Please follow and like us: