Living in Eastern Europe has made weekend trips a must. So my friends and I had to make a quick weekend trip to Krakow, Poland to eat a few Polish dishes, and visit Auschwitz. Don't be intimidated by a short trip to this European city. Visiting Krakow, Poland in only 48 hours is very doable unlike some other European destinations such as Paris, Rome, or London. Eastern European travel can seem intimidating, but it's more than worth it, especially if you're a budget traveler.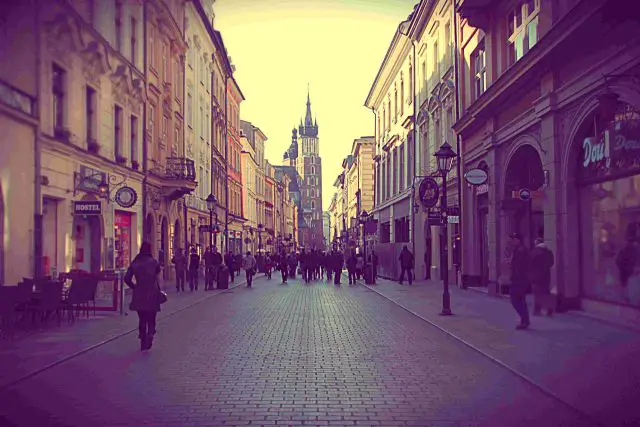 Image Credit: Danielle Tobar
Visiting Krakow, Poland on a budget
For any trip, but especially a shorter one, I can't recommend a free walking tour enough. These are the hidden gems of European travel that some travelers miss out on. Not only are they free, but you get the highlights of sightseeing accompanied by a history lesson. If you're lucky the guide will even throw in some info about local hotspots for eating, drinking, and partying to save you from wasting money on any tourist traps. On your list of must-sees in Krakow are Wawel Castle, Wawel Cathedral, the main market square, and Saint Mary's Basilica.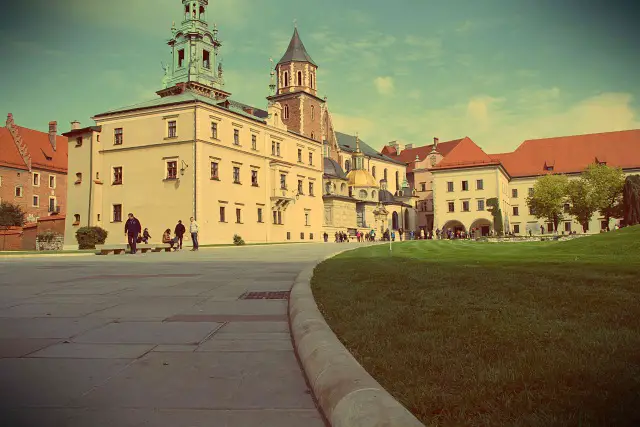 Image credit: Danielle Tobar
Eating your way through Krakow
Let's talk food. When visiting Krakow, Poland I didn't expect to love the food so much. All the food we ate was delicious but the highlight was of course, pierogi and, surprisingly, a lesser-known street food creation called a zapiekanka.  Zapie what? Zapiekanka. But wait a second. First, pierogi.
If you're new to the Polish food scene, let me give you the pierogi crash course. These boiled dumplings originated in Eastern Europe and are especially popular in Poland, Ukraine, and Slovakia. They also happen to be the national dish of Poland. Typically they are filled with meat, potato, or even fruit and topped with sour cream or fried onion.
I had the boiled dumplings stuffed with meat at a little place called Marchewka z Groszkiem and absolutely loved it. The price was great and it was the better of the two I had during the 48 hours. Make sure to also go to a local bar mleczny, which literally translates to "milk bar". These restaurants are more like cafeterias than anything else and are a cheap option especially for locals at lunch hour. These self-service joints serve home-style food at a great price. You can bet you'll find local dishes on the menu including the acclaimed pierogi.
But now for zapiekanka. 
Who doesn't love sandwiches and pizza? Clearly not Polish people because they made this amazing street food that just so happens to be a hybrid between an open-faced sandwich and a pizza. The foundation is a crusty piece of bread the length of a forearm, topped with all kinds of delicious things.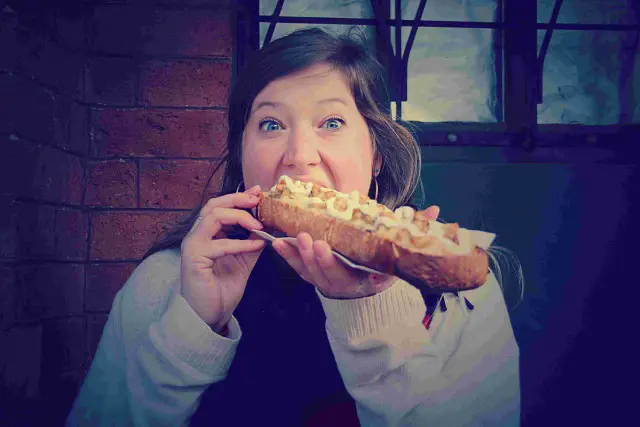 Image credit: Danielle Tobar
This Polish street food started in the 70's and has recently undergone a revival. Traditionally, the two main topping staples were mushrooms and cheese, but now you can find all kinds of different Zapiekanka including Mexican, Greek, and even some featuring pineapple and ham. Mine was mushrooms, cheese, and bacon with a garlic sauce on top and must I say, it was absolute perfection. We got ours at one of the stalls in the market around the Jewish Quarter and it lived up to all of the hype. If the idea of toasty bread the size of your arm didn't already rope you in –  it was super cheap! This scrumptious bite was only 7.50 zloty which is the equivalent of about $2. These sandwiches are perfect for a filling lunch on the go, an afternoon snack, or even a late night bite after some Polish piwo. But where should you buy them?
Head to Kazimierz, a district between ul. Dietla and the Vistula River. This district was historically Jewish, but has established itself as a hub of culture and excitement in the last 20 years. You might hear this district described as a hipster stomping ground and it's true. There's plenty of history to soak up here after you enjoy a filling meal. Make your way to Plac Nowy, to experience the heart of Kazimierz. This area is almost constantly buzzing with activity including flea markets, food stands, bazaars, and more. There's no shortage of cool cafes and bars in this area, so take your pick.
Shopping in the main market square
On the few occasions while we were visiting Krakow, Poland that we weren't eating, we were doing the second most productive thing – shopping. If you take any tour of the city whether self-guided or professionally, you'll definitely find yourself in Old Town as it's actually a UNESCO World Heritage Site because of its cultural importance. In Old Town, you'll find the main market square and you can't miss the Cloth Hall located in the middle of the square. This gorgeous building was once an international trade center dating back to the 1400's. It's still in use today. If you check out these shops, remember that there are so many, you have to shop around first. The stalls frequently have similar items and you can most likely find a stall with a better price if you just take a look around the entire line.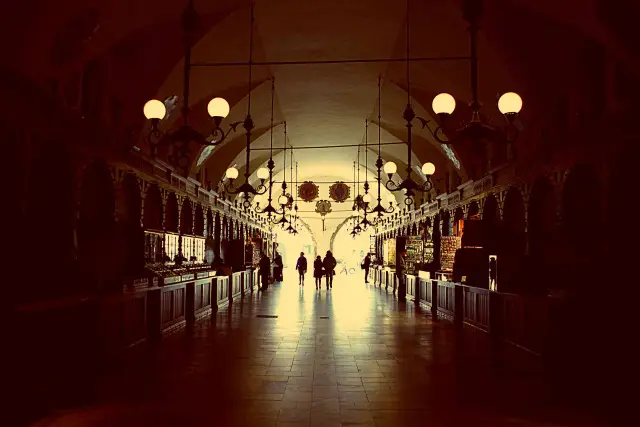 Image credit: Danielle Tobar
We spent a few hours wandering the stalls in the market for souvenirs- in particular, amber jewelry. Poland is famous for their Baltic amber. You can find amber jewelry in numerous shops across the city but we opted for a few pieces from the Cloth Hall stalls at a cheaper price. We bought a lot of amber jewelry ranging from 20 to 85 zloty, mostly small items like stud earrings and rings.
Day trip from Krakow to Auschwitz
On a slightly different note, visiting Krakow, Poland is incomplete without learning  about some of its not so distant past.  We did a day trip to Auschwitz from Krakow. The infamous death camp is only about an hour drive from the center of Krakow. I highly recommend booking this through a tour company. Make sure your trip includes transportation to and from Krakow as well as entry to the camps and a tour guide. Ours was very well organized and our guide was exceptional. We toured both Auschwitz I and Auschwitz – Birkenau.  I think words would fail here if I even began to try to describe what we saw and learned that day, but I will say I'd recommend going. As George Santayana wrote,
"The one who does not remember history is bound to live through it again.
Putting Visiting Krakow on Your Radar
Visiting Krakow, Poland might be a little off the radar on your European bucket list but this one should make the cut. Add it to the itinerary alongside some of the other top experiences like skiing in the Alps. Krakow has an Eastern European charm that just can't be missed, even if you only get the chance to enjoy it for a day or two.
Please follow and like us: