On your first visit to Paris, it is easy to fall into the trap of trying to do too much.  So many museums, a climb up the Eiffel Tower, the magnificent shopping.  It is possible to be on the run all day long.  While you absolutely should do all those things while you're there, it is equally important that you spend time as the Parisians do.  Take a morning or an afternoon, find a cafe, order a coffee and just sit and watch the world go by.
Paris is filled with cafes, so choosing which one to spend your time can be daunting.  While some are clearly there for the tourists, if you know where to look, you will find the ones the locals frequent.  The ones below are a good place to start.
Le Coquelicot des Abbesses
Cafe des 2 Moulins is located in the Montmartre area.  Now famous for being the cafe in which Amélie worked in the movie bearing her name, it is still a wonderful place to sit and relax.  The service can be a bit slow, and the restaurant is a bit shabby, but these two quibbles just add to its charm.
Another wonderful little cafe in this part of Paris is Le Coquelicot des Abbesses.  Perfect for a respite after fighting the crowds at Sacre Coeur, you will find more locals here than tourists.  The brunch is second to none and plentiful enough that you will not need to eat again until dinner.
Les Deux Magots
Les Deux Magots is located in the St-Germain-des-Pres section of Paris.  Everyone who is anyone back in the day hung out here, so grab a coffee and imagine sitting next to Sartre, Camus or Picasso.  This cafe serves a superb breakfast, so start your day with a homemade croissant smothered in butter and jam and a hot coffee.  You may be tempted to linger until lunch.
Cafe de Flore
Across the street is Cafe de Flore, another spot known for its literary connections.  The interior is classic Art Deco and looks as if it must have before the Second World War.  Although you will hear a lot of foreign accents here, there are also a lot of locals and the people watching on this corner is second to none.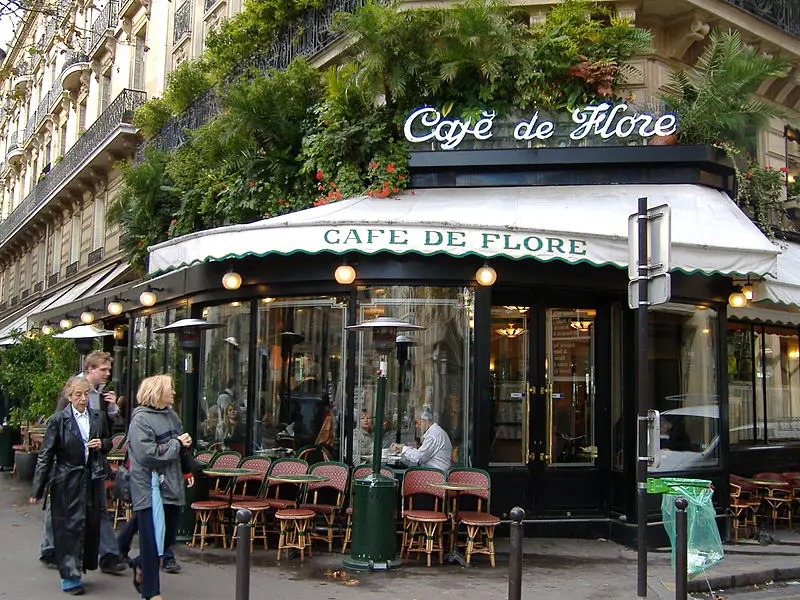 La Palette
Yes, you will pay a price to sit at these two cafes.  If you are on a bit of a budget, or if you want to hang out with the current starving artists, head over to La Palette.  The walls are covered with modern art, but sit outside after you have a look around.
Le Bar du Marché
Another famous cafe in this part of Paris is Le Bar du Marché.  The terrace is packed with tables, so you will get to know your neighbors.  What makes this place special, however, is that the terrace has outdoor heaters which means that you can spend an afternoon outside even in chilly weather.
 La Closerie des Lilas
La Closerie des Lilas is located in front of the Luxembourg Gardens.  Another cafe filled with history, it is unique in that it has a beautiful garden in the summer.  It is possible to believe you are miles from any city.  If you must run around and be a tourist all day, you can stop by here in the evening.  A drink in the piano bar is another way to get a real sense of old Paris.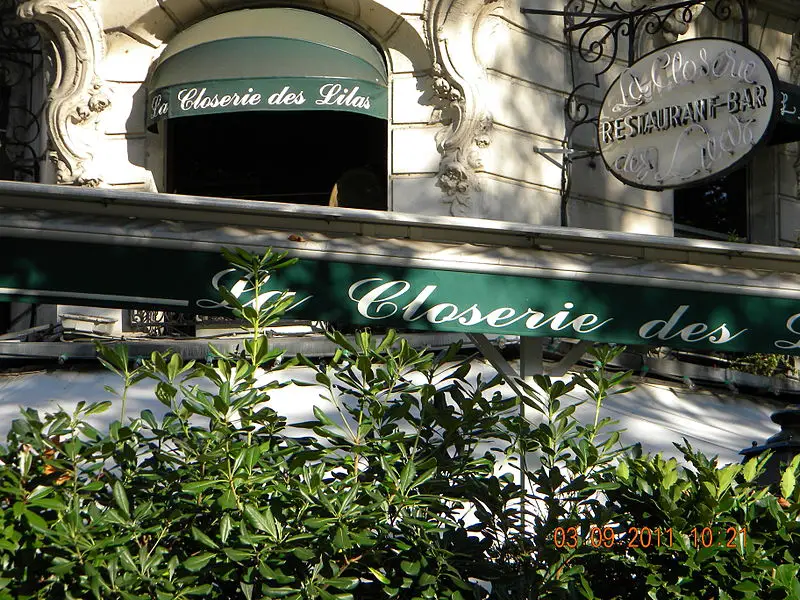 Le Procope
Le Procope claims to be the oldest cafe in Paris.  Founded in 1686, it just may be and it claims to have been visited by both Voltaire and Benjamin Franklin.  Today, it is a beautiful place to come and, for those of you who have not had enough history, take a look around the walls.  They are covered in fun items that each has its place in the story of the cafe.
Le Jemmapes
Le Jemmapes is located along the Canal St-Martin.  This place is very small, so getting a table may be a bit of a challenge.  What you can do, however, is order your drink to go and then sip it while strolling along the canal.  You will find many spots during your stroll to pause and watch the parade of students as they scurry past.
Only Some of the Cafes in Paris!
These are just some of the thousands of cafes in Paris.  As you will need to sleep as well as eat, click here for a comprehensive list of hotels in Paris. Please leave a comment on one of these cafes; or, even better, list the ones you have found that you believe are worth searching out.  Bon appetite!
Images Credit: commons.wikimedia.org
Please follow and like us: