Ahhhh, Paris. A city for lovers of fine foods, fine wines, fine art, and great romance. The French capital city has been the backdrop for inspirational theater, light hearted romantic comedies, and centuries of literature about the grandeur and spectacle of this amazing city. Falling in love discovering Paris is easy, especially if you know where to eat, what to see, and where to stay in Paris.
Long considered one of the greatest cities on the planet, Paris is overflowing with sights, sounds, and tastes for practically everyone to enjoy. Follow tours or walk your own path to famous tourist landmarks like the Eiffel Tower. Enjoy the thousands of entertainment options and historical art collections like that of the Louvre. Taste the sweet delicacies and the savory charms of Parisian restaurants.
Paris will disarm you with its spectacular charm, so make sure you know how to keep your wits about you! With all this marvelous city has to offer, it's easy to get a little turned around. However, knowing the secret ins and outs of the city will help you to look up from the map and take in one of the most alluring places on Earth.
Check More Travelling Ideas & Tips For Couples:
What to See and How Much to See It
Planes and trains and automobiles, OH MY! Knowing how to navigate a new city is all about convenience and simplicity. Tour buses, hotel concierges, and polite locals can only get you so far! You have to know where you're going and the easiest way to get there.  You
have an option to book a private jet to Paris if you want a lesser hassle
and more relaxing trip for you and your loved one.
The Eiffel Tower is a must see attraction in Paris. Built in 1889, this magnificent structure has been a long standing tourist attraction. You can book tickets to enter the tower for around €45 per adult. Picnics and kissing pictures in the beautiful Champ de Mars that surrounds the tower are also encouraged, and, honestly, way cheaper.
Notre Dame and touring the Seine can go hand in hand on one of the  wide variety of tours in the city. The famous cathedral and Gothic architectural masterpiece rests neatly on the Seine river, so you can see it on foot via Île de la Cité, a natural island on the Seine, or you can take a cruise. The Bateaux Mouches Tours are around one hour, and you can see Notre Dame, the Louvre, and the Eiffel Tower all for around $17!
For the Nature enthusiasts among you, the Luxemburg Gardens (Jardin de Luxembourg) should be the tipity-top of your Paris to do list. Once only open to French Royalty, the Gardens are one of the most popular tourist destinations in the country. You can visit the gardens on a private tour with a local for only €12!
Discovering Paris by Eating Like a Local
Sure, you can go to France and enjoy a fresh croissant or seventeen, but when discovering Paris, the options are seemingly never-ending. Steak fries, éclairs, crepes, macarons, all just waiting to be savored by savvy tourists like you. But where do you start in a city that is world-renowned for the culinary arts? Find the best spots to eat based on where the locals go!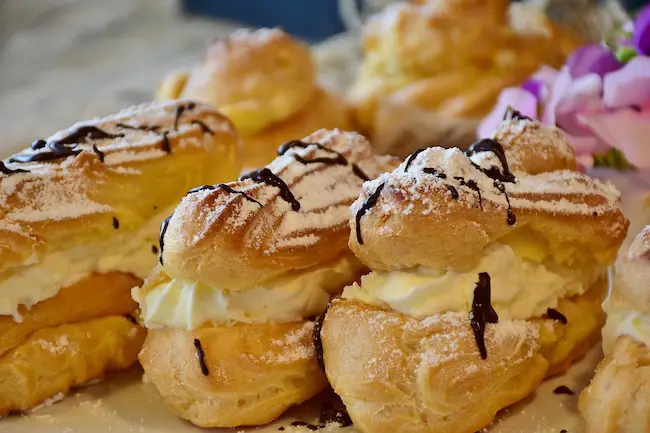 Get a little bit sweet and a little bit savory with the historic district of Marais. Eclairs are a famous French experience. L'Eclair de Génie will melt your heart with their delightful deserts. Savory crepes at Chez Alain Miam Miam on the Marche des Enfant Rouches in Upper Marais will absolutely change your life!
The entree lovers will rejoice in the fact that Paris is known for some of the best culinary experiences in the world. You can eat Duck at La Tour d'Argent in the Latin Quarter, dine on oysters at Le Mary Celeste in Upper Marais, and gorge yourself on the steak fries at Relais de l'Entrecôte in Saint Germain.
There are many food tours in the city, but some of the best revolve around Paris' most celebrated foods. Enjoy macarons, croissants, éclairs, cheeses, and all your heart's desires as you tour Montmartre on a secret tasting tour. For around $111, you can travel through local shops and spend the whole day splurging on the tastes of Paris.
 Art and Entertainment
How can you fall in love without music and art and theater? You can't, simple as that. It's a good thing that you can find all of those things in abundance in the city of love.
The world famous Moulin Rouge will entice you with its vibrant colors and opulent performances! Make reservations in advance and book your tickets for the extravagant Féerie show! Tickets vary, but will normally cost you around $110.
Lovers need art like fish need water, and Paris has an abundance of both. A visit to Paris means a visit to the Louvre. Known throughout the world for sheltering some of the most famous pieces of art in existence, touring the Louvre is sure to astound. Tickets to skip the line in the Louvre are only $22.66!
Other Museums in Paris
The famous Musee d'Orsay, known for its impressionist pieces. Located in a refurbished train station, you can visit Orsay for around €12! Discovering Paris one Impressionist at a time!
The Musee de l'Orangerie with works by Monet, Renoir, Matisse, and Picasso! Located in the Tuileries Gardens next to the Place de la Concord in Paris, the Musee de l'Orangerie is famous for the eight large murals called Water Lilies by Claude Monet!
Reveling in Romance
As your visit to Paris begins, always remember that the historic streets have been home to thousands of visitors. Once home to many artists, writers, musicians, and politicians, Paris has a history as rich as its pastries. Taking in the sights and relishing every moment in this enchanting city will make for some of the best moments of your life.
Discovering Paris and All Its Charm!
Whether you're walking down the Champs Elysees, or basking in the shade of the Eiffel Tower, Paris has something for the romantic in all of us. Discovering Paris, the most romantic city in the world, by knowing where to go, how to get there, and where to stay will not only make things simpler but put you at ease while you travel. Because you can't see Paris while staring at a map.
As Thomas Jefferson once said, "A walk about Paris will provide lessons in history, beauty, and in the point of Life."
Please follow and like us: