When we imagine a winter destination for our vacation, we create in our mind a picturesque and snowy village, on a mountain top. It is a snowy but hospitable village, filled with warm people and good food, which will host you in one of its warm and comfortable accommodations and use it as a base for your ski trips.
And if you hadn't imagined it, reading it made you want it. Sorry about that. Now that the idea has been born into your mind, what exactly do you have to look for in order to find the right destination that will offer you all that you desire from a winter getaway, especially if you're planning a trip with your kids?
First, you need to focus on European destinations. Europe has the widest variety of resorts to suit every taste and budget. It is also a safe choice, especially in this day and age, where safety and health are a top priority. Let's take a look at the six most critical European villages that favour skiing in winter.
1. Stuben, Austria
The tiny village has not yet been touched by mass tourism and remains calm even in the high season. It has a few hotels, bars, restaurants built around the old church and is an alternative base for excursions to St. Anton and Lech-Zurs. It has enormous amounts of snow in abundance and can offer thrills to advanced skiers on off-piste rides.
2. Verbier, Switzerland
High on the Valais Plateau, just two hours from Geneva, skiers in their twenties are trying to outdo each other in their famous couloirs, while European jet-setters are doing the same in the glamorous nightclubs. The main attraction of Verbier is the 400 km of ski slopes, accessible by a fast and efficient network of 95 lifts. Le Jumbo, a cable car with a capacity of 150 people, transports skiers to Mont Fort (3,352 m) from where they gaze at the most important Swiss peaks. We do not have to climb so high to see the view: we can just take a seat on the sunny terrace of Cabane du Mont Fort, a stone "hut" right next to Mont Gele, where tanned skiers eat fondue and drink white Swiss spritzer Fendant wine.
If you dream of experiencing all this, then you just have to book your holiday with a complete vacation package. Many ski holiday agencies offer the possibility to do all the planning of your vacation, undertaking your accommodation package, and the additional services you will need to gain a complete and personalized experience in Verbier, Switzerland. All this is relatively affordable, so that everyone can experience this tremendous adventure.
3. Murren, Switzerland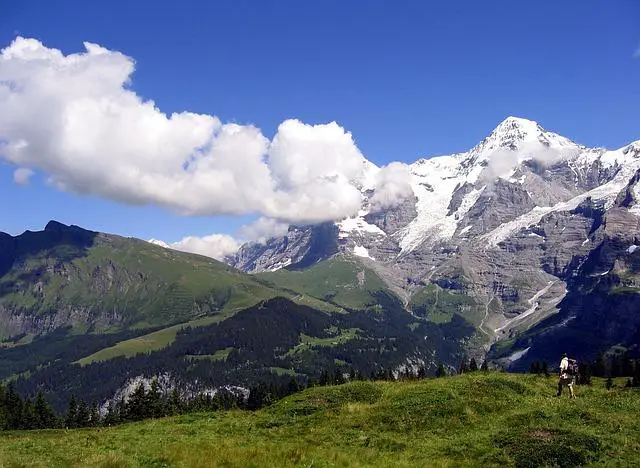 The puppet village still remains untouched by mass tourism. Cars are forbidden and for skiers to reach the village they have to take a cable car or the train as no roads are leading to Murren. Time seems to have stopped in previous decades on its narrow cobbled streets and wooden chalets. Apart from the authentic mountain atmosphere, it also offers a beautiful view of its ice rink's surrounding peaks. Ski slopes are limited but are suitable for skiers of all levels.
4. St Martin de Belleville, France
Trois Valles is the largest ski area in the world and St. Martin de Belleville is the ideal base for exploring. In addition to natural beauty, you will find cheaper accommodation compared to neighbouring Courchevel and Meribel. Until the '80s, the secluded village has become a favourite spot for skiers who want a peaceful, economic, and charming base for excursions on the area's mediocre and challenging slopes. It has a small square with a 16th-century church that is beautifully lit in the evenings, stone and wood buildings and a few but careful entertainment options.
5. Les Gets, France
The small, charming village in addition to an extensive network of ski slopes has to show traditional, low chalets, outdoor ice rink, a main pedestrian road full of restaurants and wine cellars with fine French wines. The locals are amiable and willing to share the secrets of their area with you before revealing to you the best routes in the snow. Keep in mind that Les Getz is a popular destination and gathers many people on the weekends.
Enjoy European Winter
European winter is the best among the rest. The continent features well-preserved and breath-taking sceneries that won't just give you relief but will push your limits as well. Go ahead, pack your bags, and enjoy your European winter by visiting the places we mentioned above.
Please follow and like us: