Any trip to the Galapagos islands involves a pricey cruise or guided tour, right? Wrong! It's perfectly possible to visit the Galapagos independently. You can explore incredible landscapes, encounter amazing wildlife, and lounge on postcard beaches, while keeping to nobody's schedule but your own (and saving yourself a small fortune).
Planning your Galapagos Trip
The Galapagos islands can only be reached via a flight from mainland Ecuador. Flights depart from Quito and Guayaquil. Prices vary between $300 and $500 return, and are usually a bit cheaper from Guayaquil. Shop around on price comparison websites to get the best deals.
When budgeting to travel to the Galapagos independently, factor in the $20 fee when leaving mainland Ecuador and the $100 entrance fee on arrival.
The further-flung islands are only accessible via a cruise or guided tour. If you are going to the Galapagos independently, it's best to stick to Santa Cruz and Isabela. It's possible to also include a trip to San Cristobal, though there are fewer independent activities here.
Ferries run between the islands just once per day, and cost $30. They depart Isla Isabela and San Cristobal at 6am, and arrive at Santa Cruz two to four hours later. They then depart Santa Cruz at 2pm for the return journey. There is no direct ferry between Isabela and San Cristobal. When planning your itinerary, be sure to take the necessary journeys into account.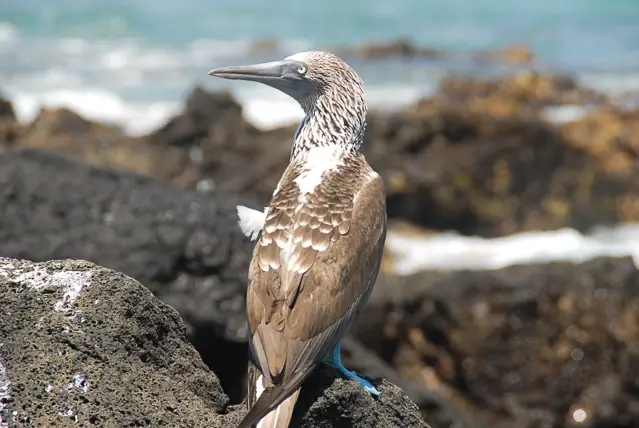 Image credit: Ailish Casey
Independent Activities on Santa Cruz
Santa Cruz is the jumping-off point for many people who travel in the Galapagos independently. The majority of flights arrive and leave from nearby Isla Baltra, from where a shuttle runs to Puerto Ayora. Santa Cruz offers an amazing array of activities for the independent traveller. You can take in the best of what the island has to offer without once paying for a tour.
Puerto Ayora
Puerto Ayora is the largest town in the Galapagos (though still tiny by most standards). Visitors don't even have to leave the town to get their first encounters with wildlife. When the boats arrive with their catch of the day in the early evening, the fish market attracts groups of cheeky sea lions and pelicans fighting for scraps. After the sun goes down, the jetty comes alive as the lights attract rays, reef sharks and sea turtles. Along the jetty, pelicans dive into the water and sea lions take naps on the wooden benches.
Tortuga Bay
A 3 kilometer path leads from Puerto Ayora to Tortuga Bay. Here, marine iguanas relax in the sand, colorful crabs scurry across the black rocks, and finches dart through the trees. The first beach is unsuitable for swimming, but continue onward and you'll find a perfect crescent of white sand with unbelievably warm and calm waters.
The bay is free to visit, though visitors must sign in at the start of the trail. Bring what you need from the town (drinks, snorkel gear, etc.) as nothing is available to buy near the beach.
Tortoise Ranches, Lava Tunnels, & Los Gemelos
Towards the interior of Santa Cruz island lie three major attractions, which can visited in a single two or three hour trip by hiring a taxi for around $35.
The first is a visit to one of two tortoise ranches, where these giant beasts roam freely around the grounds. Visitors can wander freely among these huge animals (though do remember to keep your distance- they are not pets). A visit to a tortoise ranch costs $3, and there are cafes on site serving famous Galapagos coffee.
Near these ranches lie the Lava Tunnels, a series of underground passageways forged by volcanic activity. Visitors can walk through these tunnels, and rejoin their taxi on the other side. Be careful, as the route does involves scrambling on your hands and knees at one point. The tunnels are free to enter.
A bit further afield lie Los Gemelos ("The Twins"). These are two craters highlighting the volcanic activity that forged the islands.
Las Grietas
Guided tours run from Puerto Ayora to the popular snorkelling site of Las Grietas. But these tours are completely unnecessary, as the spot can easily be visited independently. Water taxis ($0.80) ferry between the jetty and the nearby entrance point to Las Grietas. From here, a short walk will take you to the site itself.
Las Grietas is a deep gorge where fresh water meets salt water. Locals and tourists gather here to swim through the gorge, jump off the rocks (though this is discouraged), and snorkel through schools of fish and the occasional turtle. Las Grietas is free to enter, and you can rent snorkelling gear in the town for $3-5.
Charles Darwin Research Station & Fausto Llerena Tortoise Centre
The Charles Darwin Research Centre gives visitors the chance to find out more about the history of the islands, including Darwin's famous expeditions here. The centre is located just a short walk from Puerto Ayora.
Right next door lies the Fausta Llerena Tortoise Centre. This centre is dedicated to the conservation and breeding of the giant tortoises for which the islands are famous. Visitors can observe the tortoises as well as giant, colorful iguanas.
Both the Darwin Research Station and Tortoise Centre are free to enter. Both are open Monday to Friday from 7am to noon and from 1pm to 4pm. For those looking to cool off after their visit, nearby Playa de la Estacion offers a nice chance for a dip.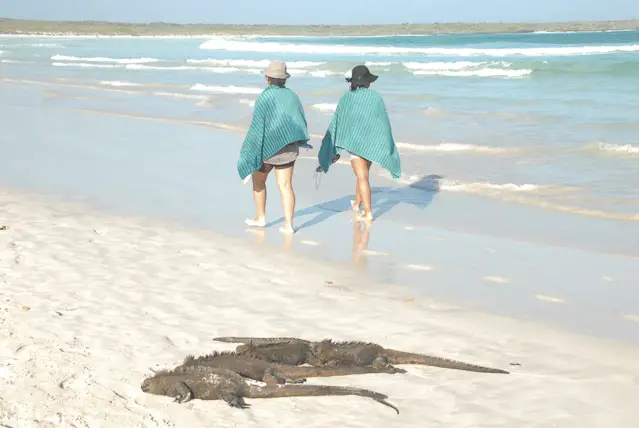 Image credit: Ailish Casey
Independent Activities on Isla Isabela
Isabela is the largest island in the Galapagos. But you don't have to travel far for independent activities, as most lie in and around the main town of Villamil.
Villamil
The town of Villamil offers less to do than Puerto Ayora, but makes for a pleasant base. Visitors can spot adorable tiny penguins from the jetty and visit the nearby Playa Puerto Villamil, the longest beach in the Galapagos.
Giant Tortoise Breeding Centre
Those who missed the tortoise centre on Santa Cruz, or who simply cannot get enough tortoises, can visit the Giant Tortoise Breeding Centre. Isabela has the widest variety of giant tortoise species of all of the islands, and the centre allows visitors to see a range of different tortoises. The centre is located via a scenic one-mile walk from Villamil. The route leads through a series of lagoons dotted with flamingos and other wildlife. The centre is free to enter.
Wall of Tears Hike
The Wall of Tears (El Muro de las Lágrimas) is a monument that was built in 1945. While the wall itself is not all that impressive, the real attraction is the hike to reach it. The trail is 5km long, and leads through amazing landscapes of volcanic rock, bizarre plants, and blue pools. Beaches are dotted along the coastline, and you can break up the hike by cooling off in the sea, paddling alongside marine iguanas and spotting some blue-footed boobies. Flamingos are known to occasionally visit the pools along the trail, too. But, as always, the giant tortoises steal the show, peaking out from the shadows beside the trail, and ever-so-slowly munching grass.
The trail is free to enter. While it is flat and easy to walk, the heat can make it unbearable. Bring plenty of water, and go slowly.
Concha Perla
While many visitors to Isla Isabela opt for the guided tour to Las Tintoreras, nearby Concha Perla offers a similar experience, and (you guessed it) can be visited independently.
A wooden walkway leads from Villamil to Concha Perla, a serene pool that's ideal for snorkelling. A short but painful clamber over volcanic rock takes visitors from the sheltered pool into open water, where it's possible to swim with everything from marine iguanas to sea lions, star fish, massive sea turtles, and tiny penguins.
Concha Perla is free to enter, and visitors can rent snorkelling equipment in Villamil.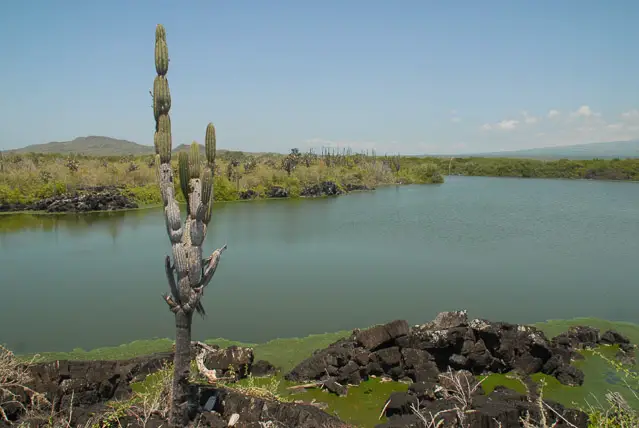 Image credit: Ailish Casey
Tips for Visiting the Galapagos Independently
Travelling to the Galapagos independently costs far more than travelling on mainland Ecuador. Budget at least $25 per night for a double room and $10-20 for a meal in a restaurant. If you're on a tight budget, you can save money by cooking for yourself in your guesthouse.
Bring everything that you will need, as toiletries, sun cream, and medicine are extortionately priced on the islands.
Do not bring any fresh food to the islands. Your bag will be searched and you are liable for heavy fines if caught with banned items. When departing the islands, don't take any shells or coral, even if they were sold to you, as removing these items is illegal.
Try to book your ferry tickets a day or two in advance. If you're travelling to the Galapagos independently during high season, it may also be best to book accommodation before you arrive.
Even if you're travelling in the Galapagos independently, don't rule out day tours, as they can take you to wonderful areas that aren't accessible any other way. Do check however, whether a guided tour is your only option to visit a certain area, or if you can go independently.
Most of the for those travelling in the Galapagos independently involve a lot of walking in the heat. Be sure to bring good walking shoes, drink plenty of water, and always wear sunscreen.
When travelling to the Galapagos independently you won't have a guide to translate for you, so be sure to learn some basic Spanish before you go.
One of the best things about the Galapagos wildlife is that the animals are totally unbothered by human presence. This doesn't mean they are happy to have human contact, however. Be sure to keep your distance, don't use flash when photographing an animal, and never, ever touch the wildlife.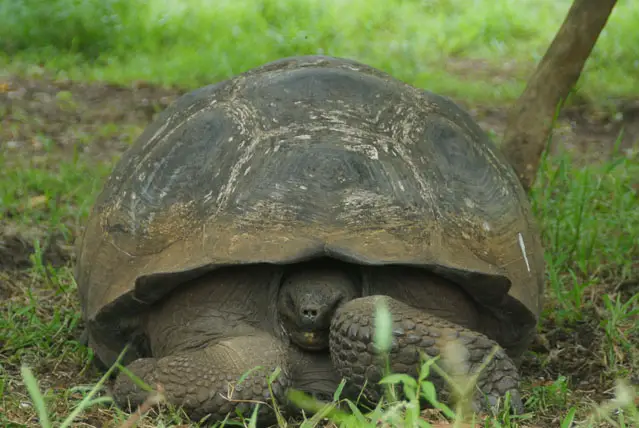 Image credit: Ailish Casey
Looking for independent activities on mainland Ecuador? Then check out trekking the Quilotoa Loop, or try a relaxing break in Baños.
Please follow and like us: