As an Amazon Influencer, we earn from qualifying purchases you might make if you click any of the links on this page.
I swore loudly as I stumbled over yet another rock at the start of the Quilotoa Loop. A young girl, walking hand in hand with her mother, paused to look at me, and I smiled apologetically, hoping she didn't understand English cursewords.
"You okay?" My partner, Adam, queried.
I grunted in response, though in my head I was saying "No, Adam, no I'm not okay. I'm so ill I can't breathe, I'm clambering down a rocky trail to reach a volcanic crater that I can't even see, because we're surrounded by cloud".
We moved aside to let a group of mules pass, ferrying passengers on their backs. Even these sure-footed animals appeared to be struggling, as they fumbled their way along the loose earth.
We had only been hiking the Quilotoa Loop for a few minutes, but I already needed a rest. I sat next to the trail, coughing fiercely, blowing my nose for the billionth time, and feeling sorry for my sick self. Being ill while travelling is not fun, least of all when embarking on one of the most beautiful treks in Ecuador.
I looked back the way we'd come, wondering how on earth I would later make it up the steep trail. Then I turned to look down into the crater, and my eyes widened.
The cloud had cleared, and I could see Quilotoa Lake spread out below me; a perfect circle of the bluest water imaginable, ringed by steep walls coated in greenery.
With a burst of energy, I got to my feet, wiped my reddened nose one last time, and turned to Adam, "Right. Off we go then."
We skidded, slid, and stumbled our way into the crater. Within half an hour, we reached the water's edge. We gazed across the lake, spotting kayaks dotted against the serene backdrop. We debated hiring one, but instead were content to just sit and take in the view.
Eventually we couldn't put off the climb any longer, and we turned to make our way back up to the town of Quilotoa.
Muscles aching, we strained against each agonizingly steep step. Reassuringly, everyone we passed looked just as tired as we did. Some even had small children with them, and I wondered how on earth these kids were managing the climb when a full grown adult (albeit a very sick full grown adult) was struggling so much.
The route to the top took us just over an hour. The joy I had felt at first seeing the lake was nothing compared to the joy I felt at finally seeing the end of the trail.
Trail leading into a volcanic crater with a blue lake – Ailish Casey
Day 2: Quilotoa to Chugchilan
Trekking from Quilotoa to Chugchilan, the second town on the Quilotoa Loop, takes four to six hours, and as soon as I woke, I knew it was out of the question. Coughing, sneezing, and shivering from the cold, I crawled under the pile of blankets and pulled them over my head.
"Bus?" Adam suggested.
"Bus", I agreed, from underneath my blanket pile.
We caught the bus from just outside Quilotoa town, and made the journey to Chugchilan. The road was nauseatingly windy, but the view was stunning. The trekking route leads through the valley floor, while the bus travels along the mountainside. So although we missed out on taking the trail, we did get a beautiful panoramic view of the valley from the window.
On arrival at Chuchilan, we found accommodation at Cloud Forest guesthouse. Maps on the reception desk told us of the lovely day hikes throughout the surrounding area, but all I wanted was to curl up in a warm bed.
After a tasty meal of quinoa and cheese soup, with rice, vegetables, and cake for dessert, I got my wish, and I crawled once more beneath the warm blankets, hoping with all my might that I'd be up for the trek the following day.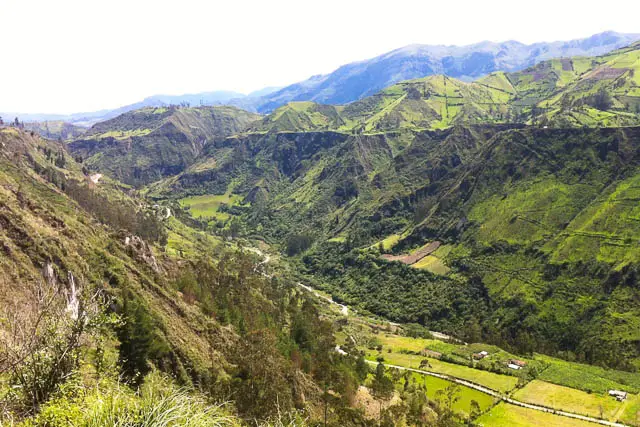 Image by Ailish Casey
Day 3: Chugchilan to Inslivi
The next morning, feeling marginally better, I set off with Adam for the six hour trek to our next stop of Inslivi.
The trail led us steeply down into the valley, then onwards through beautiful mountains and farmland. With the picturesque surroundings, the clear blue sky, and the sun on our skin, it was impossible not to be in high spirits, even when we repeatedly took the wrong fork on the badly-marked trail, at one point being chased off someone's property by a pair of barking dogs.
My high spirits were dampened slightly when we reached the river, and found that the only way to cross was via a single log that reached to the far bank.
I stepped tentatively onto this makeshift bridge. There had once been a handrail, which was now an ex-handrail, dangling uselessly into the water. And so the only thing stopping me from plunging into the depths was my own ability to keep my balance- an ability that I didn't trust in the slightest.
Step by tiny step, I shuffled my way across. Gusts of wind made me wobble, and the gushing water below made me so dizzy I was sure I would fall. But I reached the far side without any regrettable water encounters, and Adam followed behind me, making the whole thing look far too easy.
We continued on along the valley floor, until, just as our legs were starting to ache, the trail turned steeply upwards. We braced ourselves for the final stretch, and made our way uphill. Sweating and aching, we reached the top, to find no sign of life save for a woman herding sheep.
In broken Spanish, we asked about the village, and she directed us to continue walking along the trail, which led up yet another hill.
We walked upwards through a dried-up stream bed, following yellow dashes of paint pointing us in the right direction. Any high spirits were now well and truly broken, as I once more struggled to breathe, and coughed my way along the route.
After what felt like an eternity, Llullu Llama hostel, our resting point for the night, came into view. The hostel was a welcome sight- a beautiful collection of cottages with a cosy sitting room, views of the surrounding countryside, and a mini spa with a hot tub and sauna. There was even a titular llama tethered outside.
Overwhelmed with relief, we tucked into a tasty meal, had much needed shower, and enjoyed a well deserved glass of wine, before we fell, exhausted, into bed.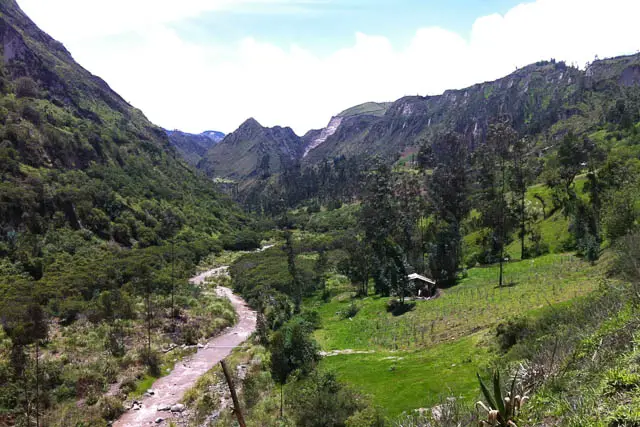 Image by Ailish Casey
Day 4: Around Inslivi
We woke early the following morning, and, after a breakfast of pancakes and fruit, began our tours in the surrounding area, which we had arranged with Llullu llama.
Our first trip was to milk a cow. We walked far away from town to meet Beatrice, a smiling woman standing next to a tethered cow and calf. After demonstrating how to squeeze a stream of milk from the cow's teat, she motioned for me to have a try.
Feeling a bit squeamish, I gripped the milk-sodden teat and gave it a gentle tug, but nothing appeared.
"Más fuerte", Beatrice advised, urging me to pull harder.
I did as instructed, pulling the teat harder and harder until I was certain I was going to injure the poor beast.
Finally I was rewarded for my effort with a small trickle of milk, echoing into the steel can.
Beatrice smiled approvingly, though, when it became apparent that it would take an entire day to fill the can using my method, she took over once more and produced an entire can's worth of milk in mere seconds.
Thanking her, we returned triumphantly to Llullu Llama, brandishing our hard-earned canister of milk.
The next tour was to a small cheese factory, where we saw how milk becomes the pale Andean cheese we were already so familiar with during our short time in Ecuador. We watched as the liquid was separated in a giant vat, poured into steel containers to set, and packaged by hand, before sampling some of the cheese with a serving of honey (a surprisingly tasty combination).
Returning to the village of Inslivi by jeep, we set off for our final trip of the day- a visit to the Don Bosco craft centre. The tour allowed us to take a peek behind the scenes, where we saw the wood being prepared and carved into beautiful craftworks. We were then led around the showroom, which displayed everything from handmade furniture, to intricately carved statues, to woven jewellery.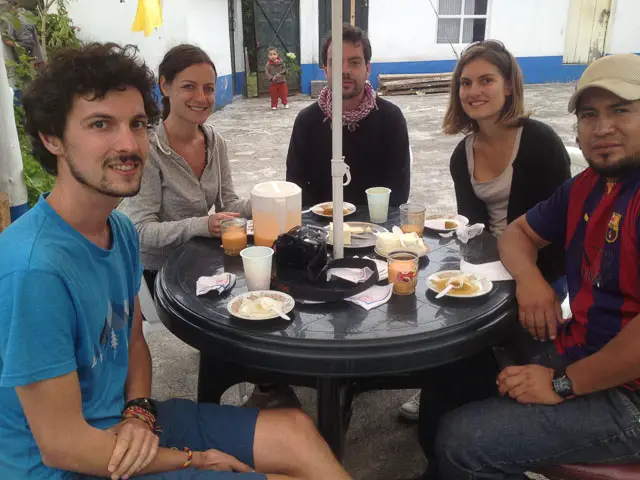 Image by Ailish Casey
Day 5: Inslivi to Latacunga
And so our time in the Quilotoa Loop had come to an end. We had spent our final night in Llullu llama eating one last massive meal and relaxing by the fireplace, chatting to the other friendly guests.
In the morning, we caught the milk truck, a pick-up with wooden benches in the back, and returned to Latacunga to get our luggage, before heading onwards to Banos.
As we sat on the bus, watching the region disappear behind us, Adam turned towards me.
"How are you feeling?" he asked.
I'd completely forgotten about my raw nose and my aching chest, the activities of the past few days pushing them to the back of my mind.
"Fine", I shrugged. "I guess Quilotoa cured me".
Sick or not, the trip had been one of my favourite experiences in Ecuador. Dragging myself out of bed in the mornings, forcing my aching limbs to continue along the trail, and coughing and wheezing my way up steep hills had all been completely and utterly worth it.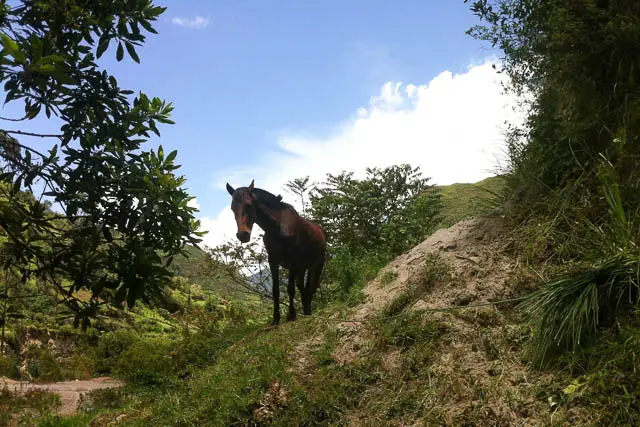 Image by Ailish Casey
How You Can Hike the Quilotoa Loop
The trek that we did is one of many routes you can do along the Quilotoa Loop. Treks can last from a couple of days to several weeks. Click here for itineraries and maps.
If you decide (like us) to take a bus part of the way along the Quilotoa Loop, here is a handy guide to bus times and routes.
The trails are steep and get pretty tough (even if you're in full health!) so be sure to pick a route that suits your fitness level.
The Quilotoa Loop can get surprisingly cold (especially for a country that's on the equator!), so bring warm clothes and a good waterproof jacket just in case. The sun can also be deceptively strong, so wear sun cream, even if you think you don't need it.
Aside from warm clothes and sunscreen, try to bring as little as possible, as everything you bring must be carried with you as you go. We left our rucksacks at our guesthouse in Latacunga, and picked them up after we finished the trek.
Guesthouses along the Quilotoa Loop cost around $15-20 per person (based on two people sharing), and this price includes breakfast and dinner. Most guesthouses cater for dietary needs (such as us awkward vegetarians!), though if you have a very specific need you may want to let them know in advance.
The town of Quilotoa can get very busy at the weekends, as people visit from throughout Ecuador. If you're looking for a quieter trek to Quilotoa Lake, it's better to visit midweek.
Quilotoa Loop Explorations!
Looking for more treks in Ecuador? Then try out the intense jungle hike of Sumaco. Or if, like us, you want to follow up your Quilotoa Loop trek with a relaxing few days in a beautiful location, head onwards to the pretty town of Baños.
Please follow and like us: