Vancouver is a foodie paradise in the Pacific North West, attracting tourists from all over the world. The Canadian city can be expensive though, so here are the top Vancouver Cheap Eats to get the best bang for your buck in the city's West End.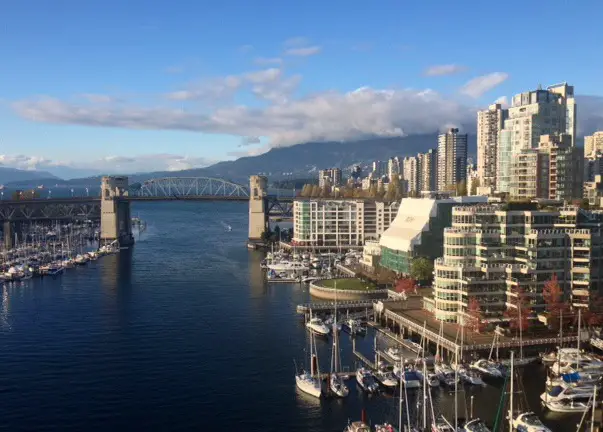 Image credit: Hayley Maguire
The Vancouver food scene
An exciting culinary scene may not be the first thing that springs to mind when thinking about Canada. Most people associate Canada with cold weather, grizzly bears and maple syrup. However, there is more to the North American country than the usual stereotypes. The west coast is home to Vancouver, a cosmopolitan city with a moderate climate. It has become a popular destination for migrants and created an international community in the city. The international influence has even extended to Vancouver's food scene, with many restaurants fusing Asian flavours with Canadian cuisine.
Japanese food is very popular, with sushi available on almost every downtown street. For many Vancouverites, sushi is the ultimate Vancouver Cheap Eats. Ramen is also a big trend with noodle soup hotspots springing up across the city. The food scene isn't limited to Asian options though. The city is home to many gastro-style bars, independent cafes, vegetarian restaurants, Italian, Mexican and everything in between.
Vancouver Cheap Eats
So with an abundance of choice, how do people decide where to eat? The answer usually comes down to cost, especially when travelling. Thankfully, Vancouver's West End is within walking distance to downtown. It is also a great place to sample a wide selection of restaurants without breaking the bank.
Hato Popo
One of the easiest routes into the West End is by walking along Robson Street. There are restaurants galore along Robson Street, especially Asian establishments. For an inexpensive sushi option head to Hato Popo on the corner of Nicola Street. Hato Popo's menu contains a variety of options including Nigiri specials, Sashimi and lunch deals. The low-key restaurant features an open kitchen and an extensive drinks menu, complete with traditional warm sake. A Maki Combo with Miso Soup starts at $6, and Bento Boxes start from under $10. The portions are a good size, the quality impressive and the service is friendly.
La Casita Tacos
Further along Robson Street, La Casita Tacos specializes in Mexican food. It has fully embraced the theme with a rustic façade and a licensed patio for sampling Mexican beer. The menu includes all the usual dishes expected of a Mexican eatery, but the food is crafted with passion and authenticity. The burritos are delicious and strongly recommended. They are served with Baja fish, chicken, beef or vegetables for $8. Add rice and salad for an extra $2. Tacos start from $3 and the hearty Chicken Tortilla Soup is a meal in itself. As an added bonus, there is also a free salsa bar with traditional Mexican beans that make a great starter. La Casita Tacos is excellent value for money and a taste of Mexico in downtown Vancouver.
Akira Sushi
Akira Sushi is a modest Japanese restaurant. It has been located on Denman Street since 2001. From the outside, the restaurant's basic appearance is uninspiring, but looks can be deceiving. Akira's owner has been a chef for more than 20 years and received training from a Japanese cuisine master. Akira also prides itself on being the first restaurant to introduce black rice sushi to Vancouver, a high fibre alternative to white rice. The high-end culinary background is reflected through the food, but the relaxed atmosphere creates a fuss-free eating place. For diners in search of a budget meal, the Sushi Combos for one person are exceptional value for money. Prices start at $7.25 and feature well-known favourites of California Roll, Dynamite Roll and Maki. The menu is also available for take away.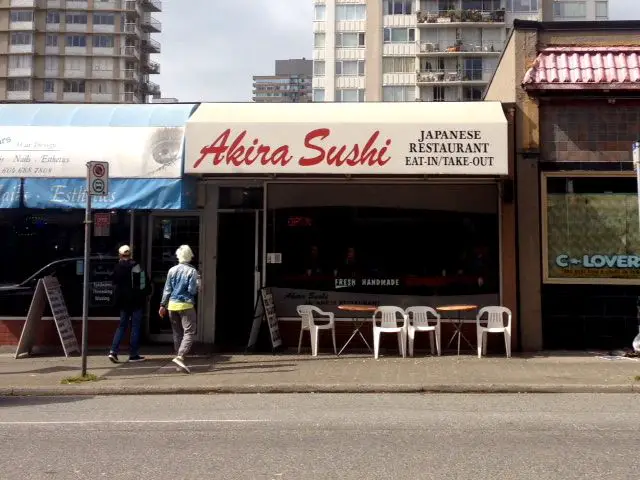 Image credit: Hayley Maguire
Legendary Noodle
Another great restaurant on Denman Street is Legendary Noodle. It has been serving up handmade noodles and soups since 1997. It also has a reputation for offering an authentic Chinese dining experience at budget prices. Legendary Noodle is tucked away next to a New York pizza shop and the narrow building could easily be missed. The compact dimensions are all part of the charm though and create a cozy environment for sampling the small menu. The Green Onion Potato Cake is perfect for sharing as a starter, and sampling fresh noodles is an essential part of the experience. Most main courses on the menu are priced around $10. Appetizers and dumplings range in price from $5 to $9. The House Chrysanthemum Tea is also not to be missed and looks so pretty it's almost a shame to drink it.
Image credit: Hayley Maguire
The Park at English Bay
The Park at English Bay is in the Best Western Hotel on Davie Street. The restaurant is unremarkable and typical for a hotel bar, but their daily specials are worth a mention. Canadians love their chicken wings and Monday is Wing Night at The Park. A plate of chicken can be ordered for 39c per wing and washed down with big beer specials for $5.95. Hot sauce is the popular choice for wings, but non spicy alternatives include honey garlic and Carolina barbecue. Also, if chicken wings are not your style then Thursday night features a steak sandwich for $10.95. It is served with ciabatta, crispy onions, blue cheese and a choice of fries or salad.
The Capital
And finally, The Capital on Davie Street. It is located in the heart of Davie Village and offers a daily $4.95 menu. The Capital is part of a Vancouver-based chain offering pub grub, great music and daily drink specials. The Veggie Burger is sensational for $4.95 and the Chicken Quesadilla is perfect for a lighter bite. The Beetroot and Goats Cheese Salad is delicious and chicken can be added for an extra charge. The people behind The Capital describe themselves as a "social establishment" and it's in a league of its own when it comes to value for money. As a side note, The Capital's sister operation, The Warehouse, is on Granville Street. The Warehouse also offers the $4.95 menu and is worth a visit if venturing further into downtown Vancouver. Overall, The Capital's $4.95 menu is the ultimate Vancouver Cheap Eats option in the West End, and a glimpse into Canadian pub culture.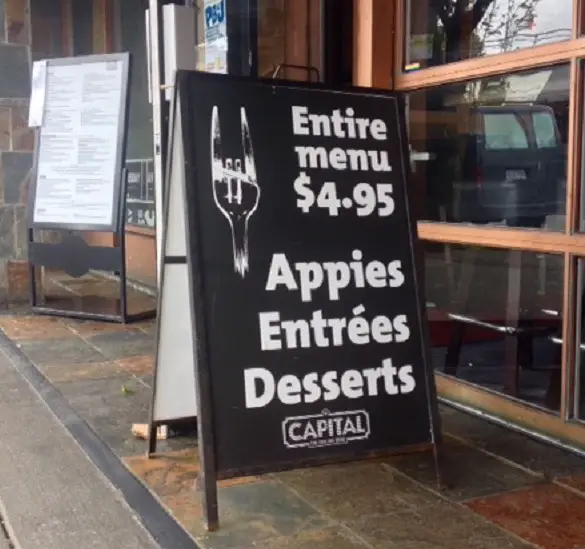 Image credit: Hayley Maguire
Discovering the Best Vancouver Cheap Eats
So there it is. Several Vancouver cheap eats locations in the West End and all within walking distance from each other. The only question now is, which one do you choose first?
If you are also looking for flights to Vancouver, click here for details. Please comment below with your own Vancouver cheap eats.
Please follow and like us: