Finding the right Baños hotel is the ideal way to start your discovery of a cute and inviting spa town in Ecuador.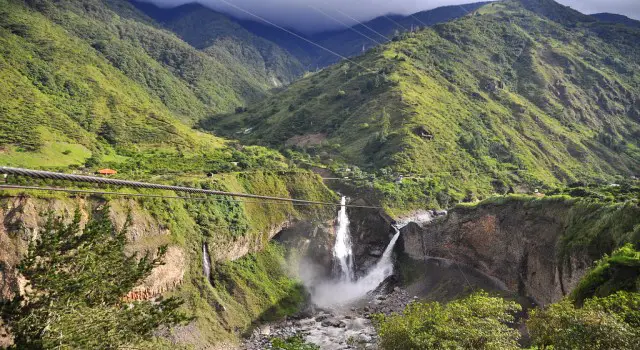 Baños is a delightful town in Ecuador. The name translates as "baths" and that relates to the fact that it is most famous for the fantastic hot spring baths that are present all over the town.
This is a great choice of destination for someone who wants to unwind in a gentle setting and see whether hot spring waters really do have the curative powers that are claimed of them.
While the chance to soak in some mineral-rich water is the main highlight here, there is a lot more to do in Baños than just this. It is also a popular base for adventure sports lovers to arrange white water rafting, horse riding or some other activity.
The town is small but it does have a few interesting attractions such as the local artisan toffee sellers who stretch their product across the street while making it. There is also a weird stuffed animal museum and the chance to order grilled guinea pig, which is known as cuy.
This place has traditionally been a popular holiday spot for Ecuadorians and it has become increasingly popular with foreign travellers in recent years as well. If you fly in to the capital then getting here from Quito is a reasonable sort of journey as the bus takes only about 3 hours.
As for the best Baños hotel to choose, the following are some options to bear in mind.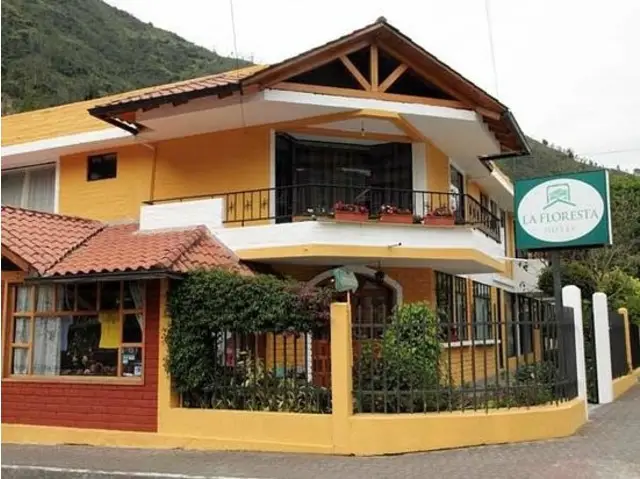 This classy Baños hotel typically costs $100 for a night in a standard double room, but special internet deals can bring this down closer to $60. Luxury suites and bigger rooms are also available here at higher prices.
For example, a triple room currently costs just over $80 when booking online. The best room in the place is the luxury suite with jacuzzi, at just over $100.
The 31 rooms here all include modern features such Wi-Fi and cable TV in them. The hotel has a coffee shop, business centre and an attractive garden in it.
As for the location, you will be just 5 minutes walk from the central market and about 10 minutes away from sights such as Termas de la Virgen and the Church of the Virgin. La Floresta sits in a pretty location that makes it easy to walk about the town and explore its charms.
A look at some online reviews reveals that most people seem to be very happy with the location, the service and the standard of the rooms at La Floresta. The excellent breakfast also gets highly praised.
This accommodation – whose name translates as "the yellow house" – has a wonderful view of Baños thanks its position high up on the hill about the town. This also means that it is pretty far from the main sights, so it is only suitable for visitors who are happy travelling quite a lot each day.
The hotel is lovely, with a fine outdoor area and very good service. Facilities include a restaurant, Wi-Fi, flat screen TVs and some other nice touches.
A very nice bonus here is the lovely outdoor area with picnic and barbecue possibilities in a peaceful setting.
A double room with a glorious mountain view costs some $40 per night. Big family suites with a view of the city have a price of $100.
The majority of online reviews rave about the views and the charms of La Casa Amarilla. The downside for some previous guests is the rather inconvenent location, which might be off-putting for some people.
If you like the idea of hiking to get to your hotel then is going to be ideal for you. Otherwise, you might want to stay more centrally.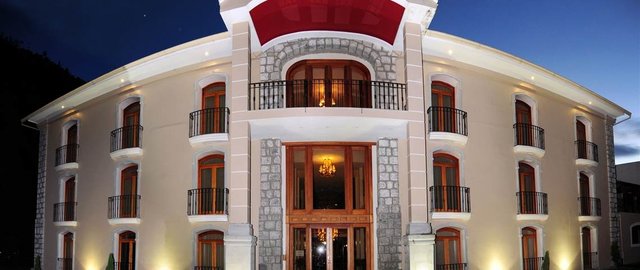 In the case of the Sangay Spa, this Baños hotel gives you a place to stay within easy walking distance of some of the town's best sights while being on the edge of the town itself. The most popular public spring baths are also right across the street from this place.
There are 66 rooms in this hotel and it has a pleasant, quiet feel to it. Expect to pay close to $100 for a basic double or more for a luxury room or suite.
The best room here is the wonderful deluxe suite. This big room with 2 double beds costs a little $200 per night.
Services in Sangay include a full spa service, an outdoor pool, a health club and a restaurant. The rooms are all prettily decorated and offer the modern facilities you would expect to find.
As you would expect from such a quality, relaxing hotel, the majority of reviews are positive. The only real issue pointed out by a few tourists is the wide variance in quality between different rooms.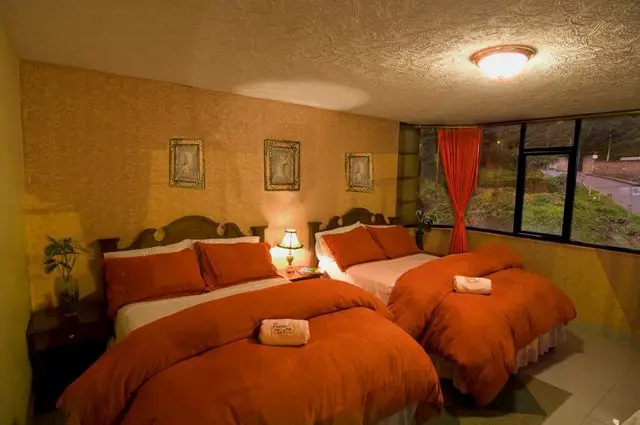 This is another Baños hotel that is excellently situated on the edge of town. It isn't the most luxurious accommodation option here but it offers a good value place to stay while enjoying everything Baños has to offer.
As with many of the hotels in this town, breakfast is included in the price. A night in a double room here about $45, while bigger triple rooms are also available at the reasonable price of $60.
Some of the rooms have a delightful view of the waterfall, which really adds to the feeling of being somewhere very special. There are only a few rooms here so it is a laid-back hotel but it has all of the modern facilities that most tourists now look for in their accommodation.
The overwhelming majority of online reviews are positive. The location and value are highly praised, although at least one reviewer pointed out that this is a fairly noisy location.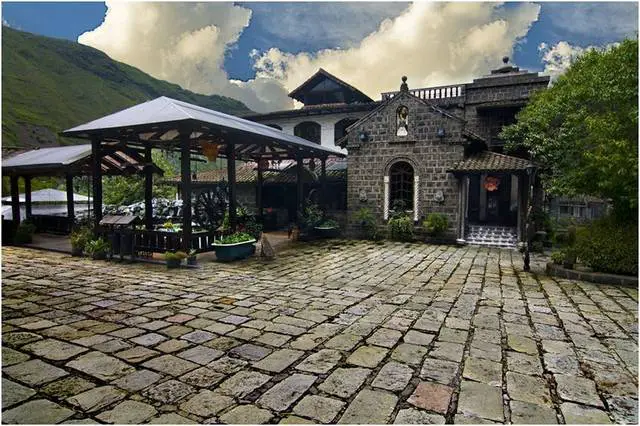 For a more expensive and luxurious hotel the Samari Spa Resort is a good choice. Rather than being in the middle of the town this resort is located close to the beach on the road into Baños, making it a 20 minutes' walk to get into the centre.
Don't forget to pack some essential travel accessories and go for a hike to enjoy the stunning scenery around this Baños hotel.
This is a wonderfully romantic hotel where every detail has been thought of and carried out perfectly. There is a full service spa to enjoy and a range of other useful features like a health club, a bar, Wi-Fi and tubs with water jets.
A basic double room in this hotel costs some $150 per night. The bigger and more exclusive rooms go up to $240 at the time of writing.
The internet reviews of the Samari Spa Resort show that people are generally delighted at having chosen this place to stay in Baños. Some admit that it is a fairly pricy hotel to spend a few nights in but that it is definitely worth it for the quality on offer.
If you like the idea of staying out in the suburbs then this Baños hotel is a sound choice. It is a few miles away from the main central attractions, so you are likely to use taxis to get around.
The hotel is very attractive to look at and has just 16 good quality rooms in it. As with many of the top hotels here, the service is impeccable and the list of amenities should keep most travellers happy, with room service and premium bedding among the unexpected treats.
There is a reasonably wide variety of room options at Hosteria Jardines de Chamana. At the time of writing the cheapest is a double room at $80 and the most expensive is a gorgeous family bungalow at $470 per night.
By looking at the reviews for this hosteria you will certainly feel the desire to head off to enjoy its charms. The people who have stayed here and left a review all seem to have loved it, with several writing that very enthusiastically about it.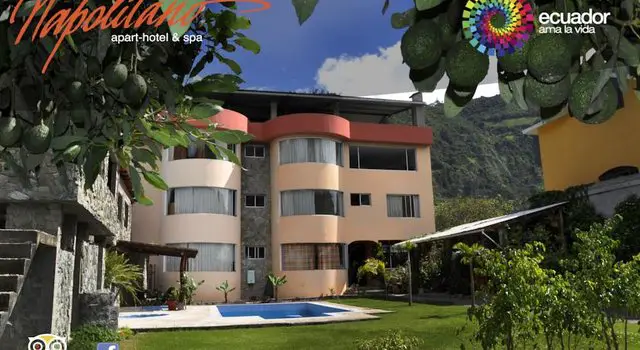 This is one of the main places to stay in the very centre of Baños. Many of the best things to do and see are just a few minutes' walk from here, such as Sebastian Acosta Park and Church of the Virgin of the Holy Water.
One of the main selling points of the Napolitano is the fact that it has a full service spa. There are only 15 rooms here and they have some great features like Tempur-Pedic beds and amazing showerheads.
Double and twin rooms start at $50, which is a terrific price for such a good hotel in a fantastic location in Baños.
The reviews left by previous guests paint the picture of a welcoming and friendly place. No real problems have been highlighted in them, although not everyone thinks that it is such good value for money.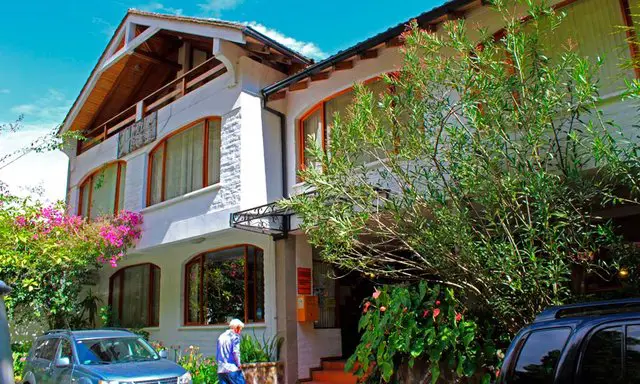 One issue to be aware of is that Baños is overshadowed by the hulking, simmering Tungurahua volcano. This volcano is known to erupt reasonably regularly and cause havoc so check the current conditions before you travel here.
The dramatically named Volcano Hotel doesn't teeter on the edge of Tungurahua but it does offer stunning views of the mountains and of the cascading waterfall. Some rooms even give the traveller the chance to fall asleep to the gentle sounds of the waterfall.
There are only 12 rooms in the Volcano, leading to a friendly and intimate atmosphere. The location is excellent, as it is close to the main things you are likely to want to visit.
Recent reviews suggest that it is in need of a slight revamp but it remains a solid and affordable accommodation option in Baños. A night in a double room will cost you $60-$70, while the big loft room with city views is highly recommended.
Previous guests tend to classify it as a quiet and relaxing hotel in a nice location and with a good value price. Not everyone was so impressed, though, and some have labelled it as a fairly basic, budget choice.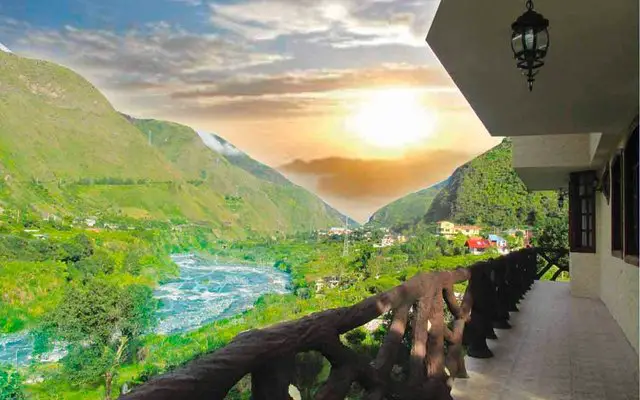 This is another good Baños hotel that is located a fair distance out of town. Taxis here are cheap, though, so getting in and out the centre isn't likely to be a problem.
The relaxing outdoor area is one of the main highlights, with barbecue grills and a picnic area encouraging guests to spend time out of doors. There are just 5 rooms in this eco resort, with every one of them thoughtfully laid out with a balcony or patio.
Each room is priced differently, starting at $60 for the estancia and going up to $90 for the aldea. Previous guests have stated that the estancia room is probably worth avoiding, as it is only marginally cheaper than rooms with far more impressive views.
Overall, the online reviews are highly positive. The attention, the location and the services have all been praised by people who loved their time at this Baños hotel.
This is more of a basic, budget option than many of the other Baños hotel options we have looked at. A night in a double room will cost just $30, with dormitory rooms being even cheaper at $21.
Obviously you won't except a top quality stay for that price but it is a pleasant and clean hotel with a brilliant location. It is one of the closest places to the Sebastian Acosta Park that you can stay in.
This hotel has a restaurant, coffee shop and steam room, as well as a rooftop terrace where there are cooking facilities. It is a sensible budget option for anyone who wants a great location and isn't too bothered about the quality of their room.
Online reviews are fairly mixed, as you would probably expect from a budget hotel like this. The negative points mentioned are the noise and, more worryingly, the loss of personal items from rooms.
Thankfully, most people seem to have enjoyed their time at the Hostal Plantas y Blanco and liked the view and the location. The breakfast is also highly rated by previous guests
The Perfect Baños Hotel for You!
This is a town that looks charming but that has a lot more to it than just a pretty aspect. Stay in a Baños hotel and discover a place that is a real treasure for adventure seekers and also for anyone looking for a relaxing stay and some spa treats.
Please follow and like us: