Finding the perfect Potosi hotel might not be the most difficult thing you ever do. However, it is definitely worth spending some time making sure that you get it right.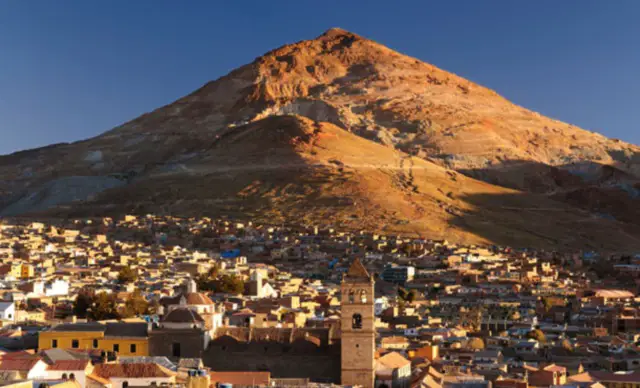 The high altitude city of Potosi is one of the most unique and memorable travel destinations waiting to be discovered anywhere on the planet. This place's rich yet tragic history of silver mining and fabulous wealth is the stuff of legend.
Upon arrival it quickly becomes clear that Potosi's best days are long behind it. For instance, the bus station is surrounded by dirt cheap hotels and restaurants
These places aren't likely to be very appealing to most visitors. Thankfully, further up the hill you will find a lot more to interest you.
The growing popularity of Potosi as a cultural destination for backpackers and adventurous travellers means that there are also better class places to stay and to eat here too. The area around the main plaza and cathedral is where you are most likely to find a great Potosi hotel in which to stay at a price you are happy with.
Most tourists only spend a night or two in a Potosi hotel, with a trip to the famous and still active mines at Cerro Rico the main attraction. The cathedral and the former mint at the Casa de la Moneda are other sights well worth seeing, but where will you stay once you get here?
Budgeting for a Potosi Hotel
Of course, many people choose to travel around Bolivia on a shoestring budget, taking advantage of the low prices to be found in this country. The bargain prices generally on offer around the country mean that a little bit of money can go a long way here.
However, there are a couple of reasons for budgeting for a little bit more when you are heading to Potosi. For a start, the relative scarcity of good hotels here means that the prices can be higher than in other Bolivian cities.
The other point worth remembering is that it gets very cold here at night pretty much all year round due to the incredibly high altitude. A bargain basement hotel that looks decent during the day won't look so good to you at night if there isn't central heating or enough blankets to keep you warm.
By paying a little bit more you should get a warm room and might also get a free breakfast and Wi-Fi included in the deal too. The absolute cheapest hotels in Potosi aren't really all that much cheaper than the mid-range offers, anyway.
By paying just a little bit more you can enjoy a far more comfortable night. Even if you are only staying in Potosi for one night, sleeping in a warmer and cleaner room will leave you feeling better and with a more positive overall impression of this historic yet somewhat faded city.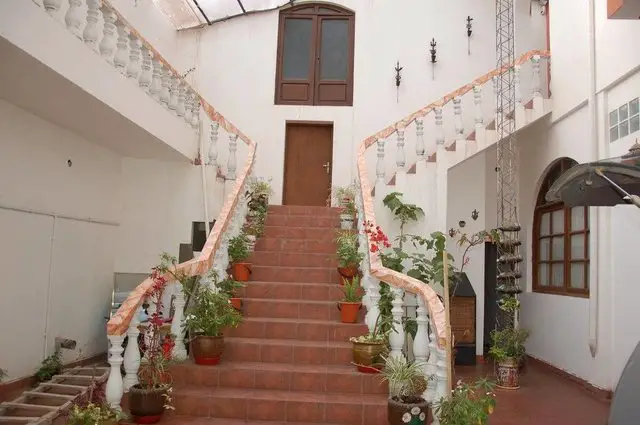 The big benefit to this Potosi hotel is that it is located just a few minutes walk away from the Casa de la Moneda and the other central attractions.
It is a simple hotel which has fairly large rooms, some of which also offer old style balconies. The attention in the hotel has also been praised by travellers in the past.
There are a few extra touches and facilities here that help to lift up this hotel into a higher category. These include the free breakfast, the restaurant and bar, the solarium and a rooftop terrace.
The Hotel Tukos La Casa Real is a slightly more expensive option than some of the city's budget alternatives. However, it is still a decently priced hotel that provides a comfortable place to spend the night.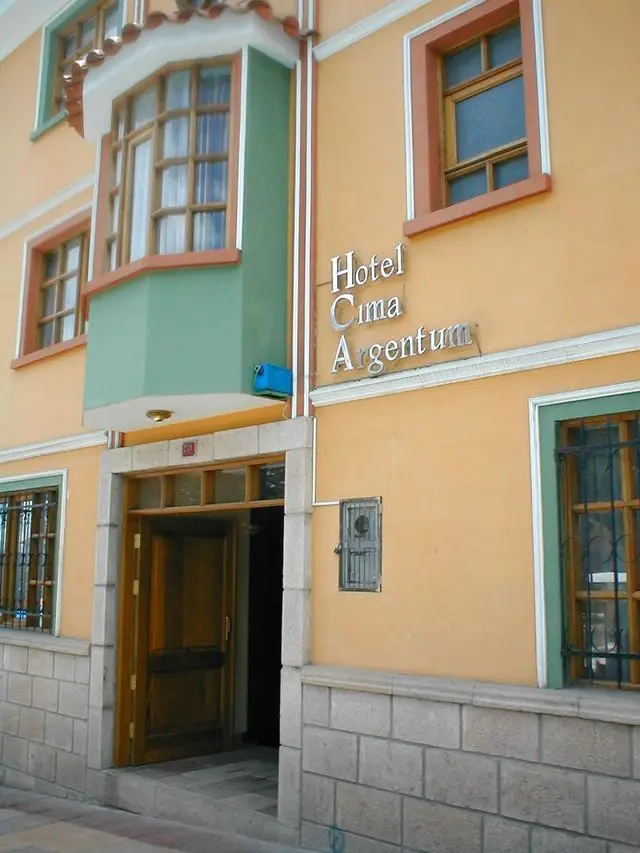 The name of the Cima Argentum hotel pays tribute to the city's silver mining tradition, as its name translates from Latin as something like "silver peak". It is a pleasant looking place with a colonial exterior and some fairly large rooms.
Free breakfast is included here, while those tourists are brave enough to drive up to 4,000 metres of altitude can also park for free. It is a modern hotel with good facilities including a restaurant.
It is worth remembering that it gets very cold at night in Potosi and that not every Potosi hotel has heating in the rooms. Thankfully, there is heating in the Cima Argentum, which is a big help all year round.
This is a friendly and pleasant hotel with reasonable prices. It is a little bit further from the main plaza than some of the options here but it is still a decent location.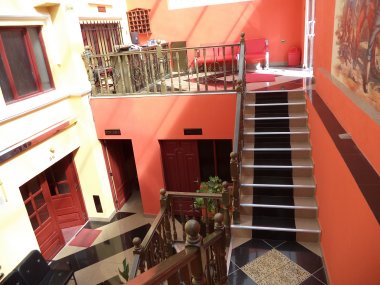 It is still fairly unusual to find an aparthotel in Bolivia. In the case of the Apart Hotel Turquesa, it comes complete with a fridge, cooking facilities and a television.
A substantial breakfast is included and there is also free Wi-Fi. The rooms are clean and it feels like a friendly and welcoming place to stay.
The facilities make this a good choice of Potosi hotel for a family or other group of travellers. However, the main drawback is that it is pretty far from the centre of the city.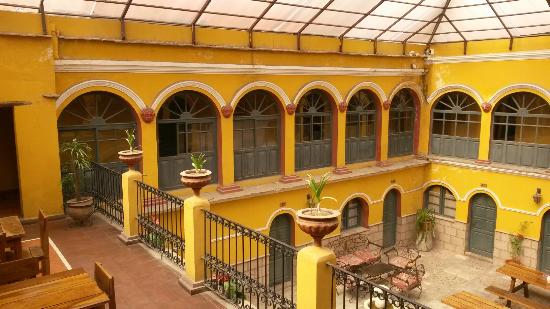 This delightful colonial building is right next to the main plaza, which is called the Plaza 10 de Noviembre. It has a nice courtyard and the building looks very impressive from the outside.
Inside the rooms, things aren't of quite as high a standard, though. The rooms aren't all that great and some travellers have complained about the cleanliness in their rooms.
Some of the rooms are private, while there are also cheaper dorms available too. They are all decorated in a fairly basic way and give the impression of not being looked after all that well .
Despite the pretty look of the building from the outside, this is definitely a budget choice aimed at backpackers and other budget-conscious visitors. To be fair, the same applies to many of the hotels here.
The excellent location and the low price are the big factors that could sway you towards staying here. It won't be the best hotel you ever stay in but it will give you a convenient base from which to explore this city.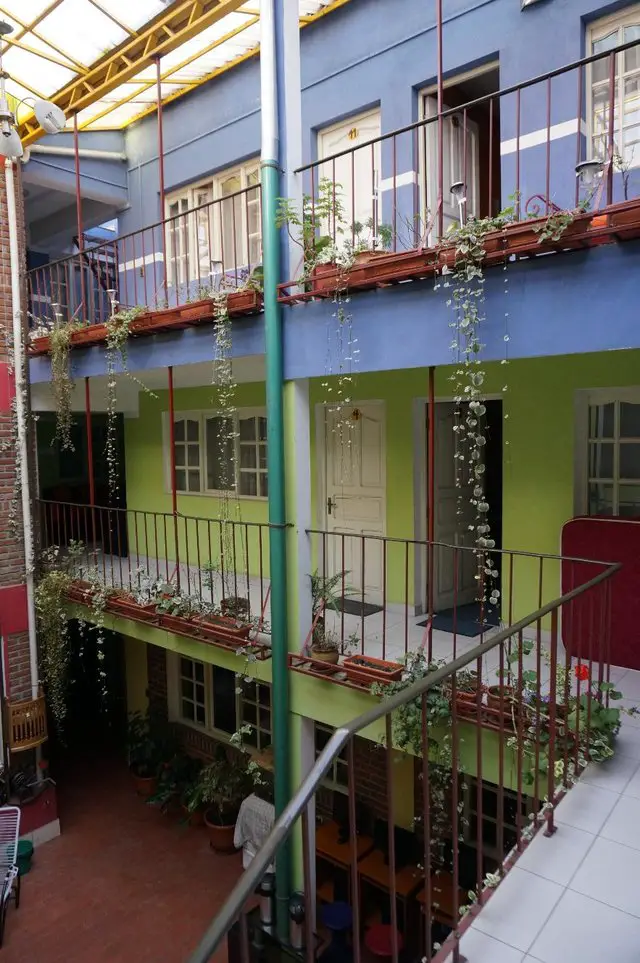 Another good option with clean rooms and heating is the Eucalyptus Hostal. It is a budget option but the quality is a bit above the typical low cost hotel in this part of the world.
The rooms are brightly decorated and the all-important heating makes it far more comfortable than some of the rival hotels in the same price range. The showers also come recommended, with the sort of steady flow of hot water that can't always be taken for granted in budget hotels in Bolivia.
Breakfast is good and there is also an excellent view of the city from the roof terrace. You can also organise your trip out to the mines directly from the hotel if you like.
In terms of the location, the Eucalyptus Hostal is nicely situated a short distance from all of the main attractions.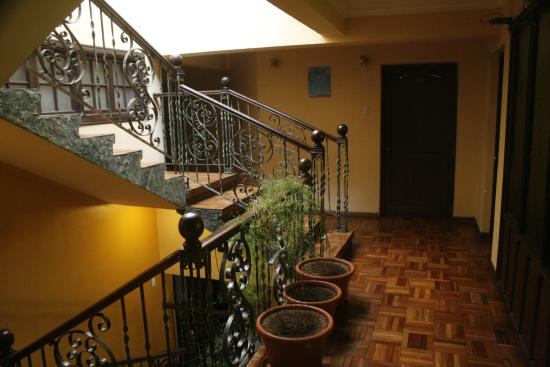 If you want to spend a bit more on your hotel in Potosi then the Santa Teresa is one of the best options. It sits next to the convent of the same name and is close to all of the most interesting attractions in this fascinating city.
Some of the rooms offer spectacular views of the Cerro Rico hill, while Wi-Fi and cable TV are available. The regional food in the hotel's restaurant is recommended, although there are some signs of neglect in the hotel that you perhaps wouldn't expect for this price.
For a central location and a more luxurious stay this is a good choice. The relatively high cost of a room here is probably justified if you want an extra degree of comfort.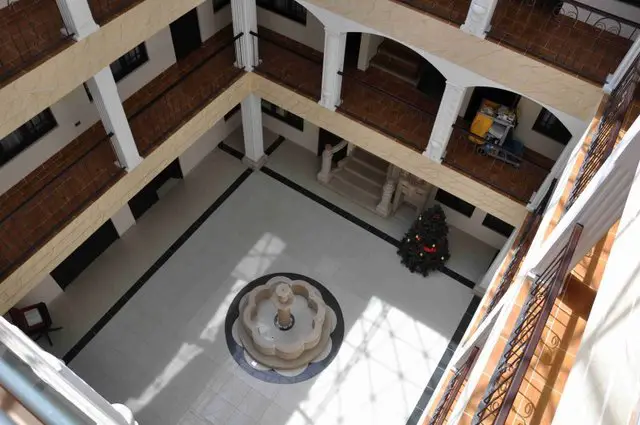 Another alternative for staying within easy walking distance of the plaza, the Hostal Patrimonio offers a peaceful place to stay while visiting this remarkable, historic Bolivian city.
It is located in a Spanish colonial building with iron balconies and with a sunny courtyard. The rooms are well laid out, with modern TVs and minibars.
A good breakfast is also served in a pleasant, relaxing setting here. This Potosi hotel also has suites, which have living rooms and whirlpool tubs added.
All in all, this is a very attractive hotel with a lot of nice features and a fine location. The price might be too steep for budget travellers but others will love the comfort it provides.
Another very centrally located hotel in Potosi is the clean and welcoming Hotel Gran Libertador. It is a modest and friendly accommodation option with decent breakfast and spacious rooms.
The suites have extra space and cooking facilities in them. Some tourists have complained about a lack of friendliness in the staff, while others have reported no issues in this respect.
As with many of the best Potosi hotels, the key is in the location. The Hotel Gran Libertador is just a short distance from the attractions that are likely to interest you, as well as the most tourist-friendly restaurants.
It isn't the cheapest option in the city but it does offer a very pleasant place to pass a night or two in Potosi.
Another budget option worth considering is the Hotel el Turista. It is set in an atmospheric old building that is nice and warm inside due to the central heating.
Hot water throughout the day and a decent breakfast are among the facts that many guests in this hotel rate most highly. It isn't a luxurious place to stay but for the low price it is a hotel that is worth checking out.
The main plaza and cathedral are just a couple of blocks away. Arranging a trip to the mines at Cerro Rico is also easy, as you are close to a number of different travel agencies here.
This is a Potosi hotel that could suit a range of visitors, from backpackers on a fairly tight building to those tourists who want to find good value for money in their accommodation.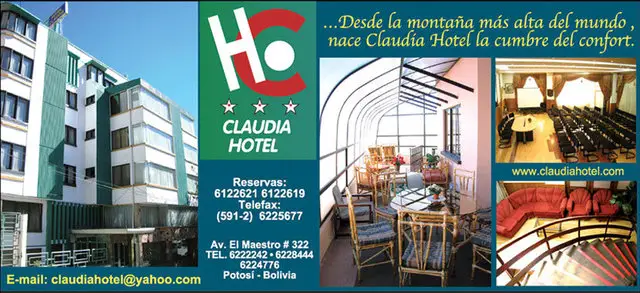 The clean and comfortable Hotel Claudia has the reputation of being one of the best in the city. It certainly makes a good impression to visitors, with a smart reception area and good-looking rooms.
As with many of the top hotels in Potosi, this one is located very close to the main attractions in this unforgettable high altitude city. You can expect to get free Wi-Fi and a warm room in here.
This is among the classiest hotels in the city, so you can expect to pay a bit more than in many other Potosi hotels. The generally low prices in Bolivia means that a night here could be a welcome treat that doesn't break your budget.
Being Prepared for Your Potosi Hotel Choice
As we can see, there are a number of different hotels to choose from in Potosi. Many of them are simliarly placed and are located pretty close together.
The compact size of the centre of Potosi makes it look on a map as though it would be an easy take to walk around and pick the hotel that best suits you. After all, this isn't a sprawling city like London or Bangkok, although it used to be one of the world's biggest cities.
However, there are a couple of good reasons for being better prepared than this.
For a start, many of these Potosi hotels are very small and during the busiest times of the year it can be difficult to find an empty room anywhere. I can remember spending around an hour trudging around the streets here trying to find a decent room that was available at a reasonable price.
The other point to bear in mind is that the high altitude can take its toll on new arrivals. If you are coming from somewhere as high as La Paz or Sucre this place is even higher and can lead to a very nasty dose of altitude sickness.
If you are travelling directly from a low altitude place like Santa Cruz in Bolivia or Buenos Aires in Argentina then the effect will be even worse.
If you get off the bus feeling woozy or nauseous then the last thing you want is to have to wander around all the different hotels asking about prices and availablility. In this sort of situation, you will be delighted if you have a warm and clean room already booked and waiting for you.
Please follow and like us: