Once you find the perfect Belfast accommodation you can plan a memorable stay in a city that is like no other. The following hotels will help this city to find its way to a special place in your heart and stay there forever.
To be fair, the capital of Northern Ireland isn't likely to be the prettiest city that you ever set foot in. It could be said that it has a kind of rough and ready feel to parts of it that bears witness to its industrial past.
The Reasons for Looking for Belfast Accommodation
However, it is the warm, welcoming nature of the people and the beauty of the surrounding landscape that makes this a city well worth visiting. This is a place where you can laugh with the locals in a pub and then get out to explore natural wonders such as the Giant's Causeway and the imposing Mourne Mountains.
The friendly nature of the locals is something that you will see everywhere you go when you are here. From the hotel staff to shop assistants and people who speak to you on the street, a smile is never far away.
Belfast is a city that has seen a lot of history pass through it over the centuries. From its days as arguably the second most important city of the British Empire to the troubled days of the 70s and the 80s and from the building of the Titanic to the present economic good times, Belfast has seen it all.
Finding the right Belfast accommodation isn't too difficult to do, as it is a reasonably small city with a number of really good hotels in it. At least one of the following hotels is likely to be ideal for most visitors.
The classy Europa Hotel is a 4 star establishment that is found on Great Victoria Street. Its central location means that it is right next door to the Grand Opera House and very close to the wonderfully atmospheric Crown Liquor Saloon, where a few laughs and drinks are always waiting for curious tourists.
This famous hotel has been the temporary home to many celebrities when visiting Belfast in the past. Price-wise it is surprisingly good value, with a classic double room currently coming in at about $150 for each night.
The facilities here include a modern bistro, meeting rooms and free Wi-Fi. The rooms each have iPod docks, tea and coffee makers, beautiful Ralph Lauren fabrics and a great deal of style.
A look through some online reviews reveals some differing opinions on the quality that the Europa offers, although it is generally very highly rated. The big rooms and cleanliness are some of the main factors for many of the happy guests who enjoyed their stay here.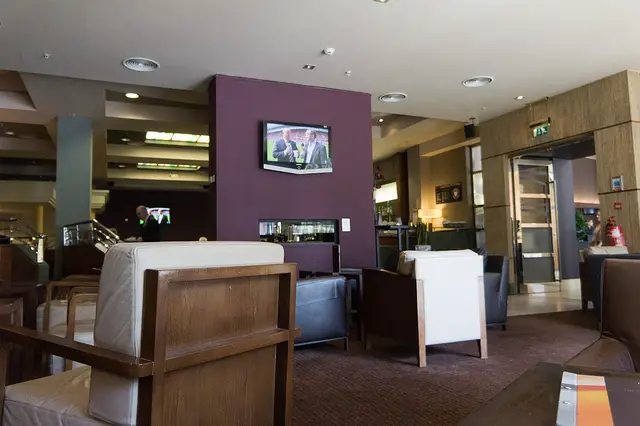 For a classy stay in a pleasant hotel you don't need to look much further than the Hilton in Belfast. This centrally located Belfast accommodation puts you in the ideal spot to explore big attractions such as City Hall, Waterfront Hall and the famous St George's Market.
The standard price for a night in a standard room here is around $180, although at the time of writing special deals can bring this down to $130. Bigger and more luxurious rooms are also available at higher prices.
The hotel sits beside the River Lagan and offers nice views of the city and waterfront from its higher floors. The facilities in this 198 room hotel include a fitness centre, business centre, bar and restaurant.
The location of the Hilton makes it ideal for arriving or leaving from the nearby train station. Dublin is a popular choice of day-trip destination for seeing the Book of Kells that started life in Iona to tasting some Guinness and doing shopping, although there is also a limited rail network in Northern Ireland itself.
This is also a great spot if you plan on visiting the popular Belfast Farmer's Market that is held very close to the Hilton and that is definitely well worth a visit if you have some time to spare.
The friendly staff and fantastic location are rated as some of the most important good points here in online reviews. Some of the negative reviews mention uncomfortable beds but not everyone seems to have suffered in this respect.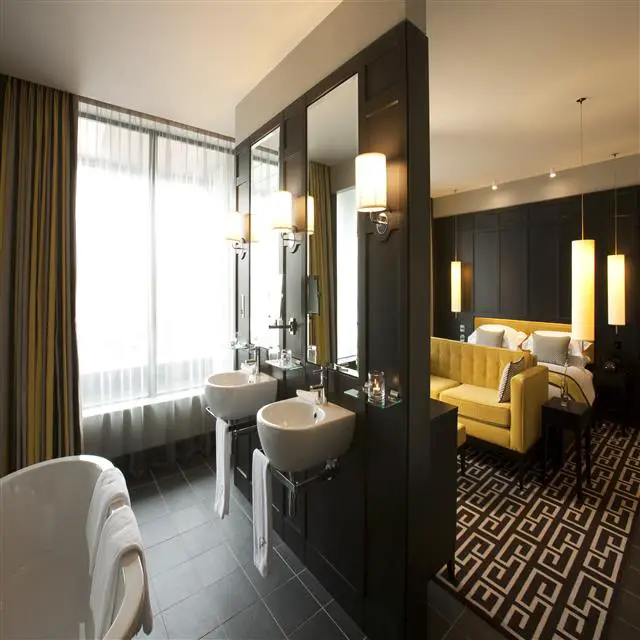 This welcoming hotel sits on Great Victoria Street, meaning that it is perfectly placed for a short stroll across to see City Hall, the Grand Opera House or Ulster Hall. The list of features and services is as long as you would expect from a good 4 star hotel in a major city.
As well as a restaurant and bar, there is a 24 hour fitness centre, free Wi-Fi and a business centre here. All of the 130 rooms all have cable TV, iPod docks and minibars in them.
In terms of this cost, this isn't the cheapest Belfast accommodation but it isn't the most expensive either. You can get a nice double room for under $140 at the time of writing.
The guest reviews thay can be found online tell us of a friendly and welcoming hotel with clean rooms. A hassle-free stay in Belfast can be enjoyed with this hotel as a base at a very reasonable price.
For around $150 you can get a club double room in the stylish Malmaison Belfast accommodation. This is a comfortable 4 star hotel in an atmospheric building close to the historic centre of the city.
As with many of the best hotels in Belfast, you are just a short walk from the big attractions here. For example, the fascinating Titanic Museum and other waterfront sights are very close to hand.
The hotel is as pleasant and has as many useful facilities as you would expect for the price and star rating. A restaurant, a fitness centre and a bar are among the features that could make your stay in Northern Ireland that bit better in this hotel.
Those visitors who travel to Northern Ireland for a driving holiday tend to dream of driving along the spectacular Antrim Coast Road. This route is also known as the A2 and it runs through Belfast city centre, so it is possible to stay in this hotel before setting out for the first day of driving.
The internet reviews that people have left are generally very positive about this hotel in Belfast. Helpful staff and comfortable, spacious rooms are among the most positive factors that previous guests have comomented about online.
This is a 170 room spa hotel that is centrally located in the middle of this bustling yet peaceful capital city. It is right next to Ormeau Baths Gallery and Ulster Hall.
There is a full range of spa services in this quality Belfast accommodation. Free Wi-Fi, flat screen TVs, minibars, deep tubs and coffee bars are all included for guests to enjoy.
A double room here costs some $100 or so, making it one of the better value options among central Belfast's most popular hotels. Executive rooms and queen size beds are available for a slight supplement.
As is common with Belfast hotels, the extremely warm and friendly service is highly spoken of in many online reviews. The hotel's excellent location is another point that many people who have stayed here were delighted with.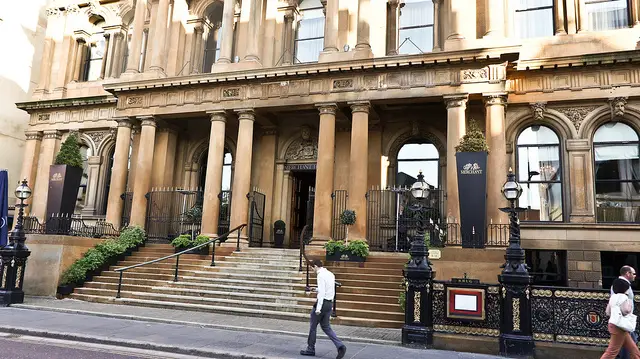 While many of the best Belfast hotels are located very centrally, this one is in the Cathedral Quarter. Having said that, the compact nature of Belfast city centre means that it isn't too far away from City Hall and other central sights anyway.
This is a great location for exploring St Anne's Cathedral and the Albert Memorial Clock Tower. The hotel has 3 restaurants, a full spa service, a health club, a bar and a nightclub on the premises.
There are 62 rooms and a deluxe double or twin will cost you around $250 per night. Beds have memory foam mattresses, Egyptian cotton sheets and a pillow menu.
In terms of what previous guests have to say, the relaxing nature of this hotel and the quality of the rooms are highly spoken of. This is a fairly expensive place to stay in this city but if you want high quality Belfast accommodation then it is definitely a sound choice.
An interesting option for staying out of the central district is Malone Lodge, in the Queen's University area. This is a very stylish Belfast accommodation choice in a fine part of the city.
Close to the hotel are Queen's University, Ulster Museum and the beautiful Belfast Botanic Gardens. It has 111 rooms with free Wi-Fi and other useful facilities.
The hotel has a couple of restaurants and a bar in it. A classic double or twin room costs from around $100 per night, with the option of suites, executive rooms and apartments also.
The Malone Lodge is highly recommended in a number of online reviews from recent stays. The good value aspect  and the fact that it offers a highly relaxing base in Belfast are among the top points mentioned.
For a bargain stay in Northern Ireland the Parador inn is well worth a look. For some $50 per night you can book a standard twin or double room here.
It is in the Newtownbreda district of the capital city, which means that it is extremely handy for Belfast Botanic Gardens, Ulster Museum and the Lyric Theatre. This Belfast accommodation only accepts adult guests and it has a restaurant and bar in it.
The rooms are all modern and well-equipped. Expect to get a flat screen TV with cable, free Wi-Fi and all of the nice little touches that make you feel at home when staying in a hotel.
The budget aspect of this Belfast accommodation means that many guests presumably approach it fearing a sub-standard experience. However, the good news is that the existing internet reviews tell us that it is actually a stylish and welcoming place to stay.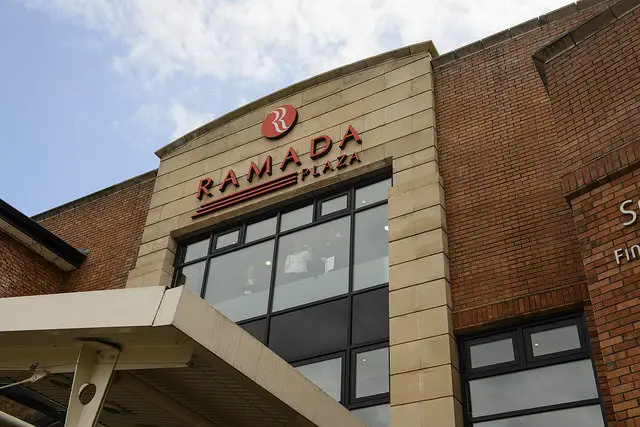 The stand-out feature of the Ramada Plaza is that it is situated inside the lovely Lagan Valley Regional Park. It is a quality hotel in a fine natural setting that makes it a great place to head back to after a busy day of working or sight-seeing.
Close to the hotel are interesting attractions like Balmoral Golf Club, Malone House and Castle Ward. If you want a quieter and greener spot than the city centre then this is a great choice that will let you relax in a great setting.
A standard room with a king size bed costs around $90 per night. There are 120 rooms here, with 3 restaurants, an indoor pool and a health club.
Those people who have stayed here in the recent past have generally left very positive reviews. The idyllic location of this hotel in Belfast is something that is particularly highly spoken of by many of them.
The Best of the Best with Belfast Accommodation!
If you want to see a city that is of a manageable size and filled with friendly smiles then arranging a trip to Belfast is a great choice. Find the right Belfast accommodation and you will feel right at home as soon as you get here.
Please follow and like us: