Finding the right Iona accommodation can lead to an unforgettable stay on this small but magical Scottish island. This is where Scottish kings are buried, where Christianity spread out to Western Europe from and where I enjoyed a couple of amazing days.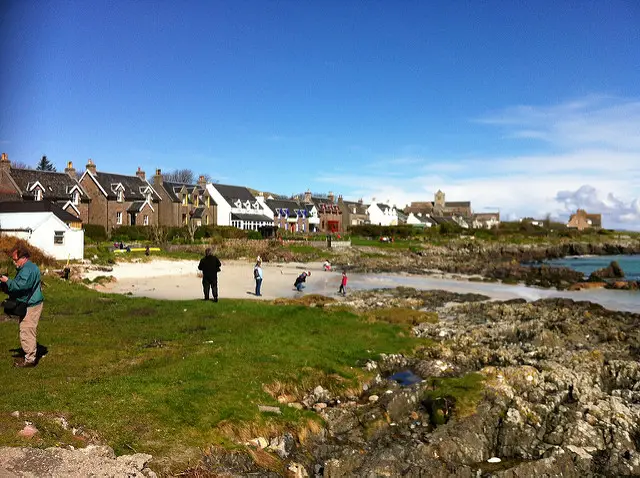 In fact, you can spend a couple of the most relaxing days of your life here, which is exactly what I did. This is a beautiful island and it means so much to me that I am sure that I will be back before too long.
The Place
The first thing you will notice about the isle of Iona is that it is tiny. I don't mean small; I mean really, really tiny.
It is located in the Inner Hebrides, off the west coast of Scotland, and it has fewer than 200 full time residents in an area that covers just 3.4 square miles. It is a bit of a shock to arrive here from a big city like london or even Edinburgh.
What on Earth could attract you to spend time on a fairly remote island that is smaller than some airports? Well, there is the fact that this is a hugely spiritual place which played a massive role in the development of religion throughout this part of Europe.
The interesting part of the history of Iona really starts with the construction of a monastery. This was supposedly built in the year 563 by the historically important monk Columba, who had travelled here in exile from Ireland.
It quickly became one of Europe's great centres of learning and culture. Among the many important documents written here it is believed that the famous Book of Kells may well have started life in Iona.
These days, the main building on the island is the iconic Iona Abbey. This is a wonderful structure that is one of the oldest and most important religious buildings in Europe.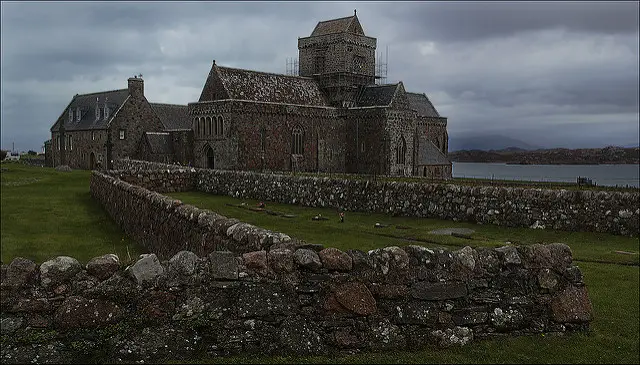 The graveyard of the Abbey is also said to contain the tombs of numerous Scottish kings, as well as those of ancient kings from further afield. Not all modern day experts agree on this point but that doesn't take anything away from the very special feel of the Abbey and its graveyard.
All of this fascinating history means that Iona is regarded as one of the most important pilgrimage sites in the word. Personally, I travelled in the quiet season before my trip to Buenos Aires and the rest of South America and didn't meet many pilgrims here, or many other people for that matter.
At the busiest times of year Iona gets very crowded with visitors and pilgrims. Iona accommodation is also more difficult to find at this time of year, so I would certainly suggest going outside the peak summer months if you can.
I didn't know much about the religious history of the isle of Iona before getting here. However, I must admit that I felt a strong spiritual power as soon as I set foot on the island.
Getting There
Getting to this small island isn't particularly easy but it is definitely worth the effort. If you are in one of the main Scottish cities of Glasgow or Edinburgh then you can get the train or bus to the mainland town of Oban.
This is a quaint little place with a type of interesting folly on the hill (McCaig's Tower), lots of whisky to be sampled and numerous ferries leaving from the port heading to the islands.
There is a strong Gaelic culture in this town and it is worth spending a couple of days in if you have the time.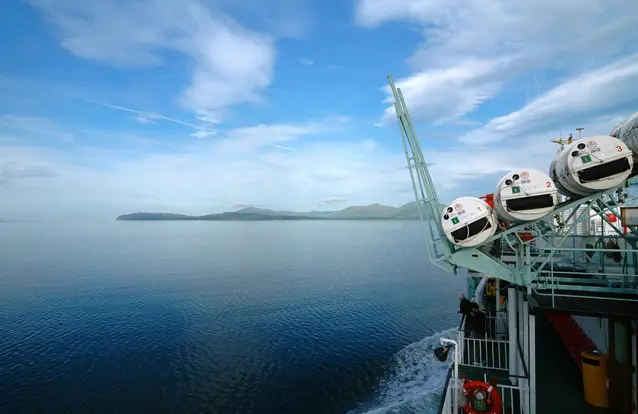 After this, you need to get the ferry across to Craignure, on the picturesque island of Mull. You then hop on a bus round to Fionnphort on the opposite side of Mull,
At this point, you are nearly there. Iona is finally just a 10 minute ferry trip away. For me, it was a glorious feeling to see this small but historically significant island start to loom into view as we crossed the stretch of water that separates it from Mull.
Iona Accommodation
Once you get here safely you will probably start to feel the magic of the place right away, just like I did. This is a welcoming island where the slow pace of life and friendliness will trap you immediately.
However, the only real problem you face here is that of the sparseness of Iona accommodation options. You see, as it is such a small place there are relatively few places for you to rest your weary head at night.
This means that it definitely pays to book your Iona accommodation in advance if you can. This is especially true when you consider that most people travel here without a car to get around in (you need a special permit to drive on the island).
St Columba Hotel, Iona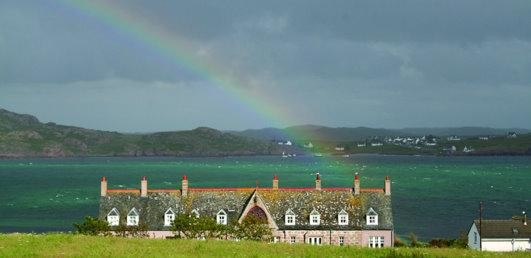 In terms of location, it is hard to beat the popular St Columba Hotel. It is ideally located close to the Abbey and a mile and a half from the ferry terminal, with gorgeous open views of the sea that surrounds Iona.
Probably the best aspect of this Iona accommodation is the fact that breakfast is served in the restaurant, from which you have splendid views of the Sound of Iona. There is free Wi-Fi here but there are no televisions in the rooms, so it will suit you if you want to get out and about rather than watch TV.
The one real downside for some tourists is that this is one of the most expensive Iona accommodation options. Having said that, hotels in this part of the world tend to be fairly pricey anyway, so you should budget with this in mind.
Argyll Hotel, Iona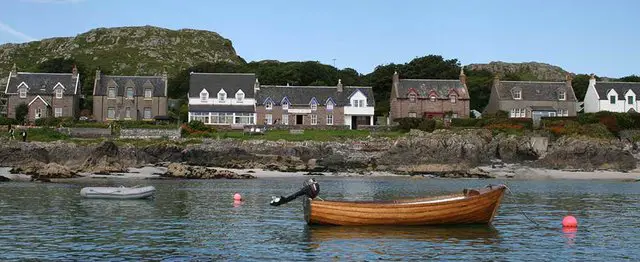 Another place well worth checking out is the Argyll Hotel. In this case, it is situated close to the ferry terminal, which leaves the magnificent Abbey just a short walk away.
This is a small, peaceful place to stay with a good restaurant and sun-room. As you would expect, there are also some lovely sea views on offer here.
The rooms are fairly small and basic, with the reasonable prices reflecting this fact.
Iona Hostel, Iona
This is where I stayed when I visited the island. To be honest, I had no idea that finding Iona accommodation here was possibly going to be a problem.
Thankfully, a couple of Australian backpackers on the ferry knew about this place and we all walked over together. It is located on the even more peaceful north side of the island, meaning that it is a reasonably long walk to get from the ferry to the hostel.
The views from here are incredible and there is a small beach near to the hotel as well. This is the perfect spot for a quiet, contemplative stay in Iona that doesn't break the bank
It also gives you the chance of seeing some roaming freely sheep on the nearby beach, just like I did. There is a small hill nearby that is the highest point on the island but don't expect to find something like the towering French Alps here in Iona.
Staying Elsewhere -Oban
Given the relative lack of Iona accommodation options, it could make sense to stay elsewhere. For example, Oban is probably a decent base for a day trip to the island, with organised tours usually giving you a couple of hours on Iona.
Personally, I would recommend trying to spend at least one night and one full day on the isle of Iona if you possibly can. However, if time is too tight for this or you can't find a hotel in Iona then Oban is a nice place to spend time too.
This is a good-looking hotel that overlooks the scenic Oban Bay. It is round the opposite side of the bay from the train station and ferry terminal, but as this is a small town the distance isn't huge.
Oban Bay Hotel offer spa facilities such as a sauna, a steam room and an outdoor hot tub. It also has a seafood restaurant, a bar and well equipped rooms.
This is one of the more expensive hotels in Oban, making it somewhere to stay if you want to splash out a little bit more on a memorable stay in a quality hotel.
Royal Hotel, Oban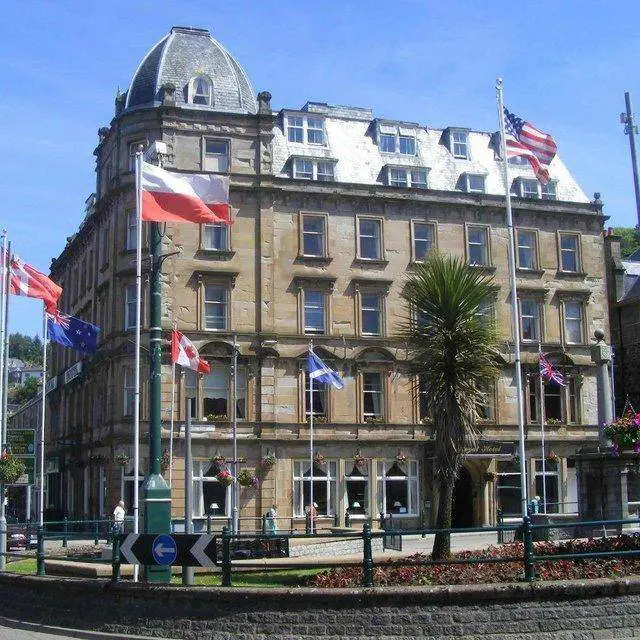 This elegant, historic hotel is situated close to Oban railway station and the ferry terminal, making it ideal for anyone looking for a quick and easy trip to Iona. The rooms are comfortable if somewhat basic.
The Royal Hotel has a nice restaurant where breakfast is served daily. There is also a bar and lounge, together with Wi-Fi in the public areas.
It is a charming place to stay, with the friendly staff probably the stand-out point. Oban deserves at least a day of your time and this is a fine base from which to explore it easily before moving on.
The Kelvin Hotel, Oban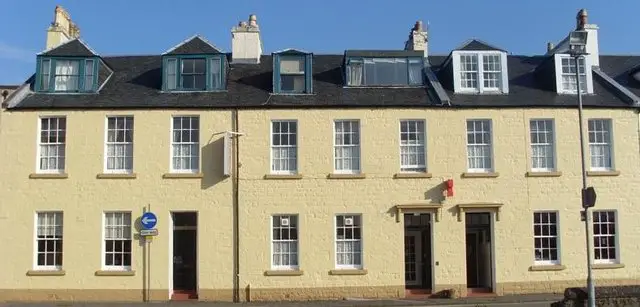 This is a simple, relaxed hotel for guests who want a pleasant stay in the pretty town of Oban. It overlooks Oban Bay and is a few minutes walk from both the train station and ferry terminal.
You won't find anything outstanding in this hotel but it is a decent place to stay if you can't get booked into Iona accommodation or just want to make a day visit there. Full breakfast is included and there is a bar where you can sample some of the local whisky to round off a great day.
The Kelvin Hotel in Oban is a reasonably priced alternative for a short stay in the town without any luxuries.
Altavona Guest House. Oban
Situated slightly further away from the ferry stop than the other hotels we have looked at, the Altavona Guest House has a lovely view of Oban Bay.
The building is impressive and the interior of the rooms are imaginatively decorated. This is described as an upscale guesthouse and it certainly offers a pleasant place to pass a day or two in this charming town.
Altavona is a good option for someone looking for a bit more comfort, together with stunning views of Oban Bay. There is even a tartan carpet on the staircase to make you really feel the Scottish atmosphere.
Staying Elsewhere –Mull
If you can't get any Iona accommodation then another option is to stay on the Isle of Mull. This is a fantastic island that is well deserving of a visit in its own right.
The ferry to Iona leaves from Fionnphort on Mull but the small size of this place means that you are best looking for a hotel somewhere a bit bigger and with more attractions. A good example is Craignure, which is where you will arrive to when you take the ferry across from Oban.
Isle of Mull Hotel & Spa, Mull
This quality hotel overlooks Craignure Bay, which makes it handy for getting to the hotel quickly when arriving by ferry. It a good option for arriving easily and then heading on to Iona whenever it suits you and without any fuss.
The stand-out feature here is probably the pool. This is a great addition to the hotel, although it can get busy due to the fact that it is free for locals to use too.
Overall, this is a recommended hotel for a comfortable stay in this very special part of the world. You might very well end up tempted to spend longer in Mull than you had planned for once you get settled in here.
Craignure Inn, Mull
Another excellent accommodation option near the ferry terminal in Mull is the Craignure Inn. This is just a couple of hundred metres from where the ferry from Oban arrives, making it an easy stop on the road to Iona for a day trip.
The amazing sea view here is among the highlights. The hotel only has 3 rooms, which are all excellently decorated and equipped.
This is the kind of quaint, pretty hotel that you will want to stay longer in. For a one-night stay on the route to the Isle of Iona it is a very good alternative as well.
Mishnish Hotel, Mull
In this case, the hotel is located in the achingly pretty town of Tobermory, which is peaceful but also has a nice museum in it. This is a beautiful spot where the brightly coloured houses give it a warm and vibrant atmosphere.
The hotel is small, with only 8 rooms in it. They are each well decorated and offer a very pleasant place to spend a relaxing night in a unique setting.
The location of this hotel means that it probably isn't the most convenient place to spend a night on the way from Oban to Iona by public transport. However, if you are driving then it is definitely a more high class option well worth bearing in mind.
If you are going to travel to Iona then I can't stress strongly enough that it really is worth spending at least a night here. I passed two nights on this magical island and I would have stayed longer if I could have.
Iona Accommodation that is Perfect for You!
Where else in the world can you enjoy a deeply spiritual or religious feel and eat hearty local food in a friendly hotel before saying hello to the sheep on the beach? You won't regret giving this island a visit.
Please follow and like us: