A good Tarija hotel in Bolivia will give you a fantastic base from which to explore an under-rated city that is most well known for the warmth of its inhabitants and the strength of its traditions.
Many people either miss out on this town altogether or else just pay it a fleeting visit on their way to or from the Argentine border. However, there is a lot here to make a longer stay worthwhile.
Why Stay in a Tarija Hotel?
The locals are known as Chapacos and it is common for travellers to make friends with them very easily. This is a great move as it gives you a chance to sample the local culture by going to the countryside or enjoying a communal barbecue and a bottle or two of tasty local wine.
Tarija is a pretty and spotlessly clean colonial city that is nice to walk around but that doesn't have any particularly outstanding features. Having said that, the Casa Dorada is an interesting colonial mansion painted in gold and there are some pretty churches here too.
Perhaps this region is now most famous for having arguably the highest altitude vineyards on the planet. Some parts of Argentina also lay claim to this title but the 2000 metre high vineries here are well worth a visit.
Organised bus tours go round the different wineries on a day trip that is a highlight for many tourists here. As for the Tarija hotel choices, there are a few good ones to pick from.
Probably the most luxurious accommodation in the South of Bolivia comes in the form of the stylish Los Parrales. This Tarija hotel will cost you from around $120 per night, which is quite a lot of money for a hotel room in this country.
Everything about this hotel is top quality, from the spacious rooms to the swimming pool, the spa and the restaurant. It is rated as 3 stars online but the service and the facilities can't be faulted.
There is also a nice view of the city and river from here which you don't really get from other hotels in Tarija. Additionally, it is a popular spots for classy events such as weddings, fashion shows and food tasting fairs.
The only possible downside for some visitors here is that this hotel complex isn't particularly central in Tarija. It isn't a big city but you will need to rely on taxis to get around if you aren't driving your own car.
In terms of current online reviews, it is clear that many visitors to Tarija loved their stay in Los Parrales. The customer service gets some mixed reviews but the view and relaxing nature of the place are both highly rated.
Another popular Tarija hotel option is the good-looking Los Ceibos. In this case, it is fairly centrally located while also offering a great range of services to keep travellers occupied and entertained.
There is a decent swimming pool, gym and restaurant on site. The rooms are spacious and well-equipped, while the hotel comes with a good level of service too.
The good weather in this part of Bolivia means that it is a place for spending time outdoors soaking up some sun and trying out the local street food at the nearby bridge. Saice, picante de pollo and sopa de mani are some of the classic local meals worth giving a try in this little food stalls area close to Los Ceibos.
Some recent online reviews suggest that the standards have slipped here in this hotel recently but it remains one of the most charming places to stay in this part of South America.
The online guest reviews suggest that most people have had a good time here, with the customer service and location most highly praised. It isn't a luxurious as Los Parrales but it is a nicer hotel than a lot of visitors to Tarija expect to find.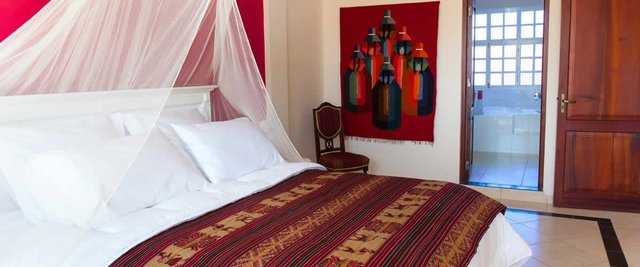 An interesting option for a boutique experience in a Tarija hotel is the Altiplano hotel. It is located in the Villa Fatima neighbourhood, which is a little distance away from the main action in the centre of the city.
This is a hotel where a lot of attention has been paid to all of the details. The rooms are beautifully decorated and the level of service is also generally excellent too.
Other good points about this place are the big rooftop terrace, the free breakfast and the travel agency services that they provide to guests. A night here in a big room with a queen sized bed costs some $75.
When arranging a trip from here or any other Tarija hotel it is worth bearing the small. historic town of San Lorenzo in mind. This is where locals come to eat street food at the market and to check out the small museum dedicated to local hero Moto Mendez.
These previous guests who have left internet reviews are generally very enthusiastic about the quality of this Tarija hotel.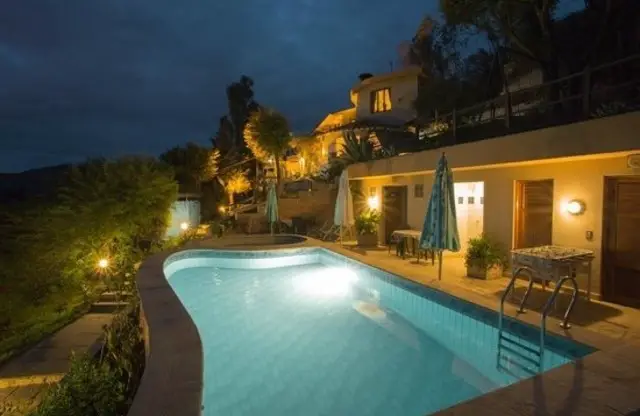 This attractive hotel is one of the few options for staying in a comfortable place away from the city itself. La Pasarela is located in Coimata, which is a lovely village with a waterfall and swimming areas nearby.
The services here include a pool, a restaurant, a play area and bicycle hire. The restaurant offers authentic French cuisine courtesy of the Belgian owner.
Each of the 8 rooms is individually decorated to a high standard and offers a relaxing place to stay in a rural setting.
The price for a night in this relaxing hotel is usually around $90. Getting in to Tarija without your own transport from here isn't especially easy but it is a great spot for staying in some beautiful countryside.
Hiring a bicycle and exploring the surrounding area in that way is especially recommended. The waterfalls in Coimata get very busy at the weekends but are typically quiet during the rest of the week.
The existing internet reviews for La Pasarela speak of a friendly and welcoming hotel where people are happy to come back time and time again to enjoy some peace and a bit of luxury.
This pretty boutique hotel has just 16 rooms in it, each of them wonderfully decorated. It is reasonably centrally located, with the main plaza just a short walk away.
The wine theme can be seen in a number of different aspects of this Tarija hotel as well as in the wine shop and wine tasting sessions. The rooms come with free Wi-Fi, cable TV, minibars and coffee machines.
Prices here start here at $80 for a standard double room. Other options cover triple rooms, quadruple rooms, single rooms and rooms with 2 separate sleeping areas.
Existing reviews for this fairly new hotel are somewhat mixed, although it will be easier to gauge opinion on it once there are more reviews to read through.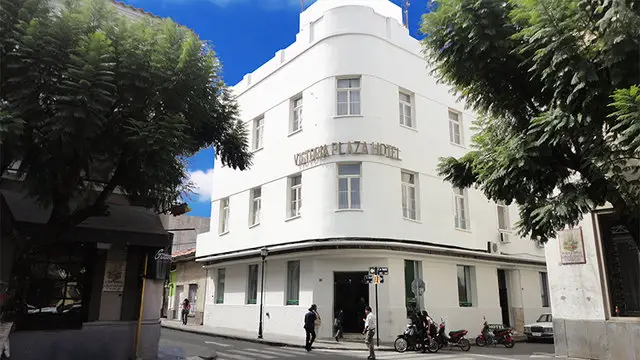 The stylish Hotel Victoria Plaza hotel has a tremendous location right on the corner of the main plaza. This is a great place to find the best restaurants in town and where lots of locals pass some time chatting and soaking up some sun.
The price for a night in a standard double room in this Tarija hotel is generally about $50 with a triple room also available. The rooms are all decorated to a high standard and the service is as good as you would expect in a top quality hotel.
The services available in the hotel include a restaurant, a bar, laundry service and a business centre. The central location and reasonable price make this a good choice for a comfortable stay in a part of the city where a lot of the action takes place.
The excellent location is one of the most frequently praised issues in the hotel's online reviews. It is also noted for being very clean and for having nicely soundproofed windows.
Another central hotel is the big Luz Palace. This is located directly opposite the central market and just a couple of blocks from the main plaza.
This is a spacious hotel that perhaps lacks the luxurious touches of some of the other best hotels in Tarija. It is a good choice for a nice if relatively basic place to stay in this friendly Bolivian city.
A double room costs around $50, with a single costing $30 and a triple $65 or so. This is a decent price room for such a well-located hotel.
Reviews are mixed, with some travellers suggesting that the best days of the Luz Palace are behind it. It is also worth mentioning that finding the entrance has proved to be troublesome for more than one previous guest.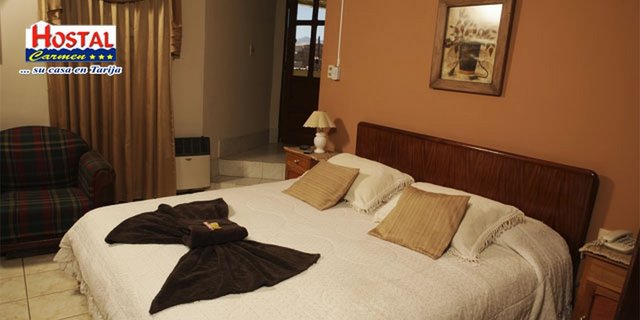 Another well-located Tarija hotel is the Hostal Carmen. This place is close to the cathedral and on the same street as the historic Casa Dorada.
There are 33 rooms in this hotel, each with cable TV and free Wi-Fi. They also offer tourism service and guided tours of the city as well as slightly further afield.
The small scale of the city means that getting out to the countryside is easy to do. Some of the towns and villages nearby that offer tourism possibilities include San Lorenzo, Tomatitas, El Valle and Padcaya.
In terms of the cost of a stay here, you will be looking at paying maybe $50 to $60 for a double or twin room each night. This cost includes breakfast, as it does in most of the best hotels in Tarija.
Guests who have stayed here before seem to be happy enough to have chosen Hostal Carmen over the other options in town. Good customer service and a friendly approach make this modest hotel a nice place to spend a night or two in Tarija.
The Hotel Martinez offers a different sort of location as it is on the commercial avenue that is called Avenida La Paz. This mean that it is very close to the bus terminal and a bit closer to the airport than many of the other hotels in Tarija.
This is a solid mid-priced option in this city that represents good value for money and a safwe base. There are a lot of cheaper hotels that don't offer the same quality and they are also several more expensive and luxurious Tarija hotels too.
For a price of around $60 you get a clean and comfortable room here. The location isn't the most touristy part of the city but it is an interesting and lively commercial district that also lets you fly in and out easily if you choose to fly to and from Tarija.
The outside of the hotel looks somewhat unusual but travellers report that it is a good deal more pleasant inside than initial impressions may suggest.
The majority of internet reviews mark this down as a good spot to spend a night while in transit in Tarija. Of course, this is a city that deserves a bit more of your time if you can spare an extra couple of days.
Hostal Costanera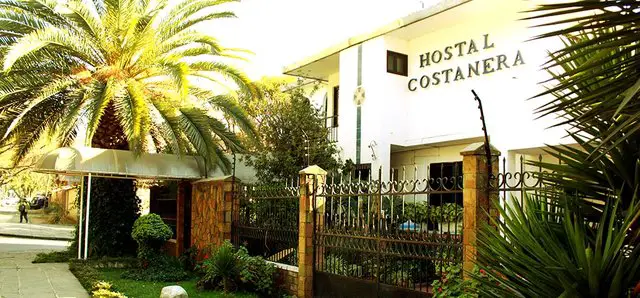 This lovely hotel sits on the main avenue of the city, close to the river and a few blocks from the main plaza in one direction and the bus station in the other. It is a relaxing hotel with nice views out across to the tree-lined avenue and beyond.
The cost of a night here in a standard double room is around $50. It is a fairly small hotel and it is probably safer to describe it as comfortable and homely rather than luxurious.
The rooms all have minibars and cable TV and they are of a decent size. The location on the pretty avenue is probably the main selling point in this case.
There aren't too many online reviews of the Costanera to help you form an opinion. However, among the few online reviews to be found the majority reflect an enjoyable and trouble-free stay in this Tarija hotel.
Just the Right Tarija Hotel!
By staying in a great Tarija hotel you can enjoy the incredible friendliness and welcoming nature of the people who live here. They really do seem genuinely pleased to have tourists visit their city.
Please follow and like us: