Finding the perfect Buenos Aires accommodation can turn any trip to this world class city into something even more memorable.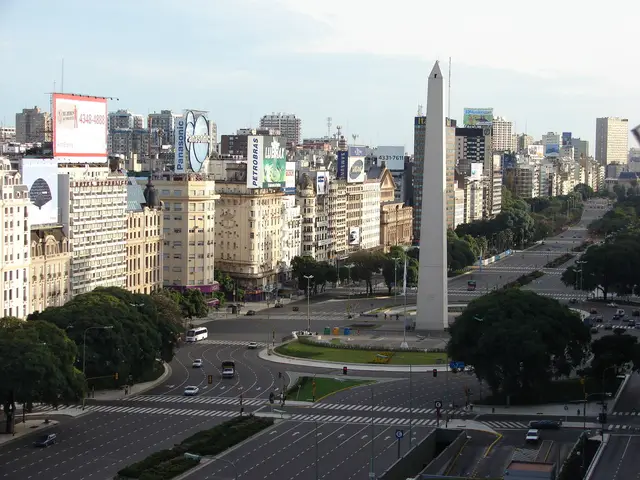 The wonderfully cosmopolitan and exciting city of Buenos Aires is the kind of place where you can enjoy some of the finest pleasures in life. For instance, this city vibrates to the glorious melodies of tango and the food is finer than anything I have tried just about anywhere else.
From the simple pleasures of walking through grassy parks and busy streets to the delights of fantastic restaurants, Buenos Aires has something for just about everyone. It is no wonder that this giant city is a magnet for pleasure-seeking visitors from all round the world.
With a great time pretty much guaranteed in Buenos Aires there just remains the issue of where you will sleep after a long day of tango, lots of coffee, dulce de leche and sight-seeing. With it being such a big city you won't be surprised to find that the selection of Buenos Aires accommodation options is wide and extremely varied too.
Deciding Where to Look for Buenos Aires Accommodation
When deciding where to stay in Buenos Aires there are a number of factors to be taken into account right away. For example, the location is vitally important here, as it is in every big city with attractions spread over a wide area.
The centre of the city has relatively few good quality hotels, to be fair. These are more typically found in up-scale neighbourhoods such as Palermo and Recoleta.
In the heart of the city it is more common to find fairly scruffy budget hotels and hostels. This means the first decision to be made is around whether to go the most convenient location or for a higher quality hotel further away.
There is a good public transport system here while taxis are everywhere and are cheap to travel in. This means that you might feel more comfortable staying further away from the centre than you could do in other cities of a similar size.
As this is such a massive and wildly popular city, there are also different types of Buenos Aires accommodation for every taste and budget. From luxurious and elegant hotels to trendy boutique hotels and budget hostels, this is a city that really does have something for everyone.
Of course, with it being so big finding the right hotel at the right price can take some time. If you go there with the idea of asking around then you could find that you spend a lot of time trying to find somewhere to stay.
A smart move is to start off by thinking about where to stay in Buenos Aires in terms of the location. Try to narrow it down to a specific neighbourhood that has a few different hotels that seem to meet your requirements if you can.
This lovely hotel is beautifully situated in Recoleta and offers a fantastic base from which to explore the charms and delights of Buenos Aires. It is a classically elegant hotel that fully lives up to its 5 star billing.
From the big, comfortable rooms to the interior gardens and quality cafeteria, this is the kind of hotel where everything looks and feels just perfect from the minute you walk in through the door.
As you can imagine, a stay in a hotel as good as this doesn't come cheaply. If you want to make this a stylish stay in Buenos Aires then splashing out the extra money for a few nights here is well worth it, though.
This fantastically designed hotel in Palermo is a great spot for enjoying a peaceful break in one of the finest parts of Buenos Aires. The Glu Hotel is also located next to some of the coolest designer clothes shops in the city.
The feel is of chic and cutting edge design throughout the building. Add in the thoughtful and friendly service and it is clear to see why this hotel has gained an enviable reputation as one of the best places to stay in the city.
It is a small hotel and the cost is pretty high when compared to some of the budget options spread across the Argentina capital. Bearing this in mind, it would probably be perfect for someone who wants a stylish stay in a hotel with a strong personal touch.
This romantic and welcoming hotel sits in the popular district of Palermo, making it a nice spot from which to explore everything that this world class city has to offer. There is a pool on the roof terrace up top and a tasty breakfast option to get the day started in style too.
The price here is very decent considering how high the quality is in every respect. It is a popular Buenos Aires accommodation option for couples looking for a completely relaxing break together but is also suitable for just about every other type of traveller as well.
The rooms are nice and big, with everything presented in a neat and impeccably clean manner.
This massive and beautifully presented hotel is clearly one of the very best places to consider when thinking about where to stay in Buenos Aires on a big budget. It is close to the busy Retiro bus station and is therefore ideally located for getting in and out of the city by public transport.
For example, if you are making the long bus journey down from Bolivia then this is a very welcoming place to start the next phase of your adventure in style.
This is a luxury hotel and all of the details help to emphasise the quality of the accommodation. Each room has a flat screen TV, free Wi-Fi, minibars and coffee machines.
The bathrooms are a particular highlight here, with lots of marble on show and whirpool tubs to enjoy. The bigger rooms also have extra living room space added to them, as well as a 24 hour butler service.
The building has 2 restaurants, a bar, a swimming pool and a number of health and fitness facilities.
The Four Seasons Hotel in Buenos Aires is the kind of place where you can enjoy a splendid trip if you don't mind spending some extra cash on your accommodation. The only problem could be that it is so good in your room that you think twice before heading out to visit the rest of the city.
If you want to add some colour and fun to your time in the Argentine capital then the lively Pop Hotel is a fantastic choice. This is a budget type of accommodation but the colourful, pop art styled rooms help make it seem anything but cheap and seedy.
Pop Hotel is prettily located in the Villa Crespo neighbourhood of the city. This means that it is quite far away from the centre of the city and the other main attractions that you are likely to want to explore.
The fact that there is a metro station reasonably close by means that getting around from your Buenos Aires accommodation isn't going to be too difficult. You can also walk just a couple of blocks to the local shops and restaurants whenever you want to.
The rooms are modern, with flat screen TVs. Free Wi-Fi and iPod docks all included as well.
Overall, it is a basic sort of hotel that has been cleverly decorated and themed to perhaps make it seem a bit more stylish and attractive that it would otherwise have been.
Alta Piazza
This stylish building offers a range of self-contained apartments. Alta Piazza sits next to the Museo Nacional de Bellas Artes and offers fairly easy access to the centre of Buenos Aires.
Its location in the lovely Recoleta district may be its finest point but the tasty breakfast and excellent service are other issues that satisfied travellers have been keen to point out.
The long list of guest facilities here includes a gym, Wi-Fi, pool and cooking facilities. It is the kind of place where it is easy to feel at home and plan a great stay in the city.
There are a few different levels of apartment in the building, with the penthouse being the most impressive. Just like Paris this is one of the planet's best cities for watching the world go by, so the great view is a big plus.
This probably isn't where to stay in Buenos Aires if you are on a tight budget. However, if you want to splash out a little bit extra for a truly memorable stay then it is a name to remember.
A small and charming hotel in the Palermo district, Miravida is an interesting place to stay when you are visiting Buenos Aires. This is a boutique hotel with an elegant style and some lovely touches.
A big attraction here is the well-stocked wine bar that is part of the hotel. The excellent service is also a plus point for tourists looking around at the best options in Buenos Aires.
There are just 6 rooms here, each of which is beautifully decorated. The breakfast is highly recommended too, as is the fine selection of wines from across Argentina.
This is a reasonably expensive Buenos Aires accommodation option that is ideal for an intimate couple's break or for someone who wants to enjoy a quality trip to this exciting city.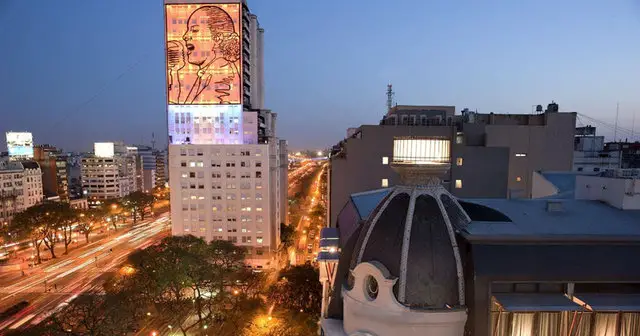 The fresh, modern style of the HTL 9 de Julio Bs As makes it a wonderfully unique and enchanting place to stay in this city. The rooms have been excellently designed in the style of loft apartments, with a bold use of colour and great taste.
As the name suggests, this Buenos Aires accommodation is centrally located on the iconic 9 de Julio Avenue, which is regarded as being the widest city street in the world. This is a brilliant location that leaves you just a short stroll from the Plaza de Mayo, the obelisco, the theatre district on Calle Corrientes and other top attractions.
This hotel has 4 stars to its name and offers all of the services and facilities that you would expect from a hotel of this category.
The price to stay here isn't exactly cheap but you could be surprised at the reasonably low cost of staying in a classy hotel right in the heart of one of the planet's best cities. It is typically a good deal cheaper than many of the most expensive hotels nearby.
For those tourists looking to enjoy the multiple charms of Buenos Aires on a budget, the Mantengase Hostel is one of the better options.
It is a simple sort of hotel that does the basics well; clean bathrooms, free Wi-Fi and a good level of attention. There is also a tourism desk here where you can find out more about the city and make a booking for a trip or event.
Perhaps best of all, this Buenos Aires accommodation sits in the trendy and culturally interesting San Telmo district. This means that just a short distance from your room you can find lots of tango culture and the world famous antiques market that is held here.
This is far from being the most stylish hotel in the Argentine capital but it does offer a tremendous location for a price that is hard to beat.
If what you want is a central location at a budget price then Argentina Tango hotel is likely to be perfect for you. This is a modest hotel that is very close to the Calle Florida shopping street and other central attractions.
The rooms are basic and the breakfast is passable. It is really the location that makes this option stand out.
For a bargain price you can visit all of the main sights in central Buenos Aires by foot. The downside is that the area immediately surrounding the hotel isn't all that great.
It is probably ideal for someone who wants to get out and about all day and doesn't really care too much about having luxuries in their hotel. If you want to spend your money on things other than your hotel room then it is one to be considered.
Finding the Right Buenos Aires Accommodation!
Choosing the right Buenos Aires accommodation is a vital part of making your stay here absolutely perfect. By taking some time to get it right you can ensure that you get the maximum amount of enjoyment out of this amazing city.
Of course, you won't want to spend too long in there either. This is a city where getting out and about to really get a feel for the place pays massive dividends.
Please follow and like us: