You might know little about the Belfast attractions and things to do when you first come there. You may read the name "Giant's Causeway" at some point but not be sure what it is or why people are interested in it.
Check More Irish Travel Guides: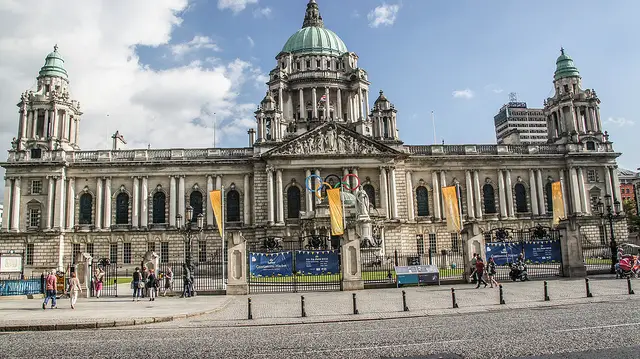 Your fears about it being a disappointing travel destination will soon be dispelled when you arrive there. It is a terrific little city and the Giant's Causeway is as awesome as the name suggests.
In fact, I ended up getting a job here and staying for close to a year because it is so friendly and welcoming here. I discovered a lot of the best Belfast attractions and what it is that makes the capital of Northern Ireland so special.
Getting There in Style
You should definitely consider a trip to visit Belfast by boat if you can. I recommend the ferry across from Stranraer in Scotland after visiting Greenock and the Clyde Coast, and it makes for a memorable start to any time spent in Belfast.
The ferry enters for the giant Belfast Lough, with beautiful green scenery on either side of the water. I feel this is a spectacular way to get to a new city and really builds up the anticipation levels.
A lot of Northern Irish people travel on the ferry and they all seem genuinely thrilled when going home again. Some even jump onto the luggage carousel in joy when it finally arrives.
Your first impression of the city itself isn't likely to be quite as impressive. Belfast has a proud industrial past and it still looks a bit like a city living on past glories, to be honest.
My introduction to the friendliness of the place came with a cheery taxi driver. Driving along the streeet together like old friends, he pointed out Belfast attractions such as City Hall and the Grand Opera House.
The centre of the city has a number of interesting things to see. There are also some open, fairly deserted looking parts that give it a fairly unique feel in a big city.
Seeing the Main Belfast Attractions
The compact size of Belfast means that it is ideal for exploring by just wandering around. In this way, you can see Belfast attractions such as City Hall, the Grand Opera House, the Albert Memorial Clock and the waterfront all in a morning.
The next day I suggest a stroll along to the city's Botanic gardens. After this, you should see the parliament buildings at stunning Stormont.
There are also some interesting art galleries and museums here. However, for me the highlight is just out of the city, in nearby Carrickfergus.
The historic Carrickfergus Castle has been around since the 12th century and looks wonderful. It juts out into the Lough and looks impressively imperious.
The day I went there was some sort of medieval fair going on. This meant that I could try some archery, watch birds or prey and, err, see Irish women dance samba for some reason.
The Titanic Connections and Waterfront
Not every visitor to Belfast realises that the Titanic was built here. Yet, it is something that the locals are intensely proud of.
As Belfast is the home of the Titanic, history buffs will enjoy exploring the story of the famously "unsinkable ship". The Titanic Experience is located in the place where it was built.
This is a big gallery with a lot of different exhibitions in it. It is definitely worth dedicating a few hours to looking at the historical photos and objects there.
My favourite part of the city is the waterfront. You can walk a long distance alongside Belfast Lough, see a giant fish and then head along the banks of the River Lagan.
I had been here for months before I discovered a wonderful trail along the Lagan. You head inland and can keep going until you leave the city far behind.
Indeed, it only seems to take a few minutes for the scenery to become a lot more green and scenic. I believe this trail is called the Lagan Towpath and for me it is one of the top Belfast attractions.
Just take a picnic and your camera before walking out of the city. Personally, I would also take a book and find somewhere nice to sit down for a read on the way.
Driving the Antrim Coast Road
If there is one piece of advice I would give above all it is to get out on the road. I got a temporary job that involved hitting the road every day and I loved it.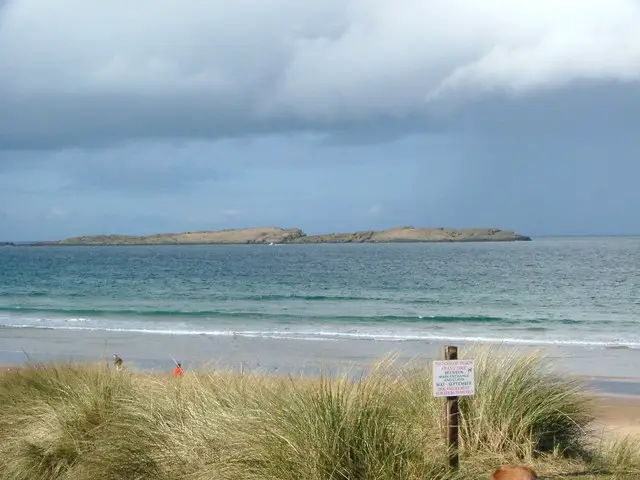 For drivers Belfast is reasonably small and it only takes a few minutes to drive out of it. Having said that, I found the city's one way system inordinately confusing for some reason.
Once you get out of Belfast you will be surrounded by green fields and a feeling of peace. Little towns also start to appear on the horizon and it is all great fun.
I can suggest that the best driving route is the famous Antrim Coast Road. You can take this right from the centre of Belfast along the A2.
You will see then find that most of it takes you alongside or near the amazing Northern Irish coast. I find it hard to put into words just how incredible this journey is.
You pass through cool little towns and villages where life seems simpler and more enjoyable. I made a number of stops along the way and was seriously tempted to stay for longer in somewhere like Carnlough.
For me, the highlight of the trip is the Giant's Causeway but don't go just looking for this alone. I would say that it is a brilliant trip for many other reasons too.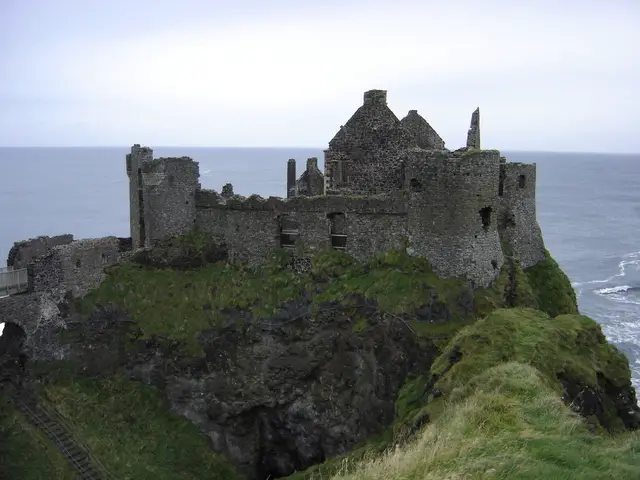 Drivers should look out for crumbling old Dunluce Castle and the scary Carrick-a-Rede Rope Bridge. Tourists find the Bushmills Distillery is another interesting spot along the way.
You should make this trip from Belfast with plenty of time to enjoy every step of the way. You won't regret it.
The Giant's Causeway
The first time I visited the Giant's Causeway I got there late one summer evening. The fading sunlight at this time is perfect for viewing this incredible natural wonder.
It is basically a set of basalt columns that nature has formed in hexagonal shapes. That bland description really doesn't do it justice, though.
This is a terrific place that feels somehow magical. The legend is that a giant named Finn MacCool built the causeway to connect Northern Ireland with Scotland.
Sitting there and and watching the sun finally go down I could really believe this legend. It is the kind of special place that really is a lot more than the sum of its parts.
I definitely recommend coming here early in the morning or late in the evening, when there are little or no crowds around. Take a few funny selfies, listen to the sea and simply enjoy being somewhere cool and unique.
The People You Will Meet
The Northern Irish are famously friendly and outgoing people. This is a fact you are likely to confirm after just a few hours here.
Go to any of the Belfast attractions, pubs or parks and you will probably end up with some local chatting to you. I sensed that they seemed very proud of their city and were pleased to have tourists enjoy it.
If you really want to get to know the locals you can't do much better than go to a pub, of course. Try the wildly popular Crown Liquor Saloon for a slice of history that you can taste.
This thriving pub is centrally located and well worth a visit. The local drinkers will regale you with tales and songs if you are lucky enough.
Shop staff and restaurant staff are friendly here and I really enjoyed life in Belfast. One thing I noticed was the people are quiet and respectful even in crowded spaces.
The city centre has a quiet and calm feel to it even when it is packed. There is little of the shouting and bustling that you sometime encounter in other British cities.
Of course, it has to be mentioned that Belfast suffered greatly during the "troubles" here a few decades ago. My impression was that people still feel a bit delicate about this and that many are embarrassed to talk about it.
These days you will find a peaceful city, though. I came across absolutely no signs of trouble, sectarian or otherwise, while I was here visiting Belfast attractions.
Understanding the Belfast Accent
Another point worth mentioning before any Belfast trip is the accent. You may be surprised to discover that people in Belfast don't have the soft Irish burr you were expecting.
The Northern Irish accent is closer to the Scottish equivalent than to the Dublin accent, with harder edges and a tougher sound. This is great from me as I am from Scotland and immediately felt at home.
However, you may find it hard to understand Belfast people at first. They also use a lot of slang here that you might never have come across anywhere else.
A "dander" is a stroll, for example. Equally, "bout ye?" is a general greeting term.
You should also be aware that everything here is "wee". Technically this means "small" but it is used even for things that aren't really small.
In fact, it strikes me that in Belfast "wee" is used in the same way that the diminutive is used in Latin America; to soften the language. So, when a checkout assistant asks for your "wee" credit card number they are making their request a bit softer.
Adding "wee" is an addictive habit, especially as I had got used to saying words like "sopita" and "ahorita" in South America. I had always used "wee" in Scotland but in Belfast I took its use and misuse to a whole new level.
Bonus points are awarded if you can slip "scundered" or "dead on" into a conversation while you are here.
The Local Food Options
One of my favourite Belfast attractions is the farmers market on Fridays. I see this as a brilliant place to get some fresh fruit and vegetables with a surprise or two throw in.
You can look out for some interesting things in the local cuisine. I recommend the tasty Ulster Fry, which is the local equivalent of a full Scottish or English breakfast.
You can expect traditional stuff like sausages and bacon in here. I also suggest you try mysterious food like soda bread and farls.
You may already know that potatoes play a big part in the Irish cuisine, of course. You will find dishes like champ and pasties making good use of the noble tuber.
If you are offered dulse then you should be aware that this is, uh, seaweed. I could never bring myself to give it a try but many people love it.
I give a hearty thumbs-up to fifteeens when it comes to the sweet treats. The people here love these classic Northern Irish treats made of good stuff like marshmallows, cherries and crushed biscuits.
You can buy these delights from the supermarket or the farmer's market. However, a colleague brought homemade fifteens into work one day and they were sensational.
Going Out in Belfast
I have to confess to not eating out much in Belfast. Others tell me that it is regarded as a good city for heading out in the evening, though.
Most of the pubs and restaurants seem to be congregated omn the Golden Mile and Lisburn Road. I was told by a number of locals that this was the best place to go out for food or drinks, with the Cathedral Quarter another good option.
If you come to Belfast from a bigger city then this part of the city will look small and quaint. A colleague or two assured me that a good night out is guaranteed along here and won't cost a fortune.
The Belfast Attractions to See Now!
I fell in love with Belfast right away. I now hold this city close to my heart and would love to visit again soon.
You will be won over by Belfast's subtle charm, even if it isn't packed with massive tourist attractions. You need to just travel to see the Belfast attractions with an open mind and you will soon find that it is a wonderful place to spend some time.
I suggest speaking to the locals, try some Northern Irish food and get out for a drive along the coast. You won't regret doing any of these things and you might up being as fond of Belfast as I am.
Please follow and like us: