When I started planning my summer in Europe, there were a lot of countries to choose from. I was hoping for beach time and sunshine after spending a somewhat dreary Spring in and around central Europe. Thanks to a cheap flight, I headed to the westernmost country of mainland Europe for a week to experience a bit of Portuguese summer.
Portugal is known for its rich and exciting culture, diverse landscape, beautiful weather, and even more beautiful beaches. Its signature postcard might include a shot of the famous yellow street car in Lisbon or a picturesque shot of the Algarve. Because of its location and shape, Portugal offers some of the best diversity in scenery. In only over 5 hours, you can go from Porto in the North near the Sintra Mountains to the Algarve, the southernmost region of Portugal, and its world class beaches. Portugal also includes two archipelagos – the Azores and Madeira – west of mainland Portugal in the Northern Atlantic Ocean.
So what to see and do? In this cultural beacon you can't miss one of the most popular cities in Europe right now- Lisbon or the lovely and underrated Porto, and just a few stops in the Algarve for a Portuguese summer.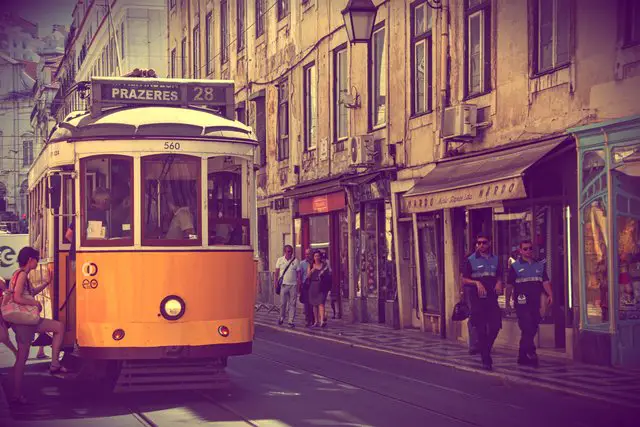 Image credit: Danielle Tobar
A Portuguese Summer – Where to Go
Lisbon
Major Sights
As in any major city, I did a free walking tour in Lisbon. I can't recommend doing a free walking tour enough. If you haven't done one yet, they're really the hidden gem of budget travel. Instead of paying an upfront fee, the tour guide works on tips alone. At the end of a free tour, you get to decide how much the tour guide deserves based on their skill and your budget. In Europe, almost every major city has plenty. Our free walking tour covered many of Lisbon's main monuments and sites.
Some of the must-sees include:
Praça do Comércio (Commercial Square)
The Eduardo VII Park
Padrão dos Descobrimentos (Monument to the Discoveries)
Belém Tower
Lisbon Cathedral
São Jorge Castle
Rossio Square
Jerónimos Monastery
Image credit: Danielle Tobar
Time Out Market
In Lisbon, don't miss the Time Out Market. This may be my favorite market in all my travels. Unfortunately, we waited to visit the market until the end of our trip and missed the opportunity to eat and drink here numerous times. I highly recommend going on an empty stomach and going early during your stay in Lisbon. I guarantee you'll want more than one meal here.
The market is essentially a classy, gourmet food court set in a large food hall. It's home to plenty of local and foreign food stalls, shops, and drinks spots. It's a perfect representation of Lisbon's hip and trendy cultural scene. Some of the best restaurants in the city have stalls here so it's a perfect way to experience the best of the Lisbon food scene in one convenient place. Only one downside to the market is because of it's popularity it gets very busy during peak times. Try to go a bit before or after the lunch or dinner rush so you don't have to scout for tables or wait in lines.
Extras
Besides Time Out Market, my favorite place in Lisbon was Praça do Comércio also known as The Commercial Square. Back in the day, The Commercial Square was home to The Royal Ribeira Palace until the devastating earthquake of 1755. The palace was destroyed by the quake along with much of the city. What we know today as The Commercial Square was rebuilt as an economic center for the city conveniently located facing The Tagus River. Not only is The Commercial Square beautiful with its massive stone Rua Augusta Arch and  golden yellow color, but the square is a lively area that captures everything there is to love about the Portuguese culture.
If you need a break from the hustle and bustle of the big city head to Sintra. The town's architecture and landscape is the stuff of fairytales. The Sintra National Palace and the Pena National Palace are both must sees. With bright colors and a whimsical design, the latter looks like something that was picked up out of a children's story.
Culture
While I was visiting the country's capital, The Euro Cup was in full swing and as futbol is the most popular sport in Portugal, my friend and I decided we'd watched Portugal play Poland in the quarter-finals in the fan zone in the middle of The Commercial Square. I can honestly say watching the game with thousands of fans in the heart of Lisbon was one of my favorite experiences since moving abroad over a year ago let alone the Portuguese summer trip.
There is really no way to describe the excitement and enthusiasm of the Portuguese crowd. There was constant chanting, singing, and dancing. Not to mention the yells and cursing (I assume) that accompanied the nail-biter of a game. I can only imagine what it was like when their home team won the championship only a week later. I came to really love the Portuguese culture and I think watching a futbol match with them is the reason why. So, if you're not lucky enough to be visiting during a Euro Cup year, try to catch any match on a pub TV for a little taste of the experience I had.
Porto
Major Sights
Let me start off by saying that I absolutely loved Porto. The minute I saw one of the famous buildings covered in azulejos (hand painted tiles) I was hooked. Porto is home to amazing architecture and contemporary street art. The city is a playground for the eyes – around every corner is a pop of color or a special detail too perfect not to notice. As always, make sure to get a free walking tour in! The tour will most likely include some of these must sees:
Dom Luis 
Sao Bento Railway Station
Porto Cathedral
Livraria Lello & Irmão
 Church of Sao Francisco
Church of Saint Ildefonso
Fort of Sao Francisco do Queijo
 Palacio da Bolsa
Don't miss any chance to walk along one of the bridges and enjoy the view of the Duoro River. We wandered along the river on both sides of the city enjoying the markets and restaurants. I'll admit we made a few stops along the way for beer or Port Wine since we were there in the heat of Portuguese summer. Other spots for great views of the city? Try the Porto Cathedral terrace or Jardim do Morro. The latter is a quiet little oasis of a park with a glorious view of the Duoro and bridge.
Image credit: Danielle Tobar
Port Wine
A Portuguese summer wouldn't be complete without the famous Port wine. Also known as Vinho do Porto or simply Port, this fortified wine is produced exclusively in the northern part of Portugal. The grapes for this typically sweet, dessert wine come from the Duoro River Valley. Port is a fortified wine because at some point in the production process brandy is added.
Along the river in Porto, you can find plenty of Port Houses (aka Port Wine producers). Many of these are open to the public for tours, guides, and tastings. It can be a bit overwhelming deciding which Port House to try with so many choices. But to narrow it down – check out Sandeman, Ramos Pinto, or Taylor's.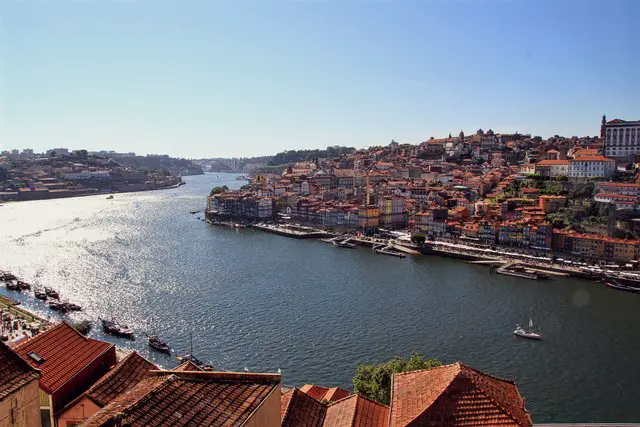 Image credit: Danielle Tobar
Algarve
Faro
Faro is both the capital of the Algarve and an underrated city. Due to its  historic past, the city has an inviting and interesting Old Town. This city gives more of an authentic or quintessential Portuguese feel than the big cities like Lisbon or Porto. But don't let the size worry you. Faro offers plenty of excitement and things to do. Take a stroll around the cobblestone streets to see architecture influenced by the Moors from the 18th Century or visit the Ria Formosa nature reserve or enjoy the lively nightlife or what else? Spend some time on another lovely Portuguese beach or two.
Sagres
Sabres is a small village whose allure lies solely in breathtaking views and spectacular beaches. Unlike Faro, no historic interest here. Make sure to check out the Cabo de São Vicente or Cape of St. Vincent. This spot is Europe's southernmost point and has a glorious feeling of being on the end of the earth (almost literally). Atop the cliffs lies a small red light house that is worthy of a few great photos. Another noteworthy view is the Fortaleza de Sagres also known as The Sagres Fortress. The Fortress lies on the coast on the route to the Cape of St. Vincent. You can still tour the fortress and it's definitely worth spending a few hours exploring this stretch of coastline.
Lagos
Lagos is a town home to some of the most postcard worthy shots of Portugal. The city has plenty of beach area and much of it is dominated by  incredible rock formations. For a view of the best, head to Ponta da Piedade. Ponta da Piedade means 'Piety's Point'. These massive rock structures form cliffs and grottos that make for an incredible sight next to the beautiful blue Portuguese waters. Thousands of years have made these natural wonders what they are today. Exceptionally clear water at Ponta da Piedade makes the sight that much more beautiful. Short boat trips from Lagos are a great way to get there, not only are they scenic but they're quick!
Beaches
As beaches go, my favorite beach in Lagos is Praia de Camilo. This quiet sandy beach is just a 20 minute walk from the heart of the small beach town. As you get close, you see wooden steps leading down to the cove giving a spectacular view of the beach. It's a bit isolated from the rest of the shoreline and that's part of what I found so perfect about it. We went early one morning around 9 to avoid any sort of rush and get plenty of beautiful photos untainted by tourists. The pristine beach was empty that early even during Portuguese summer but by 11 or so it was relatively full with families and couples alike.
Just a short walk back towards the city is Praia da Dona Ana. This beach doesn't disappoint with even more rock formations and equally impressive views. To get a unique view of the scenery, you've got to get into the water- whether it be a kayak tour or a short boat ride. There's also Meia Praia – the most popular beach in the area. Which just so happens to be the largest beach in Europe. During Portuguese summer this beach is jam packed with tourists. It's worth it though – it's location and incredible white sand makes it the perfect place for water sports or lazy beach days with the family.
Image credit: Danielle Tobar
More beaches to enjoy:
Lagos – Praia da Marinha
Manta Rota – Praia de Cacela Velha
Aljezur – Praia da Arrifana
Odeceixe – Praia de Odeceixe
Praia Tres Irmaos
Praia do Vau
Albufeira – Praia da Falesia
A Portuguese Summer – What to Eat
One of the best ways to experience the true feeling and heart of a culture is through its food. I'm always a trying some local specialities and traditional fare as well as street food. Belgium and Italy have been topping out my list for favorite food; however, I'm happy to announce that thanks to these foods Portugal has joined them at the top of my list.
Francesinha
Francesinha a Portuguese sandwich originally made famous in Porto. The Portuguese weren't too concerned with calories when they made this one. This specialty is made with layers of  bread, ham, sausage, and other meats. Then all covered in melted cheese and a beer and tomato sauce and served with French fries. There are different versions of the Francesinha all over the city with different meat choices and sauce variations. There's even the Francesinha Especial, or 'special Francesinha' with a fried egg on top.
We tried the artery clogging sandwich at a small cheap joint where it only set us back 5 Euro. I'm sure it wasn't the best Francesinha in town but it was worth a try. I'd recommend splitting one with a friend. I could barely eat 1/2 of the specialty because it's (obviously) a bit heavy and rich. If you're looking for a great place to try it – head to Cafe Santiago on R. de Passos Manuel – expect a bit of a wait, but don't worry, It's busy for a really good reason.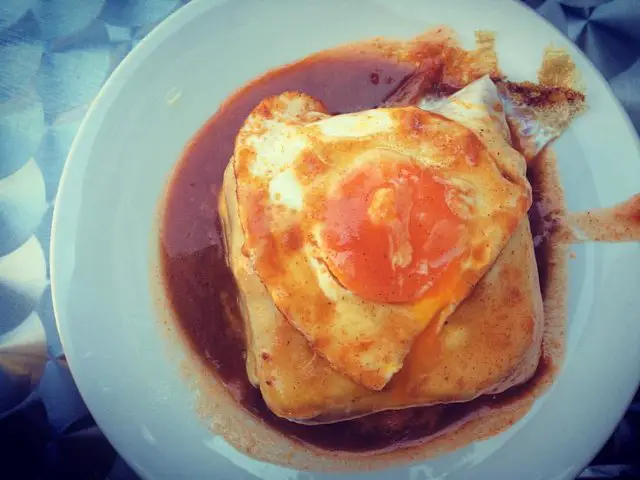 Image credit: Danielle Tobar
Seafood
One of the most famous ingredients in Portuguese cuisine is bacalhau – dried cod. Most menus have a few or more dishes featuring the salty specialty. A few you might want to try are Bolinhos de bacalhau (cod fish cakes or fritters), think hushpuppies – crispy on the outside and soft on the inside. Or Bacalhau com todos which literally translates to 'codfish with everyone', a codfish dish made with vegetables and hard boiled egg and Bacalhau à Gomes de Sá a casserole featuring the dried fish, eggs, potatoes, olives, and onion.
Local Favorites
But if you're really looking to eat like the locals, try one of the most typical street foods – bifanas. These grilled pork sandwiches are actually very simple. Just a crusty bread roll with grilled pork and yellow mustard, but the real secret is what you don't see. Massa de pimento is a famous Portuguese red paste. Made from cured red bell peppers, the paste is used as a marinade for the pork. Try the sandwich at any festival or cafe. It should set you back only a couple euros.
To finish your day off with something sweet, try pastéis de nada – a typical Portuguese  egg tart pastry.  Pastéis de nada were created by monks at the Jerónimos Monastery in Lisbon in the 1700's. Now you can find them all over Portugal at bakeries and pastry shops as well as some restaurants and cafes.
A Portuguese Summer – Off the Coast
We were able to enjoy Porto, Lisbon, and part of the Algarve in only one week. I think it's very doable although I wish we had had a bit more time in Porto. Portugal has much more to offer than just these cities though. If you have a few weeks blocked off for Portuguese summer, don't miss the archipelagos regions of The Azores or Madeira. Flights are the easiest way to get to the islands. A flight from Lisbon to the Azores only lasts about 2 hours.
The landscapes in both regions are stunning. On a trip to the Azores' 9 islands, you can stand in a crater, visit a 'red desert', and see a chapel where Christopher Columbus attended mass after returning from America. Madeira consists of 4 islands close to the northwest coast of Africa. If you visit, make sure to hike to the summit of Pico Ruivo. It might not be hiking in the Alps, but it's the highest mountain in Madeira and worth the effort to feel like you're as high as the clouds.
Wherever you choose to go – make sure to enjoy as much food, culture, and sun as possible when you visit Portugal for an unforgettable Portuguese Summer.
Please follow and like us: