The South Africa garden route is a breathtaking journey along the southern coast of Africa. The route takes in spectacular sights, from sun kissed beaches, to flocks of penguins, to the iconic Table Mountain. The journey also boasts a dizzying array of activities, including diving with great white sharks, surfing massive waves, and encountering elephants, big cats, and more. Here's a guide to tackling the epic trip that is the South Africa garden route.
Location Of The South Africa Garden Route
Opinions differ as to where exactly are the start and end points of the South Africa garden route. The route follows the N2 highway, which stretches for 800 km from Port Elizabeth in the east to Cape Town in the west. But some claim that the official garden route stretches for just 300 km along this highway, from Stormsrivier in the east to Mossel Bay in the west. However, this guide will cover the sights and activities for the entire 800 km N2 route.
A popular start or end point of the route is at Addo Elephant National Park, which is a short distance from Port Elizabeth, and 177 km east of Stormsrivier. At the western end of the N2 lies Cape Town, where most visitors will either begin or end their journey.
Where To Stay
Every type of accommodation imaginable, from luxury hotels to dingy hostels, are available along the South Africa garden route. Booking ahead is recommended for all types of accommodation during the busy season of November to March, particularly over Christmas and New Year.
Camping is a popular and cheap accommodation choice along the South Africa garden route. It is possible to rent a camper van, or to simply carry a tent. Tents, sleeping bags, and other camping equipment can be easily picked up in large South African cities. It's worth paying more for a waterproof tent, as rain can occur at any point during the year. Campsites are often attached to hostels, and campers can use the hostel facilities, such as kitchens, common rooms, bathrooms, and bars.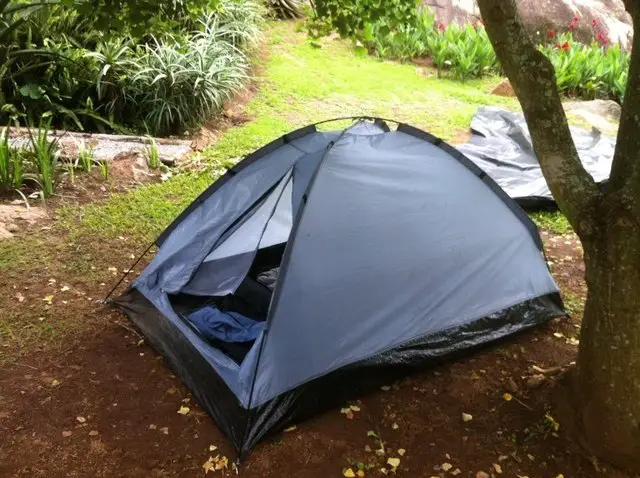 Image Credit: Ailish Casey
When To Visit
The South Africa garden route is spectacular at any time of year. Temperatures are highest in the summer months from November to April (though even in the coolest months, the temperature rarely falls below 16 degrees Celsius). The route can get very busy during the school holidays, from December to February, particularly around Christmas and New year.
Whales are present along the route from July to November. Sharks are present year-round, though cage diving is often best in the winter months (May to July) when the water is warmer and the sharks are more active. Hiking is best in the winter months when the temperatures are cooler.
Duration Of The Route
Although the South Africa garden route is relatively short, it packs in so much that you won't want to rush! Give yourself at least two weeks to complete the route, allowing plenty of time to take in the sights and activities on offer. And leave lots of time to take in side trips off the beaten track!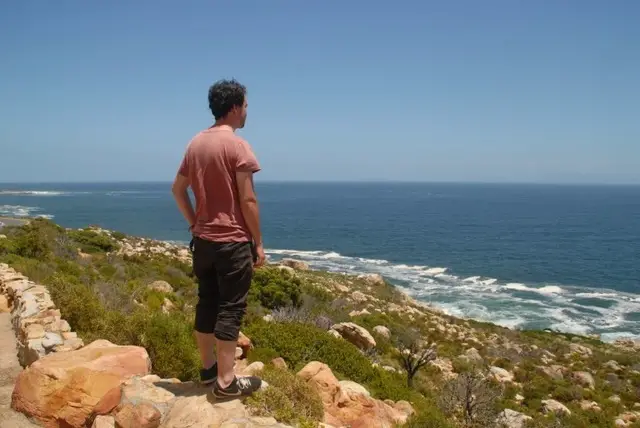 Image Credit: Ailish Casey
How To Visit The South Africa Garden Route
By Car
The easiest way to tackle the South Africa garden route is to rent a car. This gives you the freedom to plan your journey however you like. The roads are well maintained and generally safe, though be aware of reckless drivers who overtake on blind corners. And remember that in South Africa, cars drive on the left hand side of the road.
When renting a car, shop around for the best deal. Many rentals are restricted to 200 km per day, with pricey fees per kilometer if drivers go above this limit. But most companies will waive this limit if you are renting for more than one day. The cost of renting a car can be as little as SAR200 ($12) per day. Adding additional drivers costs more, and some companies have a high one-way fee if you want to drop the car off in a different location. You must be at least 18 years old to rent a car in South Africa. Some rental companies do not rent to those under 21, and others add a young driver surcharge fee to drivers aged 18 to 23.
Parking is usually free of charge in car parks by beaches and supermarkets. Attendants are on hand to keep an eye on your car (you should give a small tip in exchange for this). Most accommodations, including campsites, will have secure parking.
By Bus
Very limited public transport exists along the South Africa garden route. However, one option for those who don't want to drive is to take the Baz Bus. This is a bus company that runs along several popular routes in South Africa, including the garden route.
Passengers can buy a ticket for their final destination, and hop on and off as many times as they like along the route. Alternately, you can buy a one or two week pass and take as many journeys as you like, to any destination you like, within this period.
You must arrange to catch the bus by calling in advance, and then making your own way to the designated pick up point. Most pick up points are hostels that are affiliated with Baz Bus. Here's a detailed post about taking the Baz Bus throughout South Africa.
What To See & Do On The South Africa Garden Route
1. Addo Elephant National Park
Though Addo Elephant National Park isn't officially on the South Africa garden route, many visitors choose to include it in their itinerary, as it lies just 177 km from the route's starting point at Stormsrivier.
For those who want to include a safari in their trip, Addo is perfect! Not only is it home to the Big Five (lion, leopard, elephant, rhino, and buffalo), it also boasts a stretch of coastline that includes great white sharks and southern right whales. This has led Addo to declare itself as the only place to see South Africa's Big Seven!
But the true stars of Addo are the elephants. When the area was declared an elephant preserve in 1931, a mere 11 elephants existed in the area. These elephants thrived, and now the park is home to over 600 of these giant beasts. The elephants live in families, and are often found lounging around the watering holes. The sight of several massive elephants passing right by visitors' cars is a magnificent sight to behold.
Getting Around Addo Elephant National Park
The park is incredibly accessible if you have rented a car. Simply drive to the gate, pay the entrance fee of SAR200 ($14), and drive through the park at your leisure. Accommodation is available inside the park, and there are also hotels, hostels, and campsites just a short distance outside the entrance.
If you want to visit the park but aren't renting a car, you'll need to book a guided tour. These can be arranged at the park entrance, or there are many tour operators offering package trips that include a visit to Addo Elephant National Park.
Getting To & From Addo Elephant National Park
The nearest city to Addo Elephant National Park is Port Elizabeth, 70 km away. There is an airport in Port Elizabeth, offering direct flights to Johannesburg, Cape Town, Durban, and East London in South Africa.
Stormsrivier, the official starting point of the South Africa garden route, is 177 km (a two hour drive) west of Addo. From Stormsrivier, carrying on west for an additional 62 km (a 44 minute drive) leads to Plettenberg Bay.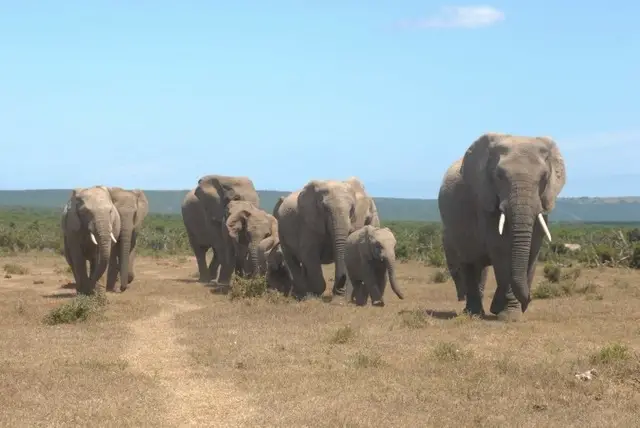 Image Credit: Ailish Casey
2. Plettenberg Bay
Plettenberg Bay boasts miles of beautiful beaches along the southern coastline of South Africa. But there's far more to see and do here than just catch some sun!
Activities In & Around Plettenberg Bay
Water sport junkies can take in surf lessons, canoeing, jet skiing and more, while those who prefer dry land can try abseiling, hiking, horse riding, or zip lining. The truly adventurous can even take in a sky dive or bungee jump!
Animal Encounters Around Plettenberg Bay
Several incredible wildlife encounters lie just outside Plettenberg Bay.
Tenikwa is a wildlife center that is home to a range of big cats, as well as several species of birds. The center rehabilitates injured and rescued animals, releasing many back into the wild. Those that cannot be released are housed in enclosures on site. Guided tours take visitors to see the different species, and the knowledgeable guides provide information about the animals. Tenikwa aims to educate the public about the conservation issues facing the big cats of South Africa. Visitors can also arrange to interact with the cheetahs of Tenikwa on photography tours or by taking the cats for a walk.
The nearby Birds of Eden is the world's largest free flight aviary. It is home to 3,500 birds of over 200 species, many of whom have been rescued and rehabilitated. Visitors can walk through the 3.2 hectare enclosure, through over a kilometer of walkways. Guided tours are available, or guests can walk around the aviary at their leisure.
Right next door to Birds of Eden is Monkeyland, a sanctuary that houses 18 species of primates. Many of the animals roam freely throughout the sanctuary, though some are housed in large cages. The center aims to create awareness about primates of South Africa, many of which are seen as vermin throughout the country, and to foster a greater understanding of these animals.
Several operators offer opportunities to snorkel with the seal colonies that live in Plettenberg Bay. The seals show a remarkable lack of fear of humans, approaching and even interacting with snorkelers.
Getting To & From Plettenberg Bay
Plettenberg Bay lies just 62 km (a 44 minute drive) from the start of the South Africa Garden route at Stormsrivier. The next major stopping point after Plettenberg Bay is the town of Knysna, just 32 km away (a 29 minute drive).
Image Credit: Ailish Casey
3. Knysna
Knysna (pronounced "nee-sna") is a pretty coastal town that boasts a wide range of accommodations and restaurants along the seafront. Tourists gather here each year for the annual ten-day Knysna Oyster Festival in June or July. But there are plenty of other activities to keep visitors entertained year-round.
Golfers have their pick of several golf courses around the town, and there are hiking trails throughout the surrounding areas. There are also plenty of activities that take place out to sea or on the Knysna lagoon. The area is a popular destination for fishing and sailing, and dolphin and whale watching tours depart from the harbor (depending on the season).
Getting To & From Knysna
Knysna is just 32 km (a 29 minute drive) from Plettenberg Bay. The next stop, Mossel Bay, is 109 km (1 hour and 20 minutes) from Knysna.
4. Mossel Bay
While there are countless beaches along the South Africa garden route, the stretch of sand along Mossel Bay is particularly picturesque. Located halfway between Port Elizabeth and Cape Town, Mossel Bay makes a perfect place to stop and relax for a few days during a garden route trip.
The village itself is small, but packs in several museums. These include the Maritime museum, which displays models of ships, the Granery, which contains wildflowers of the region, and the Shell Museum, which houses (predictably) seashells.
Mossel Bay also boasts a range of sports and water sports, including golf, tennis, bungee jumping, horse riding, diving, and snorkeling.
Getting To & From Mossel Bay
Mossel Bay is halfway along the N2, 400 km from Cape Town and 400 km from Port Elizabeth. It is 109 km (a 1 hour and 20 minute drive) from Knysna. The next major stopping point, Gansbaai, is 303 km west of Mossel Bay, and this is one of the longest drives of the route, at 3 hours and 2 minutes.
4. Gansbaai
Gansbaai is a small village surrounded by natural beauty, from rugged cliffs to pristine beaches. But what draws most visitors here is the wildlife that lives in the surrounding waters.
Whale & Dolphin Watching In Gansbaai
From July to December, southern right whales gather spotted around Gansbaai. Brydes whales, humpback dolphins, and bottlenose dolphins frequent the area all year round. Whale and dolphin watching tours depart frequently, and should be booked in advance, particularly in the busy summer months. The southern right whales can even be seen from the shore while they are in the area!
Cage Diving With Great White Sharks
One of the most memorable experiences along the South Africa garden route is cage diving with great white sharks. These amazing predators are present all year in the waters around Gansbaai, and cage diving gives thrill-seekers the chance to get as close as possible.
Chum is used to lure sharks to the boat (though feeding the sharks is not permitted). From the safety of a secure cage, guests can observe these breathtaking creatures swim by, getting remarkably close.
Though sharks, and great whites in particular, have a reputation as bloodthirsty killers, the operators in Gansbaai are keen to emphasize that they pose little threat to humans. A guide is on hand throughout the tour to dispel myths about great whites, and to leave visitors with a new understanding about these creatures.
Several operators offer cage diving tours in Gansbaai, most with comparable prices. Boats depart in the mornings and afternoons, and guests are provided with wet suits and masks. Most tours also include breakfast and lunch. Though no animal sighting in the wild can be guaranteed, shark diving tours are successful almost all of the time. However, most tours offer a discounted second trip to the unlucky few who fail to spot great whites.
Getting To & From Gansbaai
Gansbaai is 303 km (a 3 hour drive) west of Mossel Bay, and 88 km (1 hour and 14 minutes) from Betty's Bay. For those who do not have their own car, many shark diving tour operators offer shuttles to and from Cape Town, for an additional fee.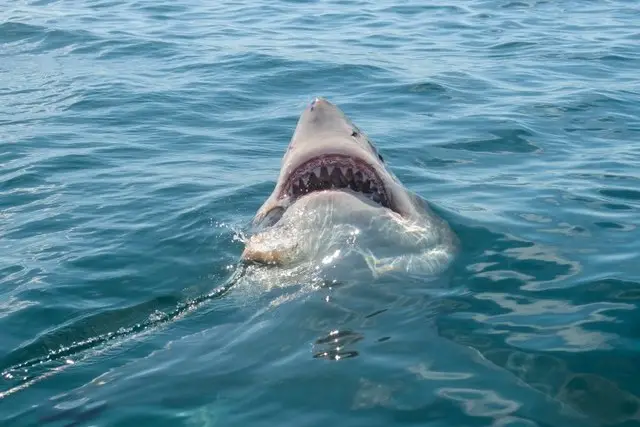 Image  Credit: Ailish Casey
5. Betty's Bay
The South Africa garden route is home to several penguin colonies. Though Boulder's Beach is probably the most well-known, nearby Betty's Bay offers a similar experience, without the crowds!
A wooden walkway leads guests along the coastline, where hundreds of African penguins (also known as Jackass penguins) gather. The area is also home to rock hyraxes (rodents known locally as "dassies") and several species of seabirds.
The entrance fee to the penguin colony at Betty's Bay is just SAR10 ($0.70).
Getting To & From Betty's Bay
Betty's Bay is 88 km (a 1 hour and 14 minute drive) from Gansbaai, and 95 km (1 hour and 30 minutes) from Cape Town.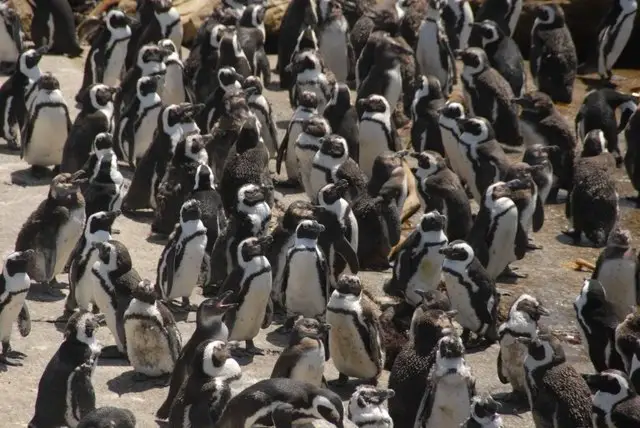 Image Credit: Ailish Casey
6. Cape Town
Cape Town is arguably the most popular city in South Africa, and it's easy to see why. Between the myriad of available activities, the range of world class eating and drinking establishments, and the easygoing, laid back atmosphere, most visitors find it hard to tear themselves away.
Things To Do In Cape Town
One of the most popular activities in Cape Town is to climb Table Mountain, the iconic mountain that overlooks the city. Several routes lead to the top, which vary in both difficulty and duration. A cable car also runs to the top and back.
There are countless adventure activities in and around Cape Town. Some highlights include paragliding, sand boarding, and tackling Africa's first toboggan track.
There are also plenty of entertainment options to keep visitors entertained throughout the days and nights, from theaters and nightclubs to South Africa's first 4D cinema.
The wildlife encounters in Cape Town may not be as impressive as those elsewhere in South Africa. However, the city does boast a number of animal preserves and sanctuaries.
For a list of activities in Cape Town, click here.
Getting To & From Cape Town
Cape Town is 95 km (a 1 hour and 30 minute drive) from Betty's Bay.
Cape Town is where most people begin or end their journey along the South Africa garden route (depending on whether they are travelling from east to west or west to east). Several flights link Cape Town to various international cities, though there may be more options when flying into Johannesburg. Multiple daily flights depart from Johannesburg for the two-hour flight to Cape Town. Long distance buses also connect the two cities, and take up to 19 hours.
The Amazing South African Garden Route for You!
A glorious holiday with some of the most amazing views! Your next holiday should most definitely include the South Africa garden route!
Looking for more exciting adventures? Take a look at the thrilling activities of the French Alps, or head to the Galapagos for more wildlife encounters!
Please follow and like us: