Lying right on the equator, this hot country showcases the biggest wildlife show on Earth. It has around 54 national parks and reserves that are home to many threatened and rare species of animals. This gorgeous and breath-taking place is like a dream come true for individuals who love nature and animals.
So, if you haven't paid attention to Kenya yet, here is why you should: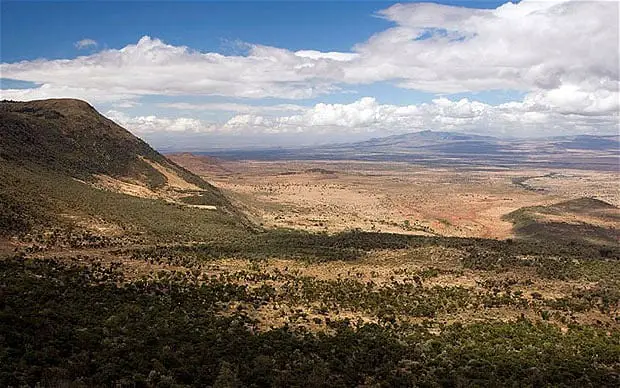 1. Float above Maasai Mara:
Located in the Great Rift Valley, Masai Mara National Reserve is the favourite destination for all tourists. If you get a chance to visit in July, then you can witness the annual migration, when 1.5 million wild beasts including zebra and several species of antelope travel from Serengeti in Tanzania to Maasai Mara in the hope of finding greener pastures.
In case you fall in love with the green fields and the animals roaming around, you can stay at the Governor's camp and experience the services of a typical hotel in a camp. If you are not scared of heights, you can opt for a hot air balloon safari and soar high in the air as the wild beasts roam below you. The one-hour ride will be the best opportunity to take some amazing pictures.
2. Nairobi National Park
If you wish to experience a safari, Nairobi's National Park is the place for you. Being Kenya's oldest national park, it is also known for its 'Black Rhino Sanctuary'. Situated against the backdrop of the city, you can witness four of the 'Big Five' African animals here including lions, leopards, buffalos, and rhinos. Unfortunately, you won't get to see any elephants over here. The park also has a Mini Animal Orphanage, which is a refuge for a lot of wounded and abandoned animals.
For a panoramic view of the park and some memorable pictures, you can go to the Impala observation point.  One of the most interesting landmarks of the park is the Ivory burning site. In 1989, Kenyan President, Daniel Arap Moi, set fire to 11 tonnes of seized ivory, sending a warning signal to all the poachers. The site was used again in 2016, when President Uhuru Kenyatta, ordered the burning of 100 tonnes of ivory.
3. Mount Kenya National Park

Catch a sight of equatorial snow on Kenya's highest mountain range that touches 5199m. The mountain is an old extinct volcano with three peaks that are now covered with glaciers. Batian is the highest peak, while Lenana is the lowest peak and an easy climb. The park is a UNESCO world heritage site and was created in 1949 to encourage tourism and protect the landscape.
As you climb the mountain range, you will see that it hosts a rainforest full of African animals such as Cape buffalos, monkeys, elephants, and antelopes. As you go up, you will come across moorland that is home to different species of plants including the Giant Lobelia.
If you are not much of a climber, then you can visit the Mount Kenya Safari Club that is located at the bottom of the range, where you can enjoy trout fishing and golf.
4. Relax at Lake Victoria
Lake Victoria is Africa's largest lake and the world's second largest lake after Lake Superior. It is also the chief reservoir of the Nile. The lake was named after Queen Victoria by a British explorer, John Speke in 1858. You will find a number of tourist activities by the lake, the most important being the fishing trip, where you will find 200 species of fish including the giant Nile Perch.
For some serenity and calmness, you can go to one of the islands. Ssese Island is an archipelago of 84 islands. Most people prefer spending time on Banda island, where they can enjoy good food, accommodation and paddling in the canoes.
You can also enjoy a cool breeze on the sandy beaches of Mango Island. You will also get the opportunity to appreciate rock art in the Mawanga Cave. The geometric paintings in the cave were done by hunters and gatherers thousands of years ago.
5. Pink Flock at Lake Nakuru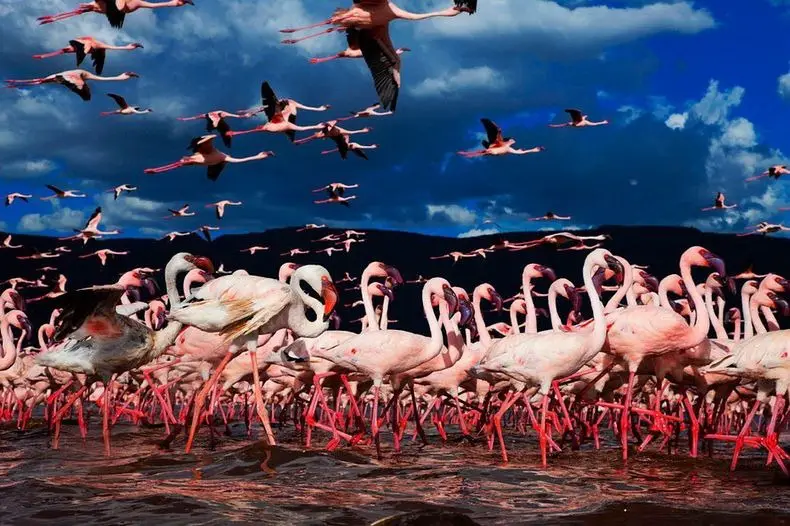 Your visit to Kenya cannot be complete without a stop a Lake Nakuru National Park. The park was established in 1961. It is a birds' watcher's paradise as it is home to around 450 species of birds. The destination has a lot more to offer than just a lake; you will find Savannah, swamps and a beautiful waterfall as well.  You will also find other wildlife such as lions, leopards, pythons, waterbucks and black and white rhinos.
The lake, however, is famous for the pink flamingos, which make a breathtaking sight when they flock together. You will find them moving around and occasionally in the sky, colouring the sky pink.
6. Mombasa
Mombasa is the second largest city of Kenya after Nairobi. It is the perfect place to relax after a tiring safari trip. The island is a cultural melting pot, where tourists from all over the world come to enjoy water activities. Visit the Mombasa National Marine Park for diving and snorkelling. In case, you are not too fond of water activities, you can enjoy the marine life from a glass-bottom boat.
The city is also famous for its historical places such as the Fort Jesus and Old town. Designed by Italian architect, Cairati, the fort has been built in the shape of a man. It has a museum with an old pottery collection. As far as Old Town is concerned, history buffs would fall in love with the place. Arabs and Portuguese settlers inhabit the town and the architecture there shows their culture.
So why wait? Make Your Kenya Travel List NOW!
If you haven't visited the African continent yet, Kenya can be your first stop. You are bound to fall in love with its natural beauty, wildlife, and serene beaches; it is the closest that you can get to nature. It is the best place to give yourself a break from the everyday busy life. In our fast-paced, modern day life where we are so engrossed in technology, we often forget to enjoy what nature has to offer and Kenya will show you how blissful being close to nature can be. In fact, once you are there, you probably won't like the hustle bustle of the city again.
Please follow and like us: