As an Amazon Influencer, we earn from qualifying purchases you might make if you click any of the links on this page.
If you're looking for the road trip adventure of a lifetime, New Zealand is the country to visit. Tourists can benefit from well-developed infrastructure as well as great scenic roads and their close proximity of major landmarks. No wonder so many visitors prefer to explore the country by car or caravan! Check out our list of five essential tips that will help you get the most out of your New Zealand road trip.
Check More Posts About Road Trips:
1. Explore the North Island
Start at the top and work your way down! There are a huge number of attractions on the North Island and many of them can be reached by car. The country has a vast selection of rental car services including car rental North Shore, Wellington, and Bay of Plenty. We recommend booking a vehicle in advance, especially in high seasons (December throughFebruary).
One of the must-see attractions you can get by car is the Egmont National Park located on the eastern coast of the NorthIsland. The main landmark here is the beautiful Taranaki Volcano that stands over 2500 meters high. Pro tip: Road number 43 passing through the territory of the national park is otherwise known as the Forgotten World Way. While very scenic, this road can be difficult for inexperienced drivers because of its twists and turns through gorges and dense forests. There are also a large number of sudden sharp turns, so be very careful when traveling through Egmont National Park. The reward for your attention and caution, however, will be some of the most breathtaking landscapes you've ever seen.
2. Explore the South Island
Drivers who wish to ship their cars from one island to the other will have to pay about 190 NZD. There is also a ferry service between the North and South Islands. Take this if you want to save the money. When renting your first vehicle on North Island, choose a rental agency that provides you with a different car on the South Island.
The Milford Road deserves top attention among the most beautiful road routes on the South Island. It passes through the mountain range of the Southern Alps and boasts truly unique landscapes: mountain peaks rising into the sky, crystal clear waterfalls, and streams of solidified lava.
If you can't get enough of the beautiful scenery, then you may also visit the Mount Cook National Park. The road will take you close to the highest mountain in New Zealand and to the magnificent Lake Tekapo.
3. Get used to left-hand traffic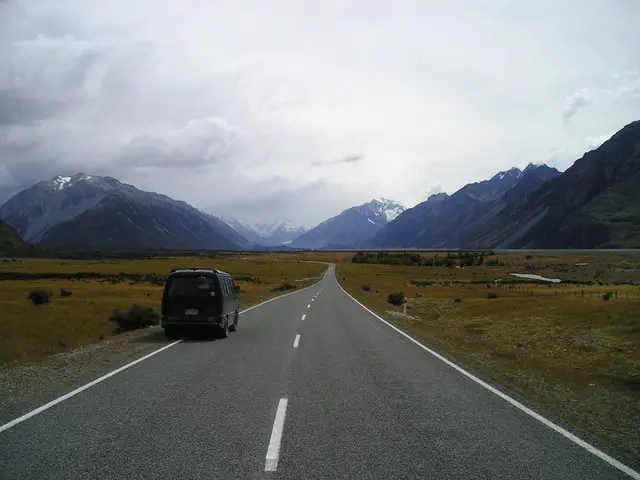 The most important distinguishing feature ofNew Zealand roads is left-hand traffic, which can be quite unusual for drivers from Non-British countries. However, the traffic is rarely an issue on the open road, so with a slow speed to start you should have few problems adjusting to the new rules.
A few psychological tips will help you get used to the new traffic conditions in just a couple of days. Make a mental note to place your right hand in the center of the road while the rear-view mirror must be located on the left. New Zealand has a right-of-way priority system.
4. Follow traffic rules
New Zealand highways are well-maintained, but keep in mind that they are very winding and pass mainly through hilly terrain. When hitting the road, don't expect that you can reach your destination in the shortest possible time. You won't see police often in remote areas, however this does not mean that you can ignore the established rules. Monitoring compliance with traffic regulations happens with cameras and radars, which are on virtually every road. The permissible speed in the cities is anywhere from 50 to 70 km / h, on the other hand country roads have up to 100 km / h speed limit.
Take caution in mountainous areas; it's not recommended to drive along narrow and winding roads at a speed of more than 55 km / h. This is especially true if you've decided to visit New Zealand in winter, when the roads may be icy. There are fines from 30 to 630 NZD for speeding, but if you exceed the speed limit by 50 km / h or more, you may earn yourself time in jail.
5. Fuelling Tips
Drivers who are looking to travel long distances should keep in mind that it's very difficult to find a gas station outside of the cities. This is why it's best to fill a tank full at every station. It's too much of a risk to go on a long journey with a limited amount of fuel.
Two types of gas are available in New Zealand- regular (corresponds to 92 octane) and premium. All gas stations have a self-service system. In general, the cost of gasoline in New Zealand is quite high, with an average price is about 1.8 NZD per liter. Before signing off on a road trip, you must make sure to calculate fuel into your budget, or else you may be strapped for cash.
A Trip to New Zealand You'll Never Forget!
Your road trip through New Zealand will be one for the books! Do you have any other tips for getting the most out of a New Zealand road trip? Share in the comments below!
Please follow and like us: