More volunteers travel each year to help communities overseas, so there must be a reason so many are choosing to travel this way. Volunteering abroad can have a positive impact on your future. From shaping the way your think and look at the world to future career choosing and making new friends. There are many reasons to volunteer abroad.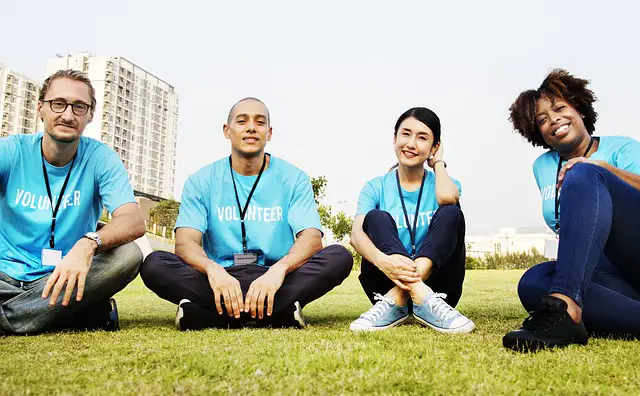 Meet people
Around nine million people in the UK suffer from loneliness, with more people choosing to communicate online and through a keyboard it is no wonder why we are losing touch with real life conversations and in person friends.
Volunteering abroad is a great way to meet new people. A lot of volunteer work is done in groups and requires team work. Projects are very social, with volunteers choosing to stay up in the evening, sat chatting around a campfire or playing cards.
Solo travel is increasing in popularity, a lot of volunteers are travelling with the intention of meeting a group of new people. It is not uncommon for volunteers to meet someone they get on with so well and end up planning a second or third trip together.
Good For Your Career
The job market is oversaturated with applicants all applying for the same positions. It can be hard to make yourself stand out. Volunteering abroad lets you learn so many new skills, from building to teaching and play work moreover it helps enhance the skills you already have. Transferable skills like teamwork, organisation, leadership and problem solving are further developed whilst volunteering.
Some people choose to volunteer abroad with an agenda to gain as many skills as possible. The best way of volunteering with the aim of obtaining all of the skills wanted by future employers is to print off a job ad for your dream job. Each day set out with the idea of ticking at least one desired skill off the list, if it is learning a new skill or recording how you used that skill. With all of the desired skills you will be the perfect applicant.
To help demonstrate to future employers your desired skills, prepare a portfolio displaying exactly what you did whilst volunteering and how you helped. A good portfolio shows statistics and photos of you helping hands on. Not everyone has volunteered abroad before and understands the difference you make, where some may think it is just an unconventional holiday.
It Is Affordable
Searching online for volunteer options can give travellers a bit of a scare. Expensive organisations dominate search results with project fees of around £500 to £800 per week excluding flights.Project fees cover many different things: online advertising, pre-departure support team, in country support team, accommodation and much more.
With volunteering abroad booming in popularity there are many affordable organisations breaking into the market. It may take a bit longer to find these options as they may be on the second or third page of online results. To make it easier, here are some more affordable volunteer options:
WorldPackers (https://www.worldpackers.com/)
Original Volunteers(https://www.originalvolunteers.co.uk/)
ThaBarWa (http://thabarwavolunteering.com/volunteering/)
Karumbe (http://www.karumbe.org/somos/investigacion?es)
If you are travelling on a very tight budget, you may wish to consider volunteering in an affordable destination, such as Asia. Also consider shopping around and searching online for cheaper flights, going direct to a charity and applying for travel grants.
Cultural Awareness
Providing a better insight into how the locals live and their way of life, than a typical resort holiday would provide.Volunteers spend more time with local families, an entire day with local children and the evening at their home with their family, discussing all different aspects of the country, its people and even chances to really practice the local language, picking up some key phrases.
Rather than joining the masses of tourists who hit up the nightlife, eat at restaurant chains and McDonalds most days and enjoy western tourist attractions, volunteering gives travellers the unique experience of complete cultural immersion.
Reflect
Our minds are often clouded with daily distractions such as school or work and relationship problems. Stripping all of this away gives volunteers time to get to know themselves on a more personal level. Discovering strengths and weaknesses and learning about the real you.Back home it is easy to get caught up in the competition for the most perfect life. Constantly needing to upgrade and impress your friends missing out on the life you are currently living.
Undeveloped countries with locals owning so little but still finding reasons to smile and laugh can put into perspective the value of money and material positions. Helping volunteers to appreciate their possessions and enjoy their life the way it is, rather than constantly living in the future and wanting more.
Projects are generally more remote than hostels and hotels with more basic facilities. This sometimes include limited internet and perhaps less electricity meaning that volunteers don't depend on technology as much. Instead, leaving their phone at the volunteer accommodation and not having it in their hands every second of the day.
Volunteer Abroad for Your Next Adventure!
Some volunteers enjoy continuing their help from home, sending care packages to the area they helped develop. Finding that this helps keep them grounded, even when back at home in their natural habitat. But volunteering abroad is one of those once in a lifetime adventures that will stick with you forever!
Please follow and like us: