Marrakech is one of the most beautiful cities of Morocco. Loaded with fantastic attractions and great sights, it is no wonder to see it fast become a tourist magnet. The former imperial city is home to beautiful mosques, magnificent palaces, and impressive gardens.
 As there is plenty to do and see in the city, it makes sense to take a guided tour Marrakech and explore the major attractions in both medieval and modern parts of town. after all, there are some can't-miss attractions in Marrakech that are a must for every tourist to see and explore. Having a local expert guide can sure take you right to those major attractions and without wasting your efforts and time.
 Here are some tourist spots in Marrakech that are not to be missed.
1) Jardin Majorelle, a stunning botanical garden
Designed by Jacques Majorelle, a French painter, the botanical garden boasts of a large number of cacti. The major attraction of the Jardin Majorelle is a stunning indigo blue art deco house. Keep your camera ready as you will come across plenty of Instagram worthy spots and locations within the garden. This enchanting garden was completed in forty years and boasts of exotic trees and plants, bubbling pools and streams filled with water lilies and lotus flowers. The Moorish building in vibrant primary colors adds to the vivid imagery of this luxuriant garden.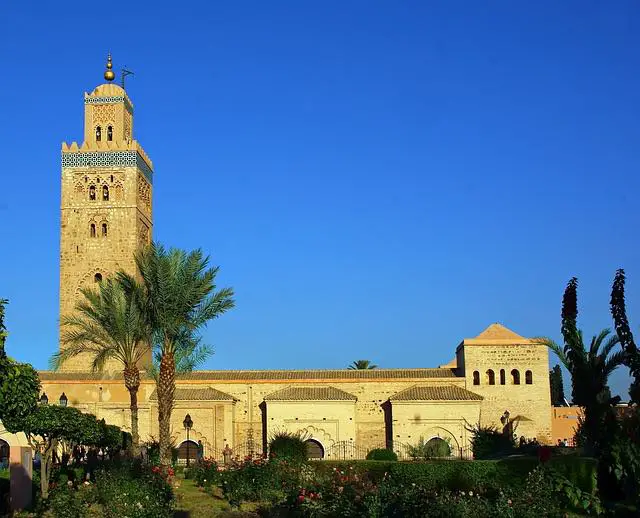 2) Koutoubia Mosque, a spiritual center
It is a must to visit the Koutoubia Mosque, which happens to be the largest mosque in Marrakech. The spiritual center is well famous for its international architecture that set the trend for buildings in the rest of Europe. Pause for a while to admire the 12th-century minaret which is a stunning example of ornamental expertise. Admire those characterful arches in precise proportions and appreciate the beautiful architecture of the mosque. The mosque is full of ornaments with decorative arches and curved windows with ceramic inlay. A spire, with gilded copper balls tops the minaret and show the traditional Morocco style.


3) Jemaa el-Fnaa, the main pulse of the city
Buzzing with henna-tattoo artists, snake charmers and different types of entertainers, it wouldn't be incorrect to say that the pulse of the city flows through Jemaa el-Fnaa. Enjoy local dishes at those countless street stalls that serve delicacies like lamb dishes and other culinary delights. Explore the market to feel the true soul and spirit of the city. Jamaa el-Fna has been renovated over the years and the mosque, palace, and gardens around the marketplace too have been overhauled. It is not just a marketplace but also a site where the traditional activities of Marrakech are preserved in those storytellers, musicians and performers.
4) Bahia Palace, a fine example of Moroccan architecture
If you want to take a look at the Moroccan architecture from the nineteenth century, you will find it at Bahia Palace. Boasting of several rooms and courtyards, one can't help but admire the stunning ornate decoration that is work of brilliance. There is intricate detailing everywhere, at the corners, the doors, or the ceiling. It is indeed one of the greatest palaces of its time can captures the essence of the Islamic and Moroccan architecture style.

5) A hammam for an exfoliating experience
A visit to a hammam is a must for a rejuvenating and exfoliating experience. Also known as the local bathhouse, do not miss the chance to immerse yourself in a unique experience. You can take a dip in an ice-cold pool after an exfoliating massage. You will come across a large number of hammams in the city and don't forget to bring your own towel. Some of the best hammams include names like Les Bains de Marrakech, Heritage Spa, Hammam Dar El Bacha, La Mamounia, Royal Mansour and Kennaria Hammam.
6) El Badi Palace for a panoramic view of Medina
The grand palace boasts of a huge number of ruins. From here, one can enjoy a panoramic view of Medina. You are sure to enjoy the visit to this Palace that allows you to enjoy some bird watching too! It took about 25 years to make the El Badi Palace that boasts of opulent rooms, sweeping courtyards, large pools and several gardens. Other than those, you will also find pavilions, dungeons, and stables in the huge palace.
7) Souk Semmarine for a true Marrakech experience
 Explore the Souks of Marrakech which are the huge marketplaces, and Souk Semmarine is a famous market. Explore the maze of shops for local goods and artifacts like trinkets, rugs and crockery and more. You can haggle with the local traders and get some great bargains. You are sure to lose track of time once you enter Souk Semmarine, which is dimly lit because of the board-covered ceilings that keep the Moroccan sun out.
8) Agdal Gardens for its lush design and rich heritage
Located within Marrakech's Royal Palace, Agdal Gardens are a good combination of agriculture, nature, and heritage. Explore those lush gardens that are landscaped with precision and boast of several pools. Some of the common trees you will come across in these gardens include figs, apricots, oranges, lemons, and pomegranates.
9) Saadian Tombs, the final resting place
Rich in history, the Saadian tombs are the resting place for Saadi dynasty rulers. These tombs are decorated with bright tiles and carry intricate carvings. They are well preserved and making for an attractive site for tourists. The entire complex radiates opulence and beauty, what with the eye-catching tilework, plasterwork and woodwork in the lavish mausoleums. Quranic inscriptions and colorful tiles are common embellishments.
10) Dar Si Said for fantastic displays
 Dar Si Said is a palace-turned-museum and you are sure going to get impressed by not just the displays of the museum but fantastic Moroccan architecture. The Marrakech Museum displays contemporary art and weapons. A major highlight of Dar Si Said is an ancient stone basin that is located near the entrance. One gets info on several centuries of Moroccan national history from the exhibits that showcase textiles, carpets, jewelry and musical instruments.


Marrakech Hot Spots and Your Unforgettable Adventures!
Don't let yourself miss out on one of these amazing places in Marrakech! From hammams to the Jardin Majorelle, there is so much to see and do! Find out more about these ten unmissable spots on your next adventure. 
Please follow and like us: