Updated Oct 15, 2021
Interested in driving around the world?
Travelling can provide some of the most memorable experiences in a person's life, and the journey can often be just as enjoyable as the destination. These trips can create lifelong memories that you can cherish with amazing travel photography.
Every traveler knows that transportation is an essential part of travel in a new country. Getting around by train, bus or taxi is usually sufficient.
However, these will usually leave you dependent and limit your exploration options. Travelers might prefer the independence and freedom of driving a car while abroad, but it can be a headache if the trip is not planned properly.
Check More Posts About Road Trips:
Nowadays, most countries in the world offer rental car services. Though booking a car to drive in another country is a huge commitment that requires advanced preparation.
There are numerous additional requirements for driving abroad, and every country can have different regulations for international drivers. Road trips around the world can be incredibly fulfilling and exhilarating.
Remember that there is also more chance for things to go wrong. Our guide to driving around the world can help you steer clear of these potential roadblocks.
Define Your Itinerary
Before you begin your travels, it is essential that you define your itinerary as thoroughly as possible. Try to map out exactly which countries you will be traveling through.
Planning out what countries you will be visiting will help you to adequately prepare for the trip and meet all the specific travel requirements.
Define which countries you plan on driving through and research them to help you better anticipate what you might come across on your journey.
Image Pixabay
Some roads in developing countries can be poorly maintained, or there might not even be any paved roads at all.
Make sure you have a general idea of the types of roads you will be traveling and the weather conditions you might be facing.
Keeping an accurate itinerary and researching your trip can help you plan everything from the type of car you will be renting to the routes you will drive.
How To Get The Required Visas, Passports, and Vaccinations
International travelers are required to have numerous travel documents in order to visit different countries. Make an extra copy of all your travel documents in case of an emergency and leave a copy with a trusted friend or relative at home.
Documents required for international travel should be acquired a few months in advance to ensure that all documents are valid and approved in time.
Check expiration dates carefully and renew any expired documents early.
Image Pixabay
Passport: Ensure that it will be valid for at least six months after you return home and that you have at least two blank pages for visas.
Visas: You may be required to get a visa before you travel to a foreign nation. Contact the embassy of the countries you will be visiting for specific visa requirements. There are specs for your visa photo as well. If you follow them, you can prepare it yourself. A

visa photo tool

will help you with that. It will crop your picture according to the requirements and increase your chances of getting your visa approved.
Medications: Some medications, including prescription drugs and narcotics, are illegal in other nations. Contact the embassy of the countries you will be visiting to ask about regulations and required documentation for medications before you travel.
Vaccines: Get the recommended vaccinations from the U.S. Centers for Disease Control and the World Health Organization before travelling.
Check the Driving Requirements for Each Country
Many nations have specific driving requirements such as age restrictions and insurance mandates. However, this can also include driving education and registration in some countries.
Because driving around the world means following different driving requirements in different countries!
International Insurance Options
Before you set off on your international road trip, it's very, VERY important to make certain you are covered by your insurance. Call your current insurance agent to check where your policy is valid.
Most U.S. insurance policies do not apply internationally, so you may need to purchase additional coverage to legally drive on your travels.
U.S. travelers can rent a car while abroad, and most rental agencies provide insurance for their vehicles.
Travelers are recommended to purchase more than the minimum insurance requirements in order to ensure that they are adequately insured in case of an emergency.
What Is An International Driving Permit (IDP)?
U.S. driver's licenses are not recognized in many countries. Instead, travelers should apply for an international driving permit (IDP) which provides an official translation of your U.S.-issued driver's license in various foreign languages.
An IDP makes it legal for voyagers to drive abroad and it can also be used as a valid form of identification.
Always carry your U.S. driver's license in addition to your IDP. Currently, you can get an international driving permit from the American Automobile Association (AAA) and the American Automobile Touring Alliance (AATA).
Both agencies also allow for you to apply for a permit while you are already overseas.
Brush Up on Traffic Knowledge for Each Country
Read about road safety for the countries you will be visiting. Familiarize yourself with some important country-specific driving information such as:
Potential hazards and dangerous road conditions
Unsafe areas to avoid
Local laws and driving culture

A country's embassy in the United States can provide more information
Although texting and driving may not be illegal in some countries, it is equally dangerous around the world.

Local emergency numbers
Differences in roads and vehicles

For example: which side of the road cars drive on.

Local law enforcement and how to handle any driving citations or tickets you may receive on your journey.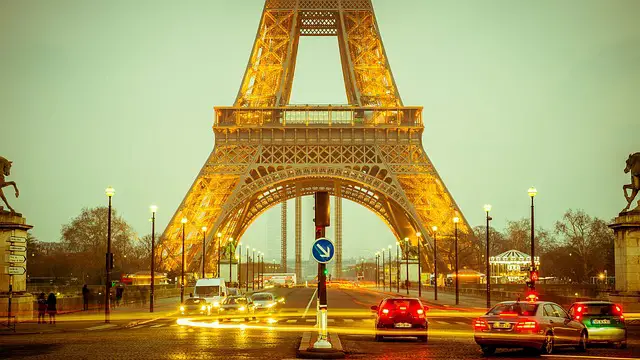 Image Pixabay
Plan and Prepare Appropriately
The last thing you want on your international road trip is to be unprepared. There are a lot of things to consider that can make the difference between a memorable and exhilarating trip and a disastrous situation.
This includes everything from where you can stop for meals, as well as using the restroom! Not to mention being able to take stretch breaks for your legs.
In preparing for your journey, it's really important to learn how to ask for these types of stops in foreign languages as well! Don't get stuck outside of Munich without being able to ask where the nearest rest area is in German!
Preparing Your Vehicle
Rent a car in advance to give you time to find the best rates and insurance policies for your specific needs. Choose a vehicle that can handle the type of roads and terrains you will be driving through.
Consider your need for spare parts (especially tires), fuel and a navigation system. It is much better to be over prepared than underprepared, especially when you are so far away from home.
Additionally, automatic transmission is something that many in North America take for granted. In many countries around the world, renting a vehicle with automatic transmission can be difficult or even impossible.
It is essential that you know how to drive a manual transmission in order to be ready for any driving situation.
Vehicle Safety Checklist
If you're not renting a car that is regularly maintained by a company, then you should make sure certain things are done before you take off. Maintenance, as well as care, is very important for your car before a road trip!
Here are a few things you should definitely have checked on your vehicle before setting off:
Oil change
Tire rotation
Cleaning interior
Cleaning exterior (Optional)
Fill tires with air
Wiper fluid check
Air filter check
Transmission and coolant levels checked
There are also other things you may want to have done to your vehicle as well. However, it's highly recommended that you at least get some basic maintenance in before you leave.
If you don't want to clean your car, that's fine. But remember you'll be driving for hours in a messy car!
Obtain All Legal Permissions
When driving from country to country, especially in Europe, there are countries that require legal permits. All in all, these should be clearly posted, or stored for easy access.
For instance, in Hungary, you need to have your vehicle registered. It requires having a registration certificate in the car at all times. If you don't look into laws like this, you may be facing some serious fines!
Setting up Accommodations
During your international travels, you will need to find accommodations for both yourself and your vehicle. When considering places to rest at night, you want to make sure that your vehicle is safe.
Vehicle theft can be a risk, but there are steps you can take to try to protect your vehicle. Always park in well-lit areas and lock your car when you step out. Hide your valuables out of sight or take them with you.
You should also consider staying places that are slightly further away from your destinations if they are better suited for your car-parking needs.
Snacks, Food, and Hydrating!
You can't have an epic road trip around the world without having some epic snacks in the car! Not to mention keeping yourself happy, healthy, and hydrated while on the road.
Plan ahead to make certain you not only have snacks and food handy, but that you can also restock the car along the way!
Staying hydrated is very important for being on the road for such a long time. However, it does mean more frequent stops to use the restroom!
Despite needing to stop more staying hydrated and having good, healthy snacks can make your car feel more like home on the road!
Stay Entertained
All things considered, you're going to see some pretty amazing things along the way. But, it's really important to keep yourself, as well as your passengers entertained while you're driving!
Because not every stretch of road will have awe-inspiring sights!
Here are a few ways to keep the fun rolling while you're on the road:
Audiobooks
Fun Playlists
Road Trip Bingo
Eye-Spy
Movies for backseat passengers
Brain Teasers
Coloring, as well as drawing for passengers
You can also think of ways to keep yourself and your friends, or family busy that will make the trip work best for YOU!
Driving Around the World and Back!
The world is yours for the taking on your next international road trip! By using all of these helpful tips, you'll be able to take an absolutely unforgettable road trip.
Keep up on regulations, as well as car for your car and your passengers, and it will definitely make a difference. Find your way out on the open road no matter where you are in the world!
General FAQs
Do I Need Different Licenses Around the World?
Driving in different countries requires different driving regulations. In some foreign countries you will need to procure an international driving permit, as well as provide proof of insurance and Visa.
Are Driving Rules a Lot Different In Other Countries?
Each country has their own specific driving regulations, as well as acceptable driving habits. Be sure to learn these rules and regulations BEFORE driving in a foreign country.
Is it Difficult to Drive in Other Countries?
If you have the proper documentation, study the rules and regulations of that country, as well as certain social driving cues, then driving in a foreign country can be enjoyable!
Please follow and like us: